Nonfiction
Archambeau, Shellye. Unapologetically Ambitious: Take Risks, Break Barriers, and Create Success on Your Own Terms. Grand Central. Oct. 2020. 288p. ISBN 9781538702895. $28. BUSINESS/LEADERSHIP
A former IBM and Blockbuster bigwig and one of high tech's first female Black CEOs, Archambeau gives tips to aspiring business leaders, e.g., develop financial literacy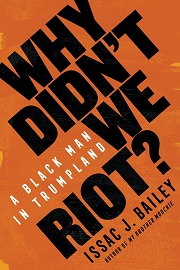 and get that work-life balance going.
Bailey, Issac J. Why Didn't We Riot?: A Black Man in Trumpland. Other. Oct. 2020. 176p. ISBN 9781635420289. $21.99. SOCIAL SCIENCE/DISCRIMINATION & RACE RELATIONS
Award-winning South Carolina–based journalist Bailey ponders what it means to be Black in Trump's America, delving into police brutality, Confederate symbols, his time at a mostly white Evangelical church, and the hand-wringing over the white working class. See his New York Times opinion piece, " I'm Finally an Angry Black Man."
Baker, Calvin. A More Perfect Reunion: Race, Integration, and the Future of America. Bold Type: Hachette. Jun. 2020. 304p. ISBN 9781568589237. $28. POLITICAL SCIENCE/CIVIL RIGHTS
A finalist for the Hurston-Wright Award who teaches at Columbia University's Graduate School of the Arts, novelist Baker boldly makes a case for integration as the only way to address racism in America.
Barnett, Brittany K. A Knock at Midnight: A Story of Hope, Justice, and Freedom. Crown. Sept. 2020. 304p. ISBN 9781984825780. $28. MEMOIR
As an ambitious young accountant, Barnett became involved in the case of Sharanda Jones, a Black woman like herself and a single mother and business owner given life without parole for a first-time drug offense, leading Barnett to understand the racial bias grounding incarceration in the United States.
Chatelain, Marcia. Franchise: The Golden Arches in Black America. Liveright: Norton. Jan. 2020. 336p. ISBN 9781631493942 $28.95. AFRICAN AMERICAN STUDIES/BUSINESS
Georgetown professor Chatelain explains how places like McDonald's went from being restricted to African Americans, to a perceived opportunity for Black business ownership, to institutions charged with exploiting the poor and most racially segregated neighborhoods where they are concentrated.
Clemmons, Dr. François S. Officer Clemmons: A Memoir. Catapult. May 2020. 288p. ISBN 9781948226707. $26. MEMOIR
The first Black to have a recurring role on a children's television program, Mr. Rogers' Neighborhood, and also a Grammy Award–winning musician, Clemmons wrote this memoir book because as a Black, gay, ordained person of the theater he knew he had something unique to say about Fred Rodgers—and he needed to tell his own story.
Cose, Ellis. The Short Life and Curious Death of Free Speech in America. Amistad. Sept. 2020. 192p. ISBN 9780062999719. $23.99. POLITICAL SCIENCE/CIVIL RIGHTS
Best-selling author Cose argues that while an imbalance of economic, political, and technological power gives Donald Trump (and his followers) great room to use hate language to attack minorities and immigrants, ordinary individuals have little comparable voice, with the free speech of America's top echelons threatening everyone else.
Cross, Tiffany. Say It Louder!: Black Voters, White Narratives, and Saving Our Democracy. Amistad. Jun. 2020. 176p. ISBN 9780062976772. $23.99; pap. ISBN 9780062976765. $17.99. SOCIAL SCIENCE/DISCRIMINATION & RACE
Cofounder of The Beat DC, Cross argues that African Americans have had a significant impact on America's democracy and must use their formidable electoral power to challenge voter suppression.
Cummings, Elijah with James Dale. We're Better Than This: My Fight for the Future of Democracy. Harper. Sept. 2020. 320p. ISBN 9780062992260. $28.99. MEMOIR
From sharecroppers' son who helped integrate a swimming pool in South Baltimore at age 11 to service in the U.S. House of Representatives for Maryland's 7th congressional district from 1996 until his recent death to his challenging Donald Trump, Cummings has quite a story to tell.
Draper, Deborah Riley & others. The Black Auxiliary: The Untold Story of 18 African Americans Who Defied Jim Crow and Adolf Hitler To Compete in the 1936 Berlin Olympics. Atria. Feb. 2020. 320p. ISBN 9781501162152. $28. SPORTS/HISTORY
This companion piece to the acclaimed documentary Olympic Pride draws on over 40 hours' worth of interviews and research that didn't make it into the film, telling the story of the 18 Blacks who competed with Jesse Owens in the 1936 Berlin Olympics.
Drew, Kimberly & Jenna Wortham, eds. Black Futures. One World: Random. Dec. 2020. 544p. ISBN 9780399181139. $40. SOCIAL SCIENCE/BLACK STUDIES
Writer/curator Drew and Wortham, a staff writer for the New York Times Magazine, bring together essays and images, recipes and memes, tweets and poetry to show how today's Black creators are striking us straight in the hearts and minds with the materials they present to the world.
Garrett, Kent & Jeanne Ellsworth. The Last Negroes at Harvard: The Class of 1963 and the 18 Young Men Who Changed Harvard Forever. Houghton Harcourt. Feb. 2020. 320p. ISBN 9781328879974. $27. BIOGRAPHY/AFRICAN AMERICAN
In fall 1959, antedating affirmative action, Harvard took the unprecedented action of admitting 18 "Negro" boys who would, with the changing times, graduate as African Americans four years later. Garrett, who was one of them, tracks down his 17 compatriots to discuss their wide-ranging backgrounds and experiences.
Gordon, Ed. Conversations in Black: On Power, Politics, and Leadership. Hachette. Jan. 2020. 240p. ISBN 9780316532860. $25. SOCIAL SCIENCE/DISCRIMINATION & RACE RELATIONS
Journalist and TV/radio personality Gordon draws on conversations with Maxine Waters, Joy Ann Reid, Ben Crump, and others to consider how Black America is faring today, from gains and losses in Black inclusion to dealing with white nationalism to navigating the Far Right's takeover of free speech.
Kendall, Mikki. Hood Feminism: Notes from the Women That a Movement Forgot. Viking. Feb. 2020. 272p. ISBN 9780525560548. $26. SOCIAL SCIENCE/FEMINISM
As Kendall clarifies, today's feminist movement is dominated by white women who often overlook the basic needs of all women, like enough food, safe neighborhoods, a living wage, affordable medical care, and access to quality education. She counters with a Black feminist critique.
Lawson, Shayla. This Is Major: Notes on Diana Ross, Dark Girls, and Being Dope. Harper Perennial. Jun. 2020. 336p. ISBN 9780062890597. pap. $16.99. ESSAYS
Poet Lawson offers a series of personal essays celebrating the culture of Black women and examining issues like stereotypes, microaggressions, and the virtual invisibility of Black women to AI.
Moore, Marcus J. The Butterfly Effect: How Kendrick Lamar Ignited the Soul of Black America. Atria. Oct. 2020. 272p. ISBN 9781982107581. $27. BIOGRAPHY/MUSIC
Music journalist and pop culture commentator Moore tells the story of the Pulitzer Prize–winning, 13-time Grammy-honored rap star and explains how his music serves as a punch in the gut to oppression.
Moore, Wayétu. The Dragons, the Giant, the Women: A Memoir. Graywolf. Jun. 2020. 264p. ISBN 9781644450314. $26. MEMOIR
Author of the celebrated debut novel She Would Be King, Moore chronicles her escape from the First Liberian Civil War as a young child, growing up an immigrant in America, and her return to Liberia.
Omar, Ilhan. This Is What America Looks Like: My Journey from Refugee to Congresswoman . Dey Street: HarperCollins. May 2020. 304p. ISBN 9780062954213. $28.99. MEMOIR/POLITICAL SCIENCE
The first African refugee, the first Somali American, and among the first two Muslim women elected to Congress, Omar recalls fleeing Somalia with her family at age eight, eventually achieving refugee status in America, and becoming a grassroots organizer before being elected to Congress by a record-breaking turnout by Minnesotans.
Payne, Les & Tamara Payne. The Dead Are Arising: The Life of Malcolm X. Liveright: Norton. Sept. 2020. 640p. ISBN 9781631491665. $35. BIOGRAPHY
In 1990, Pulitzer Prize-winning investigative journalist Les Payne, a former editor at Newsday, began working on a biography of Malcolm X that aimed to set the record straight on a significant figure in 20th-century history. Upon his death, daughter Tamara completed the biography, which is framed by her essays.
Rankine, Claudia. Just Us: An American Conversation. Graywolf. Sept. 2020. 352p. ISBN 9781644450215. $30. LITERATURE
Through a blend of essays, poems, and images, distinguished poet/playwright and MacArthur fellow Rankine asks us all to begin the conversation that will cross racial borders, with white Americans needing to address their whiteness. See her poem written in response to the murder of George Lloyd.
Saad, Layla F. Me and White Supremacy: Combat Racism, Change the World, and Become a Good Ancestor. Sourcebooks. Jan. 2020. 256p. ISBN 9781728209807. $25.99. SOCIAL SCIENCE/DISCRIMINATION
Host of the Good Ancestor Podcast, Saad updates the call to arms begun with her much-addressed Instagram challenge #meandwhitesupremacy, which asked readers to acknowledge their intentional and unintentional acts of racism.
Sharpton, Al. Rise Up: Confronting a Country at the Crossroads. Hanover Square: Harlequin. Sept. 2020. 304p. ISBN 9781335966629. $27.99. POLITICAL SCIENCE
Longtime activist/politician Sharpton, host of MSNBC's PoliticsNation when he is not actively protesting, looks at the current political landscape and argues that we need to rise up now that we face a test of our values—indeed, our very character.
Smith, Mychal Denzel. Stakes Is High: Life After the American Dream. Bold Type: Hachette. Sept. 2020. 192p. ISBN 9781568588735. $26. POLITICS
Smith follows up the New York Times best-selling Invisible Man, Got the Whole World Watching: A Young Black Man's Education by intending to educate us all. His key concern in a book of wide-ranging, interlinked essays: a look at how white America prefers its mythologies to actual history and how that affects everyone.
Smith, Zadie. Intimations: Six Essays. Penguin. Jul. 2020. 112p. ISBN 9780593297612. $10.95. LITERATURE/MEMOIR
Multi-award-winning novelist Smith offers a half-dozen brief but pointed essays, written at the beginning of sheltering in place, that explore issues from adapting to a new reality to sorting out the relationship between time and work to the contentious issue of comparative suffering. Proceeds will go to charity.
Thomas, R. Eric. Here for It: Or, How to Save Your Soul in America; Essays. Ballantine. Feb. 2020. 272p. ISBN 9780525621034. $26. MEMOIR
An award-winning playwright, host for Moth storytelling events, and author of the politics- and celebrity-shafting column "Eric Reads the News," on Elle.com, Thomas looks back with affecting dark humor at never belonging, whether at his mostly white, suburban high school, his conservative Black church, or his Ivy League college.
Thompson-Hernandez, Walter. The Compton Cowboys: The New Generation of Cowboys in America's Urban Heartland. Morrow. Apr. 2020. 304p. ISBN 9780062910608. $28.99. AFRICAN AMERICAN STUDIES
Expanding on his New York Times piece on the Compton Cowboys, which was one of the paper's most popular stories in 2018, Thompson-Hernandez profiles the Black men and women in Compton, CA, who continue the long-standing tradition of Black cowboys in their urban setting.
Trethewey, Natasha. Memorial Drive: A Daughter's Memoir. Ecco. Jul. 2020. 224p. ISBN 9780062248572. $27.99. MEMOIR
A former U.S. poet laureate and Pulitzer Prize winner, Trethewey uses the corrosive grief stemming from her stepfather's murder of her mother to examine the challenges her mother faced in the segregated South and her own challenges as a "child of miscegenation" growing up in Mississippi.
Ward, Jesmyn (text) & Gina Triplett (illus.). Navigate Your Stars. Scribner. Apr. 2020. 64p. ISBN 9781982131326. $16. SELF-HELP
In her 2018 commencement address at Tulane University, the New York Times best-selling, two-time National Book Award–winning Ward emphasizes hard work, respect for self and others, and a tough-get-going attitude in the face of adversity, which she illustrated by citing challenges she and her family have overcome.
Wilderson, Frank B., III. Afropessimism. Liveright: Norton. Apr. 2020. 352p. ISBN 9781631496141. $29.95. MEMOIR/SOCIOLOGY
Chair of African American studies at the University of California, Irvine, and winner of NEA and Zora Neale Hurston/Richard Wright Legacy honors, Wilderson here sums up a new movement that views Blackness not through the lens of slavery or oppressive class structure but as an ongoing act of violence against Black people that is part of world culture and has no specific analogy.
Wilkerson, Isabel. Caste: The Origins of Our Discontents. Random. Aug. 2020. 496p. ISBN 9780593297612. $32. SOCIAL CLASSES
Wilkerson, the Pulitzer Prize–winning journalist and author of New York Times best-selling The Warmth of Other Suns, here posits seven key precepts (e.g., divine will, stigma) that throughout history have shaped the concept of caste, that is, society's rigidly structured hierarchy of human beings. Then she explains how caste has shaped American society.
Fiction
Abraham, Tola Rotimi. Black Sunday. Catapult. Feb. 2020. 288p. ISBN 9781948226561. $26. LITERARY
In 1996 Nigeria, the lives of twin sisters Bibike and Ariyike diverge after their mother loses her job owing to political strife, their father loses the family home in a bad gamble, and they must go to live with their traditional Yoruba grandmother. A debut from an Iowa Writers' Workshop graduate.
Atakora, Afia. Conjure Women. Random. Mar. 2020. 416p. ISBN 9780525511489. $27. LITERARY
Rue lives on a plantation before the Civil War with her mother—a healer and curse conjurer—then becomes a healer/midwife to the plantation's freedmen after the war, all the while hiding one startling secret. A debut from a Pushcart nominee.
Beah, Ishmael. Little Family. Riverhead. Apr. 2020. 272p. ISBN 9780735211773. $27. LITERARY
The author of the No. 1 New York Times best-selling A Long Way Gone, a memoir of his life as a boy soldier in Africa, Los Angeles–based Beah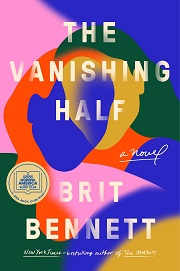 tells the story of five young people sheltering in an abandoned airplane during political crisis in an unnamed African country riven by the corruption that flowed from colonial rule.
Bennett, Brit. The Vanishing Half. Riverhead. Jun. 2020. 352p. ISBN 9780525536291. $27. LITERARY
After debuting big with The Mothers, Bennett returns with a story featuring identical twin sisters, who in the 1950s run away from their small, black Southern town at age 16 and take different paths, one passing for white. What matters is the relationship between their daughters
Billingsley, ReShonda Tate. A Little Bit of Karma. Gallery: S. & S. Sept. 2020. 288p. ISBN 9781439183588. pap. $16. WOMEN'S
In this latest from the No. 1 nationally best-selling Billingsley, power couple Shannon and Jay Lovejoy are worshipped by fans of their popular call-in radio show even as they engage in a messy divorce
Bump, Gabriel. Everywhere You Don't Belong. Algonquin. Feb. 2020. 272p. ISBN 9781616208790. $25.95. LITERARY
Raised on Chicago's South Shore by his sharp-tongued grandmother, who was in the movement back when, Claude McKay Love is something of a nerdy, timid outsider, leaning on friend Janice. Leaving Chicago owing to a riot after the murder of young Black man, Claude learns that he cannot flee from society's larger forces. A debut.
Bush, Keisha. No Heaven for Good Boys. Random. Oct. 2020. 336p. ISBN 9780399591969. $27. COMING OF AGE
When six-year-old Ibrahimah leaves the countryside for Dakar to study the Qur'an with esteemed teacher Marabout Ahmed, he and cousin Etienne are instead forced to beg. A debut inspired by stories the multi-fellowship-winning Bush heard from beggar children when she lived in Dakar.
Callender, Kacen. King of the Rising. Orbit: Hachette. Dec. 2020. 480p. ISBN 9780316454940. pap. $16.99. HISTORICAL FANTASY
Drawing inspiration from Callender's Caribbean homeland, this follow-up to Queen of the Conquered closes the "Islands of Blood and Storm" duology with the formerly enslaved Loren Jannik leading a band of survivors post-revolution who are fighting to keep the islands of Hans Lollik free.
Card, Maisy. These Ghosts Are Family. S. & S. Mar. 2020. 288p. ISBN 9781982117436. $24. LITERARY
Jamaican-born, Queens-raised librarian Card gracefully blends issues of racism, immigration, and family relationships in this story of a Jamaican man finally facing those he abandoned after faking his death to steal the identity of his best friend.
Clark, P. Djèlí. Ring Shout. Tor. Oct. 2020. 144p. ISBN 9781250767028. $19.99. DARK FANTASY
With sorcerer D.W. Griffith spinning dark thoughts with The Birth of a Nation, bootlegger Maryse Boudreaux takes her magic sword (used to chase monsters called the Ku Kluxes) and joins with a sharp-tongued sharpshooter and a Harlem Hellfighter to bring down evil. From Nebula, Locus, and Alex Award-winner Clark.
Dickey, Eric Jerome. The Business of Lovers. Dutton. Apr. 2020. 400p. ISBN 9781524745202. $27. RELATIONSHIPS
While brother André flourishes as a comedian, Dwayne and Brick Duquesne hit rock bottom, with white-collar-worker Brick earning extra money as a chauffeur/bodyguard to three level-headed women temporarily serving as escorts as they sort out their lives. But maybe he'll find a possibility for love?
Emezi, Akwaeke. The Death of Vivek Oji. Riverhead. Aug. 2020. 256p. ISBN 9780525541608. $27. LITERARY
Having earned countless honors for her one-of-a-kind Freshwater, Emezi returns with a Nigerian-set story opening with a mother finding her son's brightly wrapped body on her doorstep, then backtracks through blackouts and a sense of isolation to understand his relationship with the world.
Evans, Danielle. The Office of Historical Corrections: A Novella and Stories. Riverhead. Nov. 2020. 288p. ISBN 9781594487330. $27. LITERARY/SHORT STORIES
Claimant to PEN/Robert W. Bingham Prize, Hurston/Wright Legacy Award, and National Book Foundation 5 Under 35 honors for her debut story collection, Before You Suffocate Your Own Fool Self, Evans returns after nine bit-chomping years with another collection weighing issues of race, culture, and history.
Farmer, Edward A. Pale. Blackstone. May 2020. 240p. ISBN 9781982673864. $26.99. LITERARY
In 1966 Mississippi, recently widowed Black woman Bernice starts afresh by taking a job at cotton plantation of the contentious white couple George and Lula Kern, and debut novelist Farmer limns the complications of the various relationships here in direct, evocation language.
Francis-Sharma, Lauren. Book of the Little Axe. Atlantic Monthly. May. 2020. 400p. ISBN 9780802129369. $26. HISTORICAL
In this second novel from Francis-Sharma (after 'Til The Well Runs Dry), Rosa Rendón, living with the Crow Nation in 1830s Montana, must tell her son about the struggles of her family in late 1700s Trinidad, where their status as free Black property owners was threatened by the switch to British rule.
Guillory. Jasmine. Party of Two. Berkley. Jun. 2020. 352p. ISBN 9780593100820. pap. $16. ROMANCE
Having moved to Los Angeles to start her own law firm, Olivia Monroe is nonplussed to discover that the cute guy she flirted with all night at the bar is a rising-star junior senator. What kind of complications will ensue when a Black woman dates a white politician?
Gyasi, Yaa. Transcendent Kingdom. Knopf. Sept. 2020. 288p. ISBN 9780525658184. $26.95. LITERARY
Following her much-honored debut, Homecoming, Gyasi returns with the story of a Ghanaian American family based in Alabama, with daughter Gifty hoping her graduate neuroscience studies will give her a better understanding of human suffering, particularly her brother's overdose after a sports injury hooks him on opioids and the consequences for her family.
Hurston, Zora Neale. Hitting a Straight Lick with a Crooked Stick: Stories from the Harlem Renaissance. Amistad. Jan. 2020. 192p. ISBN 9780062915795. $22.99. LITERARY
Not only does this collection include some of the greatest stories from the great Hurston, examining race, class, sex, and love within the context of Black folk culture, but it includes eight "lost" Harlem Renaissance tales discovered in obscure periodicals and archives. A new classic.
Jemisin, N.K. The City We Became. Orbit: Hachette. Mar. 2020. 464p. ISBN 9780316509848. $28. FANTASY
In this start of a new series from the New York Times best-selling author and winner of three consecutive Hugos, six newborn avatars come to the rescue when an ancient evil rises in New York.
Jenkins, Beverly. On the Corner of Hope and Main: A Blessings Novel. Morrow. Mar. 2020. 336p. ISBN 9780062952202. $26.99; pap. Morrow Paperbacks. ISBN 9780062699282. $15.50. WOMEN'S
When Trent July decides to step down as mayor of Henry Adams, KS, two people vie to replace him: former marine Barrett Payne and his wife, Sheila, who thinks it's time for a woman to hold the job. Choosing whom to support is tough, especially for the Paynes' teenage son.
Kenan, Randall. If I Had Two Wings: Stories. Norton. Aug. 2020. 224p. ISBN 9781324005469. $25.95. LITERARY
A winner of Rome, Dos Passos, and Whiting honors and a National Book Award finalist for his story collection, Let the Dead Bury Their Dead, Kenan returns to fiction after three decades to craft a story collection rooted in his famed fictional territory of Tims Creek, NC.
Leilani, Raven. Luster. Farrar. Aug. 2020. 240p. ISBN 9780374194321. $26. LITERARY
In the prize-winning Leilani's debut novel, a Brooklyn-based young Black woman tries to steady her life by edging toward art and trying out open marriage, though the marriage in question isn't hers.
McBride, James. Deacon King Kong. Riverhead. Mar. 2020. 384p. ISBN 9780735216723. $28. LITERARY
It's September 1969 in a rapidly changing Brooklyn community, where drugs are starting to flourish, Black and Latinx residents face the hostility of their Italian and Irish neighbors, and wily, often tipsy Baptist deacon Sportcoat walks into the courtyard of the Cause Houses housing project and shoots the project's drug dealer. From the National Book Award–winning The Good Lord Bird.
McMillan, Terry. It's Not All Downhill from Here. Ballantine. Mar. 2020. 368p. ISBN 9781984823748. $28. WOMEN'S
Loretha Curry, happily married, beloved by a coterie of always-there friends, and still head of a successful beauty supply empire at age 68, suffers unanticipated loss but will not let herself head downhill in this latest from the mega-best-selling McMillan.
Momplaisir, Francesca. My Mother's House. Knopf. May 2020. 304p. ISBN 9780525657156. $26.95. LITERARY
In literary scholar Momplaisir's latest, Lucien flees Haiti with his wife and children for New York, where the house he buys judges him harshly when he recedes from his promise to make himself a better man. Though Momplaisir also writes in her native Kreyol, this book was written in English.
Mosley, Walter. The Awkward Black Man. Grove. Sept. 2020. 336p. ISBN 9780802149565. $26. SHORT STORIES
This volume gathers 17 stories by Mosley, some never before published, others having appeared in venues like The New Yorker and the Atlantic, all providing portraits of remarkable Black characters embedded in life's complications. Mosley is not just a Mystery Writers of America Grand Master but an O. Henry Award winner whose literary tour de force, John Woman, was long-listed for the 2019 Andrew Carnegie Medal for Excellence in Fiction.
Mosley, Walter. Trouble Is What I Do. Mulholland: Little, Brown. Feb. 2020. 176p. ISBN 9780316491136. $24. MYSTERY
Private eye Leonid McGill happily accedes to the request of 92-year-old Mississippi bluesman Phillip "Catfish" Worry that he deliver a letter revealing the Black lineage of an heiress and her corrupt, power-wielding father. Then he learns that a hitman is targeting Catfish.
Philyaw, Deesha. The Secret Lives of Church Ladies. West. Virginia Univ. Sept. 2020. 192p. ISBN 9781949199734. pap. $18.99. LITERARY/SHORT STORIES
The nine stories in this debut from Philyaw, whose work has appeared in venues from the New York Times to the Rumpus, reveal Black women and girls struggling with desires that take them beyond their well-behaved lives, like the teenager crushing on the preacher's wife and the middle-aged woman uncomfortable with her body and afraid to seek love.
Quartey, Kwei. The Missing American: An Emma Djan Investigation. Soho Crime. Jan. 2020. 432p. ISBN 9781641290708. $25.95. MYSTERY
Born in Ghana to a black American mother and a Ghanaian father, California-based physician/author Quartey launches a new series starring 26-year-old Ghanaian PI Emma Djan, here tasked with finding a middle-aged widower who came to Accra from Washington, DC, in search of the Ghanaian widow he has met online.
Randall, Alice. Black Bottom Saints. Amistad. Aug. 2020. 384p. ISBN 9780062968623. $26.99. LITERARY
Songwriter, Soul Food cookbook author, and Phillis Wheatley Award winner for YA literature, Randall returns to adult fiction (after The Wind Done Gone) with erstwhile nightclub emcee and gossip columnist Joseph "Ziggy" Johnson deciding on his deathbed to compile a book of 52 saints (e.g., Dinah Washington, Joe Louis) he knew from Detroit's Black Bottom during the mid-1900s.
Reid, Kiley. Such a Fun Age. Putnam. Jan. 2020. 320p. ISBN 9780525541905. $26. LITERARY
In the midst of a family crisis one late evening, white blogger Alix Chamberlain calls her African American babysitter, Emira, asking her to take toddler Briar to the local market for distraction. There, the security guard accuses Emira of kidnapping Briar, and Alix's efforts to right the situation turn out to be good intentions selfishly mismanaged.
Reid-Benta, Zalika. Frying Plaintain. House of Anansi. Mar. 2020. 272p. ISBN 9781487005344. $16.95. LITERARY
A Scotiabank Giller Prize long-listee, this series of interconnected stories limns young Kara Davis's coming of age in Toronto's Little Jamaica, struggling with her Black immigrant identity in a sea of whiteness.
Taylor, Brandon. Real Life. Riverhead. Feb. 2020. 336p. ISBN 9780525538882. $26. LITERARY
At a Midwestern university far from his Alabama home, introverted young Black man Wallace works toward a degree in biochemistry while moving cautiously even among his own friends. Confrontations with colleagues and an encounter with a straight man reveal Wallace's personal pain and threaten to unmoor what community he has.
Thomas, Elisabeth. Catherine House. Morrow. May 2020. 320p. ISBN 9780062905659. $27.99. SUSPENSE
Thomas's gothic-inflected debut features a prestigious girls school set deep in the Pennsylvania woods, where the shuttered-in girls work hard and sometimes play dangerously hard, with new student Ines starting to probe dark secrets after tragedy strikes her shy roommate.
Washington, Bryan. Memorial. Riverhead. Oct. 2020. 320p. ISBN 9780593087275. $27. LITERARY/COMING OF AGE
In this debut, cracks start showing in the relationship between cautious African American daycare worker Benson and searching Japanese American cook Mike, as the narrative probes racial and gay identity, the ties between lovers and between parents and children, and the need in dealing with that hot mess called human relationships just to figure things out.
West, Catherine Adel. Saving Ruby King. Park Row: Harlequin. Jun. 2020. 352p. ISBN 9780778305095. $27.99. LITERARY
In this debut, set on Chicago's South Side, Ruby mourns her murdered mother and fears the violent father with whom she must live, compelling friend Layla to defy her pastor father to help.
Wright, Steven. The Coyotes of Carthage. Ecco. Apr. 2020. 320p. ISBN 9780062951663. $26.99. POLITICAL
Having all but blown things with his boss, African American political operative Dre Ross is dispatched to backwoods South Carolina to sneak an initiative on the ballot that will turn over the beautiful old-growth forest in the name of faith and freedom. A debut from a veteran of President Barack Obama's Justice Department.
Poetry
Birdsong, Destiny. Negotiations. Tin House Oct. 2020. 152p. ISBN 9781951142131. pap. $16.95. POETRY
Winner of multiple honors, including an Academy of American Poets Prize, Birdsong considers issues of identity as she veers between the academy and the hood, healing herself as she speaks of the need for Black women to take control of their lives.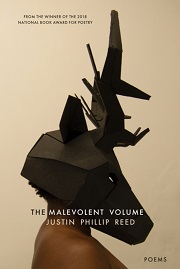 Blount, Tommye. Fantasia for the Man in Blue. Four Way. Mar. 2020. 152p. ISBN 9781945588495. pap. $15.95. POETRY
In this debut collection, Blount considers the Black, queer body as the epicenter of both desire and violence, with the title poem addressing a Black man's midnight encounter with a police office ("the man in blue") and other poems considering largely closeted singer/songwriter Luther Vandross and one of Matthew Shepard's killers.
Coleman, Wanda. Wicked Enchantment: Selected Poems. Black Sparrow. Apr. 2020. 240p. ISBN 9781574232370. $25.95. POETRY
Edited by MacArthur fellow Terrance Hayes, this first collection of Coleman's work since her death in 2013 introduces the Lenore Marshall Poetry Prize winner to a new audience.
Daye, Tyree. Cardinal. Copper Canyon. Oct. 2020. 80p. ISBN 9781556595738. pap. $16. POETRY
Whiting Award winner Daye grounds his latest collection in partly smudged family history, exploring the risky travels of Black motorists in racist mid-20th-century America as a means of asking where Black people can be safe.
Evans, Will. We Inherit What the Fires Left . S. & S. Mar. 2020. 160p. ISBN 9781982127398. pap. $16. POETRY
Founder of the Writing Wrongs Poetry Slam, Evans shows what it's like to grow up Black in the suburbs and carry the burdens of racism between generations.
Finney, Nikky. Love Child's Hotbed of Occasional Poetry: Poems & Artifacts. Northwestern Univ. Apr. 2020. 264p. ISBN 9780810142015. $29.95. POETRY
National Book Award winner Finney blends verse, narrative, and artifact (e.g., a long-held note from her father) to create a sort of docu-poetry of 400 years of Black American life.
Gay, Ross. Be Holding. Univ. of Pittsburgh. Sept. 2020. 86p. ISBN 9780822966234. pap. $17. POETRY
Both an NBA finalist and a National Book Critics Circle Award winner for Catalog of Unabashed Gratitude, Ross returns with a 65-page poem celebrating basketball by focusing on Hall of Famer Julius Erving.
Geter, Hafizah. Un-American. Wesleyan Univ. Sept. 2020. 104p. ISBN 9780819579805. $35. POETRY
In her debut collection, Geter confronts the complexities of being the Nigerian-born daughter of a Nigerian Muslim woman and a former Black Southern Baptist man to explore racism, immigration, loss, queerness, and the desire to belong.
Griffiths, Rachel Eliza. Seeing the Body. Norton. Jun. 2020. 144p. ISBN 9781324005667. $26.95. POETRY
In a new collection backdropped by politics and pop culture, Griffiths examines aging, authority, art, memory, and her mother's death as she reckons with the way mourning inhabits our bodies.
Giovanni, Nikki. Make Me Rain. Morrow. Oct. 2020. 128p. ISBN 9780062995285. $19.99. POETRY
Distinguished African American poet/activist Giovanni, winner of the Black Caucus of the ALA Honor Award for Nonfiction among dozens of other awards, celebrates her heritage and head-butts Donald Trump's policies in her first volume of verse in seven years.
Harvey, Yona. You Don't Have To Go to Mars for Love. Four Way. Sept. 2020. 82p. ISBN 9781945588563. pap. $16.95. POETRY
Winner of the Kate Tufts Discovery Award, Harvey returns after seven years with a collection featuring an unnamed protagonist pushing the boundaries of her Black body while undertaking an Afro-futuristic journey—not surprising for a poet who claimed an Eisner Award for her contribution to World of Wakanda.
Jackson, Major. The Absurd Man. Norton. Feb. 2020. 80p. ISBN 9781324004554. $26.95. POETRY
In his latest title, NBCC finalist Jackson uses Albert Camus's "Myth of Sisyphus" to grapple with contemporary malaise, focusing on a speaker who owns up to his past, his mistakes, and the possibilities he must still pursue.
Jeffers, Honorée Fanonne. The Age of Phillis. Wesleyan Univ. Mar. 2020. ISBN 9780819579492. $26.95. POETRY
Paterson Prize finalist Jeffers elegantly reimagines the life of 18th-century poet Phillis Wheatley, the West Africa–born woman who rose above enslavement to challenge society's presumptions.
Johnson, Amaud Jamual. Imperial Liquor. Univ. of Pittsburgh. Feb. 2020. 70p. ISBN 9780822966067. $17. POETRY
Hurston/Wright and Wallace Stegner honoree Johnson here evokes the enduring wear-and-tear of racism while recalling 1980s Compton, CA, contemplating how to heal both a soul and a city.
McCrae, Shane, Sometimes I Never Suffered. Farrar. Aug. 112p. ISBN 9780374240813. $25. POETRY
In National Book Award finalist McCrae's latest collection (after The Gilded Auction Block), an angel plummets to Earth even as Jefferson Davis's adopted biracial son, Jim Limber, contemplates racist America and his own complicated heritage while wandering through the afterlife.
Marsh, Roya. DayliGht. MCD: Farrar. Mar. 128p. ISBN 9780374538897. pap. $15. POETRY
In her straight-at-you debut, nationally ranked poet performer Marsh talks about coming of age before greater gender flexibility and emerging as a butch Black woman, revealing a complex, hard-won sense of identity grounded in her physical being.
moore, jessica Care. We Want Our Bodies Back. Amistad. Mar. 2020. 224p. ISBN 9780062955289. pap. $14.95. POETRY
Founder and CEO of Moore Black Press and executive producer of Black WOMEN Rock!, poet performer moore considers the walls Black women construct to protect themselves against racism and misogyny and betters ways to counter those assaults. Her first work with a major publisher.
Murillo, John. Kontemporary Amerikan Poetry. Four Way. Mar. 2020. 88p. ISBN 9781945588471. pap. $16.95. POETRY
In his new collection (after Up Jump the Boogie), Murillo uses conversational but carefully crafted language to articulate the pure pain of living, particularly in a world contorted by institutional racism, and how he works daily to save himself.
Petrosino, Kiki. White Blood: A Lyric of Virginia. Sarabande. May 2020 ISBN 9781946448545. $15.95. POETRY
In her much-anticipated new collection, Petrosino (Witch Wife) excavates roots both familial and intellectual to understand the impact of enslavement and discrimination in the Upper South.
Phillips, Carl. Pale Colors in a Tall Field. Farrar. Mar. 80p. ISBN 9780374229054. $23. POETRY
Winner of Kingsley Tufts and Lambda honors, Phillips wends his always quietly observant way through the relationship of memory to self as he considers how both mind and body work as forms of resistance.
Phillips, Rowan Ricardo. Living Weapon. Farrar. Feb. 96p. ISBN 9780374191993. $24. POETRY
In our complicated political moment, in a world ever fraugth by violence, Phillips reveals that it takes imagination to get past the fear and the platitudes. From a PEN/Osterweil and Anisfield-Wolf award winner.
Priest, Joy. Horsepower. Univ. of Pittsburgh. Sept. 2020. ISBN 9780822966197.pap. $17. POETRY
This Donald Hall Prize–winning debut collection moves across three sequences as narrated by a Black-girl speaker dwelling in self-exile; her younger, biracial self, raised by a white supremacist grandfather near Kentucky's Churchill Downs (equine imagery here defines aspiration); and a grown-up, more conscious self in segregated Louisville.
Queen, Khadijah. Anodyne. Tin House. Aug. 2020. NAp. ISBN 9781947793804. pap. $15.95. POETRY
National Poetry series finalist Queen moves through history and cataclysm to show that life is defined simultaneously by beauty and brutality, love and loss, denied justice and assured joy.
Reed, Justin Phillip. The Malevolent Volume. Coffee House. Apr. 2020. 104p. ISBN 9781566895767. pap. $16.95. POETRY
National Book Award winner Reed (Indecency) energizes readers by using literary, mythic, and pop cultural reference and, finally, other-than-human identities to arouse a fierce Black spirit challenging the embedded hostilities of white culture.
Smith, Danez. Homie. Graywolf. Jan. 96p. ISBN 9781644450109. pap. $16. POETRY
Queer, black, poz poet/performer Smith, a National Book Award finalist for Don't Call Us Dead, roars back with an affirmative work about the ties that bind him, partly to community but mostly to friends.