The multi-million-copy best-selling Bill Bryson takes a walk around his own body, while Maria Goodavage follows up service dogs and soldier dogs with dogs as our doctors.
Bryson, Bill. The Body: A Guide for Occupants. Doubleday. Oct. 2019. 480p. ISBN 9780385539302. $30; ebk. ISBN 9780385539319. lrg. prnt. CD/downloadable. LIFE SCIENCE
The author of numerous best sellers, including A Short History of Nearly Everything and A Walk in the Woods, the whimsical and ever-curious Bryson uses his own body as his story here, exploring it from tip to toe, inside and out, to clarify how the body works so brilliantly and how it also, finally, fails.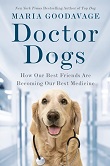 There are seven million copies of Bryson's books out there in North America alone.
Goodavage, Maria. Doctor Dogs: How Our Best Friends Are Becoming Our Best Medicine. Dutton. Oct. 2019. 368p. ISBN 9781524743048. $29; ebk. ISBN 9781524743055. Downloadable. PETS/DOGS
Soldier Dogs, Top Dog, Secret Service Dogs—longtime journalist Goodavage has a whole New York Times best-selling series on what dogs do for us. Here she shows how canines worldwide are proving to be good doctors, able to interface with technology in case of emergency, help patients with mental disorders through hallucinatory episodes, and perhaps even to detect cancer, heart disease, and seizures.