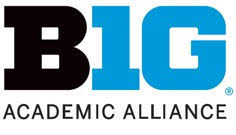 The Big Ten Academic Alliance (BTAA), a consortium of independent universities spread across 11 northern and midwestern states, began its existence as the Committee on Institutional Cooperation (CIC) in 1958. For more than 60 years, member schools have combined purchasing power and shared software licenses, aggregated course sharing and information technology services, and maintained an extensive faculty community. In mid-January, the library deans and directors of the BTAA announced the next step in the consortium's collaboration: the BIG Collection, which will manage the institutions' separate library collections as a single entity.
BTAA member schools—the University of Illinois, Indiana University, University of Iowa, University of Maryland, University of Michigan, Michigan State University, University of Minnesota, University of Nebraska–Lincoln (UNL), Northwestern University, Ohio State University, Pennsylvania State University, Purdue University, Rutgers University–New Brunswick, and University of Wisconsin­–Madison, with the University of Chicago on board as an affiliate—have committed to building the shared BIG Collection over the next several years.
The BIG Collection will ensure that faculty, staff, and students from BTAA schools have access to full content from all member schools, including materials held in archives and special collections, going beyond the current systems of interlibrary loan (ILL) and shared digital resources, licensing, and programming. "The reasons behind it weren't about efficiency—it wasn't about cost," said BTAA director of library initiatives Maurice York. "All of that is behind [the project concept], but it's really the picture of interdependence. This is a necessary pathway."
This is not the first instance of content collaboration among BTAA libraries. In 2008 the 12 universities that made up the CIC at the time, together with the 11 libraries of the University of California, founded the HathiTrust Digital Library, a collaborative repository of digital content from research libraries across the United States, Canada, and Europe.
But in early 2019 the conversation about combining assets took on new life with a report, commissioned by BTAA and written by OCLC Vice President and Chief Strategist Lorcan Dempsey, consultant Constance Malpas, and Novel Solutions Principal Mark Sandler. "Operationalizing the BIG Collective Collection: A Case Study of Consolidation vs. Autonomy" focused largely on the print collections, an area that had not previously been integrated beyond an existing ILL system and shared repositories, and recommended that sharing them—and coordinating collecting activities—would benefit all 15 libraries.
"To manage, build, and share an optimized collective collection…is a task worthy of investment," the report read. "As the management of print collections changes, BTAA is well placed to assume stewardship responsibilities for a major part of the print scholarly record, to share it more effectively, and to explore new ways of collaboratively building collections into the future."
In light of the report's recommendations, in September 2019 BTAA library deans and directors signed an agreement committing to develop the policies, infrastructure, and services necessary to make the BIG Collection a reality. "We will individually and collectively invest in strategies that transition our focus from building local collections to creating a shared, fully networked collection that supports our local students and scholars," it read in part. "With ever-increasing rigor, we will manage the separate collections of the Big Ten as if they were a single shared collection, maximizing access to and ensuring the preservation of the scholarly record in support of our common mission."
A planning committee was formed in fall 2019, and work on the shared system began to move forward.
COMPLEXITY AND SCALE
The initial planning committee was replaced by a nine-person steering committee, made up of directors and staff from the libraries, which will help guide the BTAA toward putting a framework and the appropriate policies in place. Steering committee membership will rotate, so that all libraries will be represented while keeping the group small and nimble.
Because of the scale of the project and its many moving parts, BIG Collection leaders don't anticipate any level of completion for at least a couple of decades. "The complexity and the scale almost don't get any larger than this," said York.
Rather than committing to one large central rollout, a series of pilot projects among member libraries will distribute work more equitably—and give the project leaders a chance to see what works, in order to deepen investments in successes going forward, as well as helping figure out where the libraries' individual strengths lie. "The challenge is how do we move quickly, identify that low-hanging fruit," UNL Dean of University Libraries Claire Stewart, a member of the planning committee, told LJ. "Continue to work toward the long-term vision but get some immediate successes and really try to build on that, so that we can redirect our resources, accelerate the planning, figure out what really needs to be Big Ten vs. a collaboration that's better for research libraries, for example."
The initial focus will be on three areas: the systems necessary to create interoperability across the collections; putting policies into place—for collection development, fulfillment systems, discovery systems, digital preservation, and DEI (diversity, equity, and inclusion) and antiracism—that align with those of the existing institutions; and the ongoing work to create collections that will be used by all.
In addition, said Stewart, libraries are taking a close look at what they collectively own, both to help drive future collection building policies and to understand use patterns. "We've all got our own catalogs, we all have shared records, we've got OCLC, but doing any kind of sophisticated analysis beyond that is not something that we've completed yet," she told LJ. "There are things that we know we could learn if we were able to integrate ILL data, for example "
"There's no system that we can go out and purchase, there's not an RFP that we can issue to just say this is what we'd like to achieve, someone put it into place for us and then we're done," noted York. "We know that the pieces and parts of what we want to accomplish exist in many different places. In some cases, the things that we want to do have already been done, but just not at the scale that we want to do them. In some cases the things that we're going to need haven't been attempted yet or are just waiting to be built. Sometimes they're from vended systems, things that have been created that are on the market, sometimes it's things that are in R&D, sometimes it's open source."
Because each library has its own extensive set of technologies for its catalog, discovery systems, digital preservation, and institutional repository, among other services, building the technical infrastructure will present a challenge. Currently the vision is of a common system at the center that will interoperate with the individual technologies, rather than replacing them with a single system.
"We already have an extremely robust and very successful ILL program, and we don't see that doing anything but continuing, and maybe getting even faster," said Stewart. "Where we hope that there's an order of magnitude change is making that a lot easier for our faculty and staff, because right now we still have a combination of different systems that they have to interact with if they're requesting materials from other libraries. We're trying to get to total seamless discovery."
Cataloging, metadata, and description will be significant areas of collaboration, as will be decisions around scholarly communications, collective licensing, faculty publications, open scholarship, and open science—BTAA and the Public Library of Science (PLOS) recently announced a publishing agreement to move open access forward.
Funding is also a work in progress. An initial investment for the startup is already in place, and funds will then be assembled from a variety of sources, such as grants, foundations, corporate partners, and the libraries themselves. Much of these allocations depend on how the pilot projects fare, explained York. "We're basically looking at a mixed budget model and developing the budgets and resources that we need as we move forward with the project."
COVID AMPLIFIES URGENCY
Work on the project was underway prior to the COVID-19 pandemic, but it has brought "clarity and a kind of urgency to the whole reason for doing this," said York. "It's made it very tangible why this is necessary, and why now." When campuses closed in March 2020, HathiTrust initiated Emergency Temporary Access Service, giving students, faculty, and staff from eligible member libraries online reading access to materials that were otherwise unavailable to them in their library collections. "Nobody could have imagined at the time that it would be needed in this way when the pandemic started," he noted, "but it was there and it was ready for the students and faculty."
But for all its timely support, HathiTrust's response also showed where access gaps lay. Its help during the pandemic was "huge," said Stewart. "At Nebraska, that opened up an additional 25 percent of our print collection to electronic access. But…only about 49 percent of our collection, total, is now accessible through HathiTrust, which means for one reason or another, just over half of what we've got in print never got digitized and put into HathiTrust, or it's licensed so we have access to it through some other electronic means." The BIG Collection stands to address a number of similar issues.
There is a strong support for the project among the BTAA library directors, said York. "It requires an incredible level of trust and commitment from everyone in order to make something like this work." Next steps, as the pilot projects progress, involve extending that engagement to library staff, faculty, and the university communities at large. No matter how well integrated, the BIG Collection will be a culture change for all involved, said Stewart.
York hopes, as well, that the BIG Collection will serve as a collaborative model for other schools. The 2019 report states that "The approach we recommend here is broadly applicable in other consortium settings as well, which is why we characterize the paper as a case study."
The project is "genuinely is a model of an open invitation for all of the large grassroots networks that we have," said York—"for everybody to join in together and to collectively design the future that we want to see."
"The sky's the limit," added Stewart. "The Big Ten is a huge academic powerhouse. There's incredible expertise. We should be defining the future of collections. And that's very much how we're thinking about this."