From James Lee Burke to Paula Hawkins to Preston/Child, big names with big print runs for maximum thriller pleasure.
Click here for additional new Prepub Alert columns
Burke, James Lee. Another Kind of Eden. S. & S. Aug. 2021. 256p. ISBN 9781982151713. $27. SUSPENSE
Riding the rails in the 1960s American West, would-be novelist Aaron Holland Broussard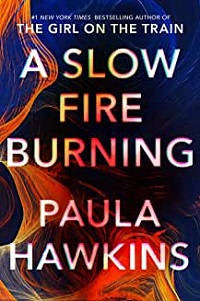 leaps off in Denver and falls for college student Joanne McDuffy, who's unfortunately caught up in a professor's druggie cult. Meanwhile, an ominous business duo drags Aaron into a murder investigation. Next in two-time Edgar Award winner Burke's Holland family saga; with a 100,000-copy first printing.
Coulter, Catherine. Vortex : An FBI Thriller. Morrow. Aug. 2021. 400p. ISBN 9780063004085. $28.99. ESPIONAGE
In the 25th Sherlock-Savich outing, FBI agent Lacey Sherlock is asked by journalist Mia Briscoe to look into the suspicious years-ago disappearance of a friend at a frat party, while agent/FBI Savich investigates the case of CIA Operative Olivia Hildebrandt. Nearly blown to shreds in an abortive mission in Iran, Olivia is saved by a team member who then vanishes and later pursued by two killers after her hospital release. Something about that mission was really problematic. With a 200,000-copy first printing.
Hawkins, Paula. A Slow Fire Burning. Riverhead. Aug. 2021. 320p. ISBN 9780735211230. $28. CD. THRILLER
A young man is found brutally murdered on his gently rocking London houseboat, and the police immediately have three women in their sights: recent one-night stand Laura, prying neighbor Miriam, and Aunt Carla, already mourning a family death. All bear resentments that might lead to their wielding a weapon, but did one of them really kill? Not surprisingly, a 500,000-copy first printing.
Patterson, James with J.D. Barker. The Noise. Little, Brown. Aug. 2021. 400p. ISBN 9780316499873. $28. CD/downloadable. THRILLER/PSYCHOLOGICAL
Taking his first trip to the Pacific Northwest, Patterson introduces readers to 16-year-old Tennant, who's checking rabbit traps near Mount Hood with little sister Sophie when they hear a mysterious vibration rising to a shriek in the woods. Their father shoves them into the storm cellar, and when they emerge, 1,000 people are dead. With a 460,000-copy first printing.
Preston, Douglas & Lincoln Child. Bloodless. Grand Central. Aug. 2021. 368p. ISBN 9781538736708. $29. CD/downloadable. THRILLER
In November 1971, D.B. Cooper hijacked a Portland-to-Seattle flight, collected a $200,000 ransom, and parachuted into oblivion. Fifty years later, bodies drained of blood are beginning to stack up in the streets of Savanah, GA, raising fears that the city's legendary vampire is real. Clearly, there's a link here that the durable Agent Pendergast must discover. With a 250,000-copy first printing.
Rollins, James. Kingdom of Bones: A Thriller. Morrow. Aug. 2021. 448p. ISBN 9780062892980. 28.99. lrg. prnt. CD. THRILLER
In Rollins's latest, Commander Gray Pierce and Sigma Force face huge swaths of Africa where the populace has turned quiescent even as plants and animals become cunningly fierce. Has the biosphere gone crazy, or is fiendish engineering involved—and to what purpose? With a 250,000-copy first printing; originally scheduled for March 2021.
Stevens, Chevy. Dark Roads. St. Martin's. Aug. 2021. 384p. ISBN 9781250133571. $27.99. CD. THRILLER
Women keep disappearing on a desolate stretch of road called Cold Creek Highway, which is the perfect cover when Hailey McBride decides to run away from a life she can no longer abide. Later, troubled Beth Chevalier has come to Cold Creek to attend a memorial for the victims, but she's also determined to set her own life right by finding out what happened to sister Amber. With a 100,000-copy first printing.
Woods, Stuart. Class Act. Putnam. Aug. 2021. 320p. ISBN 9780593331668. $28. lrg. prnt. CD/downloadable. ACTION & ADVENTURE
Woods, who is now pushing out five books a year, here gives fan-favorite Stone Barrington another workout. No plot details, but expect the usual intrigue, mayhem, and flashy characters.
Click here for additional new Prepub Alert columns