Biographies of Harriet the Spy author Louise Fitzhugh and El Chapo and memoirs from AIDS activist Ruth Coker Burks and Homeira Qaderi, who writes about having to leave her son in Afghanistan.
Brody, Leslie. Sometimes You Have To Lie: The Life and Times of Louise Fitzhugh, Renegade Author of Harriet the Spy. Seal: Hachette. Dec. 2020. 336p. ISBN 9781580057691. $30. Downloadable. BIOGRAPHY/LITERATURE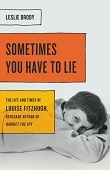 Burks, Ruth Coker & Kevin Carr O'Leary. All the Young Men. Grove. Dec. 2020. 304p. ISBN 9780802157249. $26. MEMOIR
Hurowitz, Noah. El Chapo: The Untold Story of the World's Most Infamous Drug Lord. Atria. Dec. 2020. 288p. ISBN 9781982133757. $28. BIOGRAPHY/CRIME
Qaderi, Homeira. Dancing in the Mosque: An Afghan Mother's Letter to Her Son. Harper. Dec. 2020. 224p. ISBN 9780062970312. $26.99. MEMOIR
In Sometimes You Have To Lie, biographer/playwright Brody, who adapted Harriet the Spy for the stage, portrays the determinedly lesbian/radical life led by Harriet's creator, Louise Fitzhugh (25,000-copy first printing). In her humbling memoir, All the Young Men, Burks relates her 1986 visit to a Hot Springs, AR, hospital as a single mom and opening a red-painted door nurses feared to pass, meeting a seriously ill young man and thus becoming a crucial AIDS activist. In El Chapo, Hurowitz expands on his Rolling Stone coverage of the federal drug-trafficking trial of Mexican drug lord Joaquín Archivaldo "El Chapo" Guzmán Loera, showing how he built his fearsome empire (60,000-copy first printing). In Dancing in the Mosque, Qaderi recalls teaching children and fighting for women's rights in theocracy-bound Afghanistan, then being forced to leave her son behind when her husband divorced her in 2015 just as she was preparing to attend the International Writing Program at the University of Iowa (50,000-copy first printing).