Tales from Iceland, Spain, China, Syria, and around the globe. The best world literature translated into English and published in 2019.
de Moor, Margriet.
Sleepless Night.
tr. from Dutch by David Doherty. New Vessel. ISBN 9781939931696.
In quiet, unrushed, yet deeply penetrating prose, Dutch author de Moor portrays an unnamed woman during a single night as she recalls her deceased husband and a past shame while engaging with a new lover—all the while baking a cake, her means of coping. An extraordinary accomplishment that shows how much can be accomplished in the briefest, most spare space.
Eiríksdóttir, Kristín.
A Fist or a Heart.
tr. from Icelandic by Larissa Kyzer. Amazon Crossing. ISBN 9781542044035.
Lyrical, wrenching, and arresting as a fist punch to the heart, this award winner from Icelandic author Eiríksdóttir unfolds the growing concern of Elín Jónsdóttir, a seventyish theater props designer, for troubled young playwright Ellen Álfsdóttir. At the same time, the slow revelation of a terrible incident in Elín's youth explains her insular existence while building with thrillerlike intensity. North-star bright.
Fernández, Nona.
Space Invaders.
tr. from Spanish by Natasha Wimmer. Graywolf. ISBN 9781644450079.
In a narrative invested with dream, memory, and quietly pulsating pain, Chilean author Fernández profiles a group of childhood friends recalling in adulthood a classmate named Estrella, who had hurriedly departed school midyear. Having grown up under Pinochet's repressive regime, they all remember Estrella differently, and the uncertainty surrounding her reflects their country's ongoing political instability.
Ha Seong-nan.
Flowers of Mold & Other Stories.
tr. from Korean by Janet Hong. Open Letter. ISBN 9781940953960.
Murderers, a shoplifting magician, and more populate Korean author Ha's superb ten-story collection, with tales ranging from a loner obsessed with his neighbors' trash to a new arrival manipulating possession of her neighbor's husband and son. A disturbing, oneiric, yet all-too-recognizable world in which heat stifles, waste rots, bonds break—yet for most life goes on.
Khalifa, Khaled.
Death Is Hard Work.
tr. from Arabic by Leri Prices. Farrar. ISBN 9780374135737.
Three siblings put aside their differences to transport their father's body to his ancestral village for burial—no easy journey as they travel through war-enraged Syria and are imprisoned, interrogated, and bombarded by various competing factions while the corpse slowly deliquesces. Khalifa, who refuses to flee Damascus, chronicles both family entanglement and his country's tragedy in clear-eyed, unrelentingly language. A masterpiece.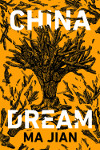 Ma Jian.
China Dream.
tr. from Chinese by Flora Drew. Counterpoint. ISBN 9781640092402.
As newly appointed director of the China Dream Bureau, corrupt, self-satisfied womanizer Ma Daode is tasked with replacing people's dreams with the dream of a grander China. But as he confronts his country's recent history, his own dreams turn to nightmare. A stark, revelatory, and sometimes cuttingly humorous portrait of authoritarian China from exiled author Ma.
Marías, Javier.
Berta Isla.
tr. from Spanish by Margaret Jull Costa. Knopf. ISBN 9780525521365.
Polyglot Tom Nevinson marries longtime schoolmate Berta Isla but is duped into working for the British intelligence service. Tom is absent from their Madrid home for long periods and one day inexplicably disappears entirely; Berta awaits his return ignorant of his whereabouts. Celebrated Spanish author Marias delivers deception and intrigue with a surprising and unexpected ending.
Nganang, Patrice.
When the Plums Are Ripe.
tr. from French by Amy B. Reid. Farrar. ISBN 9780374288990.
In bright, limpid, head-long language, Prix Marguerite Yourcenar winner Nganang delivers the second in a trilogy about Cameroon, caught between Vichy and the Free French during World War II. As poorly trained young Cameroonians are trampled underfoot like ripe plums while fighting in Italy, nationalism takes root, and Nganang reveals how fiction can illuminate history.
Ogawa, Yoko.
The Memory Police.
tr. from Japanese by Stephen Snyder. Pantheon. ISBN 9781101870600.
Without names, the people and the island in this ominously Orwellian narrative from Japanese multi-award-winner Ogawa could be anyone, anywhere, and that universality is exactly intentional. Initially, small things on the island disappear—"Ribbon, bell, emerald, stamp"—followed by people who couldn't or wouldn't forget, and a novelist must somehow save her editor because he remembers.
Statovci, Pajtim.
Crossing.
tr. from Finnish by David Hackston. Pantheon. ISBN 9781524747497.
Albanian-born, Finland-based Statovci offers a bold and affecting new novel that struggles with issues of gender, exile, and identity as Bujar flees post-Communist Albania with his best friend, Agim. The author beautifully limns the sense of being doubly an outsider, both immigrant and gender-fluid, as the narrative shifts clearly and effectively through the multiple lives of its protagonists.