Just announced for October, French's new bone chiller joins a juicy list of historicals, saga, women's fiction, and romance publishing in November.
Top Pop
Archer, Jeffrey Hidden in Plain Sight. St. Martin's. Nov. 2020. 416p. ISBN 9781250200785. $28.99. CD. SAGA
Though starring Det. William Warwick, this second in a series (after Nothing Ventured) is billed as saga, with the accent on relationships. Still, there's action. Warwick has been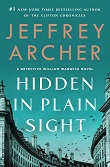 reassigned to the Drugs Squad and charged with tracking down a nasty South London drug dealer, which brings him in contact with a miscreant financier and a drug-dealing school buddy even as Warwick himself faces marriage. With a 150,000-copy first printing.
Brackston, Paula. The Garden of Promises and Lies. St. Martin's. Nov. 2020. 320p. ISBN 9781250072450. $27.99. HISTORICAL
In the "Little Shop of Found Things" series, beautiful objects intimate their stories to the shop's proprietor, Xanthe, and send her whistling back in time. Here, she's home again, but she has inadvertently brought dark and dangerous Benedict Fairfax with her from a recent foray, and to fix the mistake she must respond to the call of an antique wedding dress that deposits her 1815 Bradford-on-Avon. With a 50,000-copy first printing.
Cornwell, Bernard. War Lord. Harper. Nov. 2020. 336p. ISBN 9780062563293. $28.99. HISTORICAL
Saxon-born, Viking-raised, and destined to spill blood in 800s–900s England, Uhtred of Bebbanburg stars in Cornwell's long-running "Saxon Tales" series—and the popular Netflix series, The Last Kingdom, based on the books. (Uhtred is named for a historical figure from whose family Cornwell is descended.) Here, the sword flashing that led to the early consolidation of England continues. With a 75,000-copy first printing.
Evans, Danielle. The Office of Historical Corrections: A Novella and Stories. Riverhead. Nov. 2020. 288p. ISBN 9781594487330. $27. Downloadable. AFRICAN AMERICAN/SHORT STORY
Claimant to PEN/Robert W. Bingham Prize, Hurston/Wright Legacy Award, and National Book Foundation "5 Under 35" honors for her debut story collection, Before You Suffocate Your Own Fool Self, Evans returns after nine bit-chomping years with another collection weighing issues of race, culture, and history. For instance, in "Boys Go to Jupiter," a white student seeks to redeem herself after she's seen in cyberspace wearing a Confederate-flag bikini.
French, Tana. The Searcher. Viking. Oct. 2020. 464p. ISBN 9780735224650. $27. CD/downloadable. SUSPENSE
Just announced, this latest from the multi-award-winning, Dublin-based French features former cop Cal Hooper, who's moved to rural Ireland to escape memories of Chicago's bloody streets and his own bloody divorce. But all's not peaceful; soon, he's dragged into helping a local lad find his missing brother and realizes that idyllic villages can have dark secrets.
Gregory, Philippa. Dark Tides. Atria. Nov. 2020. 480p. ISBN 9781501187186. $28. CD. HISTORICAL
Following the fate of characters she first introduced in the LJ-starred Tidelands, the No. 1 New York Times best-selling Gregory takes us to 1670 London, where Alinor is approached by a wealthy man who abandoned her years ago because he's interested in her son—who's his son and heir. Meanwhile, Alinor's warehouse is on hard times, and a Venetian widow soon sweeps in with both bad news and a promise to save the flailing business. With a 150,000-copy first printing.
Jenoff, Pam. The Diplomat's Wife. Park Row: Harlequin. Nov. 2020. 352p. ISBN 9780778311089. $28.99; ISBN 9780778389378 pap. $16.99. HISTORICAL
Yes, this is a reissue of a 2008 publication from historical fiction phenom Jenoff about a camp survivor who marries a British diplomat after World War II. The 300,000-copy paperback first printing suggests confidence that the book has an audience, new and old, and an excerpt of Jenoff's much-anticipated 2021 novel lays the groundwork for what's to come.
Steel, Danielle. All That Glitters. Delacorte. Nov. 2020. 288p. ISBN 9780399179686. $28.99. lrg. prnt. WOMEN'S
No plot details yet—you know how busy Steel is with six original hardcovers, six mass-market conversions, and two mass market reissues in 2020 alone—but here's a novel that will take you to New York, London, and Paris. All for $28.99.
More Pop Fiction
Archer, Jeffrey (text) & Paul Cox (illus.). The Short, the Long and the Tall: Short Stories. St. Martin's. Nov. 2020. 288p. ISBN 9781250064905. $32.50. SHORT STORIES
Bourne, Holly. Pretending. Mira: Harlequin. Nov. 2020. 416p. ISBN 9780778331506. pap. $17.99. WOMEN'S
Brooks, Karen. The Lady Brewer of London. Morrow Paperbacks. Nov. 2020. 832p. ISBN 9780063008243. pap. $17.99. HISTORICAL
Crossan, Sarah. Here Is the Beehive. Little, Brown. Nov. 2020. 288p. ISBN 9780316428583. $26. Downloadable. FAMILY LIFE
The Goggles. The Book of Darryl. MCD: Farrar. Nov. 2020. 208p. ISBN 9780374115319. $27. GN/HUMOROUS
Hayes-McCoy, Felicity. The Transatlantic Book Club. Harper. Nov. 2020. 368p. ISBN 9780063037397. $26.99; pap. ISBN 9780062889508. $15.99. lrg. prnt. WOMEN'S
Kawaguchi, Toshikazu. Before the Coffee Gets Cold. Hanover Square: Harlequin. Nov. 2020. 240p. ISBN 9781335430991. $19.99. CD. MAGIC REALISM
Marsh, Nicola. The Boy Toy. Berkley. Nov. 2020. 352p. ISBN 9780593198629. pap. $16. Downloadable. ROMANCE
Windley, Carol. Midnight Train to Prague. Atlantic Monthly. Nov. 2020. 352p. ISBN 9780802119735. $26. HISTORICAL
In The Short, the Long and the Tall, Archer handpicks 20 of his beloved stories and drafts Cox to illustrate them with watercolors (75,000-copy first printing). Making her U.S. debut, popular UK author Bourne presents modest, gentle-souled April, who realizes that men really want a Regular Everyday Manic Pixie Dream Girl Next Door with No Problems and starts Pretending (100,000-copy first printing). The Locksmith's Daughter, The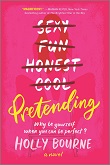 Chocolate Maker's Wife, and now, from Australian author Brooks, The Lady Brewer of London , whose heroine grabs her mother's old recipes and turns to brewing ale in the early 1400s to save her family after her merchant father's ship is lost at sea (100,000-copy first printing). IN CILIP Carnegie Medal–winning Crossan's adult debut, Here Is the Beehive, estate lawyer Ana Kelly receives a call that her client Connor has died—shattering because she secretly maintained a longtime affair with Connor and because Connor's wife (with whom she soon becomes unaccounably friendly) made the call (50,000-copy first printing). In the graphic-format, not-for-Sunday-school The Book of Darryl by the Googles (award winners Paul Shoebridge and Michael Simons), 16-year-old Darryl is your classic misfit in Roman-occupied Nazareth who finds things looking up when a new refugee neighbor, Jay (the son of god?), agrees to join Darryl's band and introduces him to the joys of heavy metal. Fourth in the "Finfarran Peninsula" series, with Cassie Fitzgerald having already dropped in from Canada, The Transatlantic Book Club features Cassie's efforts to cheer up her widowed Irish grandma by establishing a Skype book club with a Finfarran-populated town across the Atlantic—but it leads to trouble (50,000-copy paperback and 25,000-copy hardcover first printing). In Kawaguchi's Before the Coffee Gets Cold, a Japanese phenomenon that's become a UK bestseller, an underground café in Tokyo allows customers to travel back in time—they just have to sit in a particular seat on a particular day, and the journey will last only as long as it takes to down a cup of coffee (75,000-copy first printing). In the USA Today best-selling Marsh's The Boy Toy, Samira returns home to Australia, leaving behind a memoires of a crashed marriage and a bustling L.A. business as a dialect coach and falling for her new client, Rory, a stuntman who's ten years younger and not Indian. On The Midnight Train to Prague in 1927, Berliner Natalie Faber learns the truth about her father and meets a woman who will change her life, then returns riskily to Prague during World War II after her Hungarian journalist husband fails to return from the eastern front. From Giller Prize and Governor General's Literary Award finalist Windley.