Jaouad recounts three and a half years spent conquering leukemia, then learning to live again, while Owusu unfolds a childhood fractured by family tragedy and constant travel to arrive at a coherent sense of self. Plus three more significant memoirs with larger context: comedian/storyteller Mike Birbiglia on becoming a parent, mountaineer/explorer Vanessa O'Brien on her worldview after scaling the heights, and journalist Schwarz on her grandparents' guilt during World War II.
Memoir Picks
Jaouad, Suleika. Between Two Kingdoms. Random. May 2020. 288p. ISBN 9780399588587. $28; ebk. ISBN 9780399588594. MEMOIR|
Having thrown herself into a dream job in Paris post-graduation, Jaouad was brought low by terrible itching and fatigue and finally diagnosed with leukemia just before turning 23. With a 35 percent survival rate, she returned home to New York and entered three and a half years of chemotherapy, a clinical trial, and a bone marrow transplant—a tortuous journey she recounted in a column for the New York Times. To learn to live again after her release, she launched on a 100-day, 15,000-mile cross-country road trip with snuggly rescue mutt Oscar, visiting strangers who had written to her while she was in the hospital. Now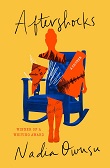 she's an Emmy Award–winning writer/activist who served on Barack Obama's President's Cancer Panel—and she still vans around with Oscar when she can.
Owusu, Nadia. Aftershocks: A Memoir. S. & S. May 2020. 288p. ISBN 9781982111229. $26; ebk. ISBN 9781982111243. MEMOIR
Abandoned by her mother at age two and raised by her stepmother after her father died when she was 13, Owusu moved from Rome and London to Dar-es-Salaam and Kampala during her childhood and entered college in America with an understandably fractured sense of self. Caught in the crashing waves of different identities, she began to come apart, only to reach firm ground by writing. Now a Brooklyn-based urban planner, she's a Whiting Award winner honored by the TAR chapbook series for her lyric essay So Devilish a Fire. Here she unfolds a tale of a crisscrossed coming-of-age and subsequent firm sense of self. With a 75,000-copy first printing.
More Big Memoirs
Birbiglia, Mike. The New One: Painfully True Stories from a Reluctant Dad. Grand Central. May 2020. 256p. ISBN 9781538701515. $28; ebk. ISBN 9781538701539. lib. ebk. ISBN 9781538702857.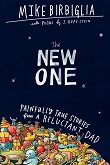 CD/downloadable. MEMOIR/HUMOR/FAMILY
O'Brien, Vanessa. To the Greatest Heights: Facing Danger, Finding Humility, and Climbing a Mountain of Truth. Emily Bestler: Atria. May 2020. 240p. ISBN 9781982123789. $26; ebk. ISBN 9781982123802. MEMOIR
Schwarz, Géraldine. Those Who Forget: My Family's Story in Nazi Europe; a Memoir, a History, a Warning. Scribner. May 2020. 320p. tr. from French by Laura Marris. ISBN 9781501199080. $28; ebk. ISBN 9781501199103. MEMOIR
With his wife, poet Jennifer Hope Stein, whose work is included here, award-winning comedian/storyteller and New York Times best-selling author Birbiglia began crafting stories about the terrors of facing the birth of a child, which expanded into the Broadway show The New One and now a book of the same name (200,000-copy first printing). O'Brien left behind youthful family tragedy and the recession-rocky business world to become a successful explorer/mountaineer and one of only eight women to achieve the Explorers Grand Slam (i.e., she's summited the highest peak on every continent and reached the North and South poles); in To The Greatest Heights she offers a from-the-top view of a changing world (75,000-copy first printing). And German-French journalist and documentary filmmaker's Schwarz's award-winning first book, Those Who Forget, reveals that her German grandfather bought out a Jewish business cheaply in 1938 and later refused reparations to the family's only survivor—and her French grandfather was a Vichy policeman (75,000-copy first printing).