April showers must be bone-chilling enough, as there's not a huge sweep of mysteries for the month, but what's coming ranges nicely from Sara Paretsky's Dead Land to Jeri Westerson's Sword of Shadows.
Mystery Picks
Paretsky, Sara. Dead Land. Morrow. Apr. 2020. 304p. ISBN 9780062435927. $27.99; ebk. ISBN 9780062435972. lrg. prnt. MYSTERY
When willful goddaughter Bernie Fouchard rushes in to save a beloved singer/songwriter living on the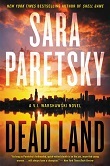 streets after her lover's death in a mass shooting, private eye V.I. Warshawski is led to something bigger: a battle among high-stakes developers over lakefront usage in Chicago. The murder of a young man belonging to the community organization SLICK, whom Bernie was dating, and the subsequent deaths of other SLICK members sends Warshawski in search of the mysterious Coop, who nightly wanders the lakefront with his dog and might understand how all these killings lead back to an international law firm. With a 100,000-copy first printing.
Perry, Anne. One Fatal Flaw: A Daniel Pitt Novel. Ballantine. Apr. 2020. 304p. ISBN 9780593129524. $28; ebk. ISBN 9780593129531. MYSTERY
When Rob Adwell is accused of murder and of subsequently setting a fire to hide the crime, his girlfriend pleads with lawyer Daniel Pitt for help. Daniel turns to friend Miriam fford Croft, an accomplished scientist, who shows that an accidental fire caused the victim's death. But Rob's violent death in a similar fire calls everything into question. Third in the new series spun off from Perry's long-standing Victorian London–set "Charlotte and Thomas Pitt" mysteries, with their son Daniel now at the helm.
More Bone-Chilling Mysteries
Fredericks, Mariah. Death of an American Beauty: A Mystery. Minotaur: St. Martin's. Apr. 2020. 272p. ISBN 9781250210883. $26.99; ebk. ISBN 9781250210890. MYSTERY
Lady's maid Jane Prescott plans to spend her holiday attending a riot-prompting cubist exhibition in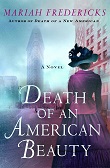 New York but fears she should be helping with a play commemorating the 50th anniversary of Lincoln's Emancipation Proclamation, a society event starring her own employer. In the end, she does something entirely different. With the help of two friends, reporter Michael Behan and music hall pianist Leo Hirschfeld, she investigates a murder whose victim was found outside a home her uncle runs for women. Third in a series; A Death of No Importance was an LJ Best Books of 2018.
Harris, C.S. Who Speaks for the Damned. Berkley. Apr. 2020. 336p. ISBN 9780399585685. $26; ebk. ISBN 9780399585692. MYSTERY
In June 1814, as royalty from Austria, Russia, and the German states gather in London at the Prince Regent's invitation to celebrate Napoleon's defeat, the dissolute third son of the late Earl of Seaford is found dead. That he was supposed to have died nearly two decades previously after being convicted of murdering a young French émigré and that a young lad said to have accompanied him to London has now vanished brings Sebastian St. Cyr, Viscount Devlin, and his valet, Jules Calhoun, into the investigation. Fifteenth in the USA TODAY best-selling series.
Jones, Darynda. A Bad Day for Sunshine. St. Martin's. Apr. 2020. 352p. ISBN 9781250149442. $27.99; ebk. ISBN 9781250149466. CD. MYSTERY
In this series launch from the New York Times best-selling Jones (Summoned to the Thirteenth Grave), police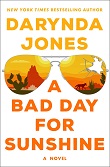 officer Sunshine Vicram is stunned to realize that a killer is roaming small-town Del Sol, NM, her previous cases having involved at worst the local flasher. She's even more stunned when an FBI agent and a U.S. marshal both drop in to help—and both find her broiling hot as Del Sol's infamous sunshine. Even a kidnapped rooster won't waylay this case.
Pronzini, Bill. The Stolen Gold Affair: A Carpenter and Quincannon Mystery. Forge. Apr. 2020. 224p. ISBN 9781250216489. $26.99; ebk. ISBN 9781250216496. MYSTERY
In this eighth title in the "Carpenter & Quincannon" historical mystery series from MWA Grand Master Pronzini, set in the late 1800s, John Quincannon is working undercover as a miner to discover who's stealing gold from a Mother Lode mine. Meanwhile, fiancée Sabrina Carpenter scrutinizes both a real estate scam and a nasty young man's dark secret. All while planning her wedding.
Spencer-Fleming, Julia. Hid from Our Eyes: A Clare Fergusson/Russ Van Alstyne Mystery. Minotaur: St. Martin's. Apr. 2020. 320p. ISBN 9780312606855. $27.99; ebk. ISBN 9781250022660. CD. MYSTERY
When Milers Kill Police Chief Russ van Alstyne fields a 911 call about a young woman in a fancy party dress found dead, it brings back memories of his being accused of a similar murder in the 1970s when he was a young Vietnam War veteran. Back then, the police chief in charge recalls a similar case he investigated as a trooper in the 1950s. Enter Rev. Clare Fergusson, priest at St. Alban's Church and Russ's wife, who must juggle caring for their new baby with helping Russ solve this case. Ninth in the Anthony, Agatha and Macavity Award–winning mystery series.
Viets, Elaine. A Star Is Dead. Severn House. Apr. 2020. 224p. ISBN 9780727890160. $28.99 MYSTERY
In this third in the "Angela Richman, Death Investigator" series from Agatha and Anthony Award winner Viets, Jessica Gray's one-woman show is a bust when she manages to alienate half the town of Chouteau
Forest and her own entourage as well. Still, murder by poison seems like an extreme response, and when Angela's friend Mario Gomez is charged with the murder, Angela leaps to his defense.
Westerson, Jeri. Sword of Shadows. Severn House. Apr. 2020. 224p. ISBN 9780727889218. $28.99. MYSTERY
In 1396 England, Crispin Guest, an aristocrat who became the famed but in-the shadows tracker of London after committing treason, hunts for the sword of Excalibur with the Cornishman Carantok Teague. Suddenly, their hunt is waylaid by the appearance of a corpse. There don't seem to be as many medieval mysteries series as there were of yore, but this one is a standout.