David Adjmi considers growing up a gay Syrian Jew in Brooklyn before the borough got cool, journalist Diane Cardwell finds a new life and a new community by surfing at New York's Rockaway Beach, and linguist Deborah Tannen reconstructs the life of her inspiring father. In contrast, Hayden Herrera recounts a neglectful upbringing by art-besotted parents, and Dan Mathews examines life with an off-kilter mother only recently diagnosed with mental illness. Other stories of difficult parents come from Sara Faith Alterman, Stephanie Danler, and Vicki Laveau-Harvie. Finally, among top memoirs, former Navy SEAL Douglas Michael Day communicates a story of service and survival.
Memoir Picks
Adjmi, David. Lot Six: A Memoir. Harper. Jun. 2020. 288p. ISBN 9780061990946. $27.99; ebk. ISBN 9780062097019. MEMOIR/LGBT
An award-winning playwright (e.g., the Whiting Award, the inaugural Steinberg Playwright Award) whose works have been produced by the Royal Shakespeare Company, Lincoln Center, and more, Adjmi takes a break from the boards to explain what it was like growing up as a gay Syrian Jew in 1970s–80s Brooklyn. Along the way, he touches on cultural influences from Sweeney Todd to street art to the downtown club scene, plus major cultural figures of the time. With a 35,000-copy first printing.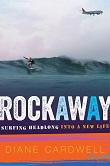 Cardwell, Diane. Rockaway: Surfing Headlong into a New Life. Houghton Harcourt. Jun. 2020. 272p. ISBN 9780358067788. $26; ebk. ISBN 9780358067825. MEMOIR/SPORTS
A wide-ranging journalist (e.g., as part of the inaugural team writing the 9/11 "Portraits of Grief" at the New York Times), the divorced and disenchanted Cardwell found herself watching the surfers at Rockaway Beach, which angles out into the Atlantic from New York City. She decided to learn to surf, but just as she was mastering her balance, Hurricane Sandy washed ashore, and she quickly joined to help a storm-wrecked community get its balance. In-house enthusiasm; with a 40,000-copy first printing.
Day, Douglas Michael. Bone Frog: A Memoir About What Happens After a Miracle. Twelve. Jun. 2020. 256p. ISBN 9781538701836. $28; ebk. ISBN 9781538701829. lib. ebk. ISBN 9781538702369. Downloadable. MEMOIR/MILITARY
Day served 21 years as a United States Navy SEAL, having been deployed to spots as far-flung as Kosovo and the Philippines and multiple times to the Middle East. While in Iraq, he survived being shot 27 times. That's some story. The Bone Frog Challenge was created by Navy SEALs to inspire participants to become better athletes and recognize that they can do anything they choose, a thrown-down gauntlet Day obviously accepted with grace. With a 75,000-copy first printing.
Herrera, Hayden. Upper Bohemia: A Memoir. S. & S. Jun. 2020. 272p. ISBN 9781982105280. $26; ebk. ISBN 9781982105303. CD. MEMOIR
The parents of Pulitzer Prize finalist, Los Angeles Times Book Prize–winning biographer Herrera lived in what her mother called Upper Bohemia. They were from wealthy backgrounds, living the artistic life (with friends like Max Ernst, Edmund Wilson, and Peggy Guggenheim). But they neglected their children, divorcing when Herrera was five and each marrying four more times, and as she explains, she learned to worship beauty but never felt the love of a supportive family. With a 50,000-copy first printing.
Mathews, Dan. Like Crazy: Life with My Mother and Her Invisible Friends. Atria. Jun. 2020. 256p. ISBN 9781501199981. $26; ebk. ISBN 9781982100018. MEMOIR
Director of Campaigns for PETA, Mathews claims that being constantly beaten up in high school because he was gay made him tough enough to be an animal activist, and in adulthood he also needed to be tough when dealing with his independent-minded, outrageously outspoken mother, too. When she was 79, he had her escorted cross country to live with him in his beat-up Victorian townhouse in Portsmouth, VA, but it took a fisticuffs-fraught trip to the emergency room for him to learn that she had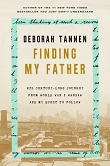 long suffered from undiagnosed schizophrenia. With a 75,000-copy first printing.
Tannen, Deborah. Finding My Father: His Century-Long Journey from World War I Warsaw and My Quest To Follow. Ballantine. Jun. 2020. 240p. ISBN 9781101885833. $28; ebk. ISBN 9781101885840. MEMOIR/PARENTING
Having enjoyed countless hours as a child with her storytelling father, clearly inspiration for her career in linguistics (see, e.g., the acclaimed You Just Don't Understand), Tannen used a journal he willed to her to reconstruct a rich life that began in Warsaw's Hasidic community in 1908. Later, he journeyed to New York, supported his mother and sister from age 14 while eventually attending law school at night, and became deeply involved in politics. Tannen also investigates her father's personal life (those letters from a woman he might have married) and the very act of remembering.
More Tough Parents
Alterman, Sara Faith. Let's Never Talk About This Again. Grand Central. Jun. 2020. 288p. ISBN 9781538748671. $27; ebk. ISBN 9781538748657. CD/downloadable. MEMOIR/PARENTING
Danler, Stephanie. Stray: A Memoir. Knopf. Jun. 2020. 240p. ISBN 9781101875964. $25; ebk. ISBN 9781101875971. lrg. prnt.
MEMOIR/PARENTING
Laveau-Harvie, Vicki. The Erratics: A Memoir. Knopf. Jun. 2020. 224p. ISBN 9780525658610. $25.95; ebk. ISBN 9780525658627. MEMOIR/PARENTING
Producer of the play/podcast/Netflix series Mortified, Alterman had an innocent childhood until learning that her nerdy father was secretly a sex writer (Games You Can Play with Your Pussy), and later it got worse when Alzheimer's emboldened him to solicit her help in reviving his writing career; no wonder she proclaims Let's Never Talk About This Again (60,000-copy first printing). Bittersweet novelist Danler's Stray limns the burdens of being raised by addict parents and returning "home" to California after a decade to wrestle with their continuing squalor while facing her own ill-advised affairs, her overdrinking, and the limits of forgiveness. Laveau-Harvie, too, had difficult parents—a controlling, vindictive mother and clueless, submissive father who disowned her and her sister—and in her Finch Memoir and Stella Prize–winning The Erratics recounts returning "home" to Canada to help her father deal with her hospitalized mother and overbearing caretakers.
More Memoirs
Alperin, Eric & Deborah Stoll. Unvarnished: A Gimlet-Eyed Look at Life Behind the Bar. Harper Wave. Jun. 2020. 320p. ISBN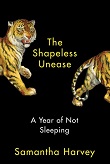 9780062899286. $27.99; ebk. ISBN 9780062899309. MEMOIR/CULINARY
Harvey, Samantha. The Shapeless Unease: A Year of Not Sleeping. Grove. May 2020. 192p. ISBN 9780802148827. $26; ebk. ISBN 9780802148841. MEMOIR
Katzenstein, Jason Adam. Everything Is an Emergency: An OCD Story in Words & Pictures. Harper Perennial. Jun. 2020. 256p. ISBN 9780062950079. $19.99; ebk. ISBN 9780062950093. MEMOIR/GN
Talusin, Meredith. Fairest. Viking. May 2020. 320p. ISBN 9780525561309. $27; ebk. ISBN 9780525561316. MEMOIR
An experienced cocktail professional who has worked Michelin-starred joints and opened any number of his own glossy venues (including famed Los Angeles speakeasy The Varnish), the Unvarnished Alperin tells us what it's really like to be pouring those drinks (75,000-copy first printing). In The Shapeless Unease, multi-award-nominated, Betty Trask–winning novelist Harvey limns wrestling with debilitating insomnia (don't I know). New Yorker cartoonist Katzenstein's Everything Is an Emergency uses the graphic format to clarify what it's like to have obsessive compulsive disorder—and the kind of workarounds he's devised, though life is ever unpredictable, Finally, in Fairest, Talusin deals with shocks of a different sort, here exploring issues of gender, disability, ethnic background, and ingrained prejudice after having been born a boy with albinism in the rural Philippines and grown up to become a woman in America.