A look at national and international divisiveness, how dirty money supports dirty politics, what technology means for human relationships, and more.
Picks
Mishra, Pankaj. Bland Fanatics: Essays. Farrar. Aug. 2020. 240p. ISBN 9780374293314. $27; ebk. ISBN 9780374711900. POLITICAL SCIENCE/ESSAYS
Author of the best-booked From the Ruins of Empire and the multi-starred Age of Anger,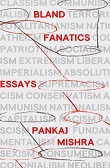 Bloomsberg View columnist Mishra famously takes on the overwrought, divisive political conversation that reigns worldwide. These collected essays, which carry a fresh introduction by Mishra, range from the clinging roots of colonialism to the fear of Islam to the shift away from Anglo-American hegemony. As always, Mishra aims to douse the hysteria heard from liberals as well as conservatives.
Spar, Debora L. Work Mate Marry Love: How Machines Shape Our Human Destiny. Farrar. Aug. 2020. 400p. ISBN 9780374200039. $28; ebk. ISBN 9780374716219. SOCIAL HISTORY
Currently Baker Foundation Professor at Harvard Business School and the former president of Barnard College, Spar (Wonder Women) here investigates love in the time of technology. With romance shifting from inline at the movies to online with one's favorite device and medical advances facilitating both gender changes and new ways of procreating, how will our sense of romance and of our very humanity change?
More big titles
Burgis, Tom. Kleptopia: How Dirty Money Is Conquering the World. Harper. Aug. 2020. 368p. ISBN 9780062883650. $28.99; ebk. ISBN 9780062883674. POLITICAL SCIENCE/POLITICAL ECONOMY
Giffels, David. Barnstorming Ohio: To Understand America. Hachette. Aug. 2020. 272p. ISBN 9780306846397. $28; ebk. ISBN 9780306846380 POLITICAL SCIENCE/ESSAYS
Kreitner, Richard. Break It Up: Secession, Division, and the Secret History of America's Imperfect Union. Little, Brown. Aug. 2020. 384p. ISBN 9780316510608. $30; ebk. ISBN 9780316510592. lib. ebk. ISBN 9780316461887. Downloadable. POLITICAL SCIENCE
Tyler, Rick. Still Right: An Immigrant-Loving, Hybrid-Driving, Composting American Makes the Case for Conservatism. Thomas Dunne: St. Martin's. Aug. 2020. 336p. ISBN 9781250256492. $29.99; ebk. ISBN 9781250256508. POLITICAL SCIENCE
In Kleptopia, Burgis, an Overseas Press Club prize-winning Investigations Correspondent for the Financial Times, tells the story of a British banker, a Brooklyn gangster, a Canadian lawyer, and a central Asian businessman to show how dirty money is supporting dirty politics worldwide (50,000-copy first printing). A two-time winner of the Ohioana Award, essayist/memoirist Giffels is seen Barnstorming Ohio to get a pre-election measure of the state—important because Ohio has chosen the winner in 29 of the last 31 presidential elections. In Break It Up, Nation contributing writer Kreitner argues that, starting from 13 distinctively different Colonies, the United States has never been united and that the desire for dissolution ever lingers in the background (35,000 copies). And in Still Right, Tyler, a leading political analyst for MSNBC, makes a case for conservatism without Trump, arguing, for instance, that a strong global economy includes welcoming immigrants.