Poets and bakers, and if not candlestick makers then certainly photojournalists, celebrities, and others recall how they have been shaped by tough upbringings and current friendships.
Picks
Donovan, Lisa. Our Lady of Perpetual Hunger: A Memoir. Penguin Pr. Aug. 2020. 304p. ISBN 9780525560944. $28; ebk. ISBN 9780525560951. Downloadable. MEMOIR
An acclaimed pastry chef in some of the South's top kitchens and winner of a James Beard Award for her writing, which appears in Food & Wine, Donovan survived a hardscrabble upbringing in a family anxious about its mixed-race background and dismissive of women. Abuse when she was a young mother followed. But she stuck with her career, finally listening to food doyenne Diana Kennedy's advice: "Stop letting men tell your story."
Flynn, Nick. This Is the Night Our House Will Catch Fire: A Memoir. Norton. Aug. 2020. 288p. ISBN 9781324005544. $25.95. ebk. ISBN 9781324005551. MEMOIR
In both poetry (including the PEN/Joyce Osterweil Award-winning Some Ether) and memoir (including the acclaimed Another Bullshit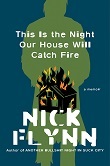 Night in Suck City), Flynn has explored his painful upbringing and relationship to his difficult parents. This memoir focuses on his mother's setting the family house on fire and committing suicide and the consequences for his own role as a husband and parent. (A poem about a house fire in the recent I Will Destroy You reminds us that the smoke of the past never really dissipates: "what you can't hear is the leaves caught inside each spark.") With an eight-city author tour.
Jackson, Ted. You Ought To Do a Story About Me: Addiction, an Unlikely Friendship, and the Endless Quest for Redemption. Dey Street. Aug. 2020. 336p. ISBN 9780062935670. $27.99. ebk. ISBN 9780062935694. MEMOIR
A photojournalist at the New Orleans Times-Picayune who was part of a team that won the 1997 Pulitzer Prize for Public Service, Jackson was snapping a picture of a homeless addict beneath a bridge when the man said, "You ought to do a story about me." The addict turned out to be Jackie Wallace, a former NFL star who played in three Super Bowls. Jackson, who became friends with Wallace, here examines Wallace's life and his tumble downward with the end of his career and his mother's death while also looking frankly at his chances for recovery. With a 100,000-copy first printing.
More Big Memoirs
Bonner, Betsy. The Book of Atlantis Black: The Search for a Sister Gone Missing. Tin House. Aug. 2020. 280p. ISBN 9781947793774. $26.95. MEMOIR
Buteau, Michelle. Survival of the Thickest. Gallery. Aug. 2020. 320p. ISBN 9781982122584. $26; ebk. ISBN 9781982122607. HUMOR/ESSAYS
Schaefer, Sara. Grand: A Memoir. Gallery. Aug. 2020. 288p. ISBN 9781982102210. $25.99. ebk. ISBN 9781982102234. MEMOIR
Steinberg, Avi. The Happily Ever After: A Memoir of an Unlikely Romance Novelist. Nan A. Talese: Doubleday. Aug. 2020. 272p. ISBN 9780385540254. $26.95; ebk. 9780385540261. MEMOIR
Taussig, Rebekah. Sitting Pretty: The View from My Ordinary Resilient Disabled Body. HarperOne. Aug. 2020. 224p. ISBN 9780062936790. $25.99.ebk. ISBN 9780062936813. MEMOIR
Wood, Alisson. Being Lolita : A Memoir. Flatiron. Aug. 2020. 304p. ISBN 9781250217219. $26.99; ebk. ISBN 9781250217226. MEMOIR
There's buzzy interest in The Book of Atlantis Black from poet Bonner (Round Lake), which brings forth childhood memories of her sister while also investigating her disappearance and presumed death; identification with the body of a woman found in a Tijuana hotel room suggested that this indeed Atlantis but seemed not entirely to match, and both body and ID were quickly cremated. In Survival of the Thickest, billed as humor/essays but reflecting on her life, Buteau—an actress (First Wives Club), comedian (Netflix and Comedy Central specials), and podcaster (Late Night Whenever) reflects on reaching stardom after growing up Caribbean and "thick" in New Jersey. Another comedian, also an Emmy Award–winning writer whose digital series, Day Job, was named one of the 100 Best Web Series by TimeOut New York, Schaefer ponies up Grand to recall a well-heeled childhood based on a lie and show how she finally learned acceptance by taking each family member on a one-on-one vacation that ended with her whitewater rafting through the Grand Canyon with her younger sister. Author of the Thurber long-listed The Lost Book of Mormon and Running the Books: The Adventures of an Accidental Prison Librarian, Steinberg began by reflecting on classic ideas about love and ended by immersing himself in The Happily Ever After of today's romance industry. Taussig, a disability advocate whose Instagram account is also called Sitting Pretty, considers what it's like to live in a body that moves differently from many others and how we looks at the disabled from jaundiced perspectives (e.g., scary, dewily innocent, or an inspiration to us all). Finally, in Being Lolita, Breakout 8 Award–winning writer Wood recalls her troubled romance with her high school English teacher, which includes his giving her—yes, Lolita. To be read with Kate Elizabeth Russell's fiction debut, My Dark Vanessa, publishing in March.