Albright makes the most of her final years, el Kaliouby reports on her work with Emotion AI, and Mockett encounters a new world traveling the heartland's wheat fields. Plus TV celebrities, inspirational speakers, drag queens, and more.
Memoir Picks
Albright, Madeleine. Hell and Other Destinations: A 21st Century Memoir. Harper. Apr. 2020. 368p. ISBN 9780062802255. $29.99; ebk. ISBN 9780062802286. lrg. prnt. MEMOIR
Since leaving office as America's first female secretary of state in 2001, Albright hasn't been exactly retiring. Along with writing six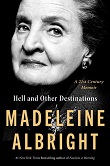 New York Times best sellers, she's been busy teaching, traveling, campaigning, and working for women's rights. The many personal stories here aren't just a chronicle, though; they are meant to inspire others to see that any phase of life—including the last phase—can be rich, exciting, and productive. Not to mention demanding: see the title. With a 250,000-copy first printing.
el Kaliouby, Rana & Carol Colman Girl. Decoded: A Scientist's Quest to Reclaim Our Humanity by Bringing Emotional Intelligence to Technology. Currency: Random. Apr. 2020. 272p. ISBN 9781984824769. $28; ebk. ISBN 9781984824776. Downloadable. MEMOIR
Egyptian American el Kaliouby, named among Forbes's Top 50 Women in Tech and Fortune's 40 Under 40, understands that much communication is effected through tone of voice, facial expression, and body language—qualities largely lost in computer exchanges. So she became a leader in the field of Emotion AI, cofounding the MIT Media Lab spinoff Affectiva with the aim of bringing emotional intelligence to technology. Among its accomplishments: computer applications of emotion recognition technology in a variety of fields, including mental health and autism. Also included: her personal story as a Muslim woman in a coding universe ruled by men.
Mockett, Marie Mutsuki. American Harvest: God, Country, and Farming in the Heartland. Graywolf: Macmillan. Apr. 2020. 416p. ISBN 9781644450178. $28; ebk. ISBN 9781644451168. MEMOIR
Raised in free-and-easy Carmel, CA, by her white father and Japanese mother, Mockett had plenty to learn when she inherited the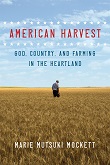 7,000-acred Mockett family wheat farm in Nebraska that her father had left far behind. At the invitation of the conservative farmer who's been cutting her family's fields for decades, she ended up traveling from Texas to Idaho with a group of evangelical Christian wheat harvesters, attending church, learning about the rural life, and negotiating the cultural and political divides articulates here as she's daily aware of being undefinably nonwhite and other to her fellow workers. From the author of Where the Dead Pause, and the Japanese Say Goodbye, a PEN Open Book finalist, and the novel Picking Bones from Ash.
More Memoirs
Benard, Maurice. Nothing General About It: How Love (and Lithium) Saved Me On and Off General Hospital. Morrow. Apr. 2020. 288p. ISBN 9780062973375; ebk. ISBN 9780062973405. MEMOIR
The Emmy Award–winning Benard has played Michael "Sonny" Corinthos, Jr. on the ABC soap opera General Hospital for 25 years. He also plays a role on the National Mental Health Association's "Bipolar Disorder: Do You Know It?" campaign, having been diagnosed with the condition at age 20. With a 75,000-copy first printing.
Grant, Phyllis. Everything Is Under Control: A Memoir with Recipes. Farrar. Apr. 2020. 240p. ISBN 9780374150143. $25; ebk. ISBN 9780374720759. MEMOIR
Grant, who has cooked at famous restaurants from Michael's to Bouley, is a three-time Saveur Blog Awards finalist for Dash and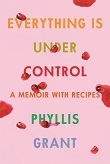 Bella and an IACP finalist for Personal Essays/Memoir Writing. Here she uses her experiences with food to relate her coming of age and coming to motherhood. Food writing keeps sizzling; note the long-listing of Iliana Regan's Burn the Place: A Memoir for the NBA Nonfiction Awards, which hasn't glanced at food writing since Julia Child's 1980 win, Julia Child & More Company.
Johnson, Betsey & Mark Vitulano. Betsey: A Memoir. Viking. Apr. 2020. 320p. ISBN 9780525561415. $30; ebk. ISBN 9780525561422. Downloadable. MEMOIR
A celebrated fashion designer in the business since the 1960s, Johnson is famed for her stand-out-in-crowd clothes, can't-miss pink stores, introduction of stretch clothing in the 1980s, and penchant for doing splits and cartwheels down the runaway after shows. Here's her story, with (not surprisingly) 37 photos throughout.
Jost, Colin. A Very Punchable Face. Crown. Apr. 2020. 320p. ISBN 9781101906323. $27; ebk. ISBN 9781101906330. Downloadable. MEMOIR
Jost attended Harvard during Facebook time but didn't go the social media route, instead opting for comedy. And thank goodness: he is now Saturday Night Live head writer and Weekend Update co-anchor, garnering five Writers Guild Awards, two Peabody Awards, and 13 Emmy nominations. Claiming that he's gone through life as a "slightly smarter Forrest Gump," he offers stories from the hilarious (being attacked with potato salad by a bunch of Czech students) to the touching (he's mother's experiences during 9/11). On the title? He's been punched a lot on SNL, requiring multiple stitches.
Lindsey, Ruthie. There I Am: The Journey from Hopelessness to Healing—A Memoir. Gallery: S. & S. Apr. 2020. 288p. ISBN 9781982107918. $26; ebk. ISBN 9781982107932. MEMOIR
Hit by an ambulance at age 17 and given a five percent chance of survival (and one percent chance of walking), Lindsey triumphed after spinal fusion surgery but years later began experiencing terrible pain and became addicted to painkillers. Tests finally revealed that a wire used in her surgery was piercing her brain stem. After more surgery, she had to wean herself off painkiller and became determined to find joy. Inspiration from the cohost of the Unspoken podcast; with a 75,000-copy first printing.
Rasmussen, Crystal & Tom Rasmussen. Diary of a Drag Queen. FSG Originals. Apr. 2020. 416p. ISBN 9780374538576. pap. $17; ebk. ISBN 9780374721084. MEMOIR
Drag queen-of-queens Crystal Rasmussen grew up in working-class northern England as Tom Rasmussen, now a journalist and queer performer who's been named an LGBT trailblazer. Here's how it all happened, with lots of twists and turns, for as they said
in a Guardian feature, "To file [their story] neatly under 'gay and fabulous' erases the daunting task of getting from A to She."
Richards, Kim. The Whole Truth: The Reality of It All. Dey Street: HarperCollins. Apr. 2020. 288p. ISBN 9780062958785. $26.99. ebk. ISBN 9780062958761. MEMOIR
Famed for her leading role on Real Housewives of Beverly Hills, Richards has much to disclose about a not always starry life. Now she's spilling the "whole truth" about what's it like to be trotted out for show as a child star, a commodified celebrity, and a shiny new wife. With a 150,000-copy first printing.
Tran, Phuc. Sigh, Gone: A Misfit's Memoir of Great Books, Punk Rock, and the Fight to Fit In. Flatiron: Macmillan. Apr. 2020. 320p. ISBN 9781250194718. $27.99; ebk. ISBN 9781250194725. MEMOIR
Arriving in small-town Pennsylvania after his family fled Saigon in 1975, Tran had to manage assimilation and teenage terrors at the same time. He's since become a teacher of Latin, Greek, and Sanskrit, so it's no surprise that this coming-of-age memoir is mediated by themes from The Metamorphosis, The Scarlett Letter, The Iliad, and more literary greats as it ranges from racism to punk rock. Both funny and touching, as the title attests.
Volz, Alia. Home Baked: My Mom, Marijuana, and the Stoning of San Francisco. Houghton Harcourt. Apr. 2020. 432p. ISBN 9780358006091. $27; ebk. ISBN 9780358007074. MEMOIR
A Pushcart nominee, Moth GrandSLAM Championship runner-up, and busy writer with many residencies, scholarships, and published pieces to her name (e.g., her work appeared in The Best American Essays 2017), Volz here writes a love letter to the city she has always called home. It's also a love letter to the mother who ran Sticky Fingers Brownies, which once purveyed thousands of marijuana brownies per month, and eventually helped provide medical marijuana to AIDS patients in San Francisco. With a 40,000-copy first printing.