Picks
Brown, Taylor. Pride of Eden. St. Martin's. Mar. 2020. 288p. ISBN 9781250203816. $26.99; ebk. ISBN 9781250203823. LITERARY
Vietnam veteran Anse Caulfield, who rescues elephants, big cats, and other animals abused in captivity for the wildlife sanctuary Little Eden, desperately wants to replace a lion killed after escaping, and he will use any means necessary. So he corrals another veteran, Malaya, who once stalked elephant poachers in Africa; falconer Lope, who has learned to pilot drones; and Little Eden veterinarian Tyler, and together they challenge the underworld of breeders, smugglers, and trophy hunters who exploit wildlife. From Montana Prize winner and Doris Betts Prize finalist Brown (Gods of Howl Mountain).
Christie, Michael. Greenwood. Hogarth: Crown. Feb. 2020. 528p. ISBN 9781984822000. $28; ebk. ISBN 9781984822024. Downloadable. LITERARY
Trees have figured largely in the fortunes of the Greenwood family, here tracked over generations by Christie, whose If I Fall, If I Die was long-listed for Giller and International IMPAC Dublin honors. In 2034, Jake guides wealthy tourists through one of the world's remaining forests. As the story marches backward, carpenter Liam lies broken-backed and alone after tumbling from a ladder in 2008, Willow is released from jail in 1974 following environmental protests targeting her father's timber industry, and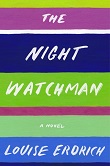 maple-tree tapper Everett is trapped in a web of crime with long-lasting impact after he rescues a baby in 1934.
Erdrich, Louise. The Night Watchman. Harper. Mar. 2020. 464p. ISBN 9780062671189. $28.99; ebk. ISBN 9780062671202. CD. LITERARY
In 1953, Chippewa Council member Thomas Wazhushk, who works as a night watchman at a factory near the Turtle Mountain Reservation in North Dakota, is deeply angered by a bill floating through Congress that will effectively deprive Native Americans of their land, their rights, and their identity. Meanwhile, high school valedictorian Patrice Paranteau resists the idea of staying on the reservation and marrying, instead doing mind-numbing work at the factory to save money for a move to Minneapolis to find older sister Vera. Thomas is inspired by the multi-award-winning Erdrich's own grandfather; with a 150,000-copy first printing.
King, Lily. Writers & Lovers. Grove. Mar. 2020. 320p. ISBN 9780802148537. $27; ebk. ISBN 9780802148551. LITERARY
A former golf prodigy devastated by her mother's death and a bad affair, Casey Peabody waits tables in Harvard Square, lives in a musty hole-in-the-wall, and continues work on the novel she's been writing for six years. At 31, she's been mostly left behind by friends who've dropped their dreams for security, but even as she stays loyal to the creative life, she finds she's fallen for two very different men. King's first novel since 2014's Euphoria, a New York Times Top Ten book and National Book Critics Circle finalist that sold over 400,000 copies in North America; expect major promo and a 20-city tour.
McBride, James. Deacon King Kong. Riverhead. Mar. 2020. 384p. ISBN 9780735216723. $28; ebk. ISBN 9780735216747. lrg. prnt. CD/downloadable. LITERARY
It's September 1969 in a rapidly changing Brooklyn community, where drugs are starting to flourish, African American and Latinx residents face the hostility of their Italian and Irish neighbors, and unassuming, gray-haired Baptist deacon Sportcoat walks into the courtyard of the Cause Houses housing project and shoots the project's drug dealer dead. McBride, here following up his National Book Award–winning The Good Lord Bird and the story collection Five-Carat Soul, an LJ Best Book, recounts what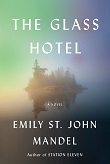 happens next with deep-hearted humanity and a touch of wit.
Mandel, Emily St. John. The Glass Hotel. Knopf. Mar. 2020. 320p. ISBN 9780525521143. $26.95; ebk. ISBN 9780525521150. lrg. prnt. CD/downloadable. LITERARY
At the upscale glass-and-cedar Hotel Caiette, on an island in British Columbia, bartender Vincent becomes involved with hotel owner Jonathan Alkaitis even as Vincent's half-brother leaves a nasty note on one of the windows advising, "Why don't you swallow broken glass." The note shatters an executive for the shipping company Neptune-Avramidis. Years later, Vincent vanishes from a Neptune-Avramidis cargo ship even as a Ponzi scheme sends several fortunes to the bottom of the ocean. Mandel's next bright puzzler after Station Eleven, a National Book Award and PEN/Faulkner finalist and Arthur C. Clarke Award winner.
Mantel, Hilary. The Mirror & the Light. Holt. Mar. 2020. 800p. ISBN 9780805096606. $30; ebk. ISBN 9780805096613. CD. LITERARY/HISTORICAL
In this wrap-up to Mantel's trilogy on the life of Thomas Cromwell, begun with the Booker Prize winners Wolf Hall and Bring Up the Bodies, Anne Boleyn has been separated from her head, and the blacksmith's son from Putney is sitting pretty. But not for long: rebels rouse in England, traitors scheme abroad, invasion remains a constant threat, and Henry VIII's third wife dies delivering his much-wanted son. Henry might demand loyalty, but he's loyal to no one, so Cromwell must watch his back. Obviously, great expectations for this book, its predecessors having have sold five million copies worldwide.
Smith, Katy Simpson. The Everlasting. Harper. Mar. 2020. 352p. ISBN 9780062873644. $27.99; ebk. ISBN 9780062873682. LITERARY
After setting her first two lusciously written novels in 1700s colonial America, Smith bounds across the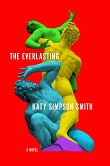 ocean to Rome. Four interlinked scenarios chronicle a girl who becomes an early Christian child martyr, a medieval monk on ghastly crypt duty in a church, a scheming Medici princess of Moorish descent, and a contemporary field biologist who conducts an affair while his wife and daughter remain in America and his health takes a sudden, terrible turn. The writing is even more arresting than in her previous titles, and the in-house excitement is sky-high. With a 50,000-copy first printing.
Staples, Dennis E. This Town Sleeps. Counterpoint. Mar. 2020. 224p. ISBN 9781640092846. $26; ebk. ISBN 9781640092853. LITERARY
In small-town Geshig, which anchors an Ojibwe reservation called Languille Lake, a mid-twenties gay Ojibwe man named Marion Lafournier begins a relationship with former classmate Shannon, who's deeply obsessed with his image as a straight white northern Minnesotan. Wandering the town one night, they raise the spirit of a dead dog, which leads them to the grave of Ojibwe basketball star Kayden Kelliher, murdered at age 17. Solving the mystery of Kayden's death hinges on connections between ancient Ojibwe legend and Marion's family. A debut championed by Tommy Orange; Staples is a graduate of the Clarion West Writers Workshop and a recipient of the Octavia E. Butler Memorial Scholarship.
Debuts
Atakora, Afia. Conjure Women. Random. Mar. 2020. 416p. ISBN 9780525511489. $27; ebk. ISBN 9780525511496. Downloadable. LITERARY
Around the time of the Civil War, Rue lives with her mother on the plantation of Marse Charles, where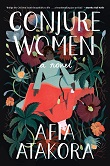 they both act as midwives, healers, and conjurers of curses. Rue, too, knows secrets about the plantation owner's daughter that she shares here with stories about other families she tends. From a Pushcart nominee and finalist for the Hurston/Wright Award for College Writers.
Card, Maisy. These Ghosts Are Family. S. & S. Mar. 2020. 288p. ISBN 9781982117436. $24; ebk. ISBN 9781982117450. LITERARY
Faking his own death and stealing the identity of his best friend, Abel Paisley has been Stanford Solomon for three decades, and he's shocked to learn that the health aide coming to his home is his oldest daughter, Irene. Jamaican-born, Queens-raised librarian Card tells the story of people who don't know they are family in a narrative that ultimately travels from colonial Jamaica to contemporary Harlem. With a 75,000-copy first printing.
Chang, Alexandra. Days of Distraction. Ecco. Mar. 2020. 320p. ISBN 9780062951809. $26.99; ebk. ISBN 9780062951816. LITERARY
Tired of waiting for the raise that will never come, a young staff writer at a big-deal tech publication walks out on her job and follows her boyfriend from the West Coast to upstate New York, where he will attend graduate school. But instead of reveling in this grand gesture, she starts questioning her role in an interracial relationship and reexamining her identity as an Asian American. From an author with Glimmer Train and Zoetrope honors.
Giddings, Megan. Lakewood. Amistad. Mar. 2020. 288p. ISBN 9780062913197. $26.99; ebk. ISBN 9780062913227. LITERARY
After her grandmother's death, African American Lena Johnson learns that the family is deeply in debt and drops out of college, accepting a high-paying job that looks to be a dream. But it involves entering a secret program in isolated Lakewood, MI, and submitting to medical experimentation (pills to squelch bad thoughts, drops that make brown eyes blue) that could wreck the participants. Intimations of Tuskegee and Mengele; the first chapters won the Barbara Deming Memorial Fund grant for feminist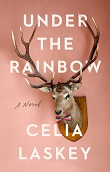 fiction.
Laskey, Celia. Under the Rainbow. Riverhead. Mar. 2020. 288p. ISBN 9780525536161. $27; ebk. ISBN 9780525536185. Downloadable. LITERARY
When a national nonprofit dubs Big Burr, KS, the most homophobic town in America, a group of queer volunteers are dispatched to live there for two years and persuade the townsfolk to open their minds to a new way of thinking. But it's not so easy. While newcomer Avery misses Los Angeles and fears that her gay crusader mother will out her, some locals are ready to grab pitchforks and battle the reputed horror that's arrived. From a finalist in Glimmer Train's Short Story Award for New Writers.
Reva, Maria. Good Citizens Need Not Fear: Stories. Doubleday. Mar. 2020. ISBN 9780385545297. $25.95; ebk. ISBN 9780385545303. LITERARY/SHORT STORIES
Ukrainian-born, Canadian-raised Reva offers linked stories describing what happens when the building at 1933 Ivansk Street is dropped from municipal records owing to bureaucratic haziness after the fall of the Soviet UnionResidents devise their own way of surviving, with one character traversing the stories as orphan, beauty pageant crasher, and enforcer for evil oligarchs. National Magazine Award winner Reva also writes opera librettos.
Washburn, Kawai Strong. Sharks in the Time of Saviors. MCD: Farrar. Mar. 2020. 384p. ISBN 9780374272081. $27; ebk. ISBN 9780374720773. LITERARY
In 1995 Hawaii, seven-year-old Nainoa Flores falls into Pacific waters churning with sharks and is gently returned to his family in the mouth of one of the great fishes. His salvation is interpreted as a blessing from the ancient Hawaiian gods, but the family still falls on hard times as the sugarcane industry crashes and Nainoa and his siblings must eventually seek their luck on the mainland. Washburn has been a Tin House Summer Scholar and Bread Loaf work-study scholar.
More top literary fiction
Arian, Amir Ahmadi. Then the Fish Swallowed Him. HarperVia. Mar. 2020. 304p. ISBN 9780062946294. $25.99; ebk. ISBN 9780062946317. LITERARY
In Tehran, asocial and apolitical bus driver Yunus Turabi has finally had enough, and soon he's being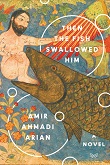 hauled off to the heinous Evin prison, blindfolded and in handcuffs. There, his life story unfolds in increasingly intimate exchanges with his interrogator. Iranian author, journalist, and translator Arian offers his first novel in English, written for his MFA at New York University under the mentorship of Joyce Carol Oates. Next in the fine lineup from the new HarperVia imprint, focusing on international titles.
Barry, Quan. We Ride Upon Sticks. Pantheon. Mar. 2020. 384p. ISBN 9781524748098. $26.95; ebk. ISBN 9781524748104. Downloadable. LITERARY
Saigon-born and raised on Boston's North Shore, Barry sets her new novel in Danvers, MA, once Salem Village, where the Salem Witch Trials originated. Her heroines are the 1989 Danvers Falcons, a field hockey team on a remarkable winning streak and channeling the town's dark antecedents to show everyone that women can be tough. Award-winning poet Barry follows up her LJ-starred debut novel, She Weeps Each Time You're Born.
Cross-Smith, Leesa. So We Can Glow: Stories. Grand Central. Mar. 2020. 256p. ISBN 9781538715338. $26; ebk. ISBN 9781538715321. LITERARY/STORIES
Cross-Smith made a strong first impression with Whiskey & Ribbons, one of O, The Oprah Magazine's Best Books of the Summer and long-listed for the Center for Fiction First Novel Prize. Here she offers a collection of 42 short stories focusing on the dreams, desires, bonds, and push-the envelope behavior of girls and women, as characters long for men they can't have and high school friends kiss as they binge-watch Winona Ryder movies after the death of a sister.
Goenawan, Clarissa. The Perfect World of Miwako Sumida. Soho. Mar. 2020. 288p. ISBN 9781641291194. $26; ebk. ISBN 9781641291200. LITERARY
Indonesian-born Singaporean writer Goenawan follows up her debut, Rainbirds, with another story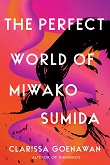 walking the line between literary fiction and psychological thrills. University sophomore Miwako Sumida has hanged herself in an isolated mountain village, leaving her friends to ponder what she was running from so high up in the mountains. But their obsession with this tragedy could upend their lives. To be featured at ALA Midwinter.
Gowda, Shilpi Somaya. The Shape of Family. Morrow. Mar. 2020. 384p. ISBN 9780062933225. $26.99; ebk. ISBN 9780062933249. lrg. prnt. LITERARY
Author of the international best sellers The Golden Son and Secret Daughter, Gowda delivers the story of a typical contemporary American family. Jaya, an Indian diplomat's daughter, meets high-aspiring Philly-raised banker Keith at a London pub in 1988, and together they raise a family in suburban California. Then tragedy pulls them apart. Originally scheduled for October 2019; with a 100,000-copy first printing.
Knight, Rebecca Dinerstein. Hex. Viking. Mar. 2020. 224p. ISBN 9781984877376. $26.00; ebk. ISBN 9781984877383. Downloadable. LITERARY
An expelled Ph.D. student in biology, Nell Barber continues her studies with her mentor, Dr. Joan Kallas, whom she hero-worships. Nell studies poisonous plants and their antidotes, symbolic of the complex personal relationships and campus politics that swirl around her. Following the author's debut, The Sunlit Night, the basis of a film recently screened at the Sundance Film Festival.
Lynch, Paul. Beyond the Sea. Farrar. Mar. 2020. 192p. ISBN 9780374112431. $25; ebk. ISBN 9780374721145. LITERARY
In a novel inspired by true events, money-desperate South American fisherman Bolivar persuades his boss to let him set forth despite an approaching storm, accompanied by inexperienced teenager Hector. After they're blown hundreds of miles into the Pacific by the ferocious wind and rain, they reflect on their lives as their hopes and will to survive are pushed to the limits. From the winner of the Prix Libr'a Nous (The Black Snow) and the Kerry Group Irish Novel of the Year Award (Grace).
Nguyen Phan Que Mai. The Mountains Sing. Algonquin. Mar. 2020. 352p. ISBN 9781616208189. $26.95; ebk. ISBN 9781643750491. LITERARY
Born in Vietnam in 1973, Nguyen delivers an understanding of her country's wartime and postwar
experiences by chronicling the Tran family, opening with Tran Dieu Lan's displacement with her six children during the Land Reform of the 1950s. Decades later, in the midst of the fighting, her granddaughter Huong comes of age as her parents and uncles travel down the Ho Chi Minh trail. The award-winning poet/novelist's first novel in English; with an eight-city tour to Los Angeles, San Francisco, San Diego, Portland, Seattle, New York, Washington (DC), and Boston.
Perry, Sarah. After Me Comes the Flood. Custom House: Morrow. Mar. 2020. 256p. ISBN 9780062666406. pap. $15.99; ebk. ISBN 9780062666413. lrg. prnt. LITERARY
This is not a new novel from the author of the edgy best sellers The Essex Serpent and Melmoth, but it is the first time the British author's debut novel has appeared in America. It features bookseller John Cole, who is surprised to encounter a house full of strangers who seem to know him well when he wanders off the road after his car breaks down. With a 40,000-copy first printing
Wink, Callan. August. Random. Mar. 2020. 304p. ISBN 9780812993752. $27; ebk. ISBN 9780812993769. Downloadable. LITERARY
In a debut novel following his sun-bright, Dylan Thomas Prize–shortlisted story collection, Dog Run Moon, Wink introduces us to August, a happy-go-lucky 12-year-old until his parents divorce and his mother moves him from their Michigan dairy farm to a new town. He's adjusting to the typical high school experience until his part in an act of violence forces him to flee to a remote Montana ranch, where he reflects on the darkness he finds in himself and others.