History this month leads off with Dan Gretton's magnum opus on the "desk killers" whose orders led to atrocities in the last century; Adam Hochschild on forgotten crusader Rose Pastor Stokes; Erik Larson on the interactions among Winston Churchill's family, friends, and associates during the Blitz; and Bettye Kearse's investigation of evidence that places her among the descendants of President James Madison and an enslaved African woman.
Picks
Gretton, Dan. I You We Them: Walking into the World of the Desk Killer. Farrar. Mar. 2020. 1072p. ISBN 9780374174378. $40; ebk. ISBN 9780374714789. HISTORY
An activist who has been involved with human rights and peace issues since the antinuclear movement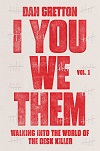 in the 1980s, Gretton spent the last two decades interviewing both survivors and perpetrators of human rights abuses and immersing himself in numerous archives and thousands of pages of testimony. Here, he examines the "desk killers" who ordered some of the 20th century's worst atrocities while offering personal reflections on love, loss, and moral conundrum. Truly a huge book; check out the page count.
Hochschild, Adam. Rebel Cinderella: Rose Pastor Stokes: Sweatshop Immigrant, Aristocrat's Wife, Socialist Crusader. Houghton Harcourt. Mar. 2020. 304p. ISBN 9781328866745. $30; ebk. ISBN 9781328866769. BIOGRAPHY
Russian Jewish refugee Rose Pastor arrived in New York City in 1903 and worked in sweatshops for two years before marrying James Graham Phelps Stokes, scion of one of the celebrated 400 families of New York high society. Together they joined the Socialist Party, mixing with the likes of Emma Goldman, Big Bill Haywood, and Eugene V. Debs while Rose led strikes and campaigned along with early feminists. President Woodrow Wilson called her "one of the dangerous influences of the country." Trust the multi-award-winning and -nominated Hochschild to deliver a clear understanding of this forgotten "rebel cinderella."
Kearse, Bettye. The Other Madisons: The Lost History of a President's Black Family. Houghton Harcourt. Mar. 2020. 256p. ISBN 9781328604392. $28; ebk. ISBN 9781328603531. HISTORY
Retired pediatric physician and geneticist Kearse always paid attention to what her mother said, particularly when she explained that they were descended from a slave named Coreen and, according to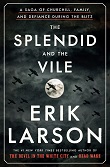 oral tradition, President James Madison. Here she tells her family story while relating historical records supporting the claim and her efforts to substantiate it through DNA testing.
Larson, Erik. The Splendid and the Vile: A Saga of Churchill, Family, and Defiance During the Blitz. Crown. Mar. 2020. 464p. ISBN 9780385348713. $30; ebk. ISBN 9780385348720. lrg. prnt. CD/downloadable. HISTORY
New York Times best-selling author Larson (e.g., Dead Wake, The Devil in the White City) here investigates Winston Churchill as leader in the early days of World War II. Hitler invaded Holland and Belgium on Churchill's first day in office, Dunkirk was only two weeks away, and the Blitz would soon claim the lives of 45,000 Britons. Drawing on intelligence reports, recently declassified files, and personal diaries only now made available, Larson presents not just Churchill himself but those in his immediate circle, from his family to private secretary John Colville and newspaper baron Lord Beaverbrook.
More history
Achorn, Edward. Every Drop of Blood: Hatred and Healing at Abraham Lincoln's Second Inauguration. Atlantic Monthly. Mar. 2020. 336p. ISBN 9780802148742. $28. HISTORY
A Pulitzer Prize finalist for commentary, Achorn revisits Washington, DC, on March 4, 1865, when Abraham Lincoln took the oath of office for a second time and gave a memorable inaugural address suggesting that "every drop of blood" spilled was perhaps God's verdict on the sin of slavery. The narrative unfolds from the perspectives of various attendees, e.g., Walt Whitman, Clara Barton, and Frederick Douglass, and Achorn uses the rain-soaked scene, with tens of thousands swarming Washington's Capitol grounds, as a window on the nation.
Bascomb, Neal. Faster: How a Jewish Driver, an American Heiress, and a Legendary Car Beat Hitler's Best. Houghton Harcourt. Mar. 2020. 336p. ISBN 9781328489876. $28; ebk. ISBN 9781328489838. HISTORY
Once a top driver on the international racecar circuit, Rene Dreyfus was blocked from the top European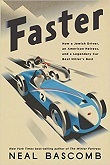 teams and the top cars by the mid-1930s owing to his Jewish heritage. He then joined forces with Charles Weiffenbach, head of a faltering automaker, and American heiress Lucy Schell, an ambitious former rally driver, to put the brakes on Hitler's quest for glory at the Grand Prix, the top race in the sport. From the New York Times best-selling author of The Escape Artists.
Bender, Thomas. British America, American America: The Settling and Making of the United States. Farrar. Mar. 2020. 304p. ISBN 9780809067091. $30; ebk. ISBN 9780809067107. HISTORY
University Professor of the Humanities Emeritus at New York University, Bender here clarifies that Britain's 13 scrappy colonies on the Atlantic coast took longer than one might think to become a nation, crafting a culture and identity that wasn't obvious until the late 1800s. Billed as a different way of looking at U.S. history and an exemplar in the growing field of transnationalism.
Frank, Richard. Tower of Skulls: A History of the Asia-Pacific War. Vol. 1: July 1937–May 1942. Norton. Mar. 2020. 836p. ISBN 9781324002109. $40; ebk. ISBN 9781324002116. HISTORY
Frank (Downfall; Guadalcanal), who served with the 101st Airborne Division in Vietnam, looked at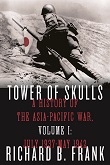 coverage of the Asia Pacific theater during World War II and found it wanting. Here he launches a three-volume series limning the Asia Pacific not simply as a war theater but as a region that held half the world's population in 1937, with most under colonial rule. Now it boasts 19 sovereign nations, and Frank will show how the road there was laid down over the bodies of the 20 million-plus dead during the war.
Loughery, John & Blythe Randolph. Dorothy Day: Dissenting Voice of the American Century. S. & S. Mar. 2020. 448p. ISBN 9781982103491. $30; ebk. ISBN 9781982103514. CD. BIOGRAPHY
Loughery, a Pulitzer Prize finalist for John Sloan: Painter and Rebel, and biographer Randolph here join forces to chronicle the life of radical pacifist and crusading activist Day, who converted to Catholicism after a quiet Republican childhood and flirtation with communism. With a 40,000-copy first printing.
McGrath, Tim. James Monroe: A Life. Dutton. Mar. 2020. 480p. ISBN 9780451477262. $30; ebk. ISBN 9780698408890. Downloadable. BIOGRAPHY
A multi-award-winning author for Give Me a Fast Ship (e.g., the Samuel Eliot Morison Award for Naval Literature), McGrath takes on James Monroe, the last Founding Father to hold the presidency. Here we see a scrappy guy who nearly fought a duel with Alexander Hamilton, became an opponent of George Washington, and rallied the troops as secretary of state when the British sacked the capital in 1814.
Mooallem, Jon. This Is Chance!: The Shaking of an All-American City, A Voice That Held It Together. Random. Mar. 2020. 304p. ISBN 9780525509912. $28; ebk. ISBN 9780525509936. Downloadable. HISTORY
The worst earthquake ever to rattle America hit Anchorage, AK, on Good Friday in 1964, swallowing whole buildings and leaving the city dark as night descended. But when people turned on their transistor radios, they heard the voice of part-time radio reporter Genie Chance, who spent three days dispensing news, comfort, and advice to her fellow citizens. Pen/E.O. Wilson short-listed Mooallem draws on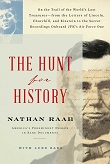 interviews, recordings of the original broadcasts, and newly surfaced materials to tell her story.
Raab, Nathan & Luke Barr. The Hunt for History: On the Trail of the World's Lost Treasures—from the Letters of Lincoln, Churchill, and Einstein to the Secret Recordings Onboard JFK's Air Force One. Scribner. Mar. 2020. 288p. ISBN 9781501198908. $30; 9781501198922. HISTORY
America's top rare documents dealer, Raab explains how he has found and authenticated any number of remarkable historical artifacts. An address held by President George Washington as he spoke to Congress, a note Winston Churchill scrawled to his captors as a POW in South Africa, paperwork completed by Amelia Earhart before setting off across the Atlantic, an unpublished letter about relativity by Albert Einstein—such stuff as dreams are made on! With a 50,000-copy first printing.
Saunt, Claudio. Unworthy Republic: The Dispossession of Native Americans and the Road to Indian Territory. Norton. Mar. 2020. 288p. ISBN 9780393609844. $26.95; ebk. ISBN 9780393609851. HISTORY
A great stain on America's history, the forced westward march of Native Americans starting in 1830 has been regarded as an inevitable aspect of our expansionist tendencies. Saunt, the Richard B. Russell Professor in American History at the University of Georgia and a winner of academic prizes for books like Black, White, and Indian, shows instead that "Indian Removal" was highly controversial, resisted by many citizens, facilitated by slave owners and Wall Street, and passed by a thread-slender margin in Congress. Not just the Trail of Tears and with what horrific consequences.
Shaw, Art & Robert L. Wise. 82 Days on Okinawa: A Memoir of the Pacific's Greatest Battle. Morrow. Mar. 2020. 368p. ISBN 9780062907448. $28.99; ebk. ISBN 9780062907462. lrg. prnt. HISTORY
On April 1, 1945, with the launching of the Battle of Okinawa—the largest amphibious assault in the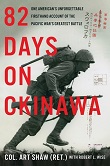 Pacific theater—Shaw was the first American officer ashore. Now in his late nineties, Shaw, a unit commander in the U.S. Army's 361st Artillery Battalion of the 96th Division, here recounts the nearly three months he and his men spent fighting the last major battle of the war. With a 50,000-copy first printing.
Smith, Helmut Walser. Germany: A Nation in Its Time: Before, During, and After Nationalism, 1500–2000. Liveright: Norton. Mar. 2020. 672p. ISBN 9780871404664. $39.95; ebk. ISBN 9781631491788. HISTORY
A significant historian of Germany and Los Angeles Times Book Award winner He aims to show that Germany, regarded as aggressively nationalist, had milder and less warlike cultural antecedents. Positioned as a new standard in German history.