Harlan Coben, Heather Graham, J.A. Jance, Kathy Reichs, and James Rollins are among the big-name authors competing for your attention this fall. But for fresh, edgy fun, take a special look at the protean Chris Bohjalian, tracking an unexpected disappearace in Vietnam; the booming team of Greer Hendricks & Sarah Pekkanen, Phillip Margolin with a magician who disappears, and Peter Swanson, portraying a mystery fan in trouble.
Thriller Picks
Bohjalian, Chris. The Red Lotus. Doubleday. Mar. 2020. 400p. ISBN 9780385544801. $27.95; ebk. ISBN 9780385544818. lrg. prnt. CD/downloadable. SUSPENSE
From the No. 1 New York Times best-selling Wives to 2018's The Flight Attendant, which is in development
for a limited HBO series, Bohjalian reinvents himself with each new novel, and he's at it again. Here, ER doctor Alexis falls for Austin after cleaning up a bullet wound in his arm, and six months later they're taking a bicycle trip through Vietnam, where cycling fanatic Austin intends to honor a father and uncle who fought in the war. Then he vanishes while out on a solo ride, leaving Alexis wondering how much danger she's in and why the trail to Austin leads back to her own hospital. With a national tour.
Hendricks, Greer & Sarah Pekkanen. You Are Not Alone. St. Martin's. Mar. 2020. 352p. ISBN 9781250202031. $27.99; ebk. ISBN 9781250202048. CD. SUSPENSE
Without job or apartment, love life or direction, Shay Miller realizes that she needs to turn things around, especially after seeing a seemingly well-put-together young woman leap to her death before a subway train. Shay is drawn to the circle formed by enthralling sisters Cassandra and Jane Moore, who promise her "You are not alone." As she imitates their successes, her life starts looking up in every regard, but is this too good to be true? Since the authors have given us the big-chill New York Times best sellers The Wife Between Us and An Anonymous Girl, I'd say the answer is yes.
Margolin, Phillip. A Reasonable Doubt: A Robin Lockwood Novel. Minotaur: St. Martin's. Mar. 2020. 304p. ISBN 9781250117540. $27.99; ebk. ISBN 9781250117557. CD. THRILLER/LEGAL
Criminal defense attorney Robin Lockwood has just received the strangest request of her career: a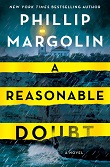 magician wants patent protection for an illusion he's about to perform. Even stranger, when she investigates his background, Robin discovers that he is a former client her firm helped clear of murder and attempted murder charges. And strangest of all, when he performs his new illusion, he is what disappears. Now there's a twist on a standard thriller trope.
Swanson, Peter. Eight Perfect Murders. Morrow. Mar. 2020. 304p. ISBN 9780062838209. $26.99; ebk. ISBN 9780062838216. lrg. prnt. SUSPENSE
Way back when, bookseller and mystery fanatic Malcolm Kershaw created a list titled "Eight Perfect Murders," seemingly uncrackable cases drawn from works by authors like Agatha Christie and Ira Levin. He's regretting it, for an FBI agent has shown up at his Old Devils Bookshop in Boston, concerned about several nasty murders echoing those on his list. What's more, it appears that there's a killer out there who knows Mal's deepest secrets and is tracking his every move. Now he's got a case to crack. From a CWA Ian Fleming Steel Dagger finalist; with a 75,000-copy first printing, plus a regional tour and appearances at the Malice Domestic, Thrillerfest, and Bouchercon conferences.
More Hot Thrillers
Bartz, Andrea. The Herd. Ballantine. Mar. 2020. 304p. ISBN 9781984826367. $27; ebk. ISBN 9781984826374. Downloadable. SUSPENSE
After debuting with the LJ-starred A Lost Night, Bartz returns with the story of THE HERD, an exclusive women's workspace in New York. Getting accepted is a challenge, but Katie Bradley, licking her wounds after a failed book project, is hopeful owing to her sister's connections. And she thinks she's got a new book subject in charismatic yet enigmatic HERD founder Eleanor Gleason, who's readying a bold new announcement about the workspace. But Eleanor vanishes directly before the news conference, and Katie has a hot new story to pursue.
Chung. Maxine Mei-Fung. The Eighth Girl. Morrow. Mar. 2020. 480p. ISBN 9780062931122. $27.99; ebk. ISBN 9780062931146. lrg. prnt. THRILLER/PSYCHOLOGICAL
With her professional and love lives suddenly looking up, Alexa Wu should be happy. But friend Ella has learned a horrifying secret at the classy gentleman's where she just started working and has disappeared into London's underworld, with Alexa chasing after her. Complicating matters: Alexa has several alternate personalities she is working hard to keep in check, and she doesn't know whether they are now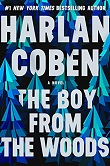 helping or hurting her. A debut by a psychoanalytic psychotherapist (no surprise); with a 75,000-copy first printing.
Coben, Harlan. The Boy from the Woods. Grand Central. Mar. 2020. 400p. ISBN 9781538748145. $29; ebk. ISBN 9781538748169. SUSPENSE
Found as a child living untrammeled in the woods with no memory of his past, the appropriately named Wilde has returned there to live as an adult after being raised in foster care. He's happiest by himself, but his outdoorsy skills are being tapped by celebrity TV lawyer Hester Crimstein, with whom he has a problematic connection, as one teenager and then another goes missing. Journalists and creepy security experts soon come calling, and Wilde must uncover—and survive—a terrible secret. From thriller giant Coben.
Cussler, Clive & Graham Brown. Journey of the Pharaohs. Putnam. Mar. 2020. 400p. ISBN 9780593083086. $29; ebk. ISBN 9780593083093. lrg. prnt. CD/downloadable. ACTION & ADVENTURE
No word on plot, but given Cussler's track record let's safely assume that the next novel in the series featuring Kurt Austin and the NUMA (National Underwater and Marine Agency) Special Assignments Team will be a blockbuster.
Engel, Amy. The Familiar Dark. Dutton. Mar. 2020. 256p. ISBN 9781524745950. $26; ebk. ISBN 9781524746018. lrg. prnt. Downloadable. SUSPENSE
Author of the nationally best-selling Roanoke Girls, Engel returns with a heart cutter about a mother out for justice. Eve Taggert's daughter has been murdered on playground in their Ozarks town, and the devastated Eve wants to find out what happened. Her own mother was a toughie who delivered life lessons with an especially heavy hand, and Eve has tried to do the opposite. But now she is ready to adopt those methods to get what she wants and even wends her way back to her mother's trailer for some final advice. Much talked about at the London Book Fair and already sold to nearly a dozen territories abroad.
Goodman, Carol. The Sea of Lost Girls. Morrow. Mar. 2020. 336p. ISBN 9780062979636. $26.99; pap. ISBN 9780062852021. $16.99; ebk. ISBN 9780062852038. THRILLER/PSYCHOLOGICAL
Having submerged mistakes in her past, Tess teaches at an elite boarding school where her husband has a high-profile position and is relieved that her 17-year-old son, Rudy, seems to have moved beyond his moody adolescent phase. Then, after a late-night call, she picks ups a drenched and desperate Rudy in stained sweatshirt not far from where his girlfriend is later found dead on the beach. And Rudy's not the only suspect at a school that seems to have its own dark, submerged past. From Mary
Higgins Clark Award winner Goodman; with a 75,000-copy paperback and 25,000 hardcover first printing.
Graham, Heather. The Final Deception. Mira: Harlequin. Mar. 2020. 384p. ISBN 9780778309437. $26.99; ebk. ISBN 9781488258107. ROMANTIC SUSPENSE
Criminal psychologist Kieran Finnegan and FBI agent Craig Frasier are back at it, running after a serial killer who immediately launches another gruesome killing spree. Kieran, who counseled the killer before he was imprisoned, agrees with Craig that there's more going on here than meets the eye. The fifth and final novel in the "New York Confidential" series from a romantic suspense great; with a 100,000-copy first printing.
Howard, Linda & Linda Jones. After Sundown. Morrow. Mar. 2020. 384p. ISBN 9780062842633. $26.99; ebk. ISBN 9780062422026. lrg. prnt. ROMANTIC SUSPENSE
In what might be described as an apocalyptic romantic suspense eco-thriller, former soldier Ben Jernigan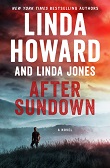 lives alone in Tennessee's Cove Mountain wilds, using a high-level security system to keep folks at bay. But when he learns that a coming solar storm is expected to knock out the solar grid, he hastens to warn general store owner Sela Gordon, who's kindled some feelings in him. Soon she's rising above her reserve to help her neighbors, and romance blooms between her and Ben when dark descends. Following the coauthors' USA Today best-selling Frost Line and said to be in the style of Howard's Troublemaker and The Woman Left Behind; with a 100,000-copy first printing.
Jance, J.A. Credible Threat. Gallery: S. & S. Mar. 2020. 336p. ISBN 9781982131074. $27.99; ebk. ISBN 9781982131098. CD. THRILLER
In this latest from perennial New York Times best seller Jance, Ali Reynolds, head of the Arizona-based cybersecurity company High Noon Enterprises, faces her next big challenge: saving an archbishop who's receiving death threats. With a 100,000-copy first printing.
Ledwidge, Michael. Stop at Nothing. Hanover Square: Harlequin. Mar. 2020. 352p. ISBN 9781335044952. $26.99; ebk. ISBN 9781488055751. THRILLER
When a Gulfstream jet plunges into the waters off the Bahamas, expat diving instructor Michael Gannon is the only person around to scoop up its illicit hoard of cash and diamonds. He figures it's just a drug deal gone bad, but soon all U.S. intelligence has him in its sights; the FBI director was on board, engaged in a conspiracy, and that's got to be kept quiet. Fortunately, Michael has a few defense skills left over from a shady past. With a 100,000-copy first printing; Ledwidge is a former James Patterson coauthor.
Mullen, Caitlin. Please See Us. Gallery: S. & S. Mar. 2020. 320p. ISBN 9781982127480. $2699; ebk. ISBN 9781982127503. NOIR
One washed-out, tourist-light summer in Atlantic City, young boardwalk psychic Clara starts getting vivid and indisputably real visions that she fears may be related to the disappearance of several young women around town. Then she meets Lily, a former Soho art gallery habitué now fending off personal tragedy while working at a grungy casino spa, and they team up to discover what is really happening.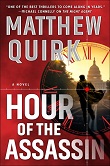 With a 75,000-copy first printing, nice numbers for a debut; Mullen grew up partly on the Jersey shore.
Quirk, Matthew. Hour of the Assassin. Morrow. Mar. 2020. 352p. ISBN 9780062875495. $27.99; ebk. ISBN 9780062875549. lrg. prnt. THRILLER/ESPIONAGE
Former Secret Service agent Nick Averose has a most unusual job: he's a "red teamer," testing the security around high officials and sneaking in as if he were an assassin to pinpoint any weak points. But when he slips past the security surrounding a former CIA director, he finds the man unconscious and tries to save his life. Now he's contaminated the crime scene, and it looks as if he's the culprit. Is someone trying to frame him? From the New York Times best-selling author of The Night Agent.
Reichs, Kathy. A Conspiracy of Bones. Scribner. Mar. 2020. 336p. ISBN 9781982138882. $27; ebk. ISBN 2940154531037. SUSPENSE
In recovery after neurosurgery following an aneurysm, Temperance Brennan has terrible headaches and a suspicion that she's hallucinating when she receives a string of texts including images of a corpse without a face or hands. To learn the victim's identity and why she's receiving these gruesome missives, Tempe must work outside the system, as her grudging new boss wants her off the case. More forensic chills from the No. 1 New York Times best-selling author; with a 125,000-copy first printing.
Rollins, James. The Last Odyssey. Morrow. Mar. 2020. 448p. ISBN 9780062892898. $28.99; ebk. ISBN 9780062892904. lrg. prnt. CD. THRILLER
A half mile beneath the frozen (if melting) tundra of (not-for-sale) Greenland, excited climatologists and archaeologists find a medieval ship whose hold includes Bronze Age artifacts, including a clockwork gold atlas ringed by silver astrolabe, evidently the work of a Muslim inventor named Ismail al-Jazari who inspired Leonardo Da Vinci. The moving globe reveals Odysseus unexpectedly following an underground river to dark Tartarus (that's ancient Greek for hell), and now the entire war- and terrorist ridden region is in an uproar, which puts Sigma Force front and center. With a 350,000-copy first printing.
Ruff, Matt. 88 Names. Harper. Mar. 2020. 320p. ISBN 9780062854674. $26.99; ebk. ISBN 9780062854698. lrg. prnt. SUSPENSE
John Chu, who works as a "sherpa," or paid guide to online role-playing games assuring clients the best characters with the best flashing swords, is worried: he thinks his anonymous new client is North Korean dictator Kim Jong-un on a power kick. Then there's Ms. Pang, possibly an agent of the People's Republic of China, and Darla Jean, a former and furiously vengeful girlfriend. From Ruff, a cult author (particularly in the Pacific Northwest), whose Bad Monkeys is set for the silver screen; with a 50,000-copy fist printing.
Steinhauer, Olen. The Last Tourist. Minotaur: St. Martin's. Mar. 2020. 416p. ISBN 9781250036216. $27.99; ebk. ISBN 9781250036209. CD. THRILLER
In Steinhauer's best-selling An American Spy, CIA agent Milo Weaver thought that he had put paid to the CIA-trained assassins called Tourists. Ten years later, as he's under wraps in the Western Sahara and chatting with a CIA analyst worried about some suspicious murders, a gang of new Tourists arises from the sands, intent on murder. Now the two are on the run. After three stand-alone novels, the two-time Edgar Award finalist returns to the series that launched him.
Woods, Stuart. Hit List. Putnam. Mar. 2020. NAp. ISBN 9780593083222. $28; ebk. ISBN 9780593083246. lrg. prnt. CD/downloadable. ACTION & ADVENTURE.
You know Stone Barrington, a New York City cop turned behind-the scenes guy for a white-shoe Manhattan law firm. He never talks about his cases in advance, but he's back, following up the 1.2 million copies his author sold in 2018 alone over all frontlist formats.