The prolific and popular McCall Smith offers the second in his Swedish-set "Detective Varg" series, headlining a bunch of great series additions forthcoming from authors ranging from Rita Mae Brown to Martin Walker. In addition, Caroline Cooney, best known as a successful YA author, steps up with adult mystery.
Pick
McCall Smith, Alexander. The Talented Mr. Varg: A Detective Varg Novel. Pantheon. Apr. 2020. 240p. 9781524748968. MYSTERY
Led by the indefatigable Ulf Varg, the Department of Sensitive Crimes in Malmo, Sweden, handles offbeat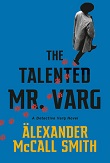 cases like its latest: not only is the notorious baddest-boy Don Juan of the Swedish literary world being blackmailed, but he turns out to be a real pussycat in disguise. Ulf is further burdened by his brother's foray into politics as a rising star of the of-so-Swedish Moderate Extremist Party and Ulf's own secret passion for married coworker Anna. Second in a series the prolific McCall Smith began with The Department of Sensitive Crimes, which hit number 14 on the New York Times hardcover best sellers list and numerous other best seller lists as well.
More Great Mysteries
Barron, Laird. Worse Angels. Putnam. May 2020. 320p. ISBN 9780593084991. $27; ebk. ISBN 9780593085004. Downloadable. MYSTERY
Tough-as-hell PI Isaiah Coleridge (he was once a mob enforcer) investigates a mysterious death associated with an upstate New York supercollider project going nowhere, following hints from the fed-up staff of an industrial tycoon that their boss is involved. A three-time Shirley Jackson Award winner and multiple fantasy award nominee in mystery mode.
Brown, Rita Mae. Furmidable Foes. Bantam. May 2020. 336p. ISBN 9780593130032. $28; ebk. ISBN 9780593130049. MYSTERY
In small-town Crozet, VA, someone is pitching mediocre produce as the freshly organic, appealingly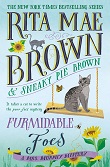 upscale real thing, and postmistress Mary Minor "Harry" Harristeen, feline buddy Mrs. Murphy, and assorted friends are on the case. From the New York Times best-selling author.
Cooney, Caroline. Before She Was Helen. Poisoned Pen. May 2020. I320p. ISBN 9781728205120. $26.99. MYSTERY
South Carolina retiree Clemmie risks blowing 50 years of hidden identity by foolishly posting an image of a striking work of art she stumbled upon when she dropped in unannounced on a testy neighbor. Besides, she's left her fingerprints where the police later find a dead body. From the best-selling YA author (15 million copies sold worldwide); billed as a chance for her fans to grow along with her.
Estleman, Loren D. Indigo. Forge. May 2020. 224p. ISBN 9781250258359. $25.99; ebk. ISBN 9781250258342. MYSTERY
Lucky film detective Valentino: for his university's movie library, he's just been invited by the estate of wealthy Ignacio Bozel to retrieve Bleak Street, a classic noir shelved 60 years ago owing to the disappearance of its glittering star, Van Oliver, and thought lost. But what happened to Oliver? From a four-time Shamus Award winner.
Fletcher, Jessica & Jon Land. Murder, She Wrote: The Murder of Twelve. Berkley. May 2020. 320p. ISBN 9781984804334. $26; ebk. ISBN 9781984804358. MYSTERY
While staying at a hotel during home renovations, Jessica Fletcher is trapped by an epic blizzard with a swords-drawn wedding party even as, Agatha Christie style, a killer starts knocking them off one by one. No. 51 in a USA TODAY best-selling series boasting over 4.5 million copies in print.
Haines, Carolyn. The Devil's Bones. Minotaur: St. Martin's. May 2020. 320p. ISBN 9781250257864. $26.99. MYSTERY
Indulging themselves at the upscale Bexley bed-and-breakfast in Lucedale, MS, sassy Southern PI Sarah Booth and friends Cece and Tinkie head to the Sunrise Easter Services at the Palestinian Gardens, a 20-acre replica of Holy Land—and find not inspiration but the corpse of a shady local lawyer. Following award winner Haines's Game of Bones.
Housewright, David. From the Grave: A McKenzie Novel. Minotaur: St. Martin's. May 2020. 320p. ISBN 9781250212177. $26.99. MYSTERY
At a public reading attended by a friend of under-the-radar PI Rushmore McKenzie, a psychic mentions Rushmore's name in connection with a huge stash of money that has gone missing, and no he has a dangerous new case. Following the Edgar Award winner's Dead Man's Mistress.
Logan, Kylie. The Secrets of Bones: A Mystery. Minotaur: St. Martin's. May 2020. 356p. ISBN 9781250180599. $26.99; ebk. ISBN 9781250180605. MYSTERY
Joining the professional women who've come to St. Catherine's girls' school to tell students about their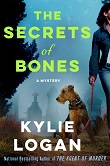 jobs, administrative assistant Jazz Ramsey puts cadaver dog Gus through his paces by hiding bones on the unused fourth floor. But Gus instead finds the skeleton of an acidulous teacher who failed to return after one winter holiday. Second in a new series, begun with The Scent of Murder, from the prolific Logan.
Lupica, Mike. Robert B. Parker's Grudge Match. Putnam. May 2020. 320p. ISBN 9780525539322. $27; ebk. ISBN 9780525539346. CD/downloadable. MYSTERY
PI Sunny Randall's tenuous relationship with a gangster she recently double-crossed doesn't prevent his asking her to find his business-partner girlfriend, who's clearly left town in a flurry. The swift death of a witness who talks to Sunny proves that this case goes deep. Following Robert B. Parker's Blood Feud.
Mathews, Francine. Death on Tuckernuck. Soho Crime. May 2020. 264p. ISBN 9781616959937; ebk. ISBN 9781616959944. MYSTERY
When two people are found shot on a yacht that has run aground on a unpopulated barrier island off Nantucket during a Category 3 hurricane, Nantucket Police Detective Merry Folger plunges into a case involving guns, heroin, and false identities—never mind that she's about to get married. Following Death on Nantucket.
Redmond, Lissa Marie. A Full Cold Moon. Severn House. May 2020. 240p. ISBN 9780727889874. $28.99. MYSTERY
Working Homicide because her Cold Case partner is out on disability, Lauren Riley is desperate to solve the murder of an Icelandic man near his Buffalo hotel on a night dominated by a full cold moon—the ice-white orb that ascends the winter skies. Fourth in "The Cold Case Investigation" series, which features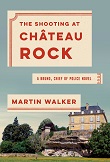 Amazon and Barnes and Noble best sellers.
Walker, Martin. The Shooting at Chateau Rock: A Bruno, Chief of Police Novel. Knopf. May 2020. 336p. ISBN 978052565664. $25.95; ebk. ISBN 9780525656661. MYSTERY
When a Périgordian sheep farmer disinherits his family to secure himself a place at a luxury retirement home, then dies before moving in, Chief of Police Bruno winds up investigating a Russian oligarch and his multinational conglomerate—with the case finally cracked at the château of a seen-better-days rock star. The usual delicious stuff following The Body in the Castle Well.