From personal crisis to epic perceptions of our culture, top July reading in literary fiction.
Click here for additional new Prepub Alert columns
Anam, Tahmima. The Startup Wife. Scribner. Jul. 2021. 304p ISBN 9781982156183. $26. LITERARY
Boundary-crashing coder Asha Ray meets up with high school crush Cyrus Jones and is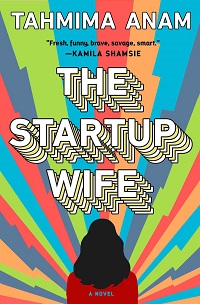 inspired to write a new algorithm. Soon they're married and working at a high-flying tech incubator called Utopia, but Asha worries that she might get swamped by Cyrus's growing fame. From Granta Best of Young British Novelists Anam; with a 75,000-copy first printing.
Arudpragasam, Anuk. A Passage North. Hogarth: Crown. Jul. 2021. 304p. ISBN 9780593230701. $27. Downloadable. LITERARY
Traveling by train from Colombo to Sri Lanka's war-ravaged Northern Province for the funeral of his grandmother's caretaker, Krishan reflects on the consequences of his country's 30-year civil war while also recalling the remote activist with whom he fell in love four years ago—who's just back in touch. Following Arudpragasam's multi-best-booked debut, The Story of a Brief Marriage.
Austin, Emily. Everyone in This Room Will Someday Be Dead. Atria. Jul. 2021. 256p. ISBN 9781982167356. $26. LITERARY
An atheist lesbian in her twenties, Gilda follows up on an advertisement for free therapy at the local Catholic Church and is inadvertently hired to replaced recently deceased receptionist Grace. When an old friend of Grace keeps emailing, Gilda ends up impersonating her, which gets problematic when it appears that Grace died under suspicious circumstances. A buzzing debut with a 100,000-copy first printing.
Bell, Matt. Appleseed. Custom House: Morrow. Jul. 2021. 480p. ISBN 9780063040144. $27.99. lrg. prnt. LITERARY
In this sweeping narrative, NYPL Young Lions finalist Bell moves from 1700s Ohio, where two brothers plant apple orchards and have a falling out; to the late 21st century, when one company owning all the world's resources faces growing demand for the redistribution of land and power; to the next millennium, when a tech station's lone inhabitant follows signals from a homing device in hopes of finding the ice-cloaked earth's remaining civilization. With a 75,000-copy first printing.
di Canzio, William. Alec. Farrar. Jul. 2021. 336p. ISBN 9780374102609. $27. LITERARY
Playwright di Canzio's debut novel retells E.M. Forster's Maurice from the perspective of Alec Scudder, the gamekeeper with whom Maurice Hall falls in love, extending the story to the trenches of World War I and beyond. With a 35,000-copy first printing.
Freud, Esther. I Couldn't Love You More. Ecco. Jul. 2021. 320p. ISBN 9780063057180. pap. $16.99. LITERARY
Opening in 1960s London, this latest from Granta Best of Young British Novelists Freud (Hideous Kinky) takes us from put-upon publican's wife Aoife and Aoife's pregnant teenage daughter Rosaleen to unhappily married Kate, who years later traces the mother she never knew to a Magdalene Laundry in Ireland. With a 50,000-copy printing.
Harris, Nathan. The Sweetness of Water. Little, Brown. Jul. 2021. 400p. ISBN 9780316461276. $28. Downloadable. LITERARY
In a debut from Michener Fellow Harris, recently emancipated brothers Prentiss and Landry need money so that they can search for their mother up north. They are hired by white farmers George and Isabelle Walker, who find them a comfort after their only son's death. Meanwhile, a forbidden romance between two Confederate soldiers explodes into the open. In-house enthusiasm; with a 50,000-copy first printing.
Hjörleifsdóttir, Thora. Magma. Black Cat: Grove Atlantic. Jul. 2021. 508p. ISBN 9780802157393. pap. $16. LITERARY
University student Lilja falls headlong for a handsome, intelligent young man who loves Derrida and Latin, and she does everything she can to please him once they move in together, disregarding his creeping abuse. A timely debut from Iceland addressing the ongoing acceptance of violence against women.
Hoby, Hermione. Virtue. Riverhead. Jul. 2021. 329p. ISBN 9780593188590. $27. Downloadable. LITERARY
Following her acclaimed debut, Neon in Daylight, Hoby tells the story of smart but naïve Luca, interning at a fancy if fading New York–based magazine and in awe of a young Black woman at the office who speaks persuasively about social injustice yet dangerously drawn to a rich, cultured white couple who invite him to their beach house.
Jonasson, Jonas. Sweet, Sweet Revenge LTD. HarperVia. Jul. 2021. 304p. ISBN 9780063072152. $27.99. LITERARY
Covering five continents as he examines colonialism, art history, and greed, Jonasson brings together Maasai warrior Ole Mbatian Jr., his sort-of son Kevin, and trod-up Agneta, who joins forces with Kevin against an underhanded gallery owner. They're helped by a Stockholm company specializing in revenge services. Not a big print run, but Jonasson wrote the mega-best-sellingThe 100-Year-Old-Man Who Climbed Out the Window and Disappeared.
Kupersmith, Violet. Build Your House Around My Body. Random. Jul. 2021. 400p. ISBN 9780812993325. $27. Downloadable. LITERARY
The author of LJ-starred The Frangipani Hotel ranges across a half-century of Vietnamese history as she tells the stories of three troubled women: a teenager who's permanently traumatized after getting lost while fleeing her furious father, a woman who captures a rare two-headed cobra to please a former lover, and a young American in contemporary Saigon whose boyfriend disappears.
McDonell, Nick (text) & Steven Tabbutt (illus.). The Council of Animals. Holt. Jul. 2021. 208p. ISBN 9781250799036. $25.99. LITERARY
In this nerve-rackingly relevant tale from novelist/journalist McDonell, pandemic has left a handful of woebegone humans alive in scattered villages, and the animals convene a council. Should they help these poor souls—or eat them? With a 75,000-copy first printing.
Molina. Antonio Muñoz. To Walk Alone in the Crowd. Farrar. Jul. 2021. 432p. tr. from Spanish by Guillermo Bleichmar. ISBN 9780374190255. $28. LITERARY
Blending fiction, memoir, and chronicle of walking the city streets—not a surprise from the inventive winner of Planeta and Príncipe de Asturias honors—Muñoz Molina unfolds the stories of famous urban strollers De Quincey, Baudelaire, Poe, Joyce, Walter Benjamin, Melville, Lorca, and Whitman.
Ohlin, Alix. We Want What We Want: Stories. Knopf. Jul. 2021. 256p. ISBN 9780525654636. $25.95. Downloadable. SHORT STORIES
Following the Scotiabank Giller short-listed Dual Citizens, Ohlin offers 13 stories about unsettled families and exploded expectations. A young woman home from Ghana after gap-year volunteerism learns that her father is engaged to her childhood best friend, while a woman set to rescue her awkward cousin from a cult encounters a group of young men in a beautifully appointed home sipping cocktails and discussing the classics.
Plunkett, Genevieve. Prepare Her: Stories. Catapult. Jul. 2021. 256p. ISBN 9781646220403. pap. $16.95. SHORT STORIES
Each female character in O. Henry award winner Plunkett's debut collection all face breakpoints that could change their lives, whether she is discovering that an ex-boyfriend has committed murder, facing a boyfriend's obsession with her mental illness, or struggling to raise a daughter in a world she still finds terrifying,
Richards, Willa C. The Comfort of Monsters. Harper. Jul. 2021. 384p. ISBN 9780063053021. $27.99. LITERARY
In this debut from a winner of the PEN/Robert J. Dau Prize for Emerging Writers, Peg must face painful questions when asked by her dying mother to discover what happened to Peg's sister Dee, who vanished from their Milwaukee home three decades earlier at a time when Jeffrey Dahmer dominated headlines.