An intense police procedural, a delightfully inventive journey through Oona's out-of-order life, and Brian Greene's latest exploration of the beginnings and end of our universe earned starred reviews in our June issue.
FICTION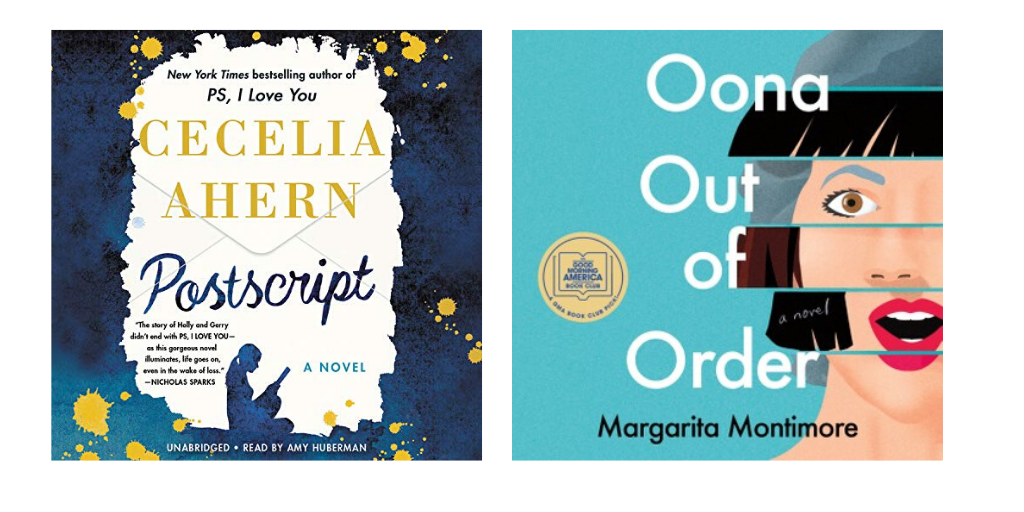 Ahern, Cecelia. Postscript. (P.S. I Love You, Bk. 2). 9 CDs. Hachette Audio. 2020. 10 hrs. ISBN 9781549102080. $30. digital download. F
Ahern's long awaited sequel to P.S. I Love You will not disappoint listeners who were first charmed by Jerry's letters of love from beyond the grave nearly two decades ago. Seven years after the death of her husband, Jerry, Holly has made a pretty good effort at moving on. When her sister bullies her into recounting her "PS, I Love You" letters on a podcast, Holly is floored at the response. Her story has really resonated with people. Terminally ill strangers are reaching out, wanting her help as they navigate how to leave behind meaningful messages for their loved ones. Holly swore she left that life of illness and death behind, but she begins to see the larger picture and the help she could provide. Amy Huberman deftly navigates Holly's humorous, heartfelt, and introspective moods. VERDICT Ahern brings beauty, dignity, and humility to this wonderful followup that will have listeners once again crying, but loving every minute of it.—Erin Cataldi, Johnson Cty. P.L., Franklin, IN
Bohjalian, Chris. The Red Lotus. 10 CDs. Random House Audio. 2020. 12 hrs. ISBN 9780593169391. $40. digital download. F
When Austin doesn't return from a challenging bike ride, Alexis, his girlfriend of six months, is understandably worried. They had come to Vietnam on a bike trip, which Austin had claimed would be a vacation as well as an emotional pilgrimage to where his uncle had died and his father was wounded. When Austin's body is found, killed in an apparent bike accident, some energy gel packets found near where he first disappeared suggest things may not be as they appear. As Alexis struggles to figure out what happened to Austin, she learns he had been lying to her and that his involvement in Vietnam involved rats and a killer virus. She even begins to wonder about the gunshot wound that brought him to the emergency room where she first met him as the doctor in charge. Bohjalian (The Guest Room) has written a fast-moving thriller that keeps listeners engaged and concerned for Alexis's safety as she continues to probe, ignoring the advice of the FBI to let it go. Rebecca Lowman's narration is clear and matter of fact. VERDICT Recommended for listeners seeking an exciting novel.—Nancy R. Ives, SUNY at Geneseo
Cameron, Marc. Active Measures. (Jericho Quinn, Bk. 8). 10 CDs. Recorded Books. 2020. 10:30 hrs. ISBN 9781980047292. $123.75. digital download. F
Cameron's latest Jericho Quinn novel (after Field of Fire) is filled with lots of action and suspense. The scenario presents Cuba and the United States engaged in talks to normalize relations. Some of the Old Guard of the Revolution do not want that to happen. One of these individuals, Gen. Zayda de la Guardia, has gotten hold of a nuclear weapon and intends to launch it at Miami. Jericho Quinn and his team are tasked with stopping him. Unfortunately, Quinn is thrown into prison and a monster of a hurricane is bearing down on the island. Pete Bradbury ably reads this action-packed story. His baritone is very expressive and his pace, though a bit staccato at times, is easy to follow. He affects distinct voices for the various characters just as ably. VERDICT Recommended for public libraries where previous series installments circulate well.—Michael Fein, Central Virginia Community Coll. Lib., Lynchburg
Cummins, Fiona. The Family Next Door. 8 CDs. Highbridge Audio. 2020. 9:30 hrs. ISBN 9781684577644. $39.99. digital download. F
Murdered and mutilated bodies found in the woods at the end of the Avenue bring everyone on the street under suspicion. The story is told by numerous individuals, including those whose identity is revealed only at the end of the crime spree. Every neighbor has a secret, and every secret could indicate murderous guilt. The newest family in the neighborhood, the Lockwoods, are hoping for a fresh start after the wife's infidelity. A successful young homeowner discovers that her live-in boyfriend has been using his camera and telescope for more than star gazing. In another house, an elderly doll maker protects the secret in his home with a firearm, thus drawing suspicion on himself. The residents of every house have something to hide, as the number of the serial killer's victims increases. The application of forensic science and innovative police research results in a surprise ending that will astonish even the most devoted crime fiction enthusiasts. Gemma Dawson provides atmospheric narration to an already creepy tale. VERDICT Horror and suspense devotees will revel in this story.—Ann Weber, Bellarmine Coll. Prep., San Jose, CA
Cutler, Judith. The Wages of Sin. 8 CDs. Highbridge Audio. 2020. 9:30 hrs. ISBN 9781684577873. $34.99. digital download. F
A young maid has disappeared from Lord Croft's estate in Victorian England while Lord Croft, his mother, and the butler are all away. Recently hired estate agent Matthew Rowsley is determined to find the girl. Is she pregnant? If so, who is the father? Was she spirited away to protect someone? Matthew's search spreads from the estate itself to the village and beyond. Assisted by the household's upper servants, he gradually comes to know the people and secrets of his new home. This is a lively, enjoyable book, only slightly marred by recurrent anachronisms. Matthew's pontifications on women's equality are more of the 20th or 21st centuries than the 19th, while his ongoing preoccupation with the living and work conditions of estate servants, as opposed to the details of crops and profits that should have been his primary responsibilities, is equally modern. And no true Victorian employee would have had any doubts about his exact social position (servant or not). David Thorpe further enhances the listener's experience, delivering a splendid range of accents, from upper-crust landowner to poorest estate worker. VERDICT Recommended for fans of Downton Abbey as well as any listener who enjoys mysteries set in late 19th- or early 20th-century servant halls.— I. Pour-El, Des Moines Area Technical Coll., Boone, IA

Davidson, Hilary. Don't Look Down. (Shadows of New York, Bk. 2). 8 CDs. Brilliance Audio. 2020. 10:20 hrs. ISBN 9781799708766. $34.99. F
Davidson's (One Small Sacrifice) wildly intense murder mystery grabs the listener from the beginning and holds on to the very end. Jo Greavey built her beauty business from the ground up. But she has secrets she'll pay to protect. She goes to meet her blackmailer expecting to do just that, but is shot instead. She survives and flees. NYPD detectives Sheryn Sterling and Rafael Mendoza are investigating the murder of Andray Baxter, and all signs are pointing to Jo. Still, Sterling isn't sure she did it. The many characters are well written and have complex back stories that enhance the tale. The age-old themes of survival, class, ambition, greed, revenge, love, and deceit all come into play. The cast of veteran narrators, Carly Robins, Will Damron, Scott Merriman, and Shari Peele, are simply excellent. The characters shifting perspective from chapter to chapter allows the narrators to really perform and not just read. Their emotions and nuances are especially well done. VERDICT Recommended for fans of the first book or police procedurals in general.—Scott R. DiMarco, Mansfield Univ. of Pennsylvania Lib.
Goenawan, Clarissa. The Perfect World of Miwako Sumida. digital download. Highbridge Audio. 2020. 8:36 hrs. ISBN 9781684578665. $83. digital download. F
Goenawan's (Rainbirds) sophomore title centers on a death in remote Japan. This time, death arrives via suicide, claiming the titular Miwako, an enigmatic university sophomore who disappears without notice, and is found only after death. Desperate to comprehend her fatal choices, Miwako's would-be boyfriend Ryusei (his love unrequited) and her high school best friend Chie attempt to retrace Miwako's journey to a mountainside clinic where she was volunteering shortly before she died. Ryusei's older sister Fumi—a painter moonlighting as a bar hostess—who Miwako briefly assisted, knows the dead girl least, and yet will be the one to whom the full truth is revealed. With the narration divided by gender—David Shih as Ryu, Cindy Kay as both Chie and Fumi—Shih's performance proves convincingly stronger, his verging-on-growly voice ideal for Ryu, deepening as his adoration grows, harsher as his anguish overwhelms. Kay has the more challenging role, attempting to distinguish Chie and Fumi (her distinctions are too subtle), adding in Miwako whose characterization will require unexpected vocal adjustments. VERDICT Despite occasional stumbles, Goenawan's intriguing plot twists should keep listeners engaged until the tragic whydunnit.—Terry Hong, Smithsonian BookDragon, Washington, DC
Harte, Marie. The Kissing Game. 7 CDs. Dreamscape Audio. 2020. 8:55 hrs. ISBN 9781690581857. $59.99. F
Outgoing Rena and reserved Axel met as minor characters in Harte's Zero to Sixty, and Axel finally makes his move in this Valentine's Day romance. Rena's dream of owning her salon has come true, and she is ready for her dream man, but she's not sure that Axel is that man. He devises a kissing dare to entice her to date him. Those kisses are hot, and as their sexual relationship ignites, Axel pulls out all the stops to ensure Rena will love him forever. Laugh-out-loud humor and entertaining secondary characters make this a fun listen. Laura Jennings narrates, perfectly portraying the natural adorableness of Rena and the gruff quietness of Axel. Her pacing and tonal changes are excellent while her interpretation of Axel's German accent fits right into the dialogue. His gentle hesitance with Rena juxtaposed to his brusqueness with the male characters is amusing. VERDICT Recommended for fans of contemporary romance.—Juleigh Muirhead Clark, Williamsburg, VA
Hinkson, Jake. Dry County. 6 CDs. Dreamscape Audio. 2020. 6:54 hrs. ISBN 9781690557203. $59.99. F
The Reverend Richard Weatherford is an influential man in a small Arkansas town in the Ozarks. He's also a man with secrets over which he is being blackmailed. Told from the perspectives of Weatherford, his wife, his lover, and other town residents, it's a tale as old as humanity: secrets and lies, drugs and drink and lust, images of respectability and God, prayers and dirty deeds. The cast of five narrators, Charles Constant, Pete Cross, Cassandra Campbell, Devon Sorvari, and Joel Froomkin, are superb, especially with the accents. VERDICT While the language and themes may be a bit much at times, the story unfolds nicely and the tension builds to a tragic culmination.—Scott R. DiMarco, Mansfield Univ. of Pennsylvania Lib.

Montimore, Margarita. Oona Out of Order. digital download. Macmillan Audio. 2020. 11:30 hrs. ISBN 9781250260949. $26.99. F
On the eve of her 19th birthday—which is also New Year's Eve—Oona is having the celebration of her life, madly in love, about to embark on a dream-come-true band tour. But when she awakes, she's jumped forward in time to 2015—landing in a huge house and watched over by her personal assistant, Kenzie, who must convince her (again) of what is actually happening. Shock and denial must settle into acceptance that every New Year will begin with her life out of order. Her only constants are her free-spirted mother, Madeleine, and Kenzie, who might prove to be Oona's most important link of all. Skilled, sensitive narrator Brittany Pressley nimbly ages every which way with Montimore's (Asleep from Day) chronologically challenged protagonist. Pressley is marvelous as discombobulated Oona, few-holds-barred but supportive Madeleine, and clever and sparkling Kenzie, but she's just as affecting with the rest of Montimore's vast cast—including too-close-to-perfect Dale, skeezy British wannabe chef Edward, smugly manipulative Francesca, and fiercely controlled adoptive mother Shivani. VERDICT This is thought-provoking, fantastically narrated entertainment for broad audiences.—Terry Hong, Smithsonian BookDragon, Washington, DC
Spindler, Erica. The Look-Alike. 9 CDs. Macmillan Audio. 2020. 11 hrs. ISBN 9781250259790. $39.99. digital download. F
Ten years ago, Sienna Scott discovered the body of Madison Robie in a blizzard, while Sienna was taking a shortcut to her dorm room on campus. So, who killed Madi? Suspects included Sienna's father; her brother, Brad; the campus cop, Randy; and hunky house flipper Jonathan who moved in across the street from Sienna's mother, Vivienne. Sienna suspects, and in her more lucid moments, her mother concurs, that the intended victim was Sienna. Sienna's back in Tranquility Falls, WI, after 10 years in London looking to open an upscale restaurant and now the cold case is reopened. Narrator Tavia Gilbert fills out the characters with distinctive voices and strong emotions. Lots of plot twists, some sex, misdirection, and possible financial chicanery. VERDICT This lively psychological thriller is highly recommended for adult fiction collections.—Cliff Glaviano, formerly with Bowling Green State Univ. Libs., OH
NONFICTION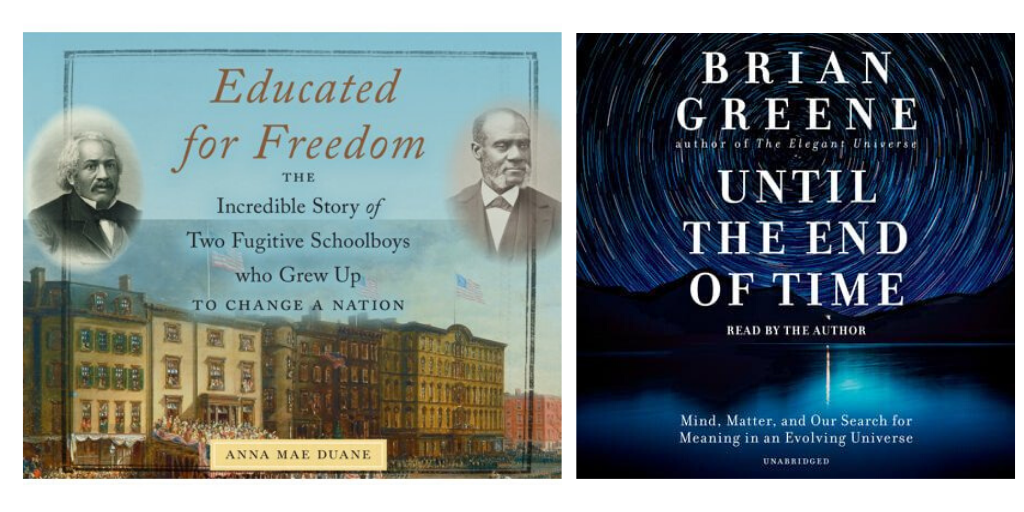 Dorgan, Byron L. The Girl in the Photograph: The True Story of a Native American Child, Lost and Found in America. 5 CDs. Dreamscape Audio. 2019. 6:03 hrs. ISBN 9781974988907. $49.99. HIST
Tamara, a Native American woman, shares her life story with Sen. Dorgan of North Dakota, describing being horribly beaten in the broken foster care system as a child and her struggles to survive post-traumatic stress disorder, poverty, and recurring homelessness. Using her account as a loose structure, the author presents facts, depictions of specific Native American lives, and many incidents in Native American history to elucidate the past and current situation for Native Americans. Unfortunately, this attempt at organizing pieces into a narrative is unsuccessful. Tamara's story, though both poignant and disturbing, is so scant that it barely lends structure to what feels like a group of passionate oratories on mostly related social and political topics. Though an accurate and dramatic interpretation of the text's tone and intent, Peter Berkrot's reading is so emotional that it distracts from the call for action. This heartfelt work is obviously an attempt to familiarize the wider public with issues concerning Native Americans who live either on or off reservations. VERDICT Individuals specifically concerned with Native American Studies and sociology will find much that is vital and even shocking, but this work's evidence is too overpowered by sentiment and unfocused arrangement to influence doubters.—Lisa Youngblood, Harker Heights P.L., TX
Duane, Anna Mae. Educated for Freedom: The Incredible Story of Two Fugitive Schoolboys who Grew Up to Change a Nation. 7 CDs. Dreamscape Audio. 2020. 9:05 hrs. ISBN 9781690580614. $49.99. HIST
Duane (English, Univ. of Connecticut; Suffering Childhood in Early America: Violence, Race, and the Making of the Child Victim) presents a dual biography of African American men who made a lasting impression on the history and culture of antebellum America. James McCune Smith and Henry Highland Garnet attended the New York African Free School during the early decades of the 19th century. Both excelled in their studies; Smith became a physician and Garnet a writer and speaker. This biography details the trials and tribulations they faced living in New York, a free state, during a time when free African Americans were kidnapped and sold in the South. Duane places the men in the context of their times and recounts their travels and meetings with famous people including Gen. Lafayette and William Lloyd Garrison. The idea of colonization of African Americans separated the political views of the two friends. Duane fully explains this idea and how even Abraham Lincoln once thought it a solution to the slavery issue in the United States. Descriptions of the New York City draft riots and its impact upon the African American community is a riveting section of the book. VERDICT A vital addition for history collections.—Patricia Ann Owens, formerly at Illinois Eastern Community College, Mt. Carmel
Finstad, Suzanne. Natalie Wood: The Complete Biography. digital download. Books on Tape. 2020. 20:17 hrs. ISBN 9780593208311. $95. BIOG
In this exhaustive account of actress Natalie Wood and her mysterious death, Finstad updates her 2002 Natasha: The Biography of Natalie Wood with findings from the L.A. police department's recent reopening of the case of her mysterious death. Natalie Wood's career began as a young child after being pushed by a neurotic stage mother into the spotlight. She matured into a fine dramatic actress with strong performances in films like Splendor In the Grass (1962) and Love With the Proper Stranger (1964). Her career is thoroughly documented as well as her relationships with Warren Beatty, Frank Sinatra, Elvis Presley, and, of course, Robert Wagner, who she married twice. Wood died in 1981 off the coast of Catalina Island, drowning during a boating trip with her husband Robert Wagner and friend Christopher Walken. Or did something more sinister happen that night? Interviews with witnesses and more than 400 friends and family members shed new light. Actress Rose McGowan's narration captures the fascination as well as the mystery behind her subject's life. VERDICT Although sometimes repetitive, this is a thorough and riveting biography that will intrigue listeners. An upcoming HBO documentary on Wood should garner further interest.—Phillip Oliver, formerly with Univ. of North Alabama, Florence

Greene, Brian. Until the End of Time: Mind, Matter, and Our Search for Meaning in an Evolving Universe. 12 CDs. Penguin Audio. 2020. 14:30 hrs. ISBN 9781524734275. $45. digital download. SCI
Greene (physics and math, Columbia Univ.; The Elegant Universe) takes listeners from the beginning of the universe to the closest astrophysics can take us to the projected end of it all. He covers 14 billion years of the history of the universe, explains the physical laws that produced stars and galaxies, life and consciousness, and takes listeners far into the future when everything will decay and organized matter of any kind will not be possible. Greene dips into just about all the sciences to cover the big bang, the concept of time, how the origins of all matter are all doomed by entropy, how humans have managed to understand life and consciousness, the importance of language and the power of the human mind, the development of creativity, and the current cutting edge astrophysics understanding of quantum mechanics, ending with the sobering reality that nothing is permanent. VERDICT The author's personable, friendly narration provides a steady, balanced approach to this powerful adaptation of cutting-edge theoretical physics aimed at an erudite lay audience. The work will appeal to fans of David Christian's Origin Story, Walter Alvarez's A Most Improbable Journey, and Neil deGrasse Tyson's and Donald Goldsmith's Origins, as well as Carl Sagan's classic works.—Dale Farris, Groves, TX
Swaby, Rachel & Kit Fox. Mighty Moe: The True Story of a Thirteen-Year-Old Women's Running Revolutionary. 5 CDs. Dreamscape Audio. 2020. 6:06 hrs. ISBN 9781974974030. $39.99. BIOG
The authors here recount the story of Maureen Wilton, the 13-year-old running phenom nicknamed "Mighty Moe" who ran the 26.2-mile distance in 3 hours,15 minutes, and 23 seconds, setting the women's fastest marathon record in 1967. Wilton's historic run was barely celebrated. She was instead greeted with unfounded accusations of cheating and chauvinistic skepticism. Wilton set her record at a time when women weren't supposed to run long distances because it was deemed unladylike and too taxing for women's bodies. It was the same year Kathrine Switzer became the first official female participant to finish the storied Boston Marathon. The authors sprinkle the history of women's running throughout the work, bookending the biography with North American running royalty: Switzer writing the introduction, and Des Linden, the 2018 women's champion of the Boston Marathon, writing the afterword. VERDICT Swaby's airy narration lends a hopeful tone. Wilton's biography is appropriate for all ages, whether you run or not. Wilton deserves to be celebrated for what she did so girls and women today can run whatever distance they want.—Gladys Alcedo, Wallingford, CT