Historical, paranormal, or in this world, mostly female characters finding themselves.
Archer, Jeffrey. Nothing Ventured. St. Martin's. Sept. 2019. 416p. ISBN 9781250200761. $28.99; ebk. ISBN 9781250200778. CD. SAGA
Archer's "Clifton Chronicles" concerns Det. William Warwick, but it doesn't focus on police work. Instead, it deals with Warwick's knotty relationships with his family, particularly his father, who is a judge; plus the start of his interest in police work, his being mentored by a career officer, and his first, eye-opening case.
Belden, Emily. Husband Material. Graydon House: Harlequin. Sept. 2019. 304p. ISBN 9781525805981. pap. $16.99; ebk. ISBN 9781488028571. WOMEN'S
Young widow Charlotte Rosen has been completely in denial regarding her husband's death; her roommate doesn't even know about it. Then her husband's ashes turn up on her doorstep, and she must face facts with her challenging former mother-in-law and her husband's best friend. From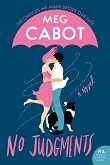 the author of Hot Mess; with a 50,000-copy first printing.
Cabot, Meg. No Judgments. Morrow. Sept. 2019. 384p. ISBN 9780062913579. $26.99; pap. Morrow Paperbacks. ISBN 9780062890047. $15.99; ebk. ISBN 9780062890030. WOMEN'S
Having just jump-started her life by resettling in Little Bridge Isle in Florida Keys, Bree has no intention of leaving when a Category 5 Hurricane approaches, never mind her ex's offer of his private plan. Meanwhile, Bree has a plan to rescue pets left behind by their panicked owners, and she's got the help of her boss's charmer of a nephew. With a 100,000-copy paperback and 25,000-copy first printing.
Deveraux, Jude. Met Her Match. Mira: Harlequin. Sept. 2019. 384p. ISBN 9780778351245. $26.99. ROMANCE
The New York Times best-selling Deveraux revisits her beloved fictional town of Summer Hill, VA, where Terri is a "lake person" and Nate's fiancé's is one of the upper crust. So townsfolk are anxious when they see Terri and Nate drawing closer. Terri is anxious, too, given her own mother's tarnished reputation after abandoning her family. With a 200,000-copy first printing.
Feehan, Christine. Dark Illusion. Berkley. Sept. 2019. 432p. ISBN 9781984803467. $27; ebk. ISBN 9781984803474. PARANORMAL ROMANCE
Though she has failed to warn the Carpathians of an impending threat, mage Julija Brennan has managed to escape her domineering family. But in the Carpathian mountains she encounters Isai Florea, who's been stuck in a monastery for centuries and recognizes her as his lifemate—in a domineering sort of way. Are they really fated to be together? From the No. 1 New York Times best-selling author of multiple series.
Montag, Kassandra. After the Flood. Morrow. Sept. 2019. 432p. ISBN 9780062889362. $27.99; ebk. ISBN 9780062889393. lrg. prnt. WOMEN'S
Billed as women's fiction but decidedly dystopian in feel, this novel opens in the next century, with America a string of mountaintop islands after
massive flooding. As Myra dodges pirates, fishing from her small boat with sparkly eight-year-old daughter Pearl, she learns that the daughter taken from her years ago has been spotted in the cold northern seas and tricks those aboard a larger ship into sailing in that direction. A London Book Fair hit with rights for a cable series sold; with a 100,000-copy first printing.
Johnston, Scott. Campusland. St. Martin's. Aug. 2019. 336p. ISBN 9781250222374. $27.99; ebk. ISBN 9781250222381. CD. ACADEMIC LIFE
At Devon University, which cheekily recalls one of the Ivies, polished, up-for-tenure English professor Eph Russell hides his Alabama roots, snobby socialite Lulu Harris turns her social disappointment into radical feminism, and charismatic progressive Red Wheeler prepares for his seventh year at university. A buzzing book, pubbing in late August but officially a fall title.
Ragen, Naomi. An Unorthodox Match. St. Martin's. Sept. 2019. 336p. ISBN 9781250161222. $27.99; ebk. ISBN 9781250161246. CD. JEWISH
Talmud scholar Yakov is having a hard time after his wife's death, while Lola has returned from the secular world after a tragedy and tries to find peace in the Orthodox community. They both need someone to lean on, but will this relationship work? From the internationally best-selling author of The Devil in Jerusalem.