CIA and DEA agents tackle the world.
Click here for additional new Prepub Alert columns
Cleveland, Karen. You Can Run. Ballantine. Aug. 2021. 336p. ISBN 9780593357798. $27. THRILLER
CIA analyst Jill Bailey was vetting a new source—a Syrian defense official attached to a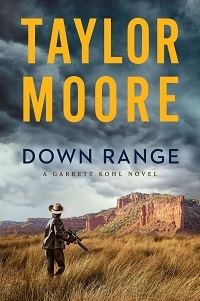 covert biowarfare program—when the call came in: "We have your son." Teaming with ambitious journalist Alex Charles, who's heard rumors about the Syrian official, she tries to save her child while learning about a conspiracy that rattles her deepest convictions. From former CIA counterterrorism analyst Cleveland (Need To Know).
Coes, Ben. The Island: A Thriller. St. Martin's. Aug. 2021. 432p. ISBN 9781250140821. $25.99. CD. THRILLER/POLITICAL
Once again, Manhattan is being targeted by terrorists, who aim to subjugate America, assassinate the president, and get rid of pesky CIA operative Dewey Andreas. Fortunately, even as the anxious CIA head tries to herd him out of town, Dewey is inclined to strike back. With a 100,000-copy first printing.
Moore, Taylor. Down Range. Morrow. Aug. 2021. 352p. ISBN 9780063066502. $27.99. lrg. prnt. THRILLER
Returning from Afghanistan for what was meant to be a short mission at home in the Texas High Plains, DEA special agent Garrett Kohl discovers that his tranquil ranching community has been disrupted by criminal elements under the thumb of a rich, obnoxious businessman. His efforts to broker a peaceful solution fail, the bad guys go on the attack, and Garrett—a former Green Beret who's spent a lifetime hunting terrorists—is ready for them. A debut from sixth-generation Texan Taylor; with a 100,000-copy first printing.
Click here for additional new Prepub Alert columns