In the first step of a now-familiar process, the Trump administration's preliminary FY21 budget , submitted on February 10, calls for drastic cuts and eliminations of cultural and educational agencies, including—for the fourth year in a row—zeroing out the Institute of Museum and Library Services (IMLS), among others "as part of the Administration's plan to move the Nation towards fiscal responsibility and to redefine the proper role of the Federal Government."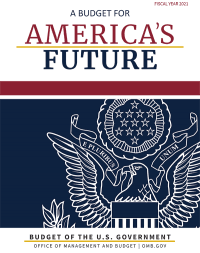 In the first step of a now-familiar process, the Trump administration's preliminary FY21 budget, submitted on February 10, calls for drastic cuts and eliminations of cultural and educational agencies, including—for the fourth year in a row—zeroing out the Institute of Museum and Library Services (IMLS), among others "as part of the Administration's plan to move the Nation towards fiscal responsibility and to redefine the proper role of the Federal Government."
As in 2017, 2018, and 2019, the Office of Management and Budget has issued a preliminary budget with major cuts to domestic federal spending that are not expected to be enacted by Congress. In the $4.8 trillion budget, IMLS, the National Endowment for the Humanities, and the National Endowment for the Arts were each given an allocation just large enough to shutter those agencies—in the case of IMLS, $23 million "to conduct an orderly closeout." The Corporation for Public Broadcasting was slashed to $30 million for each of FY21 and FY22.
However, in previous years Congress has denied those requests, even when Republicans held both chambers, and last year those agencies were all given increases.
The outlook for education is mixed, with calls for a 7.8 percent cut—$5.6 billion—in Department of Education funding and cuts to most core funders of academic research. But it proposes a nearly $900 million boost in career and technical education funding, as well as proposing lending caps on graduate student and Parent PLUS college loans, according to Inside Higher Ed.
The preliminary budget also includes about $2 trillion in cuts to safety net initiatives such as Medicaid, federal housing assistance, and food stamps. It would also cut federal disability insurance benefits by $70 billion. At a time when citizens worldwide are concerned about the effects of coronavirus, the new budget would cut funding for the Centers for Disease Control and Prevention by nine percent. The Environmental Protection Agency would see a 26 percent reduction in funding and the elimination of 50 programs.
The administration's stated goal is to balance the federal budget by 2035, lower national debt from 81 percent of the U.S. gross domestic product (GDP) in 2020 to 66 percent by 2030. However, according to the Committee for a Responsible Federal Budget, "The budget assumes annual real GDP growth at 3.1 percent for 2021, 3 percent through 2025, and averaging 2.9 percent over the decade. This is estimate is about 50 percent higher than those from other forecasters, who project annual growth around (and in some cases less than) 2 percent per year."
ORGANIZATIONS, AGENCIES WEIGH IN
"I'm grateful for the support I received from the White House, members of Congress, and the library and museum communities throughout my confirmation," said new IMLS director Crosby Kemper III in a statement. "We will continue to engage in the budget process with the Administration. For the remainder of this fiscal year, IMLS will continue our work investing in libraries and museums—those anchors in our communities—and helping millions across the nation tell their American stories."
American Library Association (ALA) President Wanda Brown noted libraries' deep involvement in the 2020 Census, and their encouragement of civic engagement through town hall meetings and voter registration, as just a few of many reasons that library funding is critical. "ALA takes the White House proposal seriously," she said in a statement. "After three years of consistent pushback from library advocates and Congress itself, the administration still has not gotten the message: eliminating federal funding for libraries is to forego opportunities to serve veterans, upskill underemployed Americans, start and grow small businesses, teach our kids to read and give greater access to people with print disabilities in our communities."
"Continuous learning is a requirement for success in the 21st century. Now more than ever, our communities need—and indeed our nation needs—educated citizens who have equitable and abundant access to knowledge resources," Urban Libraries Council President and CEO Susan Benton said in a statement. "The current administration is threatening to weaken our nation's communities by eliminating IMLS and the fundamental support that it provides to libraries and museums. Our core democratic principles have no place on this chopping block. We urge members of Congress to prioritize education, digital inclusion and strong, healthy communities by rejecting the proposed budget cuts to IMLS."
The Association of Research Libraries (ARL) "strongly opposes the proposal to defund the primary source of federal funding for the nation's libraries and museums," it wrote in a statement. "Research libraries work collectively and with critical partners in scholarly communications to increase access to publicly funded information, and to develop the requisite knowledge infrastructure for accelerating research. The IMLS is one of the very few funding sources for libraries to scale tools, research findings, models, services, practices, or alliances that will be widely used, adapted, or replicated across the country. At a time that research libraries must align with the research and learning policies of our institutions and our federal agencies, the IMLS is a critical source of funding our commitment to building the workforce of the future."
For many of the agencies whose fate has yet to be decided, however, it will be business as usual in the coming months. "As NEH awaits Congressional action on the President's proposed budget, the agency is continuing normal operations and will announce our latest round of FY 2020 awards this spring," stated NEH Chairman Jon Parrish Peede.
A statement from the National Endowment for the Arts noted, "The President's budget request is a first step in a very long budget process and we will continue to operate as usual while also assisting in that process."
"We look forward to working with Congress in the continued pursuit of our statutory public service mission of supporting educational, informational and diverse content that addresses the needs of our nation's citizens—a mission the American people overwhelmingly trust in and support," Corporation for Public Broadcasting president Patricia Harrison wrote in a statement, adding, "The federal appropriation to CPB is the foundation of our uniquely American, public-private partnership that supports our nation's public media system—a system of more than 1,500 locally controlled and operated public television and radio stations across the country. This seed money pays invaluable dividends to millions of Americans and their families in the form of content and resources that educate, inform, and inspire."
And advocacy efforts, of course, will be ongoing. "ALA will continue our strategic approach to advocacy, rallying the growing number of library advocates to take action at each step of the appropriations process and to cultivate ongoing relationships with decision makers," Brown wrote. Library workers, leaders, and advocates are encouraged to email and tweet at their members of Congress; their track records on library funding, as well as other advocacy options, can be found at ALA's #FundLibraries webpage.
National library political action committee EveryLibrary has posted a Save IMLS petition, urging library supporters to sign and/or donate to the cause. "Our mission is to build voter support for libraries, so we work on reaching those voters, the public, with our messaging about IMLS and other issues. Very few of them know what IMLS is. But they care about what IMLS does to fund innovation in libraries and museums. We know from campaign after campaign that the public will respond with a Yes about libraries when asked. I'm glad we can put this message out to our network of 350,000 Americans. It educates and activates folks from all walks of life," EveryLibrary executive director John Chrastka told LJ. "We look at the $1 per capita budget level for LSTA [Library Services and Technology Act] that COSLA, the Chief Officers of State Library Agencies, has identified as being the long-term goal for IMLS. The state librarians have said what they need and EveryLibrary is supporting that legitimate ask. It's important that Congress continue to hear from the public and the profession about IMLS. We don't want to see IMLS cut in FY2021. But, more strategically, the sector is only going to get to $1 per capita by building momentum year after year."
Libraries will not be the only institutions benefiting from advocacy, added Chrastka. "We are looking forward to participating in our first Museum Day at the end of February. We see the request for the Office of Museums as being part of a whole-cloth approach to building a stronger IMLS. If IMLS can be properly funded across both the "L" and the "M", we will see more vibrant local communities across the country."