Week ending August 3, 2018
Achterberg, Cara Sue. Another Good Dog: One Family and Fifty Foster Dogs. Pegasus. Aug. 2018. 304p. photos. notes. ISBN 9781681777931. $25.95; ebk. ISBN 9781681778396. PETS
The world of animal rescue is particularly rewarding to those individuals strong enough to endure the flood of emotions that comes with facing animal abuse on a regular basis. Yet, animal rescue is appealing to a broad range of the general populace whether they have a pet of their own or not. Stories abound, and some of the best ones are a blend of the ups and downs experienced by dedicated people such as author (Girls' Weekend; I'm Not Her) and blogger Achterberg who try to make a difference—one rescue at a time. Achterberg dove into rescue work when she faced being an empty nester. Her six-acre farm in Pennsylvania is now home to Operation Paws, the organization she started three years ago. This detailed and thoroughly engaging memoir discusses the 50 or so dogs she has fostered in two short years. Achterberg not only tells readers about the dogs, she uses her reflections to grow and mature in her outlook on life in general.
VERDICT Recommended in a crowded field of books on animal rescue and pets for the tears and smiles that it brings to readers.—Edell Marie Schaefer, Brookfield P.L., WI
American Theatre Wing, an Oral History: 100 Years, 100 Voices, 100 Million Miracles. Graphic Arts. Aug. 2018. 268p. ed. by Patrick Pacheco. photos. ISBN 9781513261461. $45. THEATER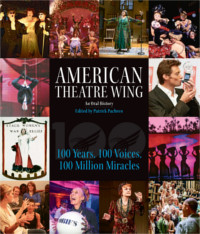 O, happy day! Journalist Pacheco, chosen by the American Theatre Wing to steward the compilation of a celebratory text commemorating the centenary of the American theater's most august organization, has delivered the loveliest valentine to the history of Broadway that any fan could hope for. Most widely known as the founder of the Tony Awards, the Wing was founded during World War I to serve the country and throughout its history has been dedicated to the support and nurturing of American theater. This lavish coffee-table book is an embarrassment of visual riches and quotes from past and present American theatrical luminaries. Contributors such as actors Angela Lansbury, Rosie O'Donnell, and Patti LuPone and playwright David Henry Hwang detail the history, both world war efforts, educational imperatives, community aspects, and, of course, the storied saga of the Tony and now Obie Awards. A cornucopia of photos, stories, testimonials, and, wait for it...miracles! One criticism is the lack of an index.
VERDICT What? You haven't ordered it already? A superb find for theater geeks.—Barry X. Miller, Austin P.L., TX
Arthur, Chris. Hummingbirds Between the Pages. Mad Creek: Ohio State Univ. (21st Century Essays). Jul. 2018. 264p. ISBN 9780814254844. pap. $23.95; ebk. ISBN 9780814276365. LIT
Northern Irish writer Arthur (Reading Life; On the Shoreline of Knowledge) presents 17 essays on a genre he terms "a mercurial mode of writing." The title derives from the practice of 18th-century settlers in Pennsylvania who sent specimens of hummingbirds pressed between the pages of books in letters to family and friends in Ulster, Ireland, who would not have seen such wonders. Ordinary items, such as seashells, a taxidermied fox, a pocket watch, old postcards, that "stopped him in his tracks" with meanings beyond the commonplace are explored alongside themes of life's interconnectedness, the "entanglement" of past and present as events converge over time, and the randomness of causality on time's continuum. "We are all time travelers," asserts Arthur, in pieces that address the power of objects inherent in the memories they hold, the inadequacy of words to convey meaning, and "The Troubles" in Northern Ireland during the second half of the 20th century. Throughout, references to nature evoke the imagery of the title.
VERDICT Will appeal to readers who enjoy pondering the extraordinary implications of everyday objects and events.—Denise J. Stankovics, Vernon, CT
Branum, Guy. My Life as a Goddess: A Memoir Through (Un)Popular Culture. Atria. Aug. 2018. 288p. notes. ISBN 9781501170225. $26; ebk. ISBN 9781501170249. MEMOIR
With a foreword by actor and comedian Mindy Kaling, this collection of essays by stand-up comedian and actor Branum ( Talk Show the Game Show; Chelsea Lately) is a humorous memoir full of anecdotes, trivia, and entertaining observations on American pop culture. Branum offers insight into the life of a gay, overweight man finding his place in the modern world, including taking a "wrong turn" by enrolling in law school, coming out to his mother, writing an article as a Berkeley student journalist that resulted in a visit by the Secret Service, and, finally, earning fame as a comedy writer. The book is rife with footnotes, containing both bits of trivia and Branum's sidebar commentary, adding context. While the footnotes could be potentially distracting, readers will get used to them quickly and even look forward to them in subsequent chapters. The author's intellect and vocabulary, paired with the extensive footnotes, might make the book slightly less accessible to mainstream readers than its contemporaries (such as Kaling's Is Everyone Hanging Out Without Me?), but its wit and short chapters will keep readers going.
VERDICT A funny account that most readers of modern comedic memoirs will enjoy.—Cori Wilhelm, SUNY Canton Coll. of Tech. Lib.
Enduring Ideals: Rockwell, Roosevelt and the Four Freedoms. Abbeville. May 2018. 192p. ed. by Stephanie Haboush Plunkett & James J. Kimble. notes. index. ISBN 9780789213006. $45. FINE ARTS
Painter Norman Rockwell portrayed a mythical America filled with freckled boys, pigtailed girls, and cheerful, supportive adults—an image of America dreamed of but not quite achieved. As the clouds of World War II drew nearer, President Roosevelt presented Congress and the American people with a vision of a better world in which the "four freedoms"—of speech and worship, from want and fear—were the cornerstones of democracy. These ideals, which inspired Rockwell's paintings, brought them into everyday life and became the iconic images that created a national movement and an embrace of the massive war effort. This accompaniment to a traveling exhibition by cocurators Plunkett (deputy director, Norman Rockwell Museum) and Kimble (communications & the arts, Seton Hall Univ.) includes essays by eminent historians of art and politics, as well as many fine examples of the work of Rockwell and his contemporaries. Archival material plus a chapter on Eleanor Roosevelt and her efforts to maintain the impetus of the freedoms after the war had ended.
VERDICT Readers interested in the history of 20th-century America—those who lived through it and those who only read about it—should find inspiration in this work. It offers a fine vision of what can be done when the cause is just and the country united.—Paula Frosch, Metropolitan Museum of Art Lib., New York
Hall, Donald. A Carnival of Losses: Notes Nearing Ninety. Houghton Harcourt. Jul. 2018. 224p. illus. ISBN 9781328826343. $25; ebk. ISBN 9781328826312. LIT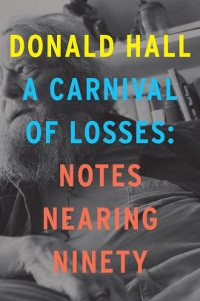 A kind of sequel to Essays After Eighty, this collection of brief writings from former U.S. poet laureate Hall (1928–2018) is filled with loss and pain yet always finds something to celebrate. Gathered quite literally as a set of notes, the pieces range in length from barely two sentences ("Allan Tate") to three to five pages, with the exception of "Necropoetics," a 20-page meditation on the poetry of death illuminated by Hall's experience of the actualities. Particularly enjoyable is "Collected Poets," in which he offers brief sketches of poets he's known; his most moving remembrances is of Jane Kenyon, one of the 20th century's purest poets. Hall turns to this subject time and again in these vignettes and in every instance, with a beguiling tug of tenderness, recalls some detail of his lost love. Readers will find neither anguish nor sorrow haunting his memories, instead adoration and consolation.
VERDICT The literary insights will be useful to scholars, but the beautiful recollections and the joyful and vital vision Hall offers are gifts to us all. Highly recommended. [See Prepub Alert, 1/22/18.]—Herman Sutter, St. Agnes Acad., Houston
Halleck, Leslie F. Gardening Under Lights: The Complete Guide for Indoor Growers. Timber. Jul. 2018. 352p. photos. bibliog. index. ISBN 9781604697957. $29.95; ebk. ISBN 9781604698657. GARDENING
According to Halleck, a certified professional horticulturalist, blogger, and former director of horticultural research at the Dallas Arboretum, "Green thumbs are earned, not born." So, by the time anyone wanting to learn more about successfully growing plants indoors finishes this guide, they will definitely feel like they have earned their own verdant digit. Explaining the principles of how plants use light is the foundation of this title, and Halleck provides the data on everything from the use of light to propagation and the care of plants indoors. A special section bonus details in-depth what is needed to grow a range of edible and ornamental plants indoors.
VERDICT With a stellar combination of botanical knowledge and street smarts, this will provide those who are just trying to keep their African violet alive with a good tip or two among the vast treasure trove of information. However, this impressive gardening tome will be most prized by gardeners who want to dig down deep into the subject.—John Charles, formerly with Scottsdale P.L., AZ
Kenny, Francis.The Making of John Lennon. Red Lightning. Aug. 2018. 284p. notes. bibliog. ISBN 9781684350339. $75; pap. ISBN 9781684350322. $20; ebk. ISBN 9781684350360. MUSIC
Writer Kenny (Waiting for the Beatles) explores the artistic development and psyche of Beatle John Lennon (1940–80), covering his complex family dynamics and upbringing and examining the social and class history of England's port city of Liverpool. The author moves on to the formation of the Beatles, their worldwide fame, and the creation of one of music's most memorable catalogs while keeping the focus on Lennon's artistic ambitions and creations as they relate to his past, his self-esteem, and his relationships. The book works best when discussing social, class, and cultural issues but less so when attempting to psychoanalyze Lennon.
VERDICT Readers with intimate knowledge of Lennon's story will find this title an intriguing addition to the literature on the Beatles, while those wanting a deeper and broader picture should instead look to Philip Norman'sJohn Lennon: The Life, Tim Riley's Lennon, and Bob Spitz's The Beatles.—James Collins, Morristown–Morris Twp. P.L., NJ
Nevala-Lee, Alec. Astounding: John W. Campbell, Isaac Asimov, Robert A. Heinlein, L. Ron Hubbard, and the Golden Age of Science Fiction. Harper. Aug. 2018. 320p. notes. bibliog. ISBN 9780062571946. $28.99; ebk. ISBN 9780062571960. LIT
Novelist Nevala-Lee (The Icon Thief: City of Exiles) brings a contemporary sensibility to the golden age of sf, generally understood to encompass the 1930s and 1940s. Readers of the genre's early years will find concerns about its aggressively masculine culture confronted here, in what may be one of the first "cultural biographies" to emerge since the #metoo hashtag went viral. Problematic behaviors and viewpoints among the writers profiled (John W. Campbell, Isaac Asimov, Robert A. Heinlein, and L. Ron Hubbard) are presented frankly, with no appeals made to "a different time" or "boys being boys." Nevala-Lee is also meticulous about crediting the contributions of the women in the authors' lives and recognizing female pioneers in the Astounding Science Fiction magazine. After introducing sf's "Golden Age," especially helpful for new readers, the author then delves into how Campbell worked to mold sf into a tool for shaping scientific progress itself.
VERDICT Highly recommended for fans of sf and popular science, as well as those curious about the development and culture of Scientology.—Jenny Brewer, Helen Hall Lib., League City, TX
Rothman, Jennifer E. The Right of Publicity: Privacy Reimagined for a Public World. Harvard Univ. May 2018. 256p. notes. index. ISBN 9780674980983. $39.95; ebk. ISBN 9780674986350. LAW
In 2017, actress Olivia de Havilland sued the FX Network over her portrayal in the docudrama Feud, claiming her rights of publicity required the company to seek prior permission. The case has since been thrown out on appeal but illustrates how the evolving right of publicity comes into conflict with free speech and copyright laws. In this timely book, Rothman (law, Loyola Law Sch., Los Angeles) provides a complete legal and cultural history of the right of publicity, tracing its development from the late 1800s to its modern-day expansion as a transferable right of property. Fascinating details of the individuals behind the cases, including celebrities and private citizens, inform how the law's current contours have been shaped. While Rothman's tone is measured, her case for revisiting the purpose and scope of this right is compelling.
VERDICT Legal and cultural historians, as well as pop culture buffs and general readers interested in the subject, will find this work indispensable.—Rachel Bridgewater, Portland Community Coll. Lib., OR
Weber, Caroline. Proust's Duchess: How Three Celebrated Women Captured the Imagination of Fin-de-Siécle Paris. Knopf. May 2018. 768p. photos. notes. bibliog. index. ISBN 9780307961785. $35; ebk. ISBN 9780307961792. LIT
Three women venerated by French novelist Marcel Proust (1871–1922)—Laure de Sade, Comtesse de Adhéaume de Chevigné; Élisabeth de Riquet de Caraman-Chimay, Comtesse Greffulhe; and Geneviève Halévy Bizet Straus—served as the basis for In Search of Lost Time's Duchesse de Guermantes character. Weber (French, comparative literature, Barnard Coll.; Queen of Fashion: What Marie-Antoinette Wore to the Revolution) notes that past scholarship has ignored these women as media stars of their era before Proust immortalized them; this triple biography meticulously examines their roles in late 19th-century French high society. Each had Parisian salons frequented by artists, musicians, and other celebrities including Guy de Maupassant and Oscar Wilde. Straus was composer Georges Bizet's widow and Chevigné the Marquis de Sade's great-granddaughter. Greffulhe used her beauty and distinct sense of style to champion the art of being seen. Focusing on a brief period, 1870s–1890s, Weber not only exhaustively details the women's lives but also depicts a privileged culture full of extravagance that would all but disappear after World War I. The inclusion of the author's translation of a pseudonymous article she believes Proust penned on Parisian salons provides convincing arguments to support her theories.
VERDICT An excellent chronicle of three beguiling women. For literature lovers and those interested in late 19th-century French civilization. [See Prepub Alert, 10/28/17.]—Erica Swenson Danowitz, Delaware Cty. Community Coll. Lib., Media, PA