The influence of graphic novels and manga is everywhere. Dog Man, by Dav Pilkey, and My Hero Academia, by Kohei Horikoshi, have topped best-seller lists. Netflix's Umbrella Academy, based on the graphic novel from Dark Horse, and Amazon Prime's The Boys, based on the graphic novel from Dynamite, have seen huge popularity on streaming services. As of February 2021, Wonder Woman: 1984 (DC) was No. 1 at the global box office, and Demon Slayer: Kimetsu no Yaiba—The Movie: Mugen Train (VIZ) became the biggest movie in Japan's history. You get the idea.
Publishers do as well. For LJ's annual graphic novel and manga preview, our special investigation into the trends and current state of the format, we interviewed publishers, asking them what trends and concepts they are noting and paying attention to. The findings? The industry is expanding in new and exciting ways, from beloved webcomics finally being featured in print, to changes in ebook sales and new influences from other forms of media. This preview also highlights key new titles to add to your library's collection.
View the list of books in this article as a downloadable spreadsheet.
---
STREAMING SERVICES FIND READERS
Streaming services and adaptations are now an essential aspect of the graphic novel industry. John Petrie, senior sales manager, Valiant Entertainment, says, "I think the biggest change has been from a general shift over the past years (accelerated by COVID-19) of at-home entertainment. Comic characters are being used in every medium, from video games, which brings in younger crowds, to best-selling authors, such as Ta-Nehisi Coates, working on monthly comics that have exposed 'geek culture' to a wider audience. It's shifted people, especially newer fans, to look less at the subplot-driven or long-term storytelling of monthly comics and to focus on shorter-term storytelling, closer to a television show season or a movie." Comics and screen work together in Marie Curie: A Quest for Light by Frances Andreasen Østerfelt, Anja Cetti Andersen, and Anna Blaszczyk, from IDW (Aug.). It's a timely book, given the success of Radioactive, the 2019 film about Curie, and it's a good choice for readers interested in women in STEM fields.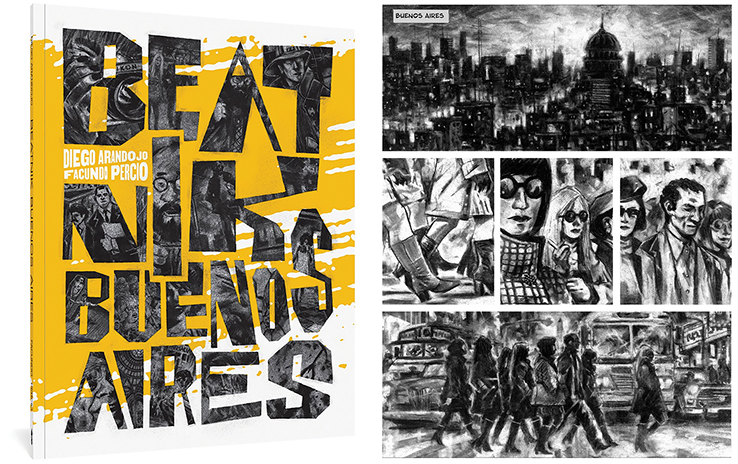 WEBCOMIC RISING
Many publishers are continuing the trend of making print editions of popular webcomics. While webcomics have been around almost as long as the internet, they began to see a rise in popularity circa the early 2010s, when high-speed internet became more accessible. Independent artists used platforms like WordPress, Tumblr, WebToons, and Tapas to reach audiences on their own and build followings. Publishers see the sense in tapping into a community that is already aware of the content and can help spread it by word of mouth.
Webcomic publisher Hiveworks has formed a partnership with Seven Seas Entertainment to publish print editions. Two of their debut titles are of particular interest to libraries. Life of Melody, by Mari Costa (Jul.), begins when a human child (visually coded as Black), abandoned in the woods, is discovered by an unlikely pair: Razzmatazz, a fairy godfather, and Bon, a beast-man. After quarreling over the best way to handle the child, they finally agree to co-parent in the human world—for now, at least. What the two men don't expect is that this little arrangement will push them to discover more about themselves—and more about each other—which might result in love. In this charming LGBTQ+ rom-com, one "temporary" magical family might just become real. Also look for Sleepless Domain, by Mary Cagle (Aug.). A magically isolated city is safe during the day but overrun with vicious monsters at night, leaving the citizens to turn to their only defenders: Magical Girls, a multiracial group of young women empowered with supernatural abilities that allow them to fight these creatures. Together with the adoring idol culture that surrounds these girls, the genuine life-or-death struggles they face every night force the Magical Girls to grow up under severe pressure.
Notable as well is My Alcoholic Escape from Reality, by Nagata Kabi (Seven Seas Entertainment, Apr.), an emotional new diary comic from the creator of the Harvey Award winner My Lesbian Experience with Loneliness. Mangaka Nagata Kabi's downward spiral is getting out of control, and she can't stop drinking to soothe the ache of reality. After suffering from unbearable stomach pains, she goes to a clinic, where she is diagnosed with pancreatitis—and is immediately hospitalized. A new chapter unfolds in Kabi's life as she struggles to find her way back to reality and manga creation in the wake of her breakdown.
Also look for Devil's Candy, by REM and Bikkuri (Jul.), a webcomic to be published by VIZ Original. It is a fantasy/supernatural comic about the everyday lives of plucky devilboy Kazu and Pandora, his newly created Frankenstein daughter (and school project). Solo Leveling, by Chugong (Yen, Mar.), is the official English print debut of the popular webtoon published in South Korea. A portal connecting our world to a world full of monsters has opened, and some people have acquired the power to hunt those monsters.
The move from webcomics to print is balanced by the move from print to e-comics. When considering the ways COVID-19 has changed how readers consume content, publishers pointed to the increasing acceptance of ebooks. Kevin Hamric, VP of publishing sales, VIZ, says, "The pandemic has indeed had a positive effect on ebook sales. Manga readers are very resilient, and they want their new books as soon as they come out. And during the pandemic, if they could not immediately get a physical copy—whether because stores and libraries were closed, or because of safety concerns—they purchased a digital copy. VIZ Media's [e-comic] library sales also increased during the pandemic because libraries were closed." Terry Nantier, publisher, NBM, adds, "We've seen an increase in ebook sales and library loans during this period. I think for the industry as a whole, this last year has meant tremendous growth in this format, particularly for kids' books and comics, and I'm sure much of this increase will be permanent."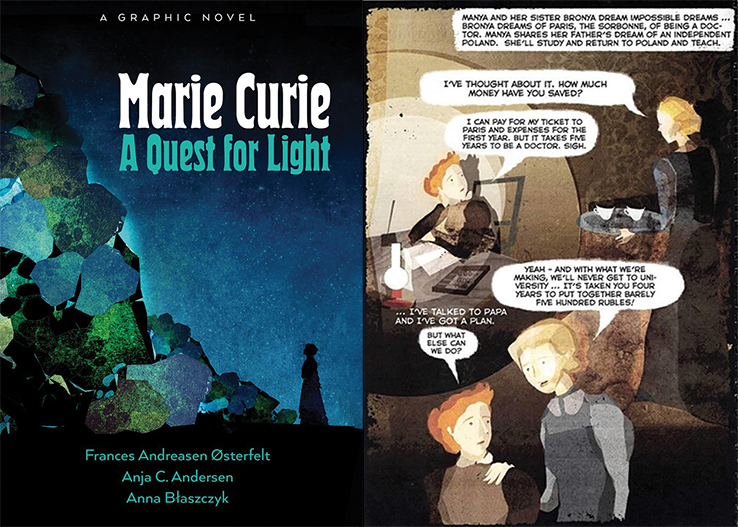 PUBLISHING EXPANDS
As the world of graphic novels keeps evolving, new players are making a splash when it comes to increasing representation. "Surely Books is a new line of graphic novels from Abrams ComicArts, curated by the best-selling, Eisner Award–winning author Mariko Tamaki," says Maya Bradford, senior publicist, Abrams. "The mission of Surely Books is to expand the presence of LGBTQ+ creators and stories in the comics world by sharing new voices and untold stories about queer lives that lend context and perspective to the current political and social situations affecting the community. In fall 2021 Abrams's ComicArts will publish Surely Books' inaugural list." It includes Flung Out of Space: The Indecent Adventures of Patricia Highsmith, a biography of Patricia Highsmith written by Grace Ellis (co-author of Lumberjanes) and illustrated by Hannah Templer (Feb. 2022), and Lifetime Passes, a YA-crossover about a multiracial group of friends and the summer they learn "a surprising secret," by Terry Blas and Claudia Aguirre (Oct.). (See LJ's Q&A with Mariko Tamaki.)
New publisher FairSquare Comics published Noir Is the New Black: Noir Stories from Black Creators in Feb. 2021. This unique anthology collected 16 noir stories by 40 Black creators, including Karen S. Darboe, TC Harris, and Brandon Thomas.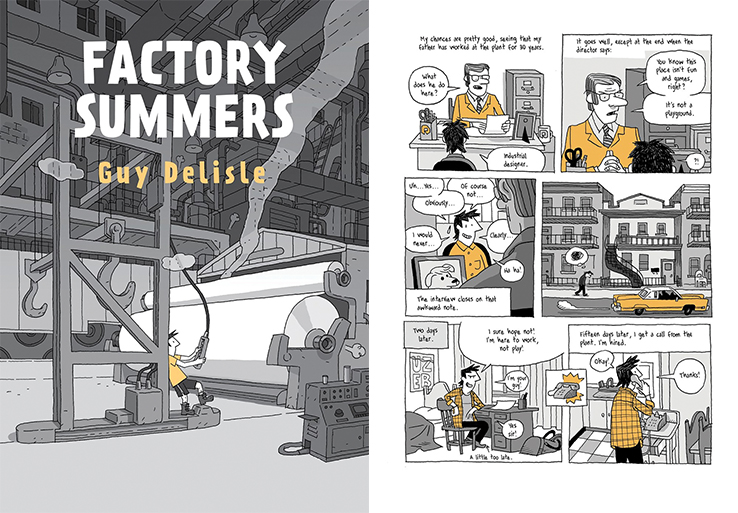 FREEDOM OF THE PRESS
In an era so politically charged and information-driven, two titles will focus on the importance of journalism. The Incredible Nellie Bly: Journalist, Investigator, Feminist, and Philanthropist, by Luciana Cimino (Abrams, Mar.), focuses on Bly, a white woman who refused to be defined by her era. Cimino's meticulously researched graphic novel biography tells Bly's story through Miriam, a fictionalized white woman student at the Columbia School of Journalism in 1921. Miriam interviews Bly and learns about the famous journalist's sensational adventures, as well as her early focus on self-reliance, the scathing letter-to-the-editor that jump-started her career as a newspaper columnist, and her dedication to women's rights.
Nantier, the NBM publisher, summarizes another story about journalism, Ted Rall and Pablo Callejo's The Stringer (NBM, Apr.): "A paean to when fact-based journalism mattered, The Stringer, set at an important turning point a few years ago, is a…timely statement about how a society without a vibrant independent culture of reporting can degenerate into chaos."
WORKS IN TRANSLATION
Julie Pohl-Miranda, marketing director, Drawn & Quarterly, highlights three works in translation, from Korea, Israel, and France: Keum Suk Gendry-Kim's The Waiting (fall 2021), Rutu Modan's Tunnels (fall 2021), and Guy Delisle's Factory Summers (June 2021). "The Waiting is a devastating work of fiction about one of the thousands of Korean families separated by the war that divided the country in two. Tunnels is fiction too: a surprising and satirical story about the race to find the Ark of the Covenant. Factory Summers, by contrast, is a memoir," in which Delisle, a white cartoonist, revisits his teen years and his work in a union factory.
Jacq Cohen, executive director of marketing, Fantagraphics, highlights works from Argentina, Italy, and France. Beatnik Buenos Aires, by Diego Arandojo and Facundo Percio, is an atmospheric graphic novel capturing the rollicking arts scene of 1960s Buenos Aires (Apr.). Manuele Fior, a once-in-a-generation visual artist and a deeply empathetic writer, uses science fiction to look to the future of humanity in Celestia (Jul.). The Butchery, by Bastien Vives, is a poetic graphic novel that explores the emotional bloodbath of a romance gone awry (Aug.).
Top Shelf will publish Onion Skin, by Edgar Camacho (May), a winner of Mexico's first-ever National Young Graphic Novel Award. It's a romantic and thrilling tale stuffed with adventure and delicious food.
Djeliya, by Juni Ba (TKO Studios, Jul.), is inspired by West African folklore. It follows the adventures of Mansour Keita, the last prince of a dying kingdom, and Awa Kouyaté, his loyal Djeli, or royal storyteller, as they journey to meet the great wizard who destroyed their world and then withdrew into his tower, never to be seen again.
Readers looking for tales of unconditional familial love will enjoy Little Victories: Autism through a Father's Eye, by Yvon Roy (Titan Comics, May), originally written in French. Imogen Harris, publicist, calls it "a beautiful visual exploration" of a white family learning to accommodate a son's autism.
MANGA CHANGING THE RULES
Fans of manga should be on the lookout for I Think Our Son Is Gay, by Okura (Square Enix Manga, May). A doting mother and her two beloved sons, one of whom she thinks is probably gay, go about their daily lives in this hilarious and heartwarming LGBTQ-friendly family comedy. For more queer representation, see Boys Run the Riot, by Keito Gaku (Kodansha, May). A transgender teen named Ryuu finds an escape from the expectations and anxieties of his daily life in the world of street fashion. This personal, heartfelt fictional story from a transgender manga creator made waves in Japan and will inspire readers all over the world.
FAN FAVORITES FOR EVERYONE
Teaching Artfully (Clover, Apr.) charmingly chronicles author Meghan Parker's experience as a new white art teacher in a public high school. Parker details her efforts to engage her students with art and to make them realize its importance.
Crime noir masters Ed Brubaker and Sean Philips are back with another original graphic novel featuring the white troublemaker-for-hire Ethan Reckless, in Friend of the Devil: A Reckless Book (Image, May). This has been the most popular collaboration from the award-winning creators of Criminal and Kill or Be Killed.
Graphic novel enthusiasts should keep an eye out for Emotional Robots: A Question of Existence, by Alex Zohar, Greg Fass, and Jake Richardson (Princeton Architectural Pr., May). Blending pop culture iconography with the existential threat of technological creations that turn on their creators, Emotional Robots is a compulsively readable graphic novella set in an all-too-presciently depicted world in which advanced robots successfully compete with humans—in sports, music, and art—in pursuit of emotional intelligence.
Readers should also be on the lookout for Lonely Receiver, by Zac Thompson and Jen Hickman (Aftershock, May). How can you resist its tagline? "A horror/breakup story in five parts." Catrin Vander, a lonely white video producer, buys an artificial intelligence partner that's meant to bond to her for life. After 10 years together, her white holographic wife suddenly disconnects without a warning. The breakup drives Catrin to the point of near insanity.
X-O Manowar, Book One (Apr.) and Shadowman, Book One (Nov.) are fresh takes on classic Valiant characters. Each comic takes its lead character in surprising directions. X-O is a white ancient warrior in the superhero genre; this new book dresses him in alien super-armor to face situations that his past heroics haven't prepared him for, including PR scandals, social media, and politics. Shadowman, Valiant's premier horror character, who's Black, now finds himself in a position where he begins to wonder if some humans are more evil than demons.
Billionaires, by Darryl Cunningham (D&D, Apr.), offers up biographies of Jeff Bezos, Rupert Murdoch, and the Koch brothers. From Cunningham's book emerge incisive critiques of the new gilded age of U.S. capitalism and of the way the ultra-wealthy have asserted ever more control over our media and politics, and our lives in general.
Then there's Batman: Earth One, Vol. 3, by Geoff Johns and Gary Frank (DC, Jun.), because Batman is cool. Need we say more?
---
Kuo-Yu Liang has spent 30-plus years in the pop culture business. He is a board member at Reading with Pictures, a nonprofit using comics to promote literacy in public libraries and schools. He is the founder of pop culture publishing consultancy Ku Worldwide.