LJ editors highlight personal favorites for spring reading. Selections span history, film, music, short stories, gardening, buzzy novels, and sophomore reads.
LJ Editors' Spring Picks for 2021
READ THE FULL SPRING PREVIEW SUITE: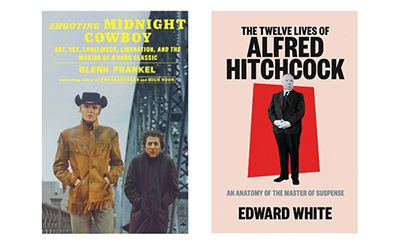 ---
Mahnaz Dar,

Reference & Professional Reading Editor, LJ Reviews
Two upcoming titles reveal that behind groundbreaking films lie even more riveting backstories. With Shooting Midnight Cowboy: Art, Sex, Loneliness, Liberation, and the Making of a Dark Classic (Farrar, Mar.; LJ 12/20), Glenn Frankel explores a work that evokes both sleaze—indeed, it was the first X-rated Oscar winner—and aching poignancy. His precision is impressive. He examines Dustin Hoffman's story that the famous "I'm walkin' here!" scene was improvised when a taxi driver nearly hit him and costar Jon Voight; noting that the scene was in the original screenplay, Frankel rejects Hoffman's claim but acknowledges that the actor ad-libbed the line. Frankel proves himself an adept social historian, too. He rigorously investigates attitudes toward gay men in the 1950s and 1960s (both filmmaker John Schlesinger and novelist James Leo Herlihy, whose book was the basis for Midnight Cowboy, were gay), Times Square in all its seedy glory, and the social unrest unfolding in the background—the antiwar protests and the Stonewall riots. Edward White's The Twelve Lives of Alfred Hitchcock: An Anatomy of the Master of Suspense (Norton, Apr.; see starred review, LJ 2/21) may seem redundant given how much has already been written on the director and his films. White, however, rejects straightforward biography, instead considering many sides of the director, some of which may seem at odds—how did the family man and the womanizer coexist? Uneasily, perhaps, but as the author makes clear, Hitchcock contained multitudes.
---

Liz French,

Senior Editor, LJ Reviews
As the months of lockdown and quarantine continue, and dates for reopening art institutions and venues keep getting pushed back, I worry about all the performing arts professionals, from the Broadway stars and arena performers to the stagehands and backstage workers who make it all happen. I miss live performances; in the meantime, I'll read about two legendary performers: British folk rocker/guitar god Richard Thompson and West Coast beatnik jazz rocker Rickie Lee Jones. Thompson, a cofounder of Fairport Convention in the 1960s, broke with them, recorded seminal albums with his wife, Linda, then went solo after their acrimonious split. He covers the wild and crazy early years in Beeswing: Losing My Way and Finding My Voice 1967–1975 (Algonquin, Apr.). Jones burst on the scene in 1979, on Saturday Night Live, singing "Chuck E's in Love." The two-time Grammy winner talks about her tumultuous life and how she survived in the male-dominated world of rock in Last Chance Texaco: Chronicles of an American Troubadour (Grove, Apr.). On the fiction side, I look forward to two buzzy novels with characters who face big problems (mostly murder): Chris Whitaker's We Begin at the End (Holt, Mar.) and JoAnne Tompkins's What Comes After (Riverhead, Apr.).
---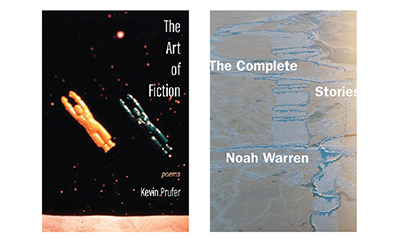 Barbara Hoffert,

Editor, Prepub Alert, LJ
What do Kevin Prufer's The Art of Fiction (Four Way, Feb.) and Noah Warren's The Complete Stories (Copper Canyon, May) have in common? Notwithstanding their titles, they are both poetry collections—which should not come as a surprise. Poetry relies on sharply rendered image to create scenes and shapes, moments and moods, perception and personae, but certainly in the best poetry these things coalesce into hinted-at stories, passages that suggest the trajectory of a life or an event or an argument. Warren, whose first book, The Destroyer in the Glass, was chosen for the "Yale Series of Younger Poets," investigates loss, grief, and struggling to make sense of one's life in quietly burnished language. Poet's Prize finalist Prufer is tougher and more direct as he imparts an understanding of how we deploy narratives, particularly in the political arena, whose fake-news stratagems can be deftly undone by the pure passion of verse. Readers are often intimidated by contemporary poetry, uncertain of what it's aiming to do. Yet poetry is as driven by storytelling as one's favorite thriller, and as these two new collections attest, it can be as approachable and edge-of-seat engaging.
---

Stephanie Sendaula,

Associate Editor, LJ Reviews
This season, I'm looking forward to new books by writers and authors that I've been inspired by, starting with Somebody's Daughter (Flatiron: Macmillan, Jun.) by journalist and writer Ashley C. Ford. In her writings, Ford is often both hilarious and heartbreaking, and this memoir of life's challenges and triumphs is no different. I've also been drawn to books by National Book Award–and Pulitzer Prize–winning author Annette Gordon-Reed, especially by how she frequently centers the lives of Black women. I've been appreciating that her latest, On Juneteenth (Liveright, May), tells the complex history of the holiday not only through Texas history but also from the perspectives of women in her family, who lived in Texas for generations. Lately, there have been a few cookbooks I keep returning to, and one of them is Yasmin Khan's Zaitoun. I'm especially anticipating her newest, Ripe Figs: Recipes and Stories from Turkey, Greece, and Cyprus (Norton, May), and exploring varied recipes that will undoubtedly become staples. Cooking and baking have been my main sources of comfort over the past several months, and I'm also eagerly awaiting the revised edition of the award-winning The King Arthur Baking Company's All-Purpose Baker's Companion (Countryman Pr., Mar.).
---

Neal Wyatt,

Reviews Editor, LJ
Gardening is helping many cope with the pandemic, to the point that the influx of new gardeners has led to shortages of everything from seeds to wheelbarrows to watering cans. The interest has not dimmed, and into this moment comes the third book by award-winning and best-selling author Erin Benzakein. Floret Farm's Discovering Dahlias: A Guide to Growing and Arranging Magnificent Blooms (Chronicle, Mar.) hits the sweet spot between Benzakein's essential and information-packed debut, Floret Farm's Cut Flower Garden, and her lovely second work, Floret Farm's A Year in Flowers. This newest combines the lavish visual punch of the latter with the rock-solid information and how-to instruction of the former. Highlights include visual size and form charts and a variety finder, each of which is extensive and will aid readers navigating the dizzying array of offerings in catalogues. With a TV show from Chip and Joanna Gaines on the horizon, Benzakein, already a cult favorite, is about to break big. Additional titles to keep in mind include a new investigation by Pulitzer Prize–winning author Elizabeth Kolbert, Under a White Sky (Crown, Feb.; see starred review, LJ 2/21), and two sophomore novels: Libertie by Kaitlyn Greenidge (Algonquin, Mar.) and Good Company by Cynthia D'Aprix Sweeney (Ecco, Apr.).