Week ending August 3, 2018
Barry, Emma & Genevieve Turner. Free Fall. Penny Bright. (Fly Me to the Moon, Bk. 5). Aug. 2018. 252p. ebk. ISBN 9781720433460. $3.99. HISTORICAL ROMANCE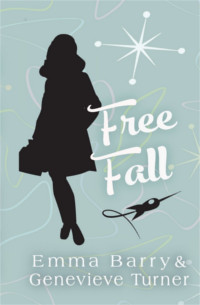 This sweet historical romance is set in the early days of the space program, when beating the Soviets was a national priority. Vivienne (Vivy) Muller, the rebellious high-society daughter of a Houston defense contractor, falls for Dean Garland, a handsome and enigmatic former U.S. Air Force pilot who is training to be the first astronaut to walk in space. When Vivy finds herself pregnant, she and Dean elope—to the horror of her mother. After moving in with Dean, Vivy continues her college education while Dean prepares for space. Problems arise when Dean discovers that the space suit designed by Vivy's father is defective. In addition, as part of Dean's training, he has been prohibited from having sex. As Dean and Vivy struggle to find inventive ways to slake their carnal desires, the upcoming space walk and space suit concerns loom large. Will Dean survive the space walk? Will Dean and Vivy's nascent marriage survive as well?
VERDICT In this latest from the authors (after Star Crossed), high drama, both orbital and domestic, is leavened by discreet eroticism to make this a simmering and satisfying summer read. The combination of space-based suspense, the historical 1965 setting, and dynamic characters make this highly recommended.—Henry Bankhead, San Rafael P.L., CA
Leigh, Tara. Rock Legend. Forever: Grand Central. (Nothing but Trouble, Bk. 2). Jul. 2018. 277p. ebk. ISBN 9781538712818. $3.99. CONTEMPORARY ROMANCE
PR assistant Piper Hastings has been able successfully to avoid her ex, Landon Cox, for six years, even though her boss represents Landon's band, Nothing but Trouble. Then she runs into him in his dressing room after a show. Their chemistry is undeniable, and Piper thinks she can have a sexual relationship with Landon even if she won't ever give him her heart again. When Piper was in college, Landon left her with no explanation, as if their love was meaningless. But seeing Piper again has ignited something inside him, although he doesn't know if he can offer her more. After losing use of his grip following a drunken accident, Landon doesn't know if he'll ever be able to play the drums again. Piper has been tasked with his care until he recovers. This is a chance to rebuild their relationship, but Landon may be too emotionally damaged to be good for anyone.
VERDICT King's (Rock King) sexy romance will appeal to some, but too many conflicts create unnecessary drama. One hopes the author will rein in the plot in the next series offering, which will focus on another band member.—Kara Kohn, Plainfield P.L., IL
Matthews, Mimi. The Matrimonial Advertisement. Perfectly Proper. (Parish Orphans of Devon, Bk 1). Sept. 2018. 388p. ebk. ISBN 9780999036440. $4.99. HISTORICAL ROMANCE
What would make a beautiful young woman travel from fashionable London all the way to a crumbling cliffside estate? Beautiful and gently bred Helena Reynolds answers a matrimonial advertisement wanting only security and safety. Justin Thornhill, partially burned from soldiering in India, seeks a sensible spouse who can manage a household and, of course, be bedded on occasion. Neither party is prepared for the other upon first meeting or for the undercurrent of attraction between them. Both Helena and Justin have damning secrets that they are unwilling to reveal until their marriage of convenience is official.
VERDICT Matthews's (The Viscount and the Vicar's Daughter) has a knack for creating slow-building chemistry and an intriguing plot with a social history twist. For fans of Victorian romance with a gothic spin.—Nicole J. Suarez, Frankfort P.L. Dist., IL
Rock, Karen. Deadly Games. Lyrical Liaison: Kensington. (Dallas After Dark, Bk. 2). Jul. 2018. ebk. ISBN 9781516106134. $3.99. ROMANTIC SUSPENSE
FBI Agent Katherine Bowden is serious about profiling criminals and bringing them to justice. She doesn't do bars or girls night, and she rarely lets her hair down. When she returns home to Dallas, things change. She takes a much-needed night off at a nightclub, where she meets Nash Hawkins. Growing up on the reservation, Nash had dreams of becoming a police officer. Now he's working as a male dancer and private investigator. Sparks immediately fly, and the two end up in a series of one-night stands that eventually lead to a more permanent relationship. Katherine and Nash team up to try to catch a serial killer who is attacking women (particularly blondes) who go out partying. He tortures them before murdering them and leaving their bodies to be discovered. Tension runs high as the two try to beat the clock before the killer strikes again.
VERDICT In this second series entry (after Dangerous Moves), the heat between the two protagonists is palpable and the romance satisfying. That said, readers will figure out who the killer is early on, which does hamper some of the suspense.—Nanci Milone Hill, M.G. Parker Memorial Lib., Dracut, MA