New to the Bestseller Lists
[Links for the week: NYT Hardcover Fiction Best Sellers | NYT Hardcover Nonfiction Best Sellers | USA Today Best-Selling Books ]
Fiction
Paradox by Catherine Coulter (Gallery: S. & S.)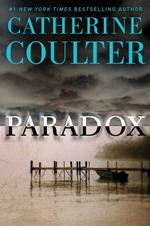 Debuts at No. 2 on both the NYT Hardcover Fiction Best Sellers list and the USA Today Best-Selling Books list.
Wild Like the Wind by Kristen Ashley (CreateSpace)
Seizes the No. 7 spot on the USA Today Best-Selling Books list.
Born to Be Wilde: The Wildes of Lindow Castle by Eloisa James (Avon: HarperCollins)
Nabs No. 11 on the USA Today Best-Selling Books list.
Nonfiction
The Gutfeld Monologues: Classic Rants from the Five by Greg Gutfeld (Threshold: S. & S.)
Takes the No. 6 spot on the NYT Hardcover Nonfiction Best Sellers list.
Death of a Nation: Plantation Politics and the Making of the Democratic Party by Dinesh D'Souza (All Points: Macmillan).
Lands at No. 8 on the NYT Hardcover Nonfiction Best Sellers list.
Reviews
The NYT reviews Crashed: How a Decade of Financial Crises Changed the World by Adam Tooze (Viking; LJ starred review): "a volume that's as lively as it is long... [a] bravura work of economic history."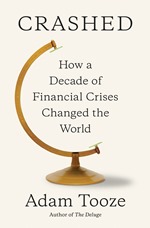 Also, No Ashes in the Fire: Coming of Age Black and Free in America by Darnell L Moore (Nation: Hachette): "despite the shocking cruelty depicted in this book, Moore also infuses the pages with great humanity — humanity capable of great horror and even greater beauty." Famous Father Girl: A Memoir of Growing Up Bernstein by Jamie Bernstein (Harper; LJ starred review): " wry and wonderful."
The Washington Post reviews King Con: The Bizarre Adventures of the Jazz Age's Greatest Impostor by Paul Willetts (Crown: Random): " this Jazz Age impostor's life makes for quite the story [and] Paul Willetts knows just how to tell it." Also, The Eye: An Insider's Memoir of Masterpieces, Money, and the Magnetism of Art by Philippe Costamagna, translated by Frank Wynne (New Vessel): "Despite the book's rigidity, one comes away feeling somewhat re-sensitized to beauty and somewhat nostalgic for an era when museums weren't the selfie-stick madhouses they are today."
NPR reviews American Hate: Survivors Speak Out edited by Arjun Singh Sethi (The New Press): " Hate may be rampant in America, but so are its antidotes: We must understand and own our history." Also, The Marvellous Equations of the Dread: A Novel in Bass Riddim by Marcia Douglas (New Directions: W.W. Norton): "an intoxicating mix of magical realism that not only surveys Rastafarian tradition, but also sheds light on the injustices against Rastafarians in Jamaica."
USA Today reviews Bad Man by Dathan Auerbach (Doubleday), giving it three stars and writing, "a horror thriller that preys on familial fears ."
Briefly Noted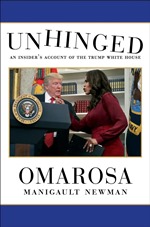 News is buzzing around Omarosa Manigault Newman's forthcoming book, Unhinged: An Insider's Account of the Trump White House (Gallery: S. & S.), after The Daily Beast reported she secretly recorded conversations.
When was Langston Hughes born? It is now the subject of some debate.
The audiobook best sellers for August are out from the NYT: Something in the Water, written and read by Catherine Steadman (Random House Audio) tops fiction, and Calypso, written and read by David Sedaris (Hachette Audio) tops nonfiction.
Shondaland picks "The 9 Best New Books to Read in August."
Vogue gathers "The 17 Best Books to Pack for Your Summer Vacation."
The Guardian has a list of the "Top 10 novels about riots."
Signature picks "The 10 Best Books to Understand Pakistan."
The NYTfeatures Casey Legler, Godspeed: A Memoir (Atria: S. & S.).
Entertainment Weekly reports that actor and screenwriter Thomas Lennon has "a three-book deal with Abrams Children's Books for a debut middle-grade series." The first will be titled Ronan Boyle and the Bridge of Riddles.
The NYT has a story about century old book reviews written by a Sing Sing prisoner .
LibraryReads issues its annual report.
Authors on Air
The L.A. Times has a list of forthcoming book-to-film adaptations.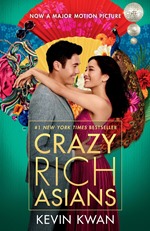 Deadline Hollywood reports that Panic by Lauren Oliver (Harper) is headed to Amazon Studios.
The Hollywood Reporterrounds up reviews on Crazy Rich Asians, debuting August 15.
The Oscars are making some changes; lotsofsiteshavesomethingtosay.