DIGITIZING THE GREEN BOOKS
New York Public Library (NYPL) has been collecting The Negro Motorist/The Negro Travelers' Green Books for decades, according to Maira Liriano, associate chief librarian at the Jean Blackwell Hutson Research and Reference Division of NYPL's Schomburg Center for Research in Black Culture.
These titles, originally published by travel writer Victor Green between the 1930s and 1960s, listed black-friendly restaurants, hotels, gas stations, barber shops, and other businesses across the country. The introduction to the 1949 edition states that this information "will keep [the black traveler] from running into difficulties, embarrassments and to make his trips more enjoyable."
When Liriano arrived on the job in 2013, she says, "I immediately began thinking of digitizing the Negro Green books." As chief librarian for the NYPL's Milstein Division, Liriano had completed a digitization project involving New York City phone books, so she knew that if a title hadn't refreshed its copyright between 1923 and 1963, it would be in the public domain.
NYPL had been hiring digital curatorial assistants (DCAs), including one for Liriano's department, "so I was able to turn the majority of the work over [to the DCA] and shepherd the project through."
Digitization was complete by the end of 2014, and the books went live on NYPL's site in March 2015.
"Right away there was a lot of interest," says Liriano. "Maybe one other edition had ever been digitized; no other library has as many as we do now." She began fielding multiple interview requests from large media outlets including NPR and the BBC.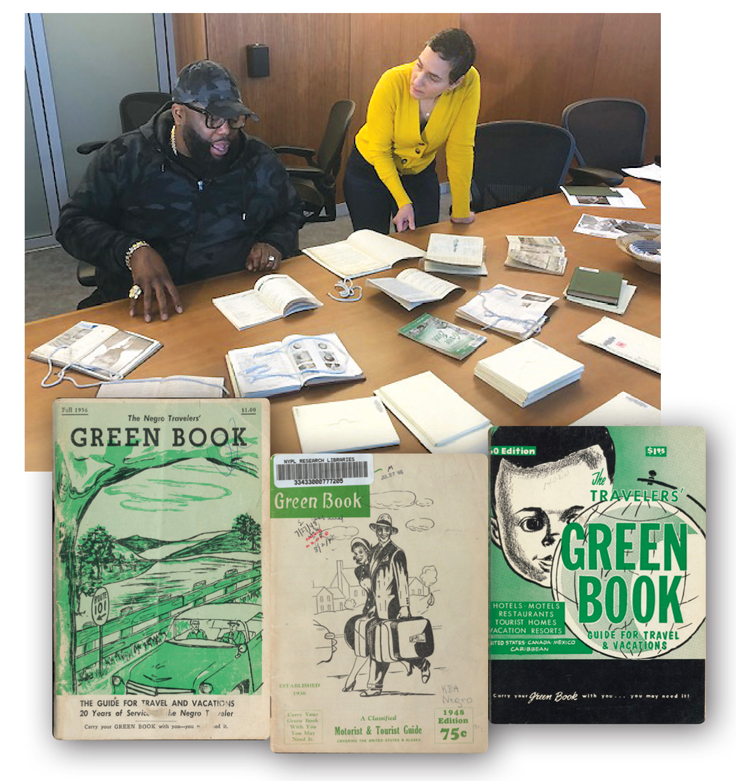 LOOKING BACK

Rapper Killer Mike (l.) views materials from the Green Book collection with Schomburg Center Associate Chief Librarian Maira Liriano. The collection includes digitized versions of the Green Books, guidebooks that were consulted by African American travelers seeking black-friendly businesses. Photos courtesy of NYPL
"There have been documentaries and other film projects that utilized the books, including the upcoming Ric Burns documentary Driving While Black—all bringing new attention to the books. Folks have been creating curriculum guides, using the images from the pages of the Green Books in art and design pieces," says Liriano.
Derrick Adams's installation piece, Sanctuary, for New York City's Museum of Art and Design, was not only inspired by the Green Books but also uses digital images of Green Book pages as wallpaper. NYPL created a sister digital project, Navigating the Green Book, which allows users to map their own interactive journey using information from the books.
Liriano says that working on the Green Book project has been rewarding because patrons are now getting "a deeper understanding of what it was like to live in a segregated country under Jim Crow. The Green Book brings it home to people in a way that reading about it in a textbook just doesn't."
INTELLECTUAL EXCHANGE BUILDS COMMUNITY
Building on the already robust instruction program within the Stuart A. Rose Manuscript, Archives, and Rare Book Library at Emory University, Instruction Archivist and QEP Librarian Gabrielle Dudley reached out to fellow Atlanta institution Spelman College, a historically black college for women, to collaborate on a grant-funded project featuring each institution's archival holdings on black female writers. "The Writing Herself into Existence project was successful in introducing undergraduate students at Emory and Spelman to archival research and expanding the networks between the two schools," wrote Dudley in a blog post.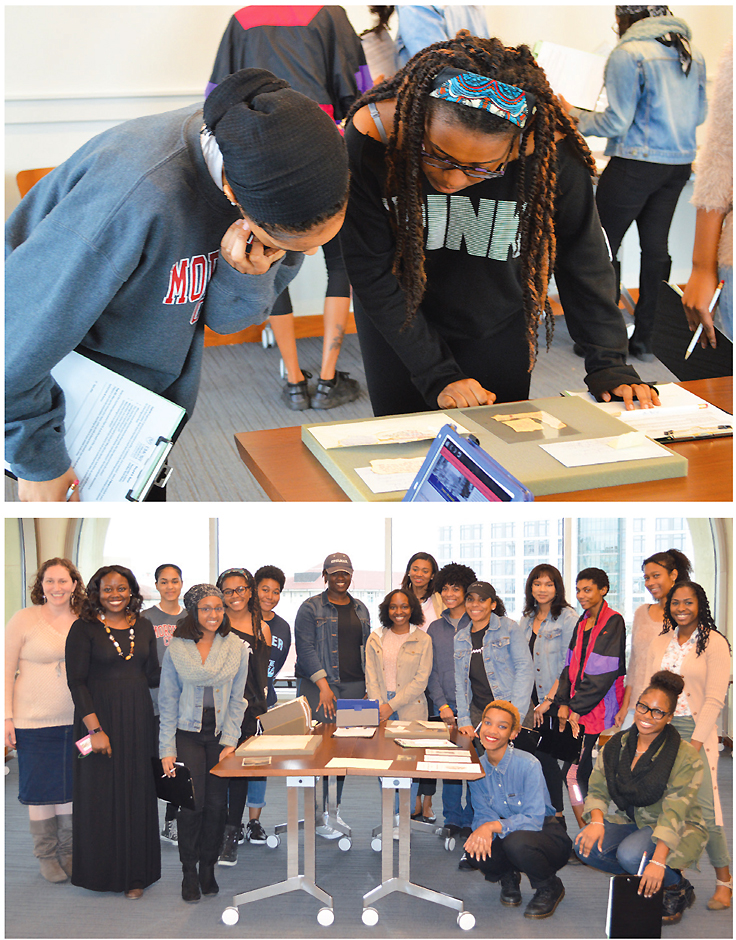 COMING TOGETHER

Students from Spelman College (top) examine materials from Emory University's archives. At a final Saturday seminar (bottom), Spelman and Emory students shared their experiences and presented their research. Photos by Courtney Chartier
Students enrolled in writing classes at the two colleges chose an author to study and then dug into both universities' archives in search of supporting material. Dudley told LJ that the students quickly became "emotionally involved in their work, finding deep personal meaning in exploring authors who may have been previously unknown to them. They really wanted to do these writers justice."
The project was intended not only to orient students to archival work but also to introduce the Rose Library to Spelman students. Says Dudley, "Spelman's library collection is much smaller than ours, so now these students know they have an additional place in the city to come research and study."
The project culminated in a Saturday seminar where Spelman and Emory students met and presented their work—a rare opportunity, says Dudley, owing to the "siloed nature" of universities.
LOCAL HISTORY IN PUBLIC SPECIAL COLLECTIONS
Since the 1980s, the West Las Vegas Library, a branch of the Las Vegas Clark County Library District, housed in a traditionally black community near the city's downtown, has been receiving donations of materials that embody the experiences of African Americans in the region.
"It's such a historically rich area," says Tom Sommer, branch manager. "For the past 100 years the neighborhood has been home to both famous African American performers and employees of the Strip."
While original donations were primarily brochures, ephemera, and photographs, the collection has grown substantially over the past 20 years. Though its scope "primarily represents the African American experience in Las Vegas, Nevada, and the [Western United States]…it does include a plethora of items related to African American history across the country," notes Sommer. A circulating book collection of 600-plus items spans African American history from the roots of the African slave trade to the civil rights era and continues through current events with titles connected to the Black Lives Matter movement.
Sommer balances his background as an archivist with the philosophy that public libraries should offer unimpeded access to information. Moving the African American Special Collection out of its own room into "the middle of our adult services area" was crucial, Sommer says. "It has boosted circulation significantly, which is exactly what we want to see."
He is also working on the findability and organization of the archived materials, which are always available to the public for browsing. "There are a number of schools surrounding our location," notes Sommer, "so we have many teachers taking advantage of the special collection for teaching opportunities, and area students come in to work with materials relevant to their research projects."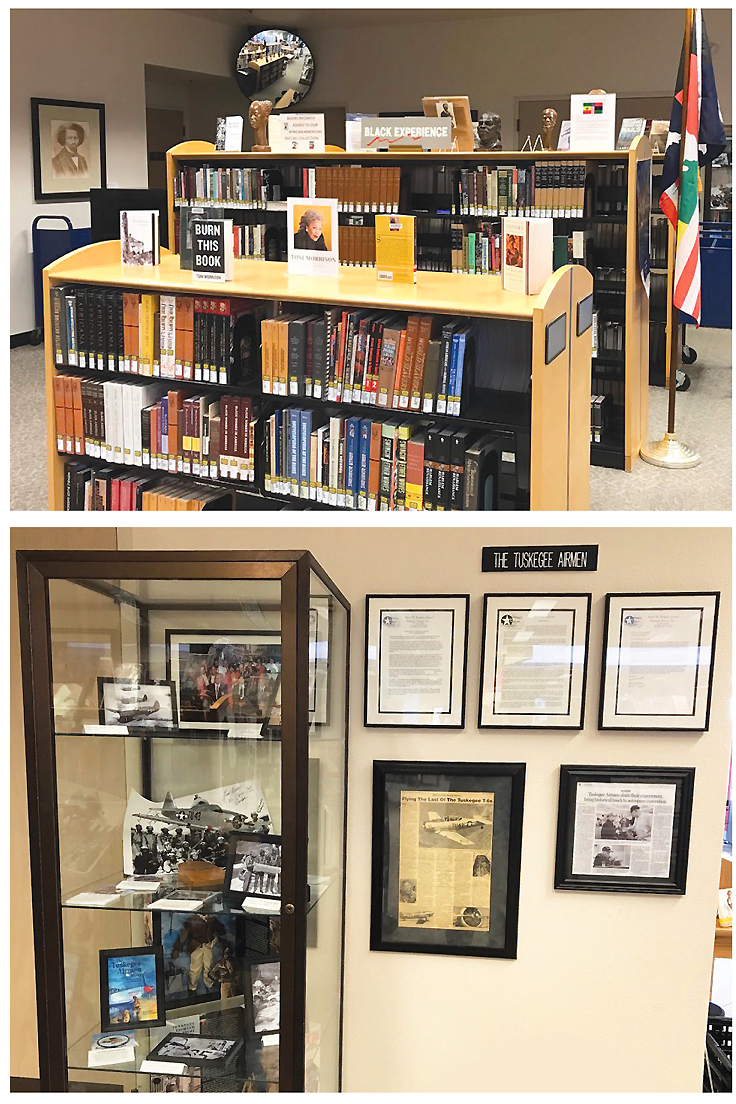 LOCAL HISTORY

Since the 1980s, the West Las Vegas Library (left) has been receiving donations that reflect its rich local history. (Above) Materials related to the Tuskegee Airmen include an autographed photograph. Photos courtesy of the greater Las Vegas–Clark County Library District
"The University of Nevada at Las Vegas actually came to us to use our materials for an oral history project," he adds, noting that frequently such an exchange might go in the other direction.
The library displays archival materials connected to the Tuskegee Airmen, including an autographed photo recently donated by a local resident. While Sommer thinks digitizing this collection could be a great move, the variety of ephemera in the collection presents strong challenges when considering provenance and copyright limitations. "We do want to increase discovery and findability," he adds, "but even donated photos may originally come from a copyrighted publication."
Accessibility also drives the African-American Collection housed in Florida's Jacksonville Public Library (JPL). Laura Minor, special collections librarian, notes that area residents, particularly if they are not involved with a university, "may not realize they can use academic libraries, or they feel more welcome at the public library."
At one point, JPL's local history collection had only "two shelves of books related to African Americans," Minor says. A city growth plan developed in 2000 brought more funding for the library, allowing JPL to build a new main branch with space for expanded collections.
Additional budget and community lobbying led to an expanded African American collection unveiled along with the new building in 2005. New to the collection, and frequently used by genealogists, are "local African American newspapers on microfilm." And vertical files contain "newspaper clippings, pamphlets, and ephemera," says Minor. Among books in the collection, titles "about religion, Jim Crow, and slavery receive the most use."
Donations include a sculpture by Harlem Renaissance artist Augusta Savage and yearbooks from Edwin M. Stanton School (now known as Stanton College Prep), which between 1882 and 1971 was a segregated African American school.
In addition to expanding its collection and making it publicly available, JPL also works with local organizations to "create and distribute a Black History calendar each year," Minor says. Some of the content is sourced from JPL's African-American Collection.
BCALA: HISTORY FOR FUTURE LEADERS
In August 2020, the Black Caucus of the American Library Association (BCALA) will celebrate its 50-year anniversary. E.J. Josey, BCALA's first president, donated his papers to historically black North Carolina Central University (NCCU) to begin an archive of the organization's work. [See the February 2020 issue of LJ for an excerpt from the forthcoming E.J. Josey: Transformational Leader of the Modern Library Profession, by Renate Chancellor.]
Jos Holman, county librarian at Tippecanoe Public Library, IN, and 2010–12 BCALA past president, says that several other past presidents also sent their papers to NCCU. "There is over 25 years of archival material that has yet to be processed," Holman notes.
Over the past eight years, BCALA has had conversations with NCCU about funding and planning a digitization project, but efforts have stalled because of shifting university personnel. The arrival of Jon Gant, new dean of library and information science at NCCU, has Holman hopeful about the future of the project.
According to Holman, "[Gant] came and spoke to BCALA executive board at the 2019 Annual American Library Association conference to get an update. He has several ideas for the project, including a pilot program submitted for IMLS funding."
Not all BCALA presidents have sent their papers to the university, says Holman. "There was a question of ownership, and we want to be sure BCALA is on the same page as the university." In short, because there was no clear plan for how their papers would be used, past presidents were hesitant to turn them over. But now that Gant is on board, the hope is that presidents will donate their papers as the project moves forward.
Given ALA's current focus on equity, diversity, and inclusion, Holman feels the time is right to open access to the BCALA papers, which contain meeting minutes, grant reports, information on key initiatives such as the Coretta Scott King awards for excellence in youth literature by African American authors and illustrators, and resolutions including a letter regarding Florida's Stand Your Ground ruling and its impact on the 2016 ALA Conference in Orlando, cosigned by past president Jerome Offord Jr.
"Our vision is to provide access to this information for new black library professionals," says Holman. "They need to be able to learn where we've come from in the organization."
Whether digitized, housed in a traditional archive, or part of a circulating collection, these projects that document African American history and experience reflect the expanse and variety of archival materials that librarians are working hard to make accessible to the public.
"We have all these gems," says Sommer, "we need to let people know about them."
---
April Witteveen is a Community Librarian with the Deschutes Public Library System in Central Oregon