1109 Ingram
In-booth signings, Friday, 1/24: At 6:00 p.m., Donna Hemans, Tea by the Sea, Ingram Publisher Services, 1109, about a mother searching for the 17-year-old daughter taken from her at birth.
In-booth signings, Saturday, 1/25: At 10:30 a.m., Zalika Reid-Benta, Frying Plaintain,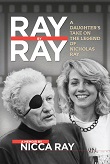 House of Anansi, 1115, interconnected stories about a girl's coming of age in Toronto's Little Jamaica, struggling with her black immigrant identity in a sea of whiteness; and at 11:00 a.m., Dr. Oné R. Pagán, Strange Survivors: How Organisms Attack and Defend in the Game of Life, Two Rivers, 1008B, from professor and baldscientist blogger Pagán, all the fascinating ways organisms have evolved to stay alive long enough to reproduce.
In-booth signings, Sunday, 1/26: At 1:00 p.m., Nicca Ray, Ray by Ray: A Daughter's Take on the Legend of Nicholas Ray, Ingram Publisher Services, 1109, a memoir from the poet/filmmaker daughter of the iconic director; at 2:00 p.m., Peter Carlaftes, The Faking of the President: Nineteen Stories of White House Noir, Ingram Publisher Services, 1109, unsettling short fiction edited by Carlaftes, also among the contributors, that range from a spy taking over after Woodrow Wilson's stroke to Richard Nixon enjoying a psychedelic trip with Elvis Presley.
1114B Counterpoint/Catapult (PGW booth)
Giveaways: Dennis E. Staples's This Town Sleeps, featuring a gay Ojibwe man who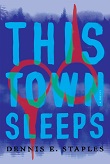 launches an affair with a closeted former white classmate and is led by a dead dog's spirit to the grave of a murdered teenage Ojibwe basketball star; Daniel Mathews's Trees in Trouble: Wildfires, Infestations, and Climate Change, investigating devastating fires in the Western and Rocky Mountain states with help from ecologists, professional forest managers, park service scientists, burn bosses, activists, and others; and Tola Abraham's Black Sunday, about twin Nigerian sisters whose lives diverge after their mother loses her job owing to political strife.
In-booth signing, Monday, 1/27: At 10:00 a.m., Noé Álvarez, Spirit Run: A 6000-Mile Marathon Through North America's Stolen Land, by the son of Mexican immigrant parents, who dropped out of college to join a Native American/First Nations movement called the Peace and Dignity Journeys, monthslong marathons aimed at re-creating connections across North America that transcend current political borders.
1116B Grove Atlantic
Fiction giveaways: Douglas Stuart's Shuggie Bain, a big, richly detailed debut about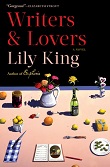 generational poverty, confused sexuality, and the mother-child bond featuring a young lad growing up in rock-bottom public housing in 1980s Glasgow; Lauren Francis-Sharma's Book of the Little Axe, in which Rosa Rendón, living with the Crow Nation in 1830s Montana, must tell her son about the struggles of her family in late 1700s Trinidad, where their status as free black property owners was threatened by the switch to British rule; Kelli Jo Ford's Crooked Hallelujah, which tells the story of mixed-blood Cherokee Justine, whose mother joins the suffocatingly devout Holiness Church after Justine's father leaves and who herself takes daughter Reney from Oklahoma Indian Country to Texas during the 1980s oil boom; and John Lawton's Hammer To Fall, the third thriller starring MI6 spy Joe Wilderness, exiled to northern Finland after another cock-up, whose on-the-side vodka smuggling leads to Cold War complications.
Nonfiction giveaways: James Gardner's The Louvre: The Many Lives of the World's Most Famous Museum, a critic's-eye history of one of the world's best-loved museums, starting with the settlement of the area on which it now stands more than 7,000 years ago; and Edward Achorn's Every Drop of Blood: The Momentous Second Inauguration of Abraham Lincoln, with the Pulitzer Prize finalist revisiting Washington, DC, on March 4, 1865, when Abraham Lincoln took the oath of office for a second time and gave a memorable inaugural address suggesting that "every drop of blood" spilled was perhaps God's verdict on the sin of slavery.
In-booth signing, Sunday, 1/26: At 11:00 a.m., Lily King, Writers & Lovers, incandescent fiction about a young woman refusing to give up on her novel even as she's caught between two very different lovers.
1131 Simon & Schuster
Giveaways, untimed: Kathy Reichs's Conspiracy of Bones, which has forensics anthropologist Temperance Brennan chasing down a murder victim after she receives a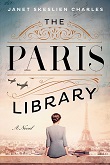 string of gruesome texts showing a corpse without a face or hands; Rebecca Serle's In Five Years, about hard-charging lawyer Dannie Cohan, having happily accepted a new job and her boyfriend's proposal, who goes to bed in 2020 and awakens in 2025 with a different man in a different apartment; and Kate Milliken's Kept Animals, whose three desire-stunned adolescent protagonists deal with tragedy, including a terrible forest fire, on a California ranch.
Giveaways, Saturday, 6/25, at 2:00 p.m.: Janet Skeslien Charles's The Paris Library, which chronicles the bravery of employees at the American Library in Paris after the Nazis marched in, which a lonely Montana teen in the 1980s learns about from her intriguing elderly neighbor; Christina Lauren's The Honey-Don't List, romantic comedy that has Carey, assistant to home remodeling stars Melissa and Rusty Tripp, and colleague James falling for each other when they're compelled to accompany their feuding bosses on a book trip; Maisy Card's These Ghosts Are Family, about a Jamaican man who faked his own death to steal the identity of his best friend finally having to face his family; and Megan Miranda's The Girl from Widow Hills, which stars a young woman plagued by sleepwalking who's living incognito owing to overwhelming media attention following a storm-wrought childhood disappearance. Now she's awakened during another sleepwalking bout to find a man she knows dead at her feet.
1141 Harlequin
Giveaways: John Fram's The Bright Lands, with a star quarterback vanishing from a small Texas town, which compels his friends to fight a dark force that seems hungry for more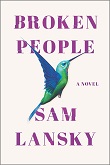 victims; Michael Zapata's The Lost Book of Adana Moreau, about a young man discovering decades late what appears to be the sequel to Dominican immigrant Adana Moreau's cult-hit sf novel Lost City; Mary Kubica's The Other Mrs., with Sadie just plain spooked when she and her family move to a Maine island to reclaim the house inherited by her husband; Susan Mallery's The Friendship List, about a recently widowed young army wife reuniting with a single-mom friend from childhood for mutual love and support; and Catherine Adel West's Saving Ruby King, set on Chicago's South Side, with Ruby mourning her murdered mother and fearing the violent father with whom she must live, which leads friend Layla to defy her pastor father to help.
In-booth signing, Friday, 1/24: At 6:00 p.m., Sam Lansky, Broken People, about a recovering addict's unorthodox attempt to move beyond the dark place he's landed and find happiness.
In-booth signing, Saturday, 1/25: At 2:00 p.m., Kelly Rimmer, Truths I Never Told You, about a new mother who's just discovered evidence that her own mother may not have died in a car crash, as she and her siblings had been told.
And at Baker & Taylor, 1331, Saturday, 1/25: At 2:00 p.m., Pam Jenoff, The Ambassador's Daughter, the best-selling classic about a young German woman in post–World War I Paris.
1148 Harper
Giveaways: David Heska Wanbli Weiden's Winter Counts, a literary thriller with Virgil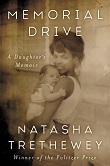 Wounded Horse good and mad when drug cartels invade South Dakota's Rosebud Indian Reservation, with his own nephew a victim; Mhairi McFarlane's If I Never Met You, featuring Laurie, so humiliated by having to encounter her longtime ex at her law firm each day that she contrives a fake romance with an office playboy who's looking to appear more grounded; Heather Young's The Distant Dead, with a small Nevada town dealing with fallout from the horrific murder of a local math teacher; Elise Hooper's Fast Girls, which reimagines the experiences of the female members of the first integrated women's U.S. Olympic team at the 1936 summer games in Nazi Berlin; and Natasha Trethewey's Memorial Drive, with former U.S. poet laureate and Pulitzer Prize winner Trethewey using her grief over her mother's murder by her stepfather when she was 19 to examine the challenges her mother faced in the segregated South.
In-booth signing, Saturday, 6/25: At 10:30 a.m., Rosayra Pablo Cruz and Julie Schwietert Collazo, The Book of Rosy, the story of Cruz's journey to seek asylum in America with two of her children, only to be separated at the border, as told with Collazo, founder of Immigrant Families Together; at 11:30 a.m., Aaron Jackson, The Astonishing Life of August March, a debut about a young man, abandoned by his actress mother as an infant, who hopes to win the undivided love for which he yearns from a sharp-witted con artist; at 1:00 p.m., Elizabeth Wetmore, Valentine, set in 1976 Odessa, TX, where the women seek redress after a teenage girl is brutally attacked in the nearby oil fields; at 2:00 p.m., Patty Dann, The Wright Sister, reimagining the life of Katharine Wright, sister to the famously skyward-propelled Wilbur and Orville; and at 3:00 p.m., Danielle Trussoni, The Ancestor, with Alberta "Bert" Monte thrilled to learn that she has inherited a noble title, a pile of money, and a castle in the Italian Alps until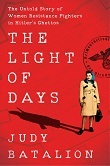 she discovers a dark family secret embedded in her very genes.
In-booth signings, Sunday, 6/26: At 11:00 a.m., Stephen Haff, A Group of Students, Their Teacher, and the One-Room School Where Everything Is Possible, by a teacher diagnosed with bipolar depression who forms a reading group with former students that changes everyone's life; at 12:00 p.m., Judy Batalion, The Light of Days: The Untold Story of Women Resistance Fighters in Hitler's Ghetto, the story of Jewish women resistance fighters in Poland who risked brutal imprisonment and death as they bore arms, smuggled weapons, helped build underground bunkers, and seduced and shot German soldiers; at 1:00 p.m., Sarah Beth Durst, Race the Sands, with the "Queens of Rethnia" author introducing a stand-alone fantasy about a world where some are condemned to return as monsters, lifetime after lifetime, unless they can win the Races; and at 3:00 p.m., Elisabeth Thomas, Catherine House, a gothic-inflected debut about a prestigious girls school set deep in the Pennsylvania woods, where new student Ines starts to probe dark secrets after tragedy strikes her shy roommate.
1160 Sourcebooks
Giveaways: Bruce Goldfarb's 18 Tiny Deaths: The Untold Story of Frances Glessner Lee and the Invention of Modern Forensics, about the creator of the Nutshells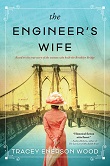 dioramas used to train law enforcement officers to investigate violent crime; Tracey Enerson Wood's The Engineer's Wife, a novel reimagining the woman who helped design and build the Brooklyn Bridge; Caroline Cooney's Before She Was Helen, with South Carolina retiree Clemmie about to blow 50 years of hidden identity by foolishly posting an image of a striking work of art she stumbled upon at a neighbor's; Julie Clark's The Last Flight, about a politician's wife so desperate to flee her abusive spouse that she trades tickets with a woman she meets at an airport bar; and Ashley Blooms's Every Bone A Prayer, about a ten-year-old girl living close with nature in an Appalachian holler yet aware that she must go out and confront the world.

In-booth signings, Saturday, 6/25: At 9:30 a.m., Layla F. Saad, Me and White Supremacy: Combat Racism, Change the World, and Become a Good Ancestor, updating a call to arms begun with the author's Instagram challenge #meandwhitesupremacy; and at 11:30 a.m., Marie Benedict, Lady Clementine, a spirited fictional account of Clementine Churchill.
1240 Macmillan
Giveaways, Saturday, 1/25: At 2:00 p.m., Natalie Jenner's The Jane Austen Society, a debut novel featuring Austen fans in Chawton, England, the author's final home, who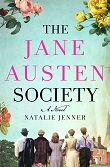 cope with sorrow both distant and wartime-recent by banding together to preserve her legacy; Christina Clancy's The Second Home, a debut novel about sisters Ann and Poppy battling adoptive brother Michael over the family cottage on Cape Cod they've inherited—and even more over long-ago summer events that tore them apart; and Alexis Schaitkin's Saint X, with a young woman named Claire climbing into a cab and recognizing the driver as a suspect in her sister's murder years ago while the family was vacationing in the Caribbean.
Giveaways, Sunday, 1/26: At 9:00 a.m., Olen Steinhauer's The Last Tourist, featuring CIA agent Milo Weaver, who thought that he had put paid to the CIA-trained assassins called Tourists, but now a whole new band of Tourists is on his tail in the Sahara; and Anna Solomon's The Book of V., about the troubles of three women across eras, from ancient Persia, to the Watergate era, to contemporary Brooklyn.
1341 Hachette
Giveaways: Harlan Coben's The Boy in the Woods, with a man who lives comfortably in the woods where he had been found as a boy tapped for his help in tracking some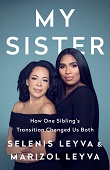 missing teenagers; Marie Kondo & Scott Sonenshein's Joy at Work: Organizing Your Professional Life, cleaning up your workplace with the decluttering star; N.K. Jemisin's The City We Became, a series starter with six newborn avatars rising up in defense of New York City when an ancient evil arrives; Selinis Leyva & Marisol Leyva, My Sister: How One Sibling's Transition Changed Us Both, with Orange Is the New Black star Selinis Leyva and sister Marisol offering alternating chapters on the impact of Marisol's gender transition; and Anne Glenconner's The Lady in Waiting: My Extraordinary Life in the Shadow of the Crown, Glenconner's account of being a lady-in-waiting to Princess Margaret while dealing with a tumultuous and often painful personal life.

In-booth signing, Sunday, 1/26: At 11 a.m., Jolene Hart, Ignite Your Light: A Sunrise-to-Moonlight Guide to Feeling Joyful, Resilient, and Lit from Within, tips on being a better you from a certified health coach.
1353 Houghton Mifflin Harcourt
Giveaways: Veronica Roth's Chosen Ones, the YA author's venture into the adult arena, featuring five teenagers who succeed in fulfilling a prophecy that they will defeat the Dark One and are now at loose ends—but maybe something darker is coming; Jane Healey's Animals at Lockwood Manor, a debut novel set in 1939 at the manor where a natural history collection is sent from London for safekeeping; Sameer Pandya's Members Only, about Indian-born, American-bred Raj Bhatt, suddenly accused of racism by members of his almost exclusively white tennis club and reverse racism by students at his university; and Jasper DeWitt's The Patient, about a cocky young psychiatrist who believes he can cure a longtime patient at his hospital who has literally driven others mad.

In-booth signings, Saturday, 1/25: at 11 a.m., Neal Bascomb, Faster: How a Jewish Driver, an American Heiress, and a Legendary Car Beat Hitler's Best, the true story of a successful Jewish international racecar driver, shut out of the top European teams and use of the top cars by the mid-1930s, who assembled a ragtag team that put the brakes on Hitler's quest for glory at the Grand Prix; and at 3:00 p.m., David Nicholls, Sweet Sorrow, the story of a British teenager facing class self-consciousness and coming-of-age angst as he deals with a broken family, academic crisis, and his love for a seemingly unreachable girl who gets him involved in a Shakespeare production.
In-booth signing, Saturday, 1/26: At 11 a.m., Kate Racculia, Tuesday Mooney Talks to Ghosts, with loner Tuesday Mooney getting caught up in a massive scavenger hunt when an eccentric Boston billionaire dies, having scattered clues throughout the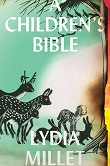 city that will lead to a juicy portion of his wealth.
1354 W. W. Norton
Giveaways: Anne Enright's Actress, with a daughter recalling her actress mother's rocket ride to fame and subsequent fade, leading to a bizarre crime; Lydia Millet's A Children's Bible, featuring self-reliant children in a storm-tossed landscape resembling one boy's illustrated Bible; Genevieve Hudson's Boys of Alabama, with shy Max, just transplanted from Germany to the American South, beginning to thrive when he bonds (perhaps dangerously) with a daring boy in his chemistry class; Sahar Mustafah's The Beauty of Your Face, featuring a shooter soaked in the hatred of the alt-right making his way through a Muslim school for girls in a Chicago suburb as principal Afaf Rahman, the daughter of Palestinian immigrants, reflects on the complexities of her life; and Alice Miller's More Miracle Than Bird, a debut novel relating the incandescent meeting and marriage of Georgie Hyde-Lees and W.B. Yeats.
1354 Fantagraphics (showing with Norton)
Giveaways, Saturday, 1/25: At 2:00 p.m., Rayco Pulido's Ghostwriter, a noir graphic novel about a pregnant radio scriptwriter

whose husband vanishes even as a serial killer stalks the city, and Robert Mailer Anderson & others' Windows on the World, based on a documentary film about a son searching for his undocumented immigrant father, who was working at the Twin Towers on 9/11.
Giveaways, Sunday, 1/26: At 10:30 a.m., Paco Roca's Winter of the Cartoonist, about a group of cartoonists who rebelled against poor working conditions, arbitrary editorial control, and the dictatorship on high by striking out on their own; and at 3:00 p.m., Henry McCausland's Eight-Lane Runaways, with various characters following various paths while dealing with the unexpected (a direction-minded poncho, a disappearing limb).
In-booth signing, Saturday, 1/25: At 2:00 p.m., Garth Stein, The Cloven: Book One, a graphic coming-of-age series starter about a mutant from the Pacific Northwest (he's part goat), by the author of The Art of Racing in the Rain and comics writer Matthew Southworth, cocreator of ABC's Stumptown. For YAs but with crossover appeal.
1360 Workman
Giveaways: Nguyen Phan Que Mai's The Mountains Sing, the award-winning poet/novelist Nguyen Phan Que Mai's first novel in
English, which delivers an understanding of Vietnam's wartime and postwar experiences via the Tran family; Julia Alvarez's Afterlife, about newly widowed and retired immigrant writer/professor Antonia Vega, whose books are no longer helping her deal with life; Michael Ian Black's A Better Man: A (Mostly Serious) Letter to My Son, a comedian's letter to a son departing for college; Eva Holland's Nerve: Adventures in the Science of Fear, a journalist's coming to understand the nature of fear by examining her own pohbias and how she overcame them; and S.A. Jones's The Fortress, debut speculative fiction from a new publisher whose antihero toxic male lawyer learns his #metoo lesson.
1440 Penguin Random House
Galley giveaways: Max Brooks's Devolution, reinventing the Big Foot legend, with an inexplicable rampage hitting an upbeat-techie Pacific Northwest town after the eruption of Mt. Rainier shutters it from the world; Josie Silver's The Two Lives of Lydia Bird, in which Lydia moves ahead while still mysteriously continuing a life with her beloved Freddie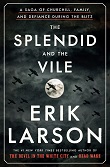 after his death—but at what cost?; Terry McMillan's It's Not All Downhill from Here, with Loretha Curry, happily married, beloved by a coterie of always-there friends, and still head of a successful beauty supply empire at age 68, suffering unanticipated loss but still not letting herself head downhill; Erik Larson's The Splendid and the Vile, which investigates Winston Churchill as leader in the early days of World War II; Sue Monk Kidd's The Book of Longings, about a rebellious young woman at the time of Rome's occupation of the Holy Lands, who meets and marries a young man named Jesus, then must flee during violent resistance to their overlords; Emma Straub's All Adults Here, whose heroine is prompted by witnessing a school bus accident to consider what kind of parent she was—and decides that she came up short; Stephanie Wrobel's Darling Rose Gold, a debut about an abusive mother who raised her daughter as an invalid and how the daughter finally got revenge; Ottessa Moshfegh's Death in Her Hands, meta-mystery about a widow, wandering her new property, who finds a mysterious note about a dead body but no body and investigates as if a murder had conclusively occurred; and Lawrence Wright's The End of October, a medical thriller with epidemiologist Harry Parsons investigating a lethal hemorrhagic fever at an Indonesian internment camp and learning that one infected individual is on his way to Mecca for the Hajj.

In-booth signings Saturday, 1/25: At 11:00 a.m., Sam Tschida's Siri, Who Am I?, about a Millennial coma victim who, upon awakening, reconstructs her identity, her life, and the mysterious accident that landed her in the hospital with the help of Siri, Instagram, and Uber; at 2:00 p.m., Cyndi Giorgis, Jim Trelease's Read Aloud Handbook, updating a million-copy best seller on reading to children; at 3:00 p.m., Emily St. John Mandel, The Glass Hotel, opening at an upscale glass-and-cedar hotel on an island in British Columbia, where a woman bartender named Vincent becomes involved with hotel owner Jonathan Alkaitis as a Ponzi scheme starts spinning out of control; and also at 3:00 p.m., Lisa Wingate, The Book of Lost Friends, which reimagines true stories of those looking for loved ones after Reconstruction.
In-booth signings, Sunday, 1/26: At 12:30 p.m., Janelle Brown, Pretty Things, about a young grifter, desperate to care for her seriously ill mother, who decides to target a flighty rich girl from her youth; and at 1:00 p.m., Charles Duhigg, The Power of Habit: Why We Do What We Do in Life and Business, the audio of a business classic; Gretchen Rubin, Outer Order, Inner Calm: DeClutter and Organize To Make Room for Happiness, advice on getting it together from the happiness guru, in audio format; and Dani Shapiro, Inheritance: A Memoir of Genealogy, Paternity, and Love, with the famed memoirist/novelist shattered to discover through a DNA test that the man who raised her was not her biological father, in audio format.
In-booth signing, Monday, 1/27: At 11:00 a.m., Grady Hendrix, The Southern Book Club's Guide to Slaying Vampires, horror set in 1990s Charleston, where Patricia Campbell and her book club members become increasingly suspicious of the man who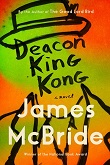 helped her when she was attacked by a neighbor. Is there a monster in their midst?
And at Baker & Taylor, 1331: Saturday, 1/25, at 3:00 p.m., James McBride, Deacon King Kong, about a rapidly gentrifying 1969 Brooklyn community where an unassuming Baptist deacon shoots a housing project's drug dealer dead; and Monday, 1/27, at 11:00 a.m., Chris Bohjalian, The Red Lotus, starring an ER doctor whose lover, a former patient, vanishes while they are cycling in Vietnam.
1562 Soho Press
Giveaways: Tracy O'Neill's Quotients, the National Book Foundation 5 Under 35 honoree's new work about Jeremy Jordan, trying to forget his intelligence work during the Troubles in Northern Ireland and connect with Alexandra Chen, a busy image-management consultant shocked by her brother's sudden reappearance; Edgar finalist Scott Phillips's That Left Turn at Albuquerque, featuring a shady attorney-at-law hoping to pull himself out of bankruptcy with an art forgery scheme; and Adam Wilson's Sensation Machines, about a Brooklyn couple, veering apart after a stillbirth, who get caught up in financial shenanigans that lead to murder.
In-booth signing, Saturday, 1/25: At 2:30 p.m., Cara Black, Three Hours in Paris, detouring from the beloved "Aimée Leduc"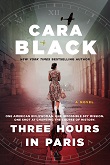 series to ask why Hitler spent only three hours in fallen Paris. The answer: an attempted assassination that's maybe not what it seems.