Week ending February 22, 2019
Brody, Frances. A Snapshot of Murder: A Kate Shackleton Mystery. Crooked Lane. (Kate Shackleton Mysteries, Bk. 10). Apr. 2019. 336p. ISBN 9781643850962. $26.99; ebk. ISBN 9781643850979. MYS
Brody's (Death in the Stars) tenth Kate Shackleton mystery continues the adventures of the 1920s detective. Kate travels with her photographic society to Haworth to see the wild moors—Ponden Hall believed to be Emily Brontë's inspiration for Thrushcross Grange in Wuthering Heights—and the dedication of the Haworth parsonage to the Brontë Society as a museum of the Brontë siblings. Seven members make the trip, but in the crush of the dedication one is stabbed through the heart, with no one having seen the assault. Readers of the successful series will recognize many of the characters. The magnetic Mr. Charles from Scotland Yard is assigned the case and enlists Kate, Mr. Sykes, and her housekeeper Mrs. Sugden to assist him in the inquiry. A romp of a mystery steeped in the combination of English literature and the mores of the late 1920s.
VERDICT Recommended for readers of Rhys Bowen, English mysteries, and light historical novels.—Cheryl Bryan, Orleans, MA
Brown, Eric. Murder Served Cold. Severn House. (Langham & Dupré Mystery, Bk. 6). Apr. 2019. 208p. ISBN 9780727888525. $28.99. MYS
It all starts with a stolen painting, a Gainsborough. When Lord Elsmere realizes his favorite piece of artwork is missing, he calls the police. But they suspect an inside job and look at Elsmere suspiciously because his finances are in bad shape. That's when he asks private investigators Donald Langham and Ralph Ryland to find the Gainsborough. That inside job theory is a little tricky because Elsmere has rented rooms to strangers. When Langham finds the painting, it's too late for one boarder, who is found shot dead in the woods. Now, even the local police are happy that Langham and Ryland have insiders' views of all the possible art thieves, now murder suspects. The war years are still reflected in the story, set in England in 1956.
VERDICT The quick-witted Marie Dupré appears infrequently in this latest manor house mystery, one that seems too drawn out and plodding. The story is slow to develop but has a twist that will satisfy fans. New readers should start with the beginning of the series, or just turn to the master, Agatha Christie.—Lesa Holstine, Evansville Vanderburgh P.L., IN
Bunn, Davis. Outbreak. Bethany House. Apr. 2019. 304p. ISBN 9780764230011. $22.99; pap. ISBN 9780764217920. $15.99; ebk. ISBN 9781493418411. CF
When people along the West African coast start dying from a mysterious illness, Kenneth Bishop, CEO of a pharmaceutical company, sends a PR specialist, microbiologist Avery Madison, and his brother Theo to investigate. The red bloom in the ocean has wiped out entire villages, and with hurricane season rapidly approaching, it becomes imperative to determine the cause of this new disease before a change in the ocean's currents creates a global pandemic. A trip to observe this phenomenon in Africa and the establishment of a research lab in the United States to develop a vaccine comprise most of the story. Complicating matters are tensions between the estranged brothers and the appearance of a professional assassin who has been hired to kill Theo before the disease can be identified or reported in the media.
VERDICT While Bunn (Moondust Lake) begins with an interesting premise, overall the novel is somewhat disappointing. At times the characters' motivations become confusing. Several subplots, including a romance and Kenneth's changing relationship with his brother, are not fully developed. Recommended only for fans of Bunn's work.—Margaret Bentley, Shiawassee Dist. Lib., Owosso, MI
Eggers, Dave. The Parade. Knopf. Mar. 2019. 192p. ISBN 9780525655305. $26.95; ebk. ISBN 9780525655312. F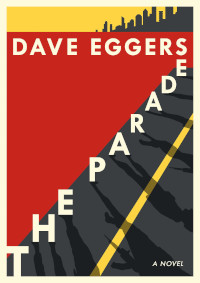 This latest from Eggers (Heroes of the Frontier) is a deceptively simple tale of two men contracted to pave a road in an unnamed developing country in the aftermath of a civil war. Known only as Four and Nine, the two men have wildly divergent personalities and approaches to undertaking their task. The by-the-books Four, a veteran of the contracting company, prioritizes the schedule above all else, as a parade has been planned by the government to take place at the moment of the road's completion. The gregarious and reckless Nine ignores all regulations regarding interactions with the locals and constantly strays from his instructions, to the increasing frustration of Four. This brief novel is probably best read in one or two sittings, as the tension mounts page by page. The straightforward and pared-down method of storytelling adds to the suspense, as the reader slowly realizes that the political situation, and the moral contrast between Four's and Nine's approaches, is much more complex than it initially seemed. While Four is proven to be "right" regarding the danger of Nine's behavior, the trouble that they get into forces Four to exercise the empathy and humanity he's been suppressing.
VERDICT A suspenseful and powerful page-turner. [See Prepub Alert, 9/17/18.]—Christine DeZelar-Tiedman, Univ. of Minnesota Libs., Minneapolis
Hanrahan, Gareth. The Gutter Prayer. Orbit: Hachette. (Black Iron Legacy, Bk. 1). Jan. 2019. 560p. ISBN 9780316525312. pap. $15.99; ebk. ISBN 9780316525305. SF
[DEBUT] In the city of Guerdon, pursued by waxwork security officers, three thieves struggle to escape a burning ruin: Carillon, a teenage girl; Rat, a cannibalistic underground-dwelling ghoul; and Spar, heir to the leadership of the Brotherhood of Thieves but afflicted by a plague that's slowly turning him to stone. Before they're done, they will encounter dead gods, face-stealing monsters, and the machinations of the corrupt Alchemists' Guild. Hanrahan's Guerdon is vivid, dangerous, and weird. It is capable of standing next to some of the great fantasy cities, such as Fritz Leiber's Lankhmar and China Miéville's New Crobuzon, and the present-tense narrative takes the reader on a tour through some of its worst bits, from ancient temples to dive bars to a couple of too-brief visits to the underground tunnels of the ghouls. The narrative is fast-paced and continuously surprising.
VERDICT Recommended for fans of Scott Lynch's "Gentlemen Bastards" books or Max Gladstone's "Craft Sequence" books; this debut will be welcomed by fantasy readers seeking a fresh series with strong and original worldbuilding and a dose of cosmic horror.—Jason Puckett, Georgia State Univ. Lib., Atlanta
Jones, Allen Morris. Sweeney on the Rocks. Ig. Apr. 2019. 264p. ISBN 9781632460837. pap. $16.95. MYS
Ted Sweeney is a little concerned when he walks into his cabin in Montana and finds a dead body. Most small-town handymen would freak out, but Ted used to be hit man Cosmo Aniello, working for the New York mob, until he went into witness protection. He gets a little rattled when ex-mistress Tina and another body appear and even more so when his ex-wife Marilyn, who's now the sheriff's deputy, finds the bodies he dumped in the Yellowstone River. Calling on the services of a couple of his friends, Ted decides to return to New York to figure out what is going on, with Tina (who married his cousin, a fellow mob soldier) and a sack of stolen diamonds. Once there, Ted is reminded that things can always get worse before they get better.
VERDICT Fans of the fast-paced, offbeat plots of Ross Thomas or Elmore Leonard will enjoy Jones's (A Bloom of Bones; Last Year's River) twisty ride from Big Sky country to the Big Apple and back. Just as in real life, the heroes are few and far between, and everyone's got a little larceny in their hearts.—Dan Forrest, Western Kentucky Univ. Libs., Bowling Green
Kazan, Philip. The Phoenix of Florence. Allison & Busby. Apr. 2019. 349p. ISBN 9780749022136. $19.95; pap. ISBN 9780749024802. $16.95; ebk. ISBN 9780749022181. MYS
In the steamy August heat of a 15th-century Florence, Italy, night Onorio Celavini, commander of Duke Francesco de' Medici's police force, is called to the scene of the aftermath of a bloody sword battle that left well-known local lothario Venini and two attackers in pieces on the street. Knowing that many husbands in Florence would have wished Venini dead, Celavini sees that honor would also demand the death of Venini's lover. The next morning, Celavini finds himself in the opulent bedroom of the brutally slain Donna Zenobia. During the course of the investigation, Celavini is stunned to hear the name of a family that was thought to have no living members thus forcing him to revisit a secret personal past that includes a feud between two families in the Tuscan countryside.
VERDICT Kazan (The Black Earth) has written a gripping depiction of life in 15th-century Tuscany. With a protagonist whose transformation over the course of the book is compelling and a mystery that keeps the pages flying and hearts racing, this novel is recommended for fans of Sarah Dunant.—Susan Santa, Shelter Rock P.L., Albertson, NY
Lalami, Laila. The Other Americans. Pantheon. Mar. 2019. 320p. ISBN 9781524747145. $25.95; ebk. ISBN 9781524747152. F
Set in a small town on the outskirts of the Joshua Tree National Monument and the Mojave Desert, this work commences when Moroccan-born restaurant owner Driss Guerraoui is the victim of a hit and run. Though structured like a murder mystery, the novel delves into much deeper themes: the process of grieving, the immigrant's life in the United States, the need to navigate parental and familial expectations, sibling rivalry, infidelity, and the impact of post-traumatic stress disorder (PTSD) on returning veterans. Pulitzer Prize finalist Lalami (The Moor's Account) enlists an ensemble of narrators to unravel this mystery, with core voices including members of the Guerraoui family—widow Maryam, daughter Nora, and even Driss himself. When Nora reconnects with Jeremy, a former high school classmate and Iraqi War veteran, their romance adds another dimension.
VERDICT A thoughtful narrative on the multitude of divisions plaguing contemporary American society, though the romance between Nora and Jeremy eventually distracts. [See Prepub Alert, 9/24/18.]—Faye A. Chadwell, Oregon State Univ. Libs., Corvallis
Leithauser, Brad. The Promise of Elsewhere. Knopf. Mar. 2019. 352p. ISBN 9780525655039. $26.95; ebk. ISBN 9780525655046. F
In an environment in which humanities education is devalued in favor of "work force development," manic-depressive art history professor Louie Hake (who is also losing his eyesight and going through his second divorce) embarks on a journey to find some sanity. Initially on tour to research significant architecture, Louie, through a series of chance encounters, ends up detoured: from Rome, home to timeless architecture, he heads to London and finally to Greenland, where architecture is just a seldom-used word. While Leithauser (The Art Student's War) burdens his main character with much baggage, that Louie has failing eyesight and has stopped taking his bipolar disorder medicine never seem factors in his journey. Nevertheless, the novel is an artful, sometimes humorous exploration of one man's struggle to "see," despite his faltering vision, what is truly important. To accomplish this, Louie must travel physically and spiritually, moving from places of high culture and memories that cannot be relived to a remote, primitive, gelid outpost whose frozen beauty provides the inspiration of which he initially despairs.
VERDICT For fans of contemporary, reality-based, character-driven fiction. [See Prepub Alert, 9/24/18.]—Michael Russo, Louisiana State Univ., Baton Rouge
McEwan, Ian. Machines Like Me. Nan A. Talese: Doubleday. Apr. 2019. 336p. ISBN 9780385545112. $24.95; ebk. ISBN 9780385545129. F
What darkness lurks in the minds of humans? Across numerous novels and short stories, McEwan (Atonement; Nutshell) has asked this question from the point of view of an accused murderer, an unborn child, and now a conscious machine. Set in 1980s England, the narrative unfolds in an alternative history wherein Alan Turing lives long enough to see his contributions to the field of artificial intelligence usher in the apex of the digital age. Adam is one of several robotic humans developed with advanced machine learning and the ability to learn and adapt without programming. Charlie, a directionless day trader, purchases Adam and begins to shape his personality and habits. However, as Adam's understanding of love evolves so does his desire for Charlie's partner Miranda. As the three of them move through the liminal space of friendship and love, Adam rapidly understands the complexity of human emotion, action, and morality. Ultimately, the weight of the human condition becomes an algorithm too complex for Adam's cognitive machinery.
VERDICT McEwan pushes past the mind-body problem to ruminate on the influence of love in the evolution of humans and machines alike. [See Prepub Alert, 10/24/18.]—Joshua Finnell, Colgate Univ., NY
McMahon, John. The Good Detective. Putnam. Mar. 2019. 320p. ISBN 9780525535539. $27; ebk. ISBN 9780525535553. MYS
[DEBUT]P.T. Marsh, a detective in a small Georgia town, is so good at his job that he knows all the bureaucratic blind spots. Since his wife and son died last year in a tragic accident, P.T. has been living in those blind spots and drinking too much. When a stripper from a local bar confides in P.T. that her boyfriend Virgil Rowe has been abusing her, P.T. shows up at Virgil's house to knock some sense into him. The next morning, P.T. is called to Virgil's house on police business: Virgil has been found dead. P.T. worries if he killed him last night. The plot thickens when Virgil, a white supremacist, emerges as a suspect in the murder of Kendrick, an African American teenager whose severely burned body is found with a rope around his neck. P.T. and his rookie partner Remy dig into the past and uncover a series of murders, all chillingly similar to Kendrick's.
VERDICT Though the plot it overstuffed, the pacing is swift, and P.T. and Remy are an intriguing team. This is a series opener by a debut novelist, and readers will look forward to Detective P.T. Marsh's next case. [See Prepub Alert, 9/17/18.]—Emily Hamstra, Seattle
Meuwissen, Amanda. A Model Escort. Dreamspun Desires: Dreamspinner. Mar. 2019. 230p. ISBN 9781641080965. pap. $9.99; ebk. ISBN 9781640806948. LGBTQIA+ ROMANCE
Owen Quinn has just moved to Atlas City for a new job and to get away from an abusive ex. His sister encourages him to take the opportunity to be more outgoing and try an escort service to help ease the transition. Cal Mercer is a superselective escort searching for a change in his own path. After a quiet dinner with Owen, who requests nothing but companionship and snuggling, Cal reluctantly takes on Owen as a regular. The aspect of "Beauty and the Geek" is subtle but effective here. Cal knows how to bring Owen out of his shell in terms of self-esteem and appearance, which gives Owen confidence in his role working in predictive models to help keep his new city safe. This would be an attractive story for readers looking for more STEAM/STEM in their romances as well as another version of a prostitute-with-a-heart-of-gold. Can a business arrangement of companionship be so soothing to both parties? There are some trigger warnings, including flashbacks to abuse and the elaborate reemergence of the abuser.
VERDICT Though a slow burn, this latest from Meuwissen (Lovesick Titans) presents an exploration of comfort and safety with a carefully selected partner over insta-sex and expectation. While there are similar plotlines in other romances and erotica in its category, there is room for this one, too.—Frannie Strober Cassano, Library Consultant, East Meadow, NY
Statovci, Pajtim. Crossing. Pantheon. Apr. 2019. 255p. tr. from Finnish by David Hackston. ISBN 9781524747497. $24.95; ebk. ISBN 9781524747503. F
This intense and captivating book commences with narrator Bujar's suicide attempt but then rewinds into the past, where we meet the young Bujar, a resident of Tirana, Albania, in 1990. With his father's death, Bujar and his sister and mother are left impoverished and unmoored, and he and trans-curious friend Agim band together against this adversity. The novel jumps intriguingly to a series of cities where Bujar lives between 1998 and 2001: Rome, where he recovers from his suicide attempt; Berlin, where he passes as a woman and takes a fateful writing class; Madrid, where he finds a girlfriend who rejects him; and New York, where he is accepted but ultimately unhappy. The novel then flashes back to Bujar's youth with Agim on the streets of Tirana and their decision to set off in a boat for Italy, then forward to Finland in 2003, where Bujar becomes lovers with Finnish transsexual Tanja. But he continues his peripatetic ways in what's both a strong character study and a larger look at society, as the novel closes with a brief passage answering the ongoing question of what happened to Agim. Then everything else falls into place.
VERDICT An excellent and evocative novel about intersection of migration and gender. [See Prepub Alert, 10/29/18.]—Henry Bankhead, San Rafael P.L., CA
Subramanian, Mathangi. A People's History of Heaven. Algonquin. Mar. 2019. 304p. ISBN 9781616207588. $26.95; ebk. ISBN 9781616209421. F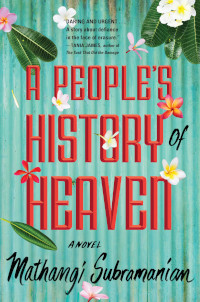 Author of the children's book Dear Mrs. Naidu, a South Asia Book Award winner, Subramanian now brings a novel to adult audiences. Set in Heaven, a slum in Bangalore, India, Subramanian's story focuses on five young women and how they fight to save their homes and community from demolition to make room for a new shopping mall. Banu, an artist and builder, along with Deepa, who is visually challenged, have the deepest family ties to Heaven. Their friendship with transgendered Joy; Rukshana, who is gay; and Padma, the newest resident of Heaven, runs deep. Nearly all of the girls have been classmates since childhood, and their story is told in a collective voice. Pieces of each girl's story are unveiled along with their maternal family histories to create a larger portrait of struggle, heartbreak, and deception that melds with heartwarming tales of strength, tenacity, and triumph as each young woman strives to establish a future for herself.
VERDICT While the novel may be brief, Subramanian is a gifted and fearless writer whose characters are full of life. Reminiscent of Amy Tan's The Joy Luck Club, with appeal for both YAs and adults looking for strong female protagonists.—Shirley Quan, Orange Cty. P.L., Santa Ana, CA
Thayne, RaeAnne. The Cliff House. HQN: Harlequin. Mar. 2019. 368p. ISBN 9781335004901. $26.99; pap. ISBN 9781335145277. $18.99; ebk. ISBN 9781488096396. F
Sisters Beatriz and Daisy Davenport are indebted to their Aunt Stella, who took them in when their mother died even though she was a young woman barely out of college. When the three women come together to celebrate Stella's 40th birthday, they are all on the verge of major life changes. Stella has recently learned she has become pregnant via sperm donor. Bea's ex-husband and major rock star Cruz has moved back to town to recover from a near-death experience and has designs on her again. Daisy has a chance meeting with a man who has the potential to melt her icy exterior. When Stella's college boyfriend moves to town and reestablishes contact with her, it seems like their timing might be off again. These three independent women are faced with the challenge of owning up to their feelings and growing enough to take a chance on true love.
VERDICT Thayne ("Women of Brambleberry House" and "Haven Point" series) puts her considerable skills on full display in her first stand-alone hardcover release. For readers who enjoy the works of authors such as Debbie Macomber and Linda Lael Miller, it's a truly romantic work with many surprises that lead to a satisfying ending. [See Prepub Alert, 10/1/18.]—Karen Core, Detroit P.L.
Wax, Wendy. My Ex-Best Friend's Wedding. Berkley. May 2019. 368p. ISBN 9780440001430. pap. $16; ebk. ISBN 9780440001447. F
Just in time for "beach read" season comes the sometimes delightful dilemma presented by Wax (Ten Beach Road) with a long-buried secret, family relations, and faltering friendships in an Outer Banks setting. An alternate title for this novel could be "The Dress," as that very article of clothing, a cherished, handed-down wedding dress, is referred to in a light summer story of two estranged friends. Brianna and Lauren are each moving in different directions toward mending their ragged relationship, while Lauren's mother, Kendra, guards a lie that she has been struggling with for more than 40 years. A successful New York novelist, Lauren is surprised when love interest Jake proposes to her, setting in motion the exciting plans not only for the upcoming, joyful nuptials but for the acquisition of that adored dress. This breezy, fairly predictable story presents three singular women who must reveal their own pasts while resolving various misconceptions, always grappling with barriers that obstruct happiness in their everyday lives. Finally, it may be the dress that plays a role in reconciling and reuniting them.
VERDICT Fans of family drama will enjoy this compassionate venture.—Andrea Tarr, Corona P.L., CA