Debuter Ehirim elucidates painful truths; an immersive and insightful story; for fans who like their romantic suspense with a delicious side of supernatural; an important story, inventively structured; Martin crafts simultaneous romances without shorting either; this fast-paced story encourages readers to reflect on the notion of friendship and family; a slow-burning contemporary romance; this story couldn't be timelier
Week ending February 15, 2019
Carswell, Sean. Dead Extra. Prospect Park. May 2019. 256p. ISBN 9781945551475. pap. $16. MYS
Jack Chesley's plane was shot down over Germany in 1943, and he was presumed dead. In actuality, he spent years in a German POW camp. His wife, Wilma, upon learning of his death, started drinking and carousing, ultimately being committed to a mental hospital courtesy of Jack's father. When Jack returns stateside, in 1946, he discovers that Wilma is the victim of a fatal accident—slipping and falling in the shower. But Wilma's identical twin, Greta, thinks Wilma was murdered, in part because of a book she wrote about her hospital experiences. Greta begs Jack, a former policeman, to look into Wilma's death, while Jack's former police partner strongly suggests he stay away. In this lackluster novel, the author ( The Metaphysical Ukulele) takes readers through Wilma's 1943 boozing and ultimate institutionalization, recruitment into prostitution by a hospital employee, and death. In alternating chapters, Jack, in 1946, investigates her death while succumbing to alcohol-induced blackouts, batterings, and not much else of interest.
VERDICT The mid-1940s Hollywood setting begs for a hard-boiled noir treatment, elements that this book lacks. The characters are flat, the plot equally so. Stick with the fathers of 1940s noir—Hammett and Chandler.—Edward Goldberg, Syosset P.L., NY
Ehirim, Nnamdi. Prince of Monkeys. Counterpoint. Apr. 2019. 288p. ISBN 9781640091672. $26; ebk. ISBN 9781640091689. F
[DEBUT] The African country of Nigeria is a source of pride and frustration for its many celebrated writers, and debut novelist Ehirim pays homage to both Achebe and Ngozi-Adichie in this harrowing coming-of-age story. Narrated by Ihechi, the tale follows close friends as they navigate their way to adulthood under the lingering scourge of colonialism, the rise of Western-influenced capitalism, and the thumb of military rule. From various religious backgrounds, with Islam, Christianity, and tribal beliefs vying for their attention, Ihechi, Mendaus, Zeenat, and Pastor's Son bond over their shared love of the vibrant art and political scene of Lagos and the charged words and music of their idol Afrobeat star Fela Kuti. But one evening, when violence breaks out at a concert, the group endures a devastating loss, and Ihechi's fearful parents send him to relatives in Enugu, ten hours from his support system. There he meets Madame Messalina, a formidable woman whose power and influence will change the trajectory of Ihechi's life.
VERDICT Ehirim employs a polemical style to decry Nigeria's class warfare, government corruption, and rampant unemployment, harnessing the vitality of fiction to elucidate painful truths. Readers who enjoyed Chibundu Onuzo'sWelcome to Lagos or Chigoziie Obioma's An Orchestra of Minorities will appreciate the addition of another talented voice to the burgeoning league of Nigerian writers.—Sally Bissell, formerly with Lee Cty. Lib. Syst., Fort Myers, FL
Gray, Anissa. The Care and Feeding of Ravenously Hungry Girls. Berkley. Feb. 2019. 304p. ISBN 9781984802439. $26; ebk. ISBN 9781984802453. F
[DEBUT] African American sisters Althea, Viola, and Lillian have always been close, but eldest Althea is the de facto matriarch of their Michigan-based family now that their parents are gone. She and husband Proctor are highly regarded residents of their town and owners of a popular restaurant, but times have been hard lately, and the couple are arrested and convicted of defrauding the community. Conscientious, big-hearted Lillian has renovated the tumble-down family home, where she cares for her sister's confused teenage daughters, spitfire Kim and sweet Baby Vi, and her ex-husband's grandmother. Viola, who missed the sentencing, hesitantly travels from Chicago to help, but she's struggling with her own crises—a breakup with her wife, prompting a backslide into bulimia—and mixed feelings about Althea, the sometimes obnoxiously bossy sister who essentially raised her. Brother Joe is on the sidelines, still causing trouble. What unfolds is a story of siblings close and bruised; their mother died when they were young, their abusive preacher father was barely around, and they have always leaned on one another. Gray makes this story beautifully fresh.
VERDICT In her debut, award-winning CNN journalist Gray creates an immersive and insightful story for a range of readers. [See Prepub Alert, 8/27/18.]—Barbara Hoffert, Library Journal
Johansen, Iris. Dark Tribute. St. Martin's. (Eve Duncan, Bk. 24). Mar. 2019. 384p. ISBN 9781250075888. $28.99; ebk. ISBN 9781466887268. SUSPENSE
Cara Delaney, violin prodigy and adopted daughter of world-famous forensic sculptor Eve Duncan and Atlanta PD detective Joe Quinn, is kidnapped. It soon becomes apparent that Cara's disappearance and kidnapping are linked to her Russian mafia kingpin grandfather's past. Joe, Eve, and the man Cara loves, Jock Gavin, move quickly to get her back. Meanwhile, Cara, in the clutches of a sadistic, maniacal killer, does everything she can to stay alive. Johansen's (Vendetta) 24th installment in her long-running Eve Duncan series is a psychological thriller with a little woo-woo, featuring some of the author's iconic flawed heroes and a truly psychotic villain, giving the audience a fast-paced chilling tale. Cara and Jock, background players in past novels, take center stage as Joe, Eve, and their young son Michael fill in as solid costars.
VERDICT Fans of Kay Hooper, Heather Graham, and Lisa Jackson who like their romantic suspense served with a delicious side of supernatural will love this series. Reading in order is best. [See Prepub Alert, 9/17/18.]—Debbie Haupt, St. Charles City–Cty. Lib. Dist., St Peters, MO
Laskar, Devi S. The Atlas of Reds and Blues. Counterpoint. Feb. 2019. 272p. ISBN 9781640091535. $25; ebk. ISBN 9781640091542. F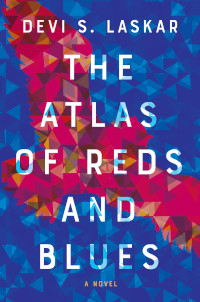 [DEBUT] Pushcart Prize nominee Laskar here draws on unsettling personal experience to craft a kaleidoscope-like story of bias in America. When her tenured professor husband was wrongly accused of racketeering, she had to endure the kind of police raid depicted, but here she imagines the main character resisting such a raid and getting shot. Mother, as she is called, works as an obituary writer and lives in the wealthy Atlanta suburbs with her three daughters and always-on-the-road husband. As she lies in her own blood, her mind tumbles through fragments of her life: her family history in Bengal, growing up in North Carolina with immigrant parents, being asked if she speaks English though she is American-born, the prejudice her daughters encounter at school, her own conflicted obsession with Barbie dolls, bitterness about being shifted to obituaries from crime reporting (including scenes of her work), the novel she's writing, and the beloved family dog, now dead. These fragments are told in sharp, poignant language and blend effectively to create the sense of a single life, rich, troubled, and now wasted.
VERDICT An important story, inventively structured.—Barbara Hoffert, Library Journal
Martin, Anna. Helix. Dreamspinner. Mar. 2019. 200p. ISBN 9781640808911. pap. $14.99; ebk. ISBN 9781640808904. LGBTQIA ROMANCE
James, a high school senior just learning about his sexuality, meets Dylan, a community college student studying to be a mechanic when James's truck breaks down. Knowing his dad wouldn't like him dating a college-aged man, James keeps his new romance a secret. Meanwhile, his dad, Mark, has started dating a man named Steve, whom he met at a bar. Both are single fathers and see no need to bring their kids into what they think will be a short-term relationship. But as their feelings deepen, the men decide to introduce their families to each other, with explosive results. Secrets are revealed, drama ensues, and bonds are tested. Which relationships will survive, or will any of them? The topics of older child adoption and child abuse in the foster-care system are touched upon, adding depth to the developing connections.
VERDICT Martin, author of The Impossible Boy and the paranormal Lone Wolf, crafts simultaneous romances without shorting either in a story with appeal to fans of new adult and adult romance. Recommended for all public libraries.—Melanie C. Duncan, Washington Memorial Lib., Macon, GA
See, Lisa. The Island of Sea Women. Scribner. Mar. 2019. 384p. ISBN 9781501154850. $27; ebk. ISBN 9781501154874. F
The haenyeo of Korea's Jeju Island make their living free-diving into the chilly waters of the Korean Strait to gather abalone, crabs, and other delicacies. This is an honor reserved for women owing to their superior physical and mental shape, while the husbands stay home and raise the children. See's (Shanghai Girls; Snow Flower and the Secret Fan) latest saga tells the story of two budding haenyeo, Mi-ja and Young-sook and how their uneasy friendship is shaped by undercurrents of war and jealousy. Spanning the 1930s through 2018, the story of each woman's life reflects the tragedy and grief of the historical events of the time. See's writing brings the horrors caused by Japanese, South Korean, and American forces during and after World War II to life as the women navigate marriage, motherhood, and more deaths than anyone should endure.
VERDICT Superbly written, this fast-paced read not only encourages readers to reflect on the notion of friendship and family, it also educates on the complex history of the region. [See Prepub Alert, 9/17/18.]—Chelsie Harris, San Diego Cty. Lib.
Thorne, Sally. 99 Percent Mine. Morrow Paperbacks. Feb. 2019. 339p. ISBN 9780062439611. pap. $15.99; ebk. ISBN 9780062439628. CONTEMPORARY ROMANCE
If traveling is an escape mechanism for avoiding your twin, career, parents, and the only man you've ever loved, Darcy Barrett takes first prize. But when her passport up and vanishes, she might be forced finally to deal with her heart. The first half of this modern romance features a lot of slow character development. Darcy is edgy, gritty, and totally disregarding of her health issues, while her connections to others aren't clear until almost a third of the way through the novel. There are also a lot of f-bombs and repetitive interior monologs that focus on her alcoholic tendencies and immature self-loathing. The chemistry between Darcy and Tom Valeska is torrid, while the sex is not gratuitously thrown in too early. The second half of the novel becomes more apparent (and exciting). Darcy's and Tom's lives diverged—the dual paths winding and unrelenting—until growth, maturity, and life circumstances guided them back together.
VERDICT A slow-burning contemporary romance; fans of Thorne's fabulously descriptive writing (The Hating Game), complete with snark and delicious metaphors, might enjoy the author's sophomore novel as well...if they can hang on through the first half.—Kat Landry Mueller, Sam Houston State Univ., Huntsville, TX
Winslow, Don. The Border. Morrow. (Power of the Dog, Bk. 3). Feb. 2019. 736p. ISBN 9780062664488. $28.99; ebk. ISBN 9780062664518. THRILLER
Winslow's conclusion to his Cartel trilogy (The Cartel; The Power of the Dog) not only immerses readers in a terrifying world of crime and mistrust, it also showcases a situation that eerily ties in to current headlines. Art Keller has seen and experienced horror in his life, and when he receives a promotion to the Drug Enforcement Administration (DEA), he soon realizes that the battle against the drug cartels in Mexico has financial ties to the U.S. government. A violent and harrowing journey plunges Keller into a scenario from which he might not find justice, and in the middle of it all he discovers that the border is imaginary when it comes to the war on drugs. Winslow mixes poetic prose with the modern crime tale and best fantasy novels to craft a thriller that is more than just a look at the fight to stop drugs from reaching the United States.
VERDICT This story couldn't be timelier if Winslow had scheduled it directly with the federal government. It promises to deliver worthy discussions on several topics, making it perfect for a book group selection. [See Prepub Alert, 8/10/18.]—Jeff Ayers, Seattle P.L.