Fans of the "Delta Squad" books are the most likely to pick this up; fans will welcome this novella that revisits the Leigh family decades later while enjoying the emotionally satisfying love story; if the bumps get ironed out, this could be an intriguing series for readers
Week ending February 8, 2019
Gardin, Diana. Ryder. Forever Yours: Grand Central. (Delta Squad, Bk. 2). Feb. 2018. 272p. ebk. ISBN 9781538762608. $3.99. CONTEMPORARY ROMANCE
Frannie fled her abusive husband with her life and a secret. She let everyone believe that his final beating resulted in a miscarriage, but she went into hiding to have Dove. Now Eli has located her, and she will do anything to keep Dove safe, including withholding this vital piece of information from her protectors. Ryder had resigned himself to having just the Night Eagle Security team as his family, but his latest assignment has him recalibrating. Immediately, he knows that Frannie is different, and safeguarding her isn't just a job. Ryder is falling, but Frannie is keeping things from him. This lack of trust threatens not only the job but this budding relationship. The alternating points of view start out promising, providing more insight into the protagonists, but as the story continues, the strategy seems to be almost a hindrance.
VERDICT The heat level on this one is high, excluding it from some more conservative collections. This latest from the "Delta Squad" series (after Lawson) can stand on its own, but fans of the books are the most likely to pick it up.—Heather Lisa Maneiro, SILS, Univ. of North Carolina at Chapel Hill
Heath, Lorraine. Texas Legacy. Avon Impulse. (Texas Trilogy, Bk. 3.5). Jan. 2019. 192p. ebk. ISBN 9780062856098. $3.99. WESTERN HISTORICAL ROMANCE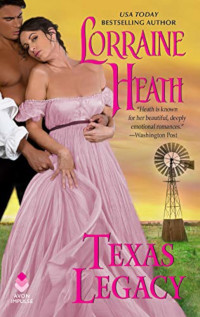 Heath's "Texas Trilogy" ended more than 20 years ago, and now a new generation of principals take the stage in this follow-up novella. It's been six years since Faith Leigh, daughter of Texas Glory's Dallas Leigh, has set eyes on her foster brother, but Rawley Cooper has returned from his wandering cowboy ways to help with a family crisis. Faith never forgave him for leaving her the night after they shared a passionate kiss, and she greets him at the train station with a fist to the face. They're both still secretly in love with each other, but Rawley's dark childhood makes him feel unworthy. Faith, in turn, harbors a shameful secret that she fears will make Rawley take off again. Their reunion is interspersed with cameos from the characters of the original trilogy, as well as glimpses into the changing world of small-town Texas in the early 1900s.
VERDICT Fans will welcome this novella that revisits the Leigh family decades later while enjoying the emotionally satisfying love story between the two likable main players.—Kathryn Howe, Saint John Free P.L., NB
Winckler, Elsa. An Impossible Attraction. Tule. (Cavallo Brothers, Bk. 1). Feb. 2019. 167p. ebk. ISBN 9781949707526. $3.99. CONTEMPORARY ROMANCE
Zoe Sutherland's interior decorating business is slowly gaining prestige and traction, and she knows an impressive client would put it over the top. She's not sure the boost is worth it, though, if it means she has to work with Dale Cavallo, who makes her brain go mush every time he's around. Dale has only extended an offer to Zoe's company as a favor to his brother, even though he hasn't been able to get Zoe out of his mind since they met. Both have trust issues, and neither is looking for a relationship. Yet when they are forced to spend time together both in the office and out, they might not be able to resist. This new series from Winckler (The Whisperer; Where the River Bends) gets off to a bumpy start. Jarring time jumps make it hard to invest in Zoe and Dale and understand how their relationship changes throughout the story. The scenes in which Zoe and Dale interact are well done and usually steamy, and the setting in and around Cape Town, South Africa, is an excellent change of pace.
Verdict One suspects the time changes—and the vague mystery involving Zoe's sister—will be explored in later books, but they don't do this opening title any favors. If the bumps get ironed out, this could be an intriguing series for readers.—Kellie Tilton, Univ. of Cincinnati Blue Ash.