Awad, Mona. Bunny. Viking. Jun. 2019. 320p. ISBN 9780525559733. $26; ebk. ISBN 9780525559740. Downloadable. LITERARY FICTION/COMING OF AGE
Samantha Heather Mackey has made it into the prestigious MFA program at New England's Warren University but feels pushed aside by a bunch of rich-girl students who call one another Bunny. Then the Bunnies invite her to join their activities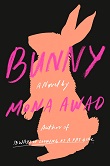 —including a workshop where they magically invoke their weird creations—and Samantha leaves behind sharp-tongued friend Ava to join their twisted fun. Awad follows up her darkly sparkling 13 Ways of Looking at a Fat Girl, a Scotiabank Giller Prize finalist, LibraryReads pick, NPR and Atlantic Best Book, and Colorado Book Award and Amazon Canada First Novel Award winner.
Benz, Chanelle.
The Gone Dead.
Ecco. Jun. 2019. 304p. ISBN 9780062490698. $26.99; ebk. ISBN 9780062490711. LITERARY FICTION
Billie James's father was killed in an accident when she was only four years old, and she hasn't been back to their Mississippi Delta shack since. Now she's inherited the shack, but returning proves unsettling: the only close neighbors are the McGees, whose family has been tied up with hers since the days of slavery, and she hears talk that she herself went missing on the day her father died. What really happened, and is she in danger? Benz, an O. Henry Prize winner, won Best Book honors from the San Francisco Chronicle and Electric Literature for her story collection The Man Who Shot Out My Eye Is Dead. With a 100,000-copy first printing and a five-city author tour.
Black, Cara. Murder in Bel-Air. Soho Crime. Jun. 2019. NAp. ISBN 9781616959296. $27.95; ebk. ISBN 9781616959302. MYSTERY
Set to give the keynote address at a tech conference, the fabulous Aimée Leduc gets a call that her mother, Sydney, has failed to pick up Chloe at playgroup. Abandoning all to retrieve her daughter, Aimée learns that a homeless woman who's just been found dead was the last person to speak with Sydney. Now Aimée is tracking down the dead woman's possessions and worrying about her mom in her 19th case, which will involve postcolonial Franco-African politics, people's resistance movements, and secrets in Paris's tech-trending 12th arrondissement. With a four- to six-week national tour; each Aimée Leduc mystery outsells the last.
Ellroy, James. This Storm. Knopf. Jun. 2019. 608p. ISBN 9780307957009. $29.95; ebk. ISBN 9780525521730. CD/downloadable. LITERARY FICTION/CRIME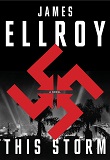 In January 1942, thunderous rainstorms uncover a dead body in L.A.'s Griffith Park, which brings together a cast of dark characters: Vice cop Elmer Jackson, who does dirty work for the chief of police; LAPD hardliner Dudley Smith, who's gone fascist; war profiteer Joan Conville, a disgraced navy lieutenant rotten to the core; and Hideo Ashida, a brilliant crime-lab technician now interned. The second novel, after Perfidia, in a new "L.A. Quartet" from the master.
Gertner, Jon. The Ice at the End of the World: An Epic Journey into Greenland's Buried Past and Our Perilous Future. Random. Jun. 2019. 432p. ISBN 9780812996623. $28; ebk. ISBN 9780812996630. Downloadable. SCIENCE/CLIMATE
A sci-tech journalist whose The Idea Factory was a New York Times best seller, Gertner here explores an on-deadline issue: Greenland's ice sheet, 700 miles wide and 1,500 miles long and comprising nearly three quadrillion tons of ice, is rapidly melting. Not only is this a climate crisis for the world, threatening to sink coastal cities and radically alter ocean currents, weather systems, economies, and migration patterns, but it threatens to wipe out hundreds of thousands of years of history. Scientists are now drilling deep into the ice sheet and bringing up cores that reveal how Earth formed—and what it's future might be.
Hulse, Carl. Confirmation Bias: Inside Washington's War Over the Supreme Court, from Scalia's Death to Justice Kavanaugh. Harper. Jun. 2019. 352p. ISBN 9780062862914. $28.99; ebk. ISBN 978006286293. HISTORY
Chief Washington correspondent for the New York Times, with more than 30 years' worth of experience reporting from the nation's capital, Hulse covers the battle to fill the Supreme Court seat left vacant by Antonin Scalia's death. That battle, in which Senate Majority Leader Mitch McConnell refused to give Democratic President Barak Obama's nominee, Merrick Garland, a confirmation hearing, countered the long-observed protocols of the U.S. Senate and plopped the presumably above-the-fray Supreme Court right into the heart of politics. With a 100,000-copy first printing.
Kwok, Jean. Searching for Sylvie Lee. Morrow. Jun. 2019. 336p. ISBN 9780062834300. $26.99; ebk. ISBN 9780062834331. lrg. prnt. LITERARY FICTION
Amy Lee's Chinese immigrant family was too poor to keep her older sister, Sylvie, who was raised by a distant relative and didn't rejoin the family in America until she was nine. Now, having flown to the Netherlands to say good-bye to her dying grandmother, Sylvie has disappeared. Determined to help her frantic parents, Amy starts retracing Sylvie's movements, but instead of finding her sister, she finds her sister's well-kept secrets. From New York Times best-selling author Kwok (Girl in Translation, Mambo in Chinatown), winner of ALA's Alex Award and the Chinese American Librarians Association Best Book Award.
Russell, Karen. Orange World and Other Stories. Knopf. Jun. 2019. 320p. ISBN 9780525656135. $26.95; ebk. ISBN 9780525656142. Downloadable. SHORT STORIES
MacArthur fellow Russell, whose Swamplandia! was a New York Times Best Book and whose following St. Lucy's Home for Girls Raised by Wolves and Vampires in the Lemon Grove were multi-best-booked titles and New York Times best sellers, returns with a collection of nine cheeky, wickedly fun stories, four published in The New Yorker. Two favorite scenarios: a young man falls in love with a 2,000-year-old girl he's excavated from a Florida peat bog, and the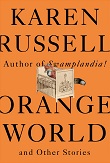 spirit of a giant tree accidentally invades a young woman visiting Joshua Tree National Park with her partner.
Scorah, Amber. Leaving the Witness: Exiting a Religion and Finding a Life. Viking. Jun. 2019. 288p. ISBN 9780735222540. $28; ebk. ISBN 9780735222564. Downloadable. MEMOIR/RELIGION
A third-generation Jehovah's Witness secretly proselytizing in China, where such activity is illegal, Scorah encountered a different culture and language and eventually had a crisis of faith that led to her being shunned by friends and family. Alone in her thirties, she moved from Shanghai to New York, where further tragedy made her actively look for meaning beyond religion. Based on a Believerarticle that had a record number of hits and letters for the magazine; the New York Timesstory of her son's death received 2.2. million views in its first four days.