Hilderbrand, Elin. Summer of '69. Little, Brown. Jun. 2019. 432p. ISBN 9780316420013. $28; ebk. ISBN 9780316419994. lib. ebk. ISBN 9780316422635. CD/downloadable. HISTORICAL FICTION
The mega-best-selling women's fiction queen goes historical with a book set in 1969, as the Levin family finds life turned tumultuously upside down. The children have always summered at their grandmother's house on Nantucket,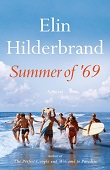 but pregnant oldest sister Blair remains in Boston, while Tiger has been deployed to Vietnam. Thirteen-year-old Jessie is stuck alone with grandma, as middle sister Kirby gets caught involved in civil rights protests and travels to Martha's Vineyard with her best friend, Mary Jo Kopechne. With a 350,000-copy first printing.
Kate, Lauren. The Orphan's Song. Putnam. Jun. 2019. 336p. ISBN 9780735212572. $26; ebk. ISBN 9780735212596. CD/downloadable. HISTORICAL FICTION
No. 1 New York Times best-selling YA author Kate enters the adult arena with a story set in 1700s Venice featuring star-crossed lovers Violetta and Mino. She's an aspiring singer living at The Hospital of the Incurables, the city's famous music school and orphanage, he's a violinist at the school's boys' hall, and they meet one night on the rooftop. Their ambitions take them in different directions—she wants to perform with the ospedale's celebrated coro, while he wants to go out in the world and find his mother—but they remain forever linked.
Ryan, Jennifer.
The Spies of Shilling Lane.
Crown. Jun. 2019. 368p. ISBN 9780525576495. $27; ebk. ISBN 9780525576518. CD/downloadable. HISTORICAL FICTION
Disgraced by her husband's divorce petition, village queen-bee Mrs. Braithwaite rushes to London to visit her only child, Betty, who started working there when World War II erupted. But Betty's landlord hasn't seen her for days, and Mrs. Braithwaite goes looking for her, worried that Betty is a causality of the Blitz and rethinking her whole life as she marches through the rubble. Following The Chilbury Ladies' Choir, a LibraryReads pick.
Wieland, Liza. Paris, 7 A.M. S. & S. Jun. 2019. 352p. ISBN 9781501197215. $26.99. HISTORICAL FICTION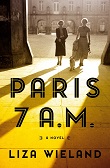 In June 1937, Elizabeth Bishop–not yet the exquisitely precise poet she would become—heads to France after graduating from Vassar and finds a world leaning toward war. There she becomes involved with a group that spirits Jewish children to convents, where they will be baptized and thus protected from the fate threatening their parents. Wieland, winner of the Robert Penn Warren Award for Fiction, takes advantage of a gap in Bishop's otherwise detailed journals to imagine a few crucial weeks in her life. With a 75,000-copy first printing.
Willig, Lauren. The Summer Country. Morrow. Jun. 2019. 480p. ISBN 9780062839022. $26.99; ebk. ISBN 9780062839046. lrg. prnt. HISTORICAL FICTION

In 1854, Emily Dawson, the poor relative in a wealthy merchant family, unexpectedly inherits from her grandfather a sugar plantation in Barbados that no one knew he had. When she travels there with her cousin and his new wife, she finds the plantation in ruins after an island-wide revolt of the enslaved in 1816. Why did her grandfather hold onto this blackened pile of wood and stone? Why are the neighboring plantation owners so eager to own it? And are there really ghosts floating about? From a six-time New York Times best-selling author; with a 75,000-copy first printing.