Couto, Mia. Rain and Other Stories. Biblioasis. Feb. 2019. 168p. tr. from Portuguese by Eric M.B. Becker. ISBN 9781771962667. pap. $14.95; ebk. ISBN 9781771962674. SHORT STORIES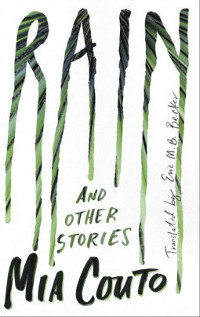 This stellar story collection from prolific Mozambican author Couto, a 2015 Man Booker International Prize finalist, initially appeared shortly after the 1992 end of his country's civil war. It does not, however, dwell on overt violence, instead offering fable-like gems capturing lives hurt and heroic, damaged and enduring. In "Blind Estrelinho," for instance, the title character learns about the world from stubborn guide Gigito, whose sister takes over when he's drafted. She opens her new charge to the possibilities of desire, and he consoles her when terrible news arrives by describing the world as he "sees" it. At a low point, Blind Estrelinho "remained on the side of the road, like a balled-up handkerchief soaked with sadness," and such language stuns throughout. A woman deserted by her husband, a problem child rushing to rescue her father—these are some of Couto's poignant stories.
VERDICT Highly recommended.
Dávila, Amparo. The Houseguest and Other Stories. New Directions. Nov. 2018. 144p. tr. from Spanish by Audrey Harris & Matthew Gleeson. ISBN 9780811228213. pap. $14.95. ISBN 9780811228220. SHORT STORIES
Eerie, fantastical, even slightly macabre, Dávila's stories are also persuasively real; they could be happening to you (though you hope not). After the death of his brother, Señor Kraus cannot abandon two undefined creatures, Moses and Gaspar, who mourn their master's passing. But they make such a racket when he brings them home that the neighbors complain, and he ends up caught between empathy and anger at how his brother's legacy has wrecked his life. Elsewhere, a young woman sits daily on her apartment building's stairs, the place she has chosen to suffer. Indeed, she seems to have turned suffering into an art, and though one can't be certain, her pain seems connected to a mysterious presence (real? imagined?) for whom she bitterly longs.
VERDICT A longtime prize winner in Mexico who successfully plumbs fear and desire, Dávila is finally getting her deserved debut in English, and fans of both literary and fantasy will clamor.
Énard, Mathias. Tell Them of Battles, Kings, and Elephants. New Directions. Nov. 2018. 144p. tr. from French by Charlotte Mandell. ISBN 9780811227049. $19.95; ebk. ISBN 9780811227056. F
Author of the magisterial, multi-award-winning Compass, Énard returns in English with a slim, beautifully crafted volume, published in France in 2010, that packs just as much punch. In 1506, angry with inflexible Pope Julius II, Michelangelo accepts a commission from the Sultan in Constantinople to build a bridge over the Golden Horn, delighted that he'll be showing up Leonardo da Vinci, whose design was rejected. In jewellike language, Énard recounts Michelangelo's forays in Constantinople as he's escorted around town by court-favored poet Mesihi, who competes for his attention with a sexually ambiguous singer and man-of-the-world Arslan. Throughout, the process of creation is clarified, with Michelangelo explaining that he will draw the form of the bridge "from the material of the city"; an unexpected but carefully constructed conspiracy radically shifts the plot.
VERDICT Art, jealousy, and political intrigue make for a stunning work recommended to all smart readers.
Gaudé, Laurent. Hear Our Defeats. Europa. Jan. 2019. 224p. tr. from French by Alison Anderson. ISBN 9781609455002. $23; ebk. ISBN 9781609455026. F
In packed yet propulsive language, Prix Goncourt winner Gaudé ( The House of Scorta) considers what war does to humanity. Going by the name Assem Graieb, a French intelligence officer hunts down Sullivan Sicoh, a disaffected former member of the U.S. Special Forces who saw it all during fighting in Afghanistan and has become a drug trafficker. But first Assem has one memorable night of passion with Mariam, an Iraqi archaeologist shattered by the loss of her country's antiquities. She even gives Assem a statuette that threads its way through the narrative as a symbol of endurance, but she won't connect with him further. Meanwhile, Gaudé effectively weaves in accounts of Agamemnon's sacrifice of Iphigenia, Hannibal's march against Rome, the U.S. Civil War, and Emperor Haile Selassie's rout by Italian troops to reveal war's devastation. Yet he also reminds us that we are only human in our defeats, and what we have lost somehow endures.
VERDICT Highly recommended for smart readers.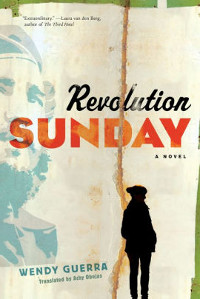 Guerra, Wendy. Revolution Sunday. Melville House. Dec. 208p. tr. from Spanish by Achy Obejas. ISBN 9781612196619. pap. $16.99; ebk. ISBN 9781612196909. F
Limning contemporary Cuba and the loneliness that comes from not being accepted where one feels most at home, this autobiographical novel from Guerra (Everyone Leaves) features gifted young poet Cleo, mourning the death of her parents when a Spanish publisher announces that she has won a major prize. That's good news—except now she becomes a sort of accidental dissident, falling under the scrutiny of the state police (who visit so frequently she buys their favorite food), treated like a pariah by friends, yet scorned as a traitor by exiles when she travels abroad. Then a handsome movie star materializes, eager to play her father in a movie—and she learns a secret that upends her live. Cleo's voice is both punchy and pained (perfectly rendered by Obejas, herself a talented author), and her story humbles. She can only conclude, "I am my island."
VERDICT Highly recommended for readers of both literary and popular fiction.
Jászberényi, Sándor. The Most Beautiful Night of the Soul. New Europe. Dec. 2018. 224p. tr. from Hungarian by Paul Ocháry. ISBN 9780997316964. pap. $15. SHORT STORIES
Hungarian foreign correspondent Jászberényi (The Devil Is a Black Dog) writes with beautiful ferocity about what he's seen and how he's lived on his job, here situating most of his stories in the Middle East. Comradely and competitive, two correspondents batter each other drunkenly, with taunts revealing their underlying tensions ("This is for not holding your liquor. This is for the fucking bombed-out school"), all ending on a note of extreme poignancy. Other correspondents gather to mourn an esteemed colleague shot dead by the Syrian Liberation Front, at the same time vying for his position. In a core story, the protagonist learns that the man from whom he buys drugs is fielding contestants in bloody street fights between two boys that can turn lethal; the gratitude of his main contestant is heartrending.
VERDICT Brutal but with heart, as shown by the excellent colloquial translation; highly recommended for readers of tough-minded fiction, both literary and popular.
Kei, Iwaki. Farewell, My Orange. Europa. Nov. 2018. 128p. tr. from Japanese by Meredith McKinney. ISBN 9781609454784. pap. $15. ISBN 9781609454791.
DEBUT Winner of the Kenzaburo Oe and Dazai Osamu prizes, this affecting debut novel unfolds the story of two immigrant women in Australia. Salimah fled Nigeria with a condescending husband who abandons her and their two boys once she starts working in the butcher's department at a supermarket, while Sayuri—an aspiring writer whom Salimah calls Echidna for her straight, black hair—has come from Japan with her researcher husband. Eager to improve her English, Salimah enrolls in an ESL class, where she meets Sayuri, for whom the teacher recommends a university class because her language skills are strong. Tragically, Sayuri's infant daughter dies in daycare at the university, even as Salimah's husband demands that she send their two sons to live with him, and the women bond compassionately. As Kei gracefully clarifies, neither came to the country by choice, and each must struggle to define herself, a struggle as important as adapting to a strange new land.
VERDICT Heartfelt, thought-provoking work.
Léon, Sarah. Wanderer. Other. Jan. 2018. 208p. tr. from French by John Cullen. ISBN 9781590519257. pap. $15.95; ebk. ISBN 9781590519264. F
Appropriately, Léon's very title evokes Schubert's music (the Wanderer Fantasy in C Major) and the setting even more so: one frigid January night in France's Bourbonnais Mountains, composer Hermin is unexpectedly visited by Lenny, the piano prodigy he discovered and encouraged yet who abandoned him years ago. In the spirit of Schubert's great song cycle Die Winterreise ("Winter Journey"), the despairing Lenny has trudged through the snow with a purpose he won't easily reveal. The narrative shifts seamlessly between the third-person present and Hermin's first-person recall of meeting Lenny when he wanders into the piano store where Hermin works and enthralls him with his playing. Hermin jeopardizes his own career and wrecks his romance with Iris for a friendship that becomes obsessively close, and though the reason for Lenny's desertion will be immediately apparent, the details resonate.
VERDICT Occasionally cloying, this splendidly translated debut is nevertheless an atmospheric, delicately wrought study of misunderstood emotion, heartbreaking yet incisive; knowing classical music increases the reading pleasure but isn't necessary.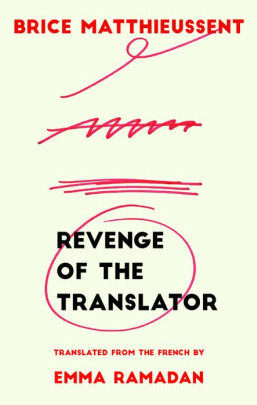 Matthieussent, Brice. Revenge of the Translator. Deep Vellum. Oct. 2018. 352p. tr. from French by Emma Ramadan. ISBN 9781941920695. $15.95; ebk. ISBN 9781941920701. F
DEBUT In a novel called Translator's ­Revenge, American David Grey is translating into English Abel Prote's latest novel N.d.T. (i.e., Note du traducteur, or "translator's note")—and getting sufficiently aggravated by the task that he installs a virus on Prote's computer to muck with words, sentences, even paragraphs. In esteemed French translator Matthieussent's award-winning debut novel, a mysterious translator called Trad is translating Translator's Revenge—and getting sufficiently aggravated by the inadequacies of the text that he corrects errors, adds and deletes material willfully, and finally roars off into wholesale invention. Matthieussent's novel opens with just footnotes from Trad explaining what he's doing and why; the top half of the page, where the actual text would be, is blank. Eventually, as contretemps between Grey and Prote escalate into existential crisis, it's hard to distinguish the original story (which we've initially had to intuit) from Trad's interjections.
VERDICT The concept is brilliant, the writing luscious, and the portrait of translation-as-creation absolutely apt; great fun for sophisticated readers, who will revel in this celebration of language itself. Bravo, translator Ramadan.
Modiano, Patrick. Sleep of Memory. Yale Univ. (Margellos World Republic of Letters). Oct. 2018. 136p. tr. from French by Mark Polizzotti. ISBN 9780300240474. $24; ebk. ISBN 9780300238303. F
Paring down his enduring themes and pristine, elusive style to their essentials, Nobel Prize winner Modiano delivers yet another understanding of memory. An older man looks back at several young women he knew when he was coming of age, e.g., sophisticated Madeleine Péraud, lonely Madame Hubersen, and especially Geneviève Dalame, troubled by a difficult brother. He's inspired by a book he spots on the quays, The Time of Encounters, and indeed those were just encounters—these women brushed against him, marking him lightly before disappearing, often simply because they moved to another address. What's more significant for both narrator and reader is the view of a callow young man growing up, recognizing how little his parents matter, and eschewing mentors to find his own way. One shocking event winds its way into the narrative, but as Modiano shows, even shockers are muted by time.
VERDICT Transparent reading for happy fans that won't overwhelm new readers.
Pazinski, Piotr. The Boarding House. Dalkey Archive. Nov. 2018. 128p. tr. from Polish Tusia Dabrowska. ISBN 9781628972726. pap. $14.95. F
DEBUT In this first novel, winner of the European Union Prize for Literature, a young man travels to a boarding house outside of Warsaw where he used to visit his grandmother. She's long gone, but he seems drawn by a need to reconnect with past and community, for the house's elderly residents are the last of the ­Polish Holocaust survivors; as the director observes, "That's about all that is left from this old world." Through conversations with the residents, especially Mr. Jakub, crusty but sparkling underneath, and carefully wrapped documents from his family kept by Ms. Tecia, the narrator hears matter-of-factly conveyed scraps of information about wartime events. But what about the future? "Better break this chain of crippled generations already!" cries one character, a thought readers ponder as a sharp sense of loss pervades. Yet the narrator is left hanging onto chain's end.
VERDICT Deftly articulating the particular tragedy of the Holocaust while showing exactly how loss in general feels. For most readers.
Sotiropoulos, Ersi. What's Left of the Night. New Vessel. Oct. 2018. 260p. tr. from Greek by Karen Emmerich. ISBN 9781939931610. pap. $16.95; ebk. ISBN 9781939931658. F
Winner of the 2017 Prix Méditerranée, this brightly, ringingly written literary historical novel from a much-honored Greek author takes us to 1897 Paris, where Constantine Cavafy wraps up a European tour by whiling away his time with older brother John and their friends. The brothers are from a wealthy Egyptian Greek family on hard times, which doesn't much dampen their carousing, but in Constantine's needling comments we spot someone breaking his own mold. This effete if gifted young man has not yet become the great poet C.F. Cavafy, but during these decadent days, lushly described, he begins to understand his life, his sexuality, and especially his art.
VERDICT A portrait of an artist coming into his own that even those unfamiliar with Cavafy will find absorbing.
Vitanza, Demian. This Life or the Next. AmazonCrossing. Oct. 2018. 352p. tr. from Norwegian by Tanya Thresher. ISBN 9781503959767. $24.95; pap. ISBN 9781503903821. $14.95. F
An award-winning Norwegian novelist and playwright getting his first, on-target translation into English, Vitanza has conducted writing workshops at Halden Prison, where he spent over 100 hours interviewing a jihadist who had returned to Norway. Here, he fictionalizes what he learned, introducing us to Pakistani-born, Norwegian-raised Tariq Khan, ever out of place, often cutting school, and struggling to find a job, though he's just as alienated when his parents send him to a brutal boarding school in Pakistan. The narrative is constructed as Tariq's response to an interlocutor and has the easy flow of a conversation ("You can put it in order later, can't you?"), capturing a sensitive, forthright young man who finds belonging with radical Islam but has his doubts.
VERDICT Not an exegesis on jihad, this book effectively captures one young man's coming-of-age in a world where he always feels in-between; insightful and engaging.
Würger, Takis. The Club. Grove. Mar. 2019. 224p. tr. from German by Charlotte Collins. ISBN 9780802128966. $26. F
DEBUT Losing his mother and father in quick succession, Hans also loses his idyllic childhood in leafy Lower Saxony as he comes under the guardianship of his aunt Alex, his mother's half-sister and a crisp Cambridge scholar. She quickly dispatches him to a Jesuit boarding school, where he perfects his boxing skills, and later compels him to attend St. John's College, Cambridge, with a plan of her own. Though she won't say why, she wants Hans to gain entrance to the elite Pitt Club and ingratiate himself with its boxers. To that end, she introduces him to another student, Charlotte, who in turn introduces him to her wealthy, drenched-in-class father, a Pitt boxer of old. As unassuming Hans pursues his task, he falls for Charlotte and learns a terrible secret that won't surprise even as it shatters. VERDICT Distinguished German journalist Würger, who broke some bones boxing for a year at Cambridge, offers a powerful and provoking story.
Sixties & Beyond: A German's View
Johnson. Uwe. Anniversaries: From a Year in the Life of Gesine Cresspahl. 2 vols. New York Review. Nov. 2018. 1,800p. tr. from German by Damion Searls. ISBN 9781681372037. $35; ebk. ISBN 9781681372044. F
Living in New York City midcentury, German author Johnson decided to write a novel taking the form of a diary contemporaneous with the time of the writing. His protagonist was Gesine Cresspahl, a German émigré living on Manhattan's Upper West Side with daughter Marie and working as a translator at a bank. Covering August 1967 to August 1968, this immense novel —finally translated into English— spans a watershed year in American history, presenting events of earthshaking significance with a you-are-there immediacy that combines staggeringly rich detail with a clean, almost laconic delivery. Yet despite the sense of currency and intimate details of Gesine's American life (she's especially devoted to reading theNew York Times, which she likens to a fussy but prudent old aunt), this book is not specifically about Sixties America. Prompted by her curious daughter, Gesine reveals her family history, back to the landowning Papenbrocks of Jerichow, Germany, and her mother's marriage, which took her to England and back. The narrative cuts quickly from Gesine's everyday life to the build-up in Europe toward war and Holocaust to contemporary world events: comments like "shooting has resumed on the Israeli-Jordanian front" and "The Vietcong are continuing their attacks in the South" sit without preamble next to accounts of Gesine's dates, Marie's schooling, and the reserved, upright Gesine's scolding any sign of racial prejudice in Marie, who wears an antiwar button. The result is a layered sense of human interconnectedness, and propelled forward by the core mystery—what is Gesine doing in New York?—we come to see her as a citizen of the world ripped from home and compelled to wander, making the book resonant reading today.
VERDICT A huge commitment but highly recommended for readers interested in history, politics, and world literature; one can only regard both author and translator with awe. [See Prepub Alert, 4/30/18.]