Ackerman, Elliot. Places and Names: On War, Revolution, and Returning. Penguin Pr. Jun. 2019. 256p. ISBN 9780525559962. $26; ebk. ISBN 9780525559979. Downloadable. HISTORY/MILITARY
Visiting a refugee camp in Turkey, National Book Award finalist and Silver Star veteran Ackerman spoke with a man whose movements in Iraq while fighting for Al Qaeda mirrored his own across the battle line. Their unexpected—and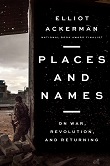 unexpectedly reverberant—connection compelled him to search through his wartime memories and subsequent work as a journalist in Syria to consider what combat means for combatants and what two decades of war in the Middle East have meant for the region, for America, and for the world.
Dennis-Benn, Nicole. Patsy. Liveright: Norton. Jun. 2019. 400p. ISBN 9781631495632. $26.95; ebk. ISBN 9781631495649. LITERARY FICTION
Author of the multi-best-booked, Lambda-graced, NYPL Young Lions finalist Here Comes the Sun, Dennis-Benn boldly crafts the story of a Jamaican woman named Patsy who joins oldest friend and secretly beloved Cicely in America while leaving behind both mother and daughter. Unfortunately, Brooklyn isn't as advertised, and we hear firsthand the frustrations of both the undocumented Patsy and her child, embittered by abandonment. With a seven-city tour to New York, Washington (DC), Los Angeles, San Francisco, Seattle, Miami, and Austin.
Gilbert, Elizabeth. City of Girls. Riverhead. Jun. 2019. 432p. ISBN 9781594634734. $28; ebk. ISBN 9780698408326. CD/downloadable. LITERARY FICTION
It's 1940, but this is a story about love (and liberation), not war. Kicked out of Vassar for mediocre grades, 19-year-old Vivian Morris is sent to New York City to live with Aunt Peg, who owns a bright-lights, falling-down theater called the Lily Playhouse. There, Vivian meets freewheeling theater types from a dashing actor to a majestic diva and makes one big mistake, with consequences, but comes to understand the untrammeled, sexually open life she wants to lead. Told by the 95-year-old Vivian; back to fiction for Gilbert after 2013's multi-best-booked memoir Big Magic.
Haddon, Mark. The Porpoise. Doubleday. Jun. 2019. 320p. ISBN 9780385544313. $26.95; ebk. ISBN 9780385544320. Downloadable. LITERARY FICTION
Haddon has dreamed up a modern retelling of the story of widower Antiochus, whose incestuous love for his daughter is revealed by Appolonius of Tyre, seen centuries later as Shakespeare's Pericles. Here, filthy-rich Phillippe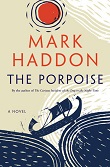 loses his wife in a plane crash and obsesses over daughter Angelique, whom Darius—visiting Philippe on business—tries and fails to rescue. Even as Darius shape-shifts into Pericles, Angelique wrestles for some measure of control. From The Curious Incident of the Dog in the Night-Time to the recent, wonderful The Pier Falls to this mythopoetry; Haddon never tells the same story twice.
Oates, Joyce Carol. My Life as a Rat. Ecco. Jun. 2019. 416p. ISBN 9780062899835. $28.99; ebk. ISBN 9780062899903. lrg. prnt. LITERARY FICTION
Violet Rue Kerrigan was once the adored youngest of seven children, but when at age 12 she inadvertently reveals the role her older brothers played in the murder of an African American boy, she is cast out by both family and Church. As the author says in the novel, "A painful truth of family life: the most tender emotions can change in an instant. You think your parents love you but is it you they love, or the child who is theirs?" Oates asking hard questions again; with a 40,000-copy first printing.
Stephenson, Neal. Fall, or Dodge in Hell. Morrow. Jun. 2019. 880p. ISBN 9780062458711. $35; ebk. ISBN 9780062458735. lrg. prnt. THRILLER
Multibillionaire founder of a gaming company, Richard "Dodge" Forthrast is pronounced brain dead after a routine medical procedure goes haywire, and his shattered family follows the directives of his will, giving his body to a cryonics company and having his brain scanned and its data structures uploaded and stored in the cloud. Years later, technological advances allow his brain to be flicked back on, but the Bitworld—a sort of eternal life sustaining humans as digital souls—is not quite as cool as expected. More techie thrills from the author of Reamde; with a 250,000-copy first printing.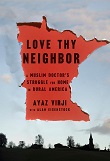 Virji, Ayaz, M.D. with Alan Eisenstock. Love Thy Neighbor: A Muslim Doctor's Struggle for Home in Rural America. Convergent: Crown. Jun. 2019. 208p. ISBN 9780525577201 moved. $26; ebk. ISBN 9780525577218. Downloadable. MEMOIR
Responding to the need for doctors in rural America, Georgetown-educated physician Virji left the East Coast for small-town Minnesota in 2013, where initially he felt welcome. But with Trump's election in 2016, he and his family began encountering anti-Muslim sentiments, and he nearly accepted a job in Dubai. Then a pastor invited him to speak on Islam at her church, and this receptive moment led to Virji's "Love Thy Neighbor" lecture series, which he has presented in schools, libraries, community centers, places of worship, colleges, and universities nationwide.
Vuong, Ocean. On Earth We're Briefly Gorgeous. Penguin Pr. Jun. 2019. 256p. ISBN 9780525562023. $26; ebk. ISBN 9780525562030. Downloadable. LITERARY FICTION
In his twenties, a young man named Little Dog writes a letter to his mother, who cannot read, investigating a family history that began in Vietnam before his birth. Along the way, he addresses stark issues of race, class, and masculinity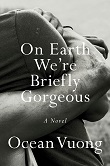 as he reveals things about himself that his mother has never known. If Vuong's debut novel is anything like his full-length poetry debut, the painful and exquisitely Night Sky with Exit Wounds, a T.S. Eliot Prize winner and LJ Best Poetry Book, it will be sensational.