Diamond, Larry. Ill Winds: Saving Democracy from Russian Rage, Chinese Ambition, and American Complacency. Penguin Pr. Jun. 2019. 288p. ISBN 9780525560623. $ 28; ebk. ISBN 9780525560630. Downloadable. HISTORY
Having made democracy his life study, Diamond, a professor of political science and sociology at Stanford, chronicled a third-wave rise in democratic institutions in the 1970s–90s, through Europe, Latin America, Asia, and Africa. Now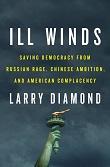 he is concerned about pushback as authoritarianism sweeps the globe, from Hungary, Poland, Turkey, and the Philippines, with America no longer demonstrating the leadership to assure that democracy thrives.
Gold, Russell. Superpower: One Man's Quest To Transform American Energy. S. & S. Jun. 2019. 320p. ISBN 9781501163586. $27. BUSINESS/ENERGY
A Gerald Loeb Award winner and Pulitzer Prize finalist for his coverage of the Deepwater Horizon oil spill, Gold tracks our willingness to dump environmentally unsound fossil fuels for renewable energy sources by telling the story of Michael Skelly. An infrastructure builder, Skelly began working with wind energy in 2000, a they-all-laughed moment countered by eight years later when wind energy was making significant inroads and Skelley sold his company for $2 billion. And, yes, that price tag highlights Gold's argument that the switch to renewable sources will require significant reinvestment. With a 75,000-copy first printing.
Gordon, Michael R. Degrade and Destroy: The Inside Story of the War Against the Islamic State. Farrar. Jun. 2019. 304p. ISBN 9780374279899. $28; ebk. ISBN 9780374714451. POLITICAL SCIENCE
Coauthor with Gen. Bernard E. Trainor of Cobra II: The Inside Story of the Invasion and Occupation of Iraq and The Endgame: The Inside Story of the Struggle for Iraq, from George W. Bush to Barack Obama, Gordon—national security correspondent for the Wall Street Journal—here looks at our battle with ISIS. Key points: Hillary Clinton's plan to arm Syrian rebels, President Obama's 2014 decision to step up intervention, countervailing efforts from the Russians, Turks, and Gulf allies, and, finally, the question whether the fall of Mosul and Raqqa really signals success. Major promotion.
Hirshman, Linda & David Kuhn. Reckoning: The Epic Battle Against Sexual Abuse and Harassment. Houghton Harcourt. Jun. 2019. 304p. ISBN 9781328566447. $27; ebk. ISBN 9781328566751. HISTORY/WOMEN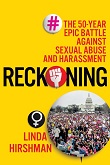 Author of the New York Times best-selling Sisters in Law: How Sandra Day O'Connor and Ruth Bader Ginsburg Went to the Supreme Court and Changed the World, Hirshman here chronicles events that backstoried the #MeToo movement, from complaints about workplace harassment starting in the 1970s to the Clinton/Lewinsky scandal, where feminist reluctance to challenge Clinton meant that "for two decades most liberal men in the Democratic party didn't take feminists seriously," argues Hirshman. Then came the reckoning, starting with Harvey Weinstein. With a shout-out to African American women for often leading the charge; a 40,000-copy first printing.
Reid, Joy-Ann. Surviving Trump: A Field Guide to Staying Sane in an Age of Madness. Morrow. Jun. 2019. 256p. ISBN 9780062880109. $26.99; ebk. ISBN 9780062880123. CD. POLITICAL SCIENCE
Host of MSNBC's AM Joy and a Daily Beast columnist, Reid (Fracture: Barack Obama, the Clintons, and the Racial Divide) doesn't just show how President Trump's policies threaten the national well-being and our position worldwide. She urges readers not to give up but to funnel their efforts into activist causes that will build a stronger base for the next election. With a 200,000-copy first printing; originally scheduled for January 2019.
Will, George F. The Conservative Sensibility. Hachette. Jun. 2019. 640p. ISBN 9780316480932. $35; ebk. ISBN 9780316480918. lib. ebk. ISBN 9780316480895. CD/downloadable. POLITICAL SCIENCE
Pulitzer Prize–winning columnist Will, a pillar of American conservatism, here argues that the Founders' belief in natural rights that antedate government, therefore calling for its limited exercise, are the basis of America's political tradition. Now, he argues, that tradition is being challenged by both progressives and elements inside the Republican Party. A big audience; with a 100,000-copy first printing.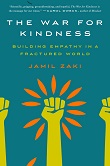 Zaki, Jamil. The War for Kindness: Building Empathy in a Fractured World. Crown. Jun. 2019. 272p. ISBN 9780451499240. $27; ebk. ISBN 9780451499264. Downloadable. SOCIAL PSYCHOLOGY
In a world we acknowledge grimly to be riven by tribalism, racism, and xenophobia, perhaps what we need is a psychologist. Enter Stanford psychology professor Zaki, also director of the Stanford Social Neuroscience Laboratory, who argues that empathy is not a set trait but one that can be fostered. His examples range from a former neo-Nazi working to draw people away from hate groups to police learning to combat violence within the force, then swing to issues like nurses learning to manage empathy so they can guard against burnout.