Andrews, Mary Kay. Sunset Beach. St. Martin's. May 2019. 448p. ISBN 9781250126108. $28.99; ebk. ISBN 9781250126139. CD. WOMEN'S
Down-on-her-luck Drue Campbell is left with only her mother's tumbledown bungalow in a getting-hot beach town where the bungalow looks like a disgrace. Then her father reappears to offer her a job at his law firm, and she gets caught up in a cold-case murder. From the reputed Queen of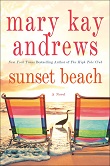 the Beach Read; with a one-day laydown on May 7.

Barr, Lisa. The Unbreakables. May 2019. 336p. ISBN 9780062913807. $26.99; pap. ISBN 9780062895394. $16.99; ebk. ISBN 9780062895400. WOMEN'S
A secret on-line dating site for married and committed couples has been hacked, and Sophie Bloom learns—on her 42nd birthday, no less—that her husband has not only been cheating on her but that he's the biggest cheater in town. So she's off to France to visit her teenage daughter and there finds herself. With a 100,000-copy hardcover and 20,000-copy paperback first printing.

Darke, Minnie. Star-Crossed. Crown. May 2019. 368p. ISBN 9781984822826. $26; ebk. ISBN 9781984822840. ROMANCE
In this much-bruited debut, Justine is sure that she and Nick are about to renew their childhood romance, especially as astrology nut Nick relies on the horoscopes in his favorite magazine—for which she happens to write. But when he's not forthcoming, Justine casts his horoscope—and starts messing about with the stars. From daytime librarian, nighttime stargazer Darke.

Dev, Sonali. Pride, Prejudice, and Other Flavors. Morrow Paperbacks. May 2019. 512p. ISBN 9780062839053. pap. $15.99; ebk. ISBN 9780062839060. WOMEN'S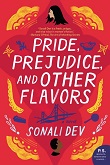 Born into a distinguished Indian immigrant family, Dr. Trisha Raje seems too uppity to modestly raised DJ Caine, now a star chef. But as San Francisco's top neurosurgeon, she alone can save his sister's life. Here, preconceptions get ditched, even as the good doctor defies her family. From an ALA Reading List Council's romance winner, expanding into women's fiction.

Donohue, Meg. You, Me, and the Sea. Morrow Paperbacks. May 2019. 368p. ISBN 9780062429858. pap. $15.99; ebk. ISBN 9780062429865. lrg. prnt. WOMEN'S
Merrow Shawe loves her father's fantastical stories and the white water foaming about her northern California home, Horseshoe Cliff, even as she ponders the mystery of her mother's death. When Amir comes to stay, she love him, too, especially as he cheerfully brushes off her brother's inexplicable meanness. Then a tragedy makes her doubt everything. With a 100,000-copy paperback and 25,000-copy hardcover first printing.

Frank, Dorothea Benton. Queen Bee. Morrow. May 2019. 384p. ISBN 9780062861214. $27.99; ebk. ISBN 9780062861221. WOMEN'S
Holly lives a secluded live on Sullivan's Island, tending bees, tolerating her demanding mother, and trying to help widowed Archie next door, who has two small boys. Then Holly's over-the-top sister Leslie arrives, on the cusp of divorce and suddenly interested in what's happening with Archie. With a 250,000-copy first printing.

Kane, Jessica Frances. Rules for Visiting. Penguin Pr. May 2019. 304p. ISBN 9780525559221. $26; ebk. ISBN 9780525559238. Downloadable. WOMEN'S/LITERARY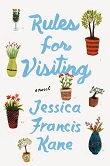 Unexpectedly given a few weeks off, diffident university gardener May Attaway decides that she should meet up with four friends she once regarded as close. But not all at the same time; she visits each separately and, as a classicist, thinks of herself as Penelope voyaging forth on her own odyssey. From Discover author and multi-award-finalist Kane (This Close).

Meyers, Randy Susan. Waisted. Atria. May 2019. 288p. ISBN 9781501131387. $26; ebk. ISBN 9781501131417. WOMEN'S
Two curvy women—Daphne, raised among stick-figure women who shamed her for her heft, and once-thin Alice, whose marriage will crash if she adds another ounce—take desperate measures by joining a program called Privation, which promises drastic weight loss at a price: they must agree to be filmed at all times, with the result a documentary called Waisted. As they soon discover, the directors aren't benevolent folk. With a 40,000-copy first printing.

Peterson, Holly. It's Hot in the Hamptons. Morrow. May 2019. 384p. ISBN 9780062913586; $26.99; Morrow Paperbacks. pap. ISBN 780062867377. $15.99; ebk. ISBN 9780062867384. WOMEN'S
Raised in that glittering bit of beachfront Long Island called the Hamptons, Caroline returns there for summers and weekends from her Manhattan home. This summer is different: friend Annabelle suggests that they find a way to get even with their cheating spouses. But will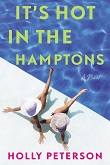 roline's daring redeem or wreck her life? With a 100,000-copy paperback and 25,000 hardcover first printing; from the author of the New York Times best seller The Manny.

Riley, Lucinda. The Royal Secret. May 2019. 512p. ISBN 9781982121273. $28; pap. 528p. ISBN 9781982115067. $17. WOMEN'S
Alas, noble actor Sir James Harrison is dead, and Joanna Haslam has been sent to cover the funeral. There she learns that Sir James has left behind a letter containing secrets supposedly involving the royal family. And now someone is trailing her, determined to make sure that letter stays in its envelope. With a 75,000-copy paperback and 5,000-copy hardcover first printing.