Ali, Hana. At Home with Muhammad Ali. Amistad. May 2019. 480p. ISBN 9780062917393. $25.99; ebk. ISBN 9780062917416. MEMOIR
The daughter of boxing great Muhammad Ali shows him not in the ring but at the end of his career, when he focused his energy on family and friends. Lots of never-before-seen memorabilia, including photographs, love letters, and journal entries. With a 100,000-copy first printing.
Biden, Jill. Where the Light Enters: Building a Family, Discovering Myself. Flatiron: Macmillan. May 2019. 240p. ISBN 9781250182326. $27; ebk. ISBN 9781250182333. MEMOIR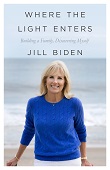 Pondering marriage to Delaware junior senator Joe Biden, the author had to ask: Could she help raise his two sons, who had lost their mother and little sister in a traffic accident? What would be the impact on her career? And how would all this, plus politics, impact her personally? The former Second Lady gives us her answers.
Black, Dustin Lance. Mama's Boy: A Story from Our Americas. Knopf. Apr. 2019. 416p. ISBN 9781524733278. $26.95; ebk. ISBN 9781524733285. Downloadable. MEMOIR
The Academy Award–winning screenwriter of Milk recalls growing up gay in a Mormon household in Texas but saves most of his space for his mother. After surviving polio as a child, she defied expectations that her life would be constrained and went on to build a career, raise three sons, leave two abusive husbands, and stick by Black's LGBTQ+ activism despite her religious beliefs.
Cone, David with Jack Curry. Full Count: The Education of a Pitcher. Grand Central. May 2019. 320p. ISBN 9781538748848. $28; ebk. ISBN 9781538748824. lib. ebk. ISBN 9781538764060. CD/downloadable. MEMOIR/SPORTS
From balls and strikes, to errors and outs, to young mistakes and pitchers he carefully studied, Cone gives us his life in baseball, which is really saying something; he's a five-time All-Star pitcher who played for five World Series championship teams. With a 100,000-copy first printing.
France, Tan. Naturally Tan: A Memoir. St. Martin's. May 2019. 304p. ISBN 9781250208668. $27.99; ebk. ISBN 9781250208828. CD. MEMOIR
You've seen him on the Emmy Award–nominated hit show Queer Eye. Now read the life story of Tan France, as he tells you what it's like to grow up gay in a traditional Muslim family and as that rare person of color in Doncaster, England, then winds up married to a Mormon cowboy from Salt Lake City. With a national tour.
Geist, Bill. Lake of the Ozarks: My Surreal Summers in a Vanishing America. Grand Central. May 2019. 208p. ISBN 9781538729809. $26; ebk. ISBN 9781538729816. lib. ebk. ISBN 9781538731468. Downloadable. MEMOIR
A correspondent for CBS News Sunday Morning since 1987 and a New York Times best-selling author (e.g., Little League Confidential), Geist recalls working a summer job during high school at Arrowhead Lodge at Lake of the Ozarks. Tacky? Yes. But the offbeat folks he met made him what he is today, shaping his feel for the world and his career choice to seek out and chronicle unusual characters. With a 50,000-copy first printing.
Greene, Jayson. Once More We Saw Stars: A Memoir. Knopf. May 2019. 256p. ISBN 9781524733537. $25; ebk. ISBN 9781524733544. lrg. prnt. CD/downloadable. MEMOIR
How do you cope with the death of a child? Greene first gave readers some understanding of that life-shattering experience when he wrote about the death of his two-year-old daughter, Greta, in a widely discussed New York Times essay titled "Children Don't Always Live." Here he expands on that essay, explaining how he moved forward from the impossible after Greta was hit by a loosened brick while sitting on a park bench with her grandmother in Manhattan.
Kugler, Rob. A Dog Named Beautiful: A Marine, a Dog, and a Long Road Trip Home. Flatiron: Macmillan. May 2019. 304p. ISBN 9781250164254. $26.99; ebk. ISBN 9781250164322. CD. MEMOIR
Wearied by war and mourning the loss of his brother to the fighting, medically retired U.S. Marine Staff Sergeant Kugler found joy again with his rambunctious chocolate lab, Bella. Then Bella got cancer, and instead of letting her go, he agreed to have her affected leg amputated and took her on a magnificent cross-country journey that had everyone they met smiling. Bravo, Bella! Big promotion!
Locke, Tembi. Sicily, a Love Story: A Memoir of Food, Family, and Finding Home. S. & S. May 2019. 352p. ISBN 9781501187650. $26. MEMOIR
African American actress Locke and Sicilian-born chef Saro met in Florence, then happily made a life for themselves in Los Angeles when his tradition-bound family refused to accept their marriage. Even his family came 'round, Saro was felled by cancer. A story of love, loss, and Locke's building bridges in her late husband's hometown; with a 50,000-copy first printing.
Lurie, Alison. Words and Worlds: From Autobiography to Zippers. Delphinium: HarperCollins. May 2019. 225p. ISBN 9781883285784. $25. MEMOIR
Pulitzer Prize–winning novelist Lurie uses a string of incisive essays to clarify her words and her worlds, moving from her first attempts at writing while at Radcliffe to close friendships with the likes of James Merrill, Barbara Epstein, Robert Silver, and Edward Gorey to topics like fashion, children's literature, and deconstruction. With a 30,000-copy first printing.
Morgan, Leslie. The Naked Truth: A Memoir. S. & S. May 2019. 272p. ISBN 9781501174100. $26. MEMOIR
ModernMom.com columnist, much-viewed TEDx talker (for "From the Ivy League to a Gun at My Head"), and author of Crazy Love, a New York Times best seller about surviving domestic violence, Morgan here recounts her determination post-divorce to find five lovers in a year. Really, it's about finding herself. With a 60,000-copy first printing.
Mulgrew, Kate. How To Forget: A Daughter's Memoir. Morrow. May 2019. 288p. ISBN 9780062846815. $27.99; ebk. ISBN 9780062846846. MEMOIR
An award-winning actress whose career has ranged from Star Trek to Orange Is the New Black, Mulgrew returned to her hometown, Dubuque, when her father was diagnosed with lung cancer and her mother with atypical Alzheimer's. Caretaking brought her closer to her parents in their final hour; afterward, she learned secrets that upended her understanding of her family. With a 75,000-copy first prinRting.
Namath, Joe with Sean Mortimer & Don Yaeger. All the Way: My Life in Four Quarters. Little, Brown. May 2019. 240p. ISBN 9780316421102. $30; ebk. ISBN 9780316421096. lib. ebk. ISBN 9780316421089. CD/downloadable. SPORTS
Released in time for the 50th anniversary of his famous Super Bowl "Guarantee," this work tells the story of an NFL icon who transformed the sport. With a 200,000-copy first printing.