Horwitz, Tony. Spying on the South: Travels with Frederick Law Olmsted in a Fractured Land. Penguin Pr. May 2019. 400p. ISBN 9781101980286. $30; ebk. ISBN 9781101980293. CD/downloadable. HISTORY
Sent by the rising-star New York Times across the 1850s American South, young travel writer Frederick Law Olmsted witnessed a region deeply divided from the rest of the country and fiercely defensive of slavery. Horwitz, a Pulitzer Prize–winning journalist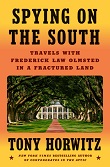 with a stack of best-selling books (e.g., Confederates in the Attic), tracked Olmstead's route (often authentically, via rail, riverboat, and horseback) to consider an America today that's equally divided and defensive of its values.

Miller, Mary. Biloxi. Norton. May 2019. 224p. ISBN 9781631492167. $25.95; ebk. ISBN 9781631492174. LITERARY FICTION
His wife's gone, his father's dead, and he's quit his job in hopes of an inheritance check that's probably not in the mail, so sixtyish Louis McDonald Jr. just sits around watching reality TV. Then an impulsive stop at a house advertising free dogs introduces him to chubby mixed-breed Layla, and he's off to the dog park for a whole new life. From the author of stunners like The Last Days of California; with a regional tour to Oxford, Jackson, New Orleans, Austin, Memphis, Nashville, and Birmingham.

Murphy, Tim. Correspondents. Grove. May 2019. 448p. ISBN 9780802129376. $27. LITERARY FICTION
Of Irish and Lebanese descent (with the immigrant experience lushly detailed here), American Rita Khoury works as a journalist first in Beirut, then in Iraq after the 2003 American invasion. Though she studied Arabic at university, Rita is dependent on her interpreter, an ambitious young man from a middle-class Baghdad family hiding a secret that could jeopardize them both. From the author of the eye-opening Christodora, a Guardian Best Book and Andrew Carnegie long-listed debut.

Okrent, Daniel. The Guarded Gate: Patricians, Eugenicists, and the Crusade to Keep Jews, Italians, and Other Immigrants Out of America. Scribner. May 2019. 480p. ISBN 9781476798035. $30. HISTORY
In the early 1920s, with some scientists arguing that biological laws proved certain nationalities to be inherently inferior, America shamefully restricted immigration from eastern and southern Europe, keeping out Jews, Italians, and other "suspect" groups for decades. Could Nazism be far behind? Pulitzer Prize finalist Okrent (Great Fortune) takes a steely-eyed look at America's eugenics movement. With a 125,000-copy first printing and a five-city tour to Boston, New York, San Francisco, Seattle, and Washington, DC.

Urschel, John & Louisa Thomas. Mind and Matter: A Life in Math and Football. Penguin Pr. May 2019. 256p. ISBN 9780735224865. $27; ebk. ISBN 9780735224872. Downloadable. MEMOIR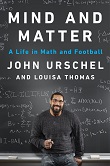 Passionate about puzzles, Urschel was auditing college-level calculus courses by age 13. But he also fell for the thrill of football, winning Sullivan and Campbell honors and eventually becoming a Baltimore Ravens defensive lineman. Now off the turf, mathematician Urschel is a PhD candidate at MIT. As he says, "So often, people want to divide the world into two. Matter and energy. Wave and particle. Athlete and mathematician. Why can't something be both?" I'm cheerleading here.

Wineapple Brenda. The Impeachers: The Trial of Andrew Johnson and the Dream of a Just Nation. Random. May 2019. 576p. ISBN 9780812998368. $30; ebk. ISBN 9780812998375. Downloadable. HISTORY
With Americans unsure how to reunite after the bloody Civil War, President Andrew Johnson took the low road, ignoring Congress, pardoning rebel leaders, and blotting out civil rights while plumping for white supremacy. Wineapple, author of the New York Times best-booked Ecstatic Nation: Confidence, Crisis, and Compromise, 1848-1877, among other award grabbers, chronicles the impeachment that followed.