Whether by newcomers or veterans that include Jennifer Chiaverini, Armando Lucas Correa, and Alison Weir, these spring 2019 historical fiction titles are getting a big push by their publishers.
Alcott, Kathleen. America Was Hard To Find. Ecco. May 2019. 432p. ISBN 9780062662521. $27.99; ebk. ISBN 9780062662545. HISTORICAL
In the late 1960s, Fay, a daughter of privilege turned antiwar radical, has a quickie affair with married test pilot Vincent, soon to be the first man to walk on the moon. The fracturing of their relationship (Fay leads a march calling the Apollo program a distraction from the country's atrocities) reflects the country's fracturing at that time and in decades to come. Alcott (Infinite Home) gets a 50,000-copy first printing.
Barenbaum, Rachel. A Bend in the Stars. Grand Central. May 2019. 416p. ISBN 9781538746264. $27; ebk. ISBN 9781538746271. lib. ebk. ISBN 9781538764268. Downloadable. HISTORICAL
With war looming in 1914 Russia, perhaps Miri Abramov and brother Vanya should flee. But she's about to become one of the country's only female surgeons, he's on the verge of a breakthrough in physics, and their parents drowned earlier when they tried to escape their country's virulent anti-Semitism. When war really does come, Miri must seek out her vanished brother and her fiancé. A debut with a 50,000-copy first printing.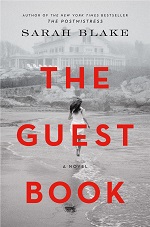 Blake, Sarah. The Guest Book. Flatiron: Macmillan. May 2019. 448p. ISBN 9781250110251. $27.99; ebk. ISBN 9781250110268. CD. HISTORICAL
Purchased in the 1930s when wealthy Kitty and Ogden Milton faced tragedy, the Maine island and its beautiful house prove too expensive for their heirs to maintain by 2000. Meanwhile, a granddaughter has discovered unsettling secrets about the family's past that clarify America's racism and power structure in the intervening decades. From the author of the New York Times best seller The Postmistress; with a ten-city presale tour.
Chiaverini, Jennifer. Resistance Women. Morrow. May 2019. 608p. ISBN 9780062841100. $26.99; ebk. ISBN 9780062841117. HISTORICAL
Expanding her historical purview, Chiaverini bases this World War II story on the real-life Mildred Fish Harnack, a Wisconsin graduate student who married German economist Arvid Harnack and led a rich and exciting life in Berlin until the Nazis came to power. Then she organized close American and German friends to resist.
Correa, Armando Lucas. The Daughter's Tale. Atria. May 2019. 320p. ISBN 9781501187933. $27. HISTORICAL
In 1944, the Germans massacred the entire population of Oradour-sur-Glane in southern France, an event commemorated here by the internationally best-selling author of The German Girl. Eighty-year-old New Yorker Elise Duval discovers something about the massacre—and her own family secrets—when she is given letters written decades ago by her German mother, who fled 1939 Berlin with her daughters. With a 150,000-copy first printing.
Johns, Ana. The Woman in the White Kimono. Park Row: Harlequin. May 2019. 352p. ISBN 9780778308140. $26.99. HISTORICAL
The pseudonymous Johns, an author of commercial women's fiction, here builds on the stunning discovery that before marrying her mother, her father had wed a Japanese woman while stationed in post–World War II Japan. The novel opens in 1957 with 17-year-old Naoko Nakamura's prearranged marriage falling through because she is carrying the child of another man—an American sailor, no less—and is forced from her family in disgrace. With a 50,000-copy first printing.
Manning, Kirsty. The Song of the Jade Lily. Morrow Paperbacks. May 2019. 368p. ISBN 9780062882011. pap. $16.99; ebk. ISBN 9780062882042. HISTORICAL
Australian Manning is getting a big push with this U.S. debut, a best seller in her home country focusing on the little-known circumstance of Jewish refugees who escaped the Nazis by fleeing to Shanghai. The story opens in 1939, when a young woman named Li forms a fast friendship with Jewish refugee Romy that will soon be shattered by war. In 2016, Alexandra uncovers the secrets of grandmother Romy's life. With a 150,000-copy first printing.
Miller, Linda Lael. The Yankee Widow. Mira: Harlequin. May 2019. 400p. ISBN 9780778316411. $26.99; ebk. ISBN 9781488078675. HISTORICAL
Living just outside of Gettysburg, PA, Caroline Hammond, the young widow of Corp. Jacob Hammond, struggles to protect both daughter Rachel and the family farm she's managing alone. Then the Civil War—not to mention a pregnant young runaway slave—comes knocking at her front door. From No. 1 New York Times best-selling author Miller; with a 150,000-copy first printing.
Weir, Alison. Anna of Kleve, The Princess in the Portrait. Ballantine. May 2019. 288p. ISBN 9781101966570. $28; ebk. ISBN 9781101966587. HISTORICAL
In this fourth in celebrated British historian/novelist's "The Six Tudor Queens" series, Weir chronicles what happens when a desperate Henry VIII, widowed and with a small son, seeks the hand of Anna of Kleve in marriage. We know he wasn't enchanted upon meeting her, but Weir also details her dislike of him.