Gibson, Claire. Beyond the Point. Morrow. Apr. 2019. 528p. ISBN 9780062884336. $26.99; pap. ISBN 9780062853745. $15.99; ebk. ISBN 9780062853738. WOMEN'S
Three women at the U.S. Military Academy at West Point before 9/11 are really bonding. Soon, however, superstar Dana, a nationally ranked point guard; faith-driven Hannah, whose grandfather was a famed army general; and Avery, an evidently heedless Homecoming Queen whose self-doubt steers her toward trouble find their relationship tested by the challenges of love, work, and war. Debut author Gibson was born and raised at West Point; with a 50,000-copy trade paperback and 25,000-copy hardcover first printing.

Graves, Tracey Garvis. The Girl He Used To Know. St. Martin's. Apr. 2019. 304p. ISBN 9781250200358. $26.99; ebk. ISBN 9781250200365. CD. WOMEN'S
Smart, lovely, yet socially awkward Annika avoids the tumult of the crowd, preferring the kind of quiet discipline she finds in chess. That's how she meets outgoing Jonathan, beating him at his first game when he joins the chess club. Soon they are planning their lives together, but they are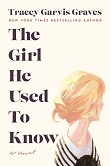 separated by tragedy and meet again years later. She's a librarian (of course), he's a divorced Wall Street genius, and maybe their love has withstood what they've endured. Big promo, much love; from the New York Times best-selling author of On the Island.

Hepworth, Sally. The Mother-in-Law. St. Martin's. Apr. 2019. 352p. ISBN 9781250120922. $27.99; ebk. ISBN 9781250120946. CD. WOMEN'S
Lucy's mother-in-law, Diana, is perfectly poised, perfectly polite, perfectly successful in work and marriage, and clearly doesn't like Lucy, Lucy's best efforts notwithstanding. Then Diana is found dead, with a suicide note saying she cannot face the cancer an autopsy reveals she doesn't have. What's going on, and what about that drastically altered will shortly before her death? Australian author Hepworth has done well here since 2015's The Secret of Midwives; 2018's The Family Next Door was called "not to be missed" by LJ.

Kalpakian, Laura. The Great Pretenders. Berkley. Apr. 2019. 400p. ISBN 9781101990186. pap. $16; ebk. ISBN 9781101990193. Downloadable. WOMEN'S
Angered by her grandfather's affair with his studio's hot new star, Roxanne Granville abandons the Hollywood high life and strikes out as an agent for aspiring film writers. It's the McCarthy era, and she steps in to help a friend fired by her grandfather for Communist sympathies, soon running a profitable business helping blacklisted clients land studio deals through frontmen. A committed relationship with an African American journalist awakens her to civil rights issues, but is scandal far behind? From the multi-award-winning Kalpakian (American Cookery), back after a hiatus.

Morgan, Sarah. One Summer in Paris. HQN: HarperCollins. Apr. 2019. 384p. ISBN 9781335013422. $26.99; pap. ISBN 9781335507549. $15.99. WOMEN'S
Picture it: you're eagerly anticipating the trip-of-a-lifetime to Paris with your husband of 25 years when he says he wants a divorce. Would you do what Grace does, steeling her nerves to take the trip alone? In Paris, cautious Grace meets bold 18-year-old Audrey, distraught because she's essentially been dumped in Paris by a mother who wants to focus on her new husband, and the two make a perfect team. Following the USA Today best-selling, multi-RITA winning Morgan's LJ-starred Moonlight over Manhattan.

Ross, Ann B. Miss Julia Takes the Wheel. Viking. Apr. 2019. 288p. ISBN 9780525560487. $27; ebk. ISBN 9780525560494. WOMEN'S
Southern heroine Miss Julia is back, but her regular doctor is out of town on vacation, so she decides to invite his replacement to dinner. She immediately notes that Dr. Don Crawford's wife is unusually shy, but it's friends Hazel Marie and Binkie who point out that there's something a little off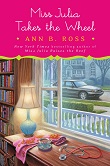 about the doctor himself. Meanwhile, LuAnne has just gotten a job at a funeral home and could use Miss Julia's help in rebooting her wardrobe. Next in the long-standing New York Times best-selling series.

Shipman, Viola. The Summer Cottage. Graydon House: Harlequin. Apr. 2019. 384p. ISBN 9781525831522. $26,99; pap. ISBN 9781525834233. $16.99; ebk. ISBN 9781488036590. WOMEN'S
Renovation is hard work, but Adie Lou is glad to take on grandparents' tumbledown lakeside cottage, the site of many happy summers, as an escape from her failed marriage, empty nest, and general middle-age blues. Then in an outbuilding she discovers a cache of letters written in 1893 by 17-year-old Sadie Collins, daughter of the first cottage owner, whose desire to be a more unconventional woman resonates with Adie Lou. Another feel-good work for feel-bad times from best-selling memoirist Wade Rouse, honoring his grandmother by using her name as a pseudonym.

Thayer, Nancy. Surfside Sisters. Ballantine. Apr. 2019. 304p. ISBN 9781524798727. $27; ebk. ISBN 9781524798741. WOMEN'S
Having left Nantucket behind for the life of a successful novelist in New York City, why should Lara return? Because success isn't all that it's cracked up to be, her mother is now unemployed and depressed, and Lara herself faces writers' block after a relationship went bust. The problem? She and childhood best friend Isabelle haven't spoken in years after a big blowup. What's more, she's crushing on Isabelle's brother the moment she hits the island. The New York Times best-selling Thayer lives on that very island and makes its tides and times very real.