Bobrow-Strain, Aaron. The Death and Life of Aida Hernandez: A Border Story. Farrar. Apr. 2019. 432p. ISBN 9780374191979. $28; ebk. ISBN 9780374717179. IMMIGRATION
Born in Mexico in 1987 and taken by her mother across an already militarized border to Arizona at age eight, Aida Hernandez quickly adapted to America, dreamed of going to New York, had a son at 16, and was eventually deported to a Mexico she didn't know and whose violence was terrifying. Bobrow-Strain, a Whitman College professor of politics, chronicles Aida's life in America and fateful struggle to return to both the country and her son, putting a face on the immigration crisis and showing its human cost.

Bowden, Mark. The Last Stone: A Masterpiece of Criminal Interrogation. Atlantic Monthly. Apr. 2019. ISBN 9780802147301. $27. TRUE CRIME
Before he authored the No. 1 New York Times best-selling Black Hawk Down, Bowden was a rookie reporter on a Maryland newspaper following the March 1975 disappearance of preteen sisters Katherine and Sheila Lyons. The case died despite 18-year-old Lloyd Welch's claiming that he saw the girls getting into a stranger's car. Then in 2013, a detective checking the files noticed that another girl had reported being followed that same week by a man who, a police artist's sketch had shown, looked much like Welch. Bowden reconstructs a cold case gone explosive.

Choi, Susan. Trust Exercise. Holt. Apr. 2019. 272p. ISBN 9781250309884. $27; ebk. ISBN 9781250309891. CD. LITERARY
PEN/W.G. Sebald Award winner and Pulitzer Prize finalist Choi opens her new novel in the early 1980s South, where two first-year students at a high-powered performing arts high school fall in love and, like their peers, circle around acting teacher Mr. Kingsley like moths to flame. Years later, we meet David and Sarah again and learn that things were not as they seemed in those heady high school days. Following My Education.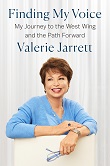 Jarrett, Valerie. Finding My Voice: My Journey to the West Wing and the Path Forward. Viking. Apr. 2019. 320p. ISBN 9780525558132. $30; ebk. ISBN 9780525558149. lrg. prnt. CD/downloadable. MEMOIR
That Jarrett was the longest-serving senior adviser in the Obama White House, after years as a guiding light to Barack and Michelle Obama, is enough to make this memoir a revealing read. But Jarrett starts at the beginning with her childhood in radically shifting Sixties Chicago and a bout with corporate law before finding her calling when she began working in Mayor Harold Washington's groundbreaking administration. She looks forward, too, reminding us to keep up with our civic responsibilities.

Jaswal, Balli Kaur. The Unlikely Adventures of the Shergill Sisters. Morrow. Apr. 2019. 304p. ISBN 9780062645142. $26.99; ebk. ISBN 9780062645166. lrg. prnt. WOMEN'S
Jaswal's debut, Inheritance, won the Sydney Morning Herald's Best Young Australian Novelist Award, while Erotic Stories for Punjabi Widows was a Reese Witherspoon Book Club pick. All of which bodes well for her third novel, which has us befriend three British-born Punjabi sisters—disciplined school principal Rajni, acting hopeful Jezmeen, and good-natured Shirnia, in marital crisis. Tamping down tensions, they travel together to Amritsar's Golden Temple to conduct final rites for their recently deceased mother, as she wished. Classic sibling rivalry, with the last-wishes aspect echoing Khaled Khalifa's forthcoming Death Is Hard Work and the interesting twist coming from three women traveling in male-dominated India.

Lasdun, James. Afternoon of a Faun. Norton. Apr. 2019. 160p. ISBN 9781324001942. $25.95 LITERARY
A writer of acute sensibility and language, Man Booker long-listed Lasdun (Seven Lies, The Fall Guy) returns with the au courant story of expat English journalist Marco Rosedale, accused by a former lover of sexual assault in her memoir. The friend he confides in wants to be supportive, but he also wants to understand what really happened: "The truth might be hard to bring to light, but that didn't mean it didn't exist, because it did exist: fixed in its moment, unalterable, and certainly not a matter of 'belief.' " Literary prose, reads-like-a-thriller framework.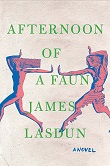 McEwan, Ian. Machines Like Me. Nan A. Talese: Doubleday. Apr. 2019. 336p. ISBN 9780385545112. $24.95; ebk. ISBN 9780385545129. LITERARY
Never one to take it easy, Maugham/Whitbread/Booker/NBCC award winner McEwan returns with an alternate history addressing Artificial Intelligence. In 1980s London, young Charlie longs for mysterious upstairs neighbor Miranda but contents himself with spending his inheritance on one of the 24 beautiful new robotic humans, named Adam or Eve, that were created by Alan Turing after his World War II triumph with the Enigma code-breaking machine. Charlie's Adam figures in the courtship of Miranda, even as protests against Margaret Thatcher's policies rage in the streets.

Purnell, Sonia. A Woman of No Importance: The Untold Story of the American Spy Who Helped Win World War II. Viking. Apr. 2019. 352p. ISBN 9780735225299. $28; ebk. ISBN 9780735225305. Downloadable. BIOGRAPHY
The Gestapo called her the most dangerous of Allied spies, but her gender and prosthetic leg kept Virginia Hall out of the U.S. foreign service, and she instead wrested her way into Winston Churchill's famously break-the-rules Ministry of Ungentlemanly Warfare. The first woman to deploy to occupied France, she managed a network of spies that blew up bridges, reported on German troop movements, rendezvoused with Resistance fighters, and saw her face on Wanted posters everywhere. From the author of the best-booked Clementine and Orwell Prize long-listed Just Boris.

Rubenhold, Hallie. The Five: The Untold Lives of the Women Killed by Jack the Ripper. Houghton Harcourt. Apr. 2019. 336p. ISBN 9781328663818. $27; ebk. ISBN 9781328664082. SOCIAL SCIENCE
Debates have long raged about Jack the Ripper's identity, but what about the identity of his victims? Social historian and historical fiction writer Rubenhold looks into their stories and finds that they were not prostitutes, as we've always been told, but women going about their business—one ran a coffee house, another worked at a printing press, yet another lived on a country estate—who sadly crossed paths with a killer in a dank London where women didn't count. I'm not a true-crime reader, but this really intrigues me.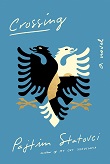 Statovci, Pajtim. Crossing. Pantheon. Apr. 2019. 255p. tr. from Finnish by David Hackston. ISBN 9781524747497. $24.95; ebk. ISBN 9781524747503. Downloadable. LITERARY
Winner of Finland's prestigious Helsingin Sanomat Literature Prize for Best First Novel and given significant (and starred) attention here, Statovci's My Cat Yugoslavia featured a gay ethnic Albanian from Kosovo making his way in Finland with the help of a talking cat. There's no such cat here but the same sense of exile and struggle for identity as Bujar flees post-Communist Albania and what remains of his family for Italy with his bold best friend Agim. Winner of the Toisinkoinen Literature Prize and, with its interest in both immigrant and gender issues, of great current import.