Week ending October 26, 2018
de Cervantes, Miguel & Ilan Stavans (text) & Roberto Weil (illus.). Don Quixote of La Mancha. Penn State Univ. Oct. 2018. 128p. ISBN 9780271082318. pap. $16.95; in Spanglish ISBN 9780271082301. F
What is de Cervantes's 17th-century novel really about? Why does it matter? After reading this graphic adaptation from Stavans (Lewis-Sebring Professor of Humanities and Latin American and Latino Culture, Amherst Coll.; Angelitos: A Graphic Novel) and Weil (with Stavans, Mister Spic Goes to Washington), one remains blissfully confused, albeit sensing the ineffable absurdity of storytelling and questioning the nature of narrative in the modern age. Stavans finds Quixote tilting at windmills, getting beat up by delivery truck drivers, arguing with his doctors, singing the praises of love lost, and, through it all, exploring the thin boundary between fantasy and reality. The cartoon Quixote exists in a semimodern world, clad in historical garb upon his trusty steed among an anachronistic mélange of email, motel rooms, and Star Wars figurines. It's clear the creators have a handle on the meaning of Quixote's madness, but they share it through emotion and pontification rather than deliberate narrative. Graphic Cliff's Notes may have assisted less erudite audiences in taking in this slim but complex work.
VERDICT Vibrant illustrations and intoxicating text make for an engaging but bewildering read, perhaps best for those who have a familiarity with Quixote's lasting cultural legacy. [Previewed in Jody Osicki's "Graphically Speaking," LJ 6/15/18.]—Emilia Packard, Austin, TX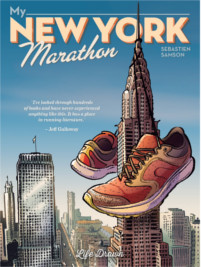 Samson, Sebastien. My New York Marathon. Life Drawn: Humanoids. Nov. 2018. 192p. tr. from French by Montana Kane. ISBN 9781594657542. pap. $19.95. SPORTS/MEMOIR
When his wife, Rosalie, and another couple, all avid runners, hatch a plan to do the New York Marathon together, Frenchman Samson (cocreator, States of Mind) decides to tag along, not as a tourist or cheerleader but as a fellow competitor. Unfortunately, it's been about 15 years since he's done any regular physical activity. Once committed, though, the slightly built, nebbishy art teacher begins running on the moors above his home in Normandy and there's no turning back. He stubbornly refuses the assistance and advice of everyone, including Rosalie, and figures out how to train on his own, buys a headlamp camera, and documents the whole experience in this graphic novel. In the end, Samson achieves his goal, learns a bit about his body and psyche, and produces a glorious comic capturing all of the guts and glory, pain and pride, in achieving his personal best. The art itself represents another sort of marathon, consisting of stunning black-and-white landscapes, action-paced panels, and sweaty portraits of tender strides.
VERDICT Any New York City marathon represents tens of thousands of stories, but few are as beautifully described or entertainingly told as this one. A must-read for anyone thinking about taking on the challenge.—Luann Toth, School Library Journal
Trudeau, G.B. #SAD! Doonesbury in the Time of Trump. Andrews McMeel. Sept. 2018. 128p. ISBN 9781449489977. pap. $16.99. SATIRE/HUMOR/COMICS
Having satirized every U.S. presidency since Richard Nixon's, the Pulitzer Prize–winning Trudeau is the ideal cartoonist to interpret President Donald Trump's America, having created caricatures of the alleged billionaire since 1987 (compiled in 2016's Yuge!). In this selection of colored Sunday Doonesbury panels from 2015 to 2018 (bookended by a "word cloud" of unflattering adjectives describing Trump taken from U.S. and Mexican opinion polls), Trudeau depicts the impacts of the president's candidacy and election as seen through the eyes of strip regulars, including Mike, Kim, B.D., Boopsie, Zonker, Mark, and Joanie. The occasional "B" story aside, the focus is on the degradation of democracy: 45's rants against the news media, the Right's reliance on "alternative facts," and the resurrection of Jim Crow–era voting suppression. While many mainstream political commentators have struggled to keep pace with the daily barrage of norm-shattering behavior from the White House, Doonesbury's engaging combination of deeply informed satire, surrealism, and character-driven humor—perhaps best captured in a wordless montage of the horrified cast staring at their TVs—makes for a timely and entertaining critique on a troubling period in American history.
VERDICT More than just another Doonesbury collection, #SAD! offers a biting take on turbulent times. Highly recommended.—Michael Dudley, Univ. of Winnipeg Lib., Man.