Beattie, Ann. A Wonderful Stroke of Luck. Viking. Apr. 2019. 288p. ISBN 9780525557340. $25; ebk. ISBN 9780525557357. Downloadable. LITERARY FICTION
At elite Bailey Academy, honors student Ben is deeply influenced by teacher Pierre LaVerdure, who trains his charges how to discuss art, literature, and politics and to know themselves better. Later, with his professional and personal lives in New York City an utter jumble, Ben begins to wonder what LaVerdure really taught him, then meets the man again and suspects that he never actually understood LaVerdure—or himself. The celebrated Beattie, known especially for her short stories (she's published three collections in the last eight years), returns to long fiction after 2011's somewhat contested Mrs. Nixon: A Novelist Imagines a Life. Her first publication with Viking is seen by the publisher as an opportunity to introduce her to younger readers.
Dow, David R. Confessions of an Innocent Man. Dutton. Apr. 2019. 304p. ISBN 9781524743888. $27; ebk. ISBN 9781524743901. Downloadable. THRILLER
Founder and director of the Texas Innocence Network, Dow brought his passionate concern about death-row injustices to his nonfiction The Autobiography of an Execution, a National Book Critics Circle finalist and Barnes & Noble Discover Prize. His first novel exhibits that passionate concern with the story of Rafael Zhettah, son of poor Mexican immigrants sentenced to death for the murder of the older, patron-of-the-arts wife he loved deeply, though he is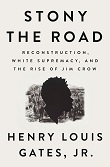 innocent. DNA evidence eventually exonerates him, and he swears revenge.
Gates, Henry Louis, Jr. Stony the Road: Reconstruction, White Supremacy, and the Rise of Jim Crow. Penguin Pr. Apr. 2019. 336p. ISBN 9780525559535. $30; ebk. ISBN 9780525559542. Downloadable. HISTORY
Investigating the roots of today's structural racism, Harvard scholar Gates shows how the rights African Americans thought they had secured with the Emancipation Proclamation were soon batted out of the sky by fearsome white resistance, particularly the terror wrought by paramilitary troops from the former Confederacy. Yet as the Reconstruction Era fell to Jim Crow segregation, African Americans reasserted their humanity with the vision of the "New Negro," creating counter-narratives of their own. With a companion PBS documentary.
Kershaw, Ian. The Global Age: Europe 1950–2017. Viking. Apr. 2019. 656p. ISBN 9780735223981. $40; ebk. ISBN 9780735223998. Downloadable. HISTORY
In this last volume of the "Penguin History of Europe" series, the renowned Kershaw investigates Europe from the end of World War II to today. As he shows, even with the arrival of prosperity, the war's catastrophes continued to shape thinking for decades to come, and the Continent was haunted by both nuclear threat and political and geographical division. With the fall of the Wall, dictatorships collapsed and fractures healed, but globalization brought new problems, including the 2008 financial crisis. Kershaw's To Hell and Back, the penultimate volume in the series, has sold 40,000 copies.
Rowley, Steven. The Editor. Putnam. Apr. 2019. 320p. ISBN 9780525537960. $27; ebk. ISBN 9780525537977. CD/downloadable. LITERARY FICTION
Rowley follows up his sterling debut, Lily and the Octopus, with the story of struggling young writer James Smale, who has suddenly lucked out; editor Jacqueline Kennedy Onassis has bought his novel. She loves his forthrightly told story, which draws heavily on his own dysfunctional family, but James is beginning to wonder whether he's revealing too much and can't seem to finish the manuscript. So Mrs. Onassis sends him home to deal with his conflicted relationship with his mother. Lily was a heartbreaker that sold more than 100,000 copies across formats and was bought by Amazon studios, but James's story is being positioned as more for general audiences.
Smith, Monica L. Cities: The First 6,000 Years. Viking. Apr. 2019. 304p. ISBN 9780735223677. $30; ebk. ISBN 9780735223691. Downloadable. HISTORY/CIVILIZATION
Moving from modern-day Syria's Tell Brak, to Mexico's Teotihuacan and Tenochtitlan, to her own digs in Sisupalgarh in India and embracing the grandly significant Athens, Rome, and Pompeii, UCLA anthropology professor Smith shows how urban areas have developed in the last six millennia. And why is this so important? Not only has urbanization's networked infrastructure facilitated humanity's flourishing and not only is more than half the world's population now living in cities, but it's estimated that by 2030—not so far away—more than 50 percent of Africans, for instance, and 87 percent of Americans will call cities home.
Toews, Miriam. Women Talking. Bloomsbury. Apr. 2019. 240p. ISBN 9781635572582. $24. LITERARY FICTION
Winner of the Governor General's Award for Fiction, Toews draws on real-life events in a novel portraying a terrible decision faced by eight women in a far-distant Mennonite community. For two years, they and many other women and girls in their community have been violated at night, reputedly by demons punishing them for their sins but in fact by a group of their own men, who have drugged and attacked them. With the men finally arrested and the community's remaining male contingent off to the city to raise bail, these women—who can't even read and know nothing of the outside world—must decide whether to persevere or risk escape. With a six-city tour.