Asher, Colin. Never a Lovely So Real: The Life and Work of Nelson Algren. Norton. Apr. 2019. 560p. ISBN 9780393244519. $39.95. LITERATURE
Among America's most distinguished authors—he won the first National Book Award for The Man with the Golden Arm, made into a film starring Frank Sinatra—Nelson Algren suffered a decline in reputation and is not so well known today. Readers have long blamed this decline on drink or writers' block, but CUNY instructor Asher, a 2015/2016 fellow at the Leon-Levy Center for Biography instead points to Algren's leftist politics, which drew FBI surveillance that may have prompted a nervous breakdown.
Critchley, Simon. Tragedy, the Greeks, and Us. Pantheon. Apr. 2019. 336p. ISBN 9781524747947. $26; ebk. ISBN 9781524747954. Downloadable. LITERATURE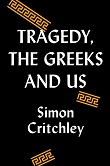 Curator of the New York Times's popular philosophy blog, "The Stone," Critchley knows his Greek literature. Here he offers a new perspective on the great works of the ancient playwrights while showing how resonant these works remain today.
Ellis, Bret Easton. White. Knopf. Apr. 2019. 272p. ISBN 9780525656302. $24; ebk. ISBN 9780525656319. Downloadable. LITERATURE
Famous since debuting with Less Than Zero, perhaps infamous since the publication of the sexually charged American Psycho, which made some women want to spit, Ellis offers a first work of nonfiction meditating on the social-media age. The result is both a defense of freedom of speech and a critique of the likeability factor that can impede it.
Gasser, Nolan. Why You Like It: The Science and Culture of Musical Taste. Flatiron: Macmillan. Apr. 2019. 720p. ISBN 9781250057198. $29.99; ebk. ISBN 9781250057204. CD. MUSIC
Why do we all love music so much, whatever our particular tastes? Where do our musical tastes come from, anyway? What makes some people love Beethoven and others want to tell him to roll over, even as cultures worldwide can identify the same piece as happy or sad? And what does our favorite music say about us? Chief architect of Pandora Radio's Music Genome Project (that's the engine that recommends songs), Gasser answers all your questions while teaching you to be a better listener.
Goldberg, Danny. Serving the Servant: Remembering Kurt Cobain. Ecco. Apr. 2019. 272p. ISBN 9780062861504. $28.99; ekb. ISBN 9780062861672. MUSIC
Having agreed to take on a hot new Seattle underground band in 1991, Goldberg saw Nirvana rise to the top in just a few years, with leader Kurt Cobain becoming one of rock's enduring icons. Goldberg draws on personal memories, previously unavailable files, and interviews with Cobain's family, friends, and bandmates to reveal Cobain's critical early years and move beyond the image of a troubled young addict to reveal a brilliant, heartfelt, and deeply influential artist.
Kweli, Talib. Vibrate Higher: A Rap Story. Sean McDonald: Farrar. Apr. 2019. 288p. ISBN 9780374283407. $27; ebk. ISBN 9780374717346. MEMOIR/MUSIC
Celebrated hip hop artist Kweli has worked both independently and with folks like Mos Def, Kanye West, Pharrell Williams, and Kendrick Lamar and in 2011 founded the music-film-and-books juggernaut Javotti Media. Here he delivers not just a memoir but the story of hip-hop as a political force. Big-deal publicity; originally scheduled for January 2019.