Anand, Anita. The Patient Assassin: A True Tale of Massacre, Revenge, and India's Quest for Independence. Scribner. Apr. 2019. 320p. ISBN 9781501195709. $28; ebk. ISBN 9781501195723. HISTORY
In 1919, Sir Michael O'Dwyer, the lieutenant governor of Punjab, countered growing political unrest in India by ordering Brig. Gen. Reginald Dyer to Amritsar. There, Dyer ordered his troops to open fire on an unauthorized gathering, resulting in the slaughter of over 1,000 unarmed men, women, and children. Legend has it that 18-year-old Sikh orphan Udham Singh managed to survive and swore vengeance, finally tracking down O'Dwyer in 1940 London. Tracing Singh's two-decade quest to find O'Dwyer, award-winning journalist and BBC Radio 4 host Anand reveals that what really happened is different yet just as dramatic. With a 50,000-copy first printing.
Clarke, Thurston. Honorable Exit: How a Few Brave Americans Risked All To Save Our Vietnamese Allies at the End of the War. Doubleday. Apr. 2019. 448p. ISBN 9780385539647. $30; ebk. ISBN 9780385539654. Downloadable. HISTORY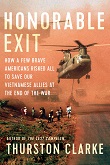 Images of Vietnamese fighting to get aboard the last helicopter evacuating Americans during the fall of Saigon are branded in our minds, but New York Times best-selling author Clarke tells a revisionist story. Here he recounts how American diplomats, businessmen, soldiers, missionaries, contractors, and spies took great risks to help 130,000 current and former translators, drivers, colleagues, neighbors, friends, and even strangers escape to U.S. bases in Guam and the Philippines. It's billed as our Dunkirk; lovers of that movie and Argo will be targeted along with veterans' associations, Vietnam and other war memorial museums, and historians specializing in the era.
Dobbs, Michael. The Unwanted: America, Auschwitz, and a Village Caught in Between. Knopf. Apr. 2019. 368p. ISBN 9781524733193. $29.95; ebk. ISBN 9781524733209. Downloadable. HISTORY
In October 1940, the Gestapo expelled 6,504 Jews from southwest Germany, creating the Third Reich's first official "Jewish-free zone." Only one in four survived, managing to get exit visas. Long-time Washington Post reporter Dobbs, now at the United States Holocaust Memorial Museum, tells this story by focusing on Jews from the village of Kippenheim, drawing on previously unpublished letters, diaries, and visa records to show their escalating fearfulness and final fate. Meanwhile, U.S. government officials considered the advisability of letting in refugees, given this country's isolationist and indeed anti-Semitic sentiments. The official publication for the U.S. Holocaust Museum's huge seven-year exhibition about the American government and the Holocaust.
Hall, Jacquelyn Dowd. Sisters and Rebels: A Struggle for the Soul of America. Norton. Apr. 2019. 672p. ISBN 9780393047998. $39.95. HISTORY
The National Humanities Medal–winning director of the Southern Oral History Program at the University of North Carolina at Chapel Hill, Hall tells the intriguing story of three sisters born in late 19th-century Georgia. Though raised in a culture of white supremacy by a KKK father, Grace and Katharine Du Pre Lumpkin eventually left the South and sister Elizabeth behind and, inspired by liberal Christianity and the YWCA, became social justice activists and progressive writers in bohemian Greenwich Village and Northampton, MA.
Hoganson, Kristin L. The Heartland: An American History. Penguin Pr. Apr. 2019. 432p. ISBN 9781594203572. $30; ebk. ISBN 9780525561620. Downloadable. HISTORY
Having studied at Yale, taught at Harvard, and lived in Washington, DC, and abroad, historian Hoganson arrived at the University of Illinois, Urbana-Champaign, with the idea that the Midwest was a small-town place defining a sort of unadulterated and patriotic American ideal. Here, she reveals that idea to be one of those big American myths, with the heartland proving to be more complicated and heterogeneous than typically imagined. The final volume in the "Penguin History of American Life" series.
Lane, Charles. Freedom's Detective: The Secret Service, the Ku Klux Klan and the Man Who Masterminded America's First War on Terror. Hanover Square: Harlequin. Apr. 2019. 336p. ISBN 9781335006851. $26.99. HISTORY
Emerging after the Civil War, as white supremacists resisted the ascendance of newly free African Americans, the Ku Klux Klan stirred concern in Washington, DC, with its first political assassination. That meant involvement by the Secret Service, which had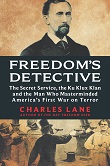 heretofore focused on counterfeiting. Led by new head Hiram C. Whitley, the service used the novel technique of undercover work to battle the KKK, whose crimes amounted to what we now call terrorism. With a 50,000-copy first printing; from a Washington Post editorial board member who was a finalist for the 2009 Pulitzer Prize in editorial writing.
Lee, Heath Hardage. The League of Wives: The Untold Story of the Women Who Took on the U.S. Government To Bring Their Husbands Home. St. Martin's. Apr. 2019. 336p. ISBN 9781250161109. $28.99; ebk. ISBN 9781250161123. HISTORY
On February 12, 1973, 115 navy and air force pilots struggled home, the first Vietnam POWs released after years of imprisonment and torture. What they didn't know at first was that they had been released because of efforts by their wives, who formed the National League to lobby government leaders, bombard the media with their message, meet on the sly with antiwar activists, learn encryption so that they could smuggle information out of Vietnam, and even carry out direct negotiations with the North Vietnamese. From the author of the multi-award-winning Winnie Davis: Daughter of the Lost Cause.
Lockley, Thomas & Geoffrey Girard. African Samurai: The True Story of Yasuke, a Legendary Black Warrior in Feudal Japan. Hanover Square: Harlequin. Apr. 2019. 368p. ISBN 9781335141026. $26.99; ebk ISBN 9781488098758. HISTORY
A kidnapped African child who was trained as a soldier in India and eventually made bodyguard to the head of the Jesuit mission in 1500s Asia, Yasuke caused a stir when he landed in Kyoto, where the populace saw him as the embodiment of the black Buddha, or war god, of local legend. The head of Japan's most powerful clan claimed him for his court, making him Japan's first foreign-born samurai. From Lockley, a professor at Nihon University College of Law in Tokyo, and Bram Stoker Award nominee Girard; with a national tour.
Morrison, Robert. The Regency Years: During Which Jane Austen Writes, Napoleon Fights, Byron Makes Love, and Britain Becomes Modern. Norton. Apr. 2019. 416p. ISBN 9780393249057. $29.95. HISTORY
The Victorian era is often seen as England's modernizing moment, but Morrison argues for the significance of the Regency era (1811–20), when the Prince of Wales (later King George IV) became Prince Regent after his father, King George III, was deemed unfit to rule. The era saw the flourishing of the arts (e.g., Jane Austen, the Shelleys, J.M.W. Turner) and sciences (e.g., the invention of the steam locomotive) even as the British Empire began to roar. From the author of The English Opium-Eater, a finalist for the James Tait Black Memorial Prize.
O'Connell, Robert L. Revolutionary: George Washington at War. Random. Apr. 2019. 400p. ISBN 9780812996999. $32; ebk. ISBN 9780812997002. Downloadable. HISTORY
The author of the well-received Fierce Patriot: The Tangled Lives of William Tecumseh Sherman, O'Connell portrays another tangled life, that of George Washington as an ambitious young soldier, spoiling for a British army commission, acutely aware that he's small-time Virginia aristocracy, and a bad leader during in the Seven Years War. Joining Virginia's colonial governing body seasoned him considerably, and O'Connell argues that as a general he was as important to the American enterprise as he was as president, personifying revolutionary fervor while moderating its excesses.
Starn, Orin & Miguel La Serna. The Shining Path: Love, Madness, and Revolution in the Andes. Norton. Apr. 2019. 384p. ISBN 9780393292800. $28.95. HISTORY
In the 1980s, disenchanted professor Abimael Guzmán joined with blazing young wife Augusta La Torre and tough-minded, kick-over-the-traces Elena Iparaguirre to found the Shining Path, a band of Marxist-Leninist-Maoist revolutionaries whose guerrilla
warfare led to 60,000 deaths. Duke cultural anthropologist Starn and La Serna, a historian at the University of North Carolina at Chapel Hill, investigate the causes and consequences of this insurgency and the resistance offered by individuals from mountain villagers to the Nobel Prize–winning Mario Vargas Llosa.
Thomas, Gordon & Greg Lewis. Defying Hitler: The Germans Who Resisted Nazi Rule. Dutton Caliber. Apr. 2019. 560p. ISBN 9780451489043. $30; ebk. ISBN 9780451489050. Downloadable. HISTORY
The late Thomas, an investigative reporter who specialized in intelligence and twice won the Mark Twain Society Award for Reporting Excellence, and BAFTA-winning documentary filmmaker and journalist Lewis follow up their Shadow Warriors of World War II: The Daring Women of the OSS and SOE with this chronicle of ordinary Germans who defied Hitler. Among their subjects: a schoolgirl executed for distributing anti-Nazi fliers, a German American teacher who smuggled military secrets to the Soviets, and a pacifist philosopher murdered for plotting against Hitler.