Cregan, Mary. The Scar: A Personal History of Depression and Recovery. Norton. Mar. 2019. 256p. ISBN 9781324001720. $26.95. MEMOIR
After the death of her first child, Anna, two days after she was born, journalist and Barnard lecturer Cregan was forced down into a depression so deep that she still carries a scar from a suicide attempt. Here she parallels her own experiences with a cultural history of the illness.

Dean, Janice. Mostly Sunny: How I Learned to Keep Smiling Through the Rainiest Days. Harper. Mar. 2019. 256p. ISBN 9780062877574. $26.99; ebk. ISBN 9780062877598. MEMOIR
A senior meteorologist at Fox News, Dean is mostly sunny, but she reveals troubles here from online trolls and abusive bosses to multiple sclerosis and a cosmetic procedure she felt pressured to undertake that could have deep-sixed her career. Then there's the story of meeting her firefighter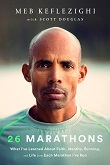 husband after 9/11 cost him a friend. Insights into staying upbeat; with a 100,000-copy first printing.

Jackson, Mitchell. Survival Math: Notes on an All-American Family. Scribner. Mar. 2019. 288p. ISBN 9781501131707. $26; ebk. ISBN 9781501131745. MEMOIR
Jackson, whose debut novel, The Residue Years, was an Ernest Gaines Prize winner and multi-award finalist, here recounts his upbringing in the small black community of Portland, OR, a world defined by drugs and gangs, prostitution and jail time. With a 60,000-copy first printing and a five-city tour to Atlanta; Los Angeles; New York; Portland, OR; and San Francisco; originally scheduled for August 2018.

Keflezighi, Meb. 26 Marathons: What I Learned About Faith, Identity, Running, and Life from My Marathon Career. Rodale: Random. Mar. 2019. 256p. ISBN 9781635652888. $24.99; ebk. ISBN 9781635652895. Downloadable. MEMOIR
The only marathoner ever to win an Olympic medal, the New York City marathon, and the Boston marathon (the latter in 2014, becoming the first American male to win in 31 years), Keflezighi reflects on the triumphs and challenges of the 26 marathons he has run as a way to inspire all runners. He also shares the larger lessons he has learned about family, faith, and life. Note that Meb for Mortals was a New York Times best seller.

McInerny, Nora. No Happy Endings. Dey Street: HarperCollins. Mar. 2019. 288p. ISBN 9780062792402. $26.99; ebk. ISBN 9780062792426. MEMOIR
Host of the Gracie Award–winning podcast Terrible, Thanks for Asking, typically in the iTunes top 100, McInerny has had reasons to feel awful; she lost her father, her husband, and her unborn second child in a single year. She went on to found the nonprofit Still Kickin, which gives financial grants to those facing hard times, and a 5,000-member support group, The Hot Young Widows Club. Now remarried and the mother of four, she proclaimed in her last book that It's Okay to Laugh. With a 100,000-copy first printing.

Pace, Kristin Knight. This Much Country. Grand Central. Mar. 2019. ISBN 9781538762400. $27; ebk. ISBN 9781538762394. MEMOIR
In 2009, devastated by divorce, Pace leapt at an offer to live in a friend's cabin outside of Alaska's Denali National Park in exchange for tending to eight sled dogs. Now she's lead backcountry ranger for the park. In the meantime, she fell in love and married Andy, also in Alaska for some heart healing, and became entranced with sled dogs, eventually completing the famously grueling Iditarod dogsled race, which runs from Anchorage to the Bering Sea.

Rannells, Andrew. Too Much Is Not Enough: A Memoir of Fumbling Toward Adulthood. Crown Archetype. Mar. 2019. 272p. ISBN 9780525574859. $26; ebk. ISBN 9780525574873. Downloadable. MEMOIR
Rannells arrived in New York City from Omaha in 1997 and has since been nominated for two Tonys (for The Book of Mormon and Falsettos) and caught everyone's eye playing Elijah Krantz in Girls. Along the way, there were auditions (good and bad), wild times (good and bad), and heartbreak as well as triumph for a young man hungry to experience anything. Note that Rannells has 452,000 Instagram and 174,000 Twitter followers.

Roberts, Jessi with Bret Witter. Backroads Boss Lady: Building a Million-Dollar Business by Getting Real with Myself and My Community. Grand Central. Mar. 2019. 304p. ISBN 9781538745731. $27; ebk. ISBN 9781538745717. MEMOIR
A young mother with four children and a troubled past living in little New Plymouth, ID, Roberts managed to do something remarkable: she built a multi-million-dollar business empire called Cheekys that sells clothing with a rural touch. Here she tells her story while sharing business tips and explaining that helping others is the way to go.

Skelton, Marc. Pounding the Rock: Basketball Dreams and Real Life in a Bronx High School. Doubleday. Mar. 2019. 256p. ISBN 9780385542654. $25.95; ebk. ISBN 9780385542661. Downloadable. MEMOIR
Skelton lays claim to being a former all-state basketball guard from Derry, NH, but the real story here is how he transformed the basketball team at Bronx's tiny, innovative Fannie Lou Hamer Freedom High School. In 2006, the year before he took over, the team had a dismal win-loss record of 0-18; now the record stands at 228-68, and the team has won three Public School Athletic League championships and one statewide championship. Inspirational kids, inspirational coach, and apparently fine writing.

Taseer, Aatish. The Twice-Born: Life and Death on the Ganges. Farrar. Mar. 2019. 256p. ISBN 9780374279608. $26; ebk. ISBN 9780374715755. MEMOIR
A multi-award-nominated novelist (e.g., The Way Things Were) and author of the memoir Stranger to History, Taseer first saw Benares, one of Hinduism's holiest sites, as the Westward-looking 18-year-old son of an Indian journalist and a Pakistani politician raised in New Delhi. Twenty years later, he left Manhattan to study the Brahmins, Hinduism's highest caste, devoted to sacred learning, but instead found an India torn between rapid modernization and ferocious, anti-Muslim nationalism.

Tobia, Jacob. Sissy: A Coming-of-Gender Story. Putnam. Mar. 2019. 336p. ISBN 9780735218826. $26; ebk. ISBN 9780735218833. Downloadable. MEMOIR
Preferring glitter and creative play to sports, writer/producer/performer Tobia was dubbed a sissy in his Methodist-framed North Carolina childhood. Now they can celebrate being "too-queer-to-function" as an activist for the nonbinary and genderqueer communities. A sharp-witted meditation on gender issues that should help you think about your own.

Woodfox, Albert. Solitary. Grove. Mar. 2019. 320p. ISBN 9780802129086. $26. RACE & DISCRIMINATION
Convicted of armed robbery, Woodfox joined the Black Panther Party behind bars and was scapegoated with a fellow Panther when a white guard was killed. He subsequently spent four decades in solitary confinement in Louisiana's infamous Angola prison. Throughout, he inspired many fellow prisoners and attracted the attention of journalists, politicians, and more, eventually winning release in 2016. Ever an activist, he here argues for the Black Panthers as socially conscious rather than militant and highlights the essential inhumanity of solitary confinement. Expect talk.