Rolled out from September 12 through September 14, this year's National Book Award (NBA) longlists show the National Book Foundation (NBF) maintaining its focus on diverse, socially conscious works from publishers small and large. The big news this year is the inaugural longlist in translated literature, established to acknowledge literature's global reach, the NBF's growing purview, and America's status as a nation of immigrants. Nine languages are represented: French, Spanish, Arabic, Tamil, Norwegian, Italian, Japanese, Polish, and Russian.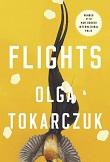 Norwegian is the one repeater, with Hanne Ørstavik's Love (tr. by Martin Aitken, Archipelago) and Gunnhild Øyehaug's Wait, Blink: A Perfect Picture of Inner Life (tr. by Kari Dickson, Farrar). Dunya Mikhail's The Beekeeper: Rescuing the Stolen Women of Iraq (tr. by Dunya Mikhail and Max Weiss, New Directions) is the one nonfiction title, and Tatyana Tolstaya's Aetherial Worlds (tr. by Anya Migdal, Knopf) is the one short story collection. Not surprisingly, this year's Man Booker International Prize winner, Olga Tokarczuk's ambitious Flights (tr. by Jennifer Croft, Riverhead), made the list. The judges include Harold Augenbraum, a former NBF executive director and LJ reviewer.
Including just one previous NBA nominee, Lauren Groff, this year's fiction longlist offered many fresh new voices. Groff's Florida (Riverhead) is one of three story collections, along with Jamel Brinkley's A Lucky Man (Graywolf) and Nafissa Thompson-Spires's Heads of the Colored People (37 INK: Atria), both debut collections. Also debuting: Daniel Gumbiner, whose The Boatbuilder (McSweeney's) deals with the opiate addiction crisis, and Tommy Orange, whose There There (Knopf) is a portrait of Oakland's urban Native American community. Pairing up with Orange's work, Brandon Hobson's Where the Dead Sit Talking (Soho) offers a Native American coming-of-age story set in rural Oklahoma. Jennifer Clement's Gun Love (Hogarth: Crown) addresses the danger of firearms in this country; Tayari Jones's An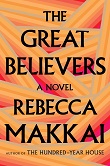 American Marriage (Algonquin), the impact of wrongful incarceration; Rebecca Makkai, The Great Believers (Viking), the long-term consequences of AIDS; and Sigrid Nunez's The Friend (Riverhead), facing down grief, with the help of a Great Dane.

Current events dominate the nonfiction longlist. Works include National Book Critics Circle (NBCC) Award winner Carol Anderson's One Person, No Vote: How Voter Suppression Is Destroying Our Democracy (Bloomsbury), Pulitzer Prize winner Steve Coll's Directorate S: The C.I.A. and America's Secret Wars in Afghanistan and Pakistan (Penguin Pr.), Syrian freelance journalist Marwan Hisham and illustrator Molly Crabapple's Brothers of the Gun: A Memoir of the Syrian War (One World: Penguin Random), debuter Sarah Smarsh's Heartland: A Memoir of Working Hard and Being Broke in the Richest Country on Earth (Scribner), NBCC Award winner Rebecca Solnit's Call Them by Their True Names: American Crises (and Essays) (Haymarket), and UCLA School of Law professor Adam Winkler's We the Corporations: How American Businesses Won Their Civil Rights (Liveright: Norton). Also exciting: Jeffrey C. Stewart's study of a Harlem Renaissance great, The New Negro: The Life of Alain Locke (Oxford Univ. ) and two books on science, Victoria Johnson's American Eden: David Hosack, Botany, and Medicine in the Garden of the Early Republic (Liveright: Norton ) and David Quammen's The Tangled Tree: A Radical New History of Life (S.& S.).
From Pulitzer Prize winner Rae Armantrout's Wobble (Wesleyan Univ.), eye-openly spare as ever, to debut author Jenny Xie's elusively written cultural study, Eye Level (Graywolf), the poetry longlist is forward-looking in form and content. Debut author Jos Charles's feeld (Milkweed), a radical reframing of language to capture the trans experience, ends up sounding like medieval English but with an eerily modern feel. Pulitzer Prize winner Forrest Gander's Be With (New Directions) offers sometimes multilingual poetry in condensed, oblique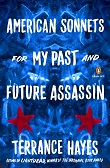 language, ranging in subject from Alzheimer's to St. John of the Cross. Raquel Salas Rivera's lo terciario / the tertiary (Timeless, Infinite Light) takes on colonialism as reflected in the political-economic crisis in Puerto Rico. Diana Khoi Nguyen's Ghost Of (Omnidawn) uses on-the-edge visual experimentation to tell a tragic family story, while Justin Phillip Reed's Indecency (Coffee House) challenges the dominant culture of white supremacy in concrete language. As an added fillip, NBA winner Terrance Hayes offers American Sonnets for My Past and Future Assassin (Penguin), which includes 70 masterly sonnets inspired by the late Wanda Coleman's American Sonnets.
Finally, the longlist for Young People's Literature features a range of top-notch writers, many who have already been honored with big awards. M.T. Anderson, nominated with Eugene Yelchin for The Assassination of Brangwain Spurge (Candlewick Press) was longlisted in 2015, a finalist in 2002, and a winner in 2006, while Elizabeth Partridge (Boots on the Ground: America's War in Vietnam) was a finalist in 2002. Also in the mix: Newbery and Coretta Scott King honoree Christopher Paul Curtis's The Journey of Little Charlie (Scholastic), one of two middle-grade works nominated. The other is Leslie Connor's The Truth as Told by Mason Buttle (Katherine Tegen Bks: HarperCollins).
Finalists in all five categories will be announced on October 10. Winners will be announced at the 69th National Book Awards Ceremony and Benefit Dinner, to be held at Cipriani Wall Street in New York City on Wednesday, November 14. For the complete longlists, see nationalbook.org.