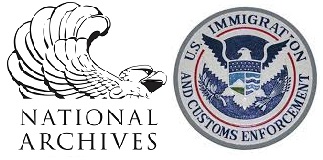 The United States Immigration and Customs Enforcement agency (ICE) has requested that National Archives and Records Administration (NARA) Records Management sign off on a records retention schedule that would potentially destroy detainee records in 11 item categories, including accounts of solitary confinement, assault, sexual abuse, and investigations into deaths in ICE custody. Proposed retention periods ranged from 20 years for sexual assault and death records to three years for solitary confinement reports; this means that records dating back to ICE's founding in 2003 could be destroyed as early as 2023.
All federal agencies periodically propose a retention schedule for a series of records to NARA, to determine which must be retained permanently in the National Archives and which can be considered temporary—and how long temporary records must be retained before they can be destroyed. NARA staff reviews each submission, typically meeting with agency subject matter experts, before the records schedule is approved by the Archivist of the United States.
In addition to deciding which records have lasting historical or research value and warrant permanent retention, NARA reviews the retention periods proposed for temporary records to ensure that those spans protect the legal rights of both the Government and private parties. Public input on the proposed schedules is mandated by law, and is solicited through comments on a notice posted to the Federal Register.
ICE's proposed schedule DAA-0567-2015-0013, submitted in October 2015, represented a new request for the disposition of unscheduled records, rather than a change to an existing schedule. Since it was posted to the Federal Register on July 14, 2017, it has garnered an unprecedented number of comments, received substantial attention in the media, and raised concerns among archivists, historians, and civil liberties organizations.
A CONTROVERSIAL RECOMMENDATION
A memo to ICE from Ashby Crowder, archives specialist in NARA's Records Appraisal and Agency Assistance branch dated June 20, 2017, initially recommended approval of all 11 items to be marked "temporary." These comprised detainee sexual abuse and assault files; death review files; detainee telephone rate records; weekly detention service monitor reports; alternative to detention (such as ankle bracelet or phone monitoring) records; alternative to detention emergency/incident records; detainee escape reports; detention information reporting line records (from the toll-free ICE Enforcement and Removal Operations (ERO) Detention Reporting and Information Line that answers calls about incidents of sexual or physical assault or abuse, serious or unresolved problems in detention, reports of victims of human trafficking, and requests for basic case information); detainee segregation case files; daily detention logs; and residential detainee locator files.
The detainee sexual abuse and assault files include records relating to incidents of sexual assault at ICE facilities created and maintained in accordance with the Prison Rape Elimination Act. The appraisal justification in Crowder's memo states that the file series "does not document significant actions of Federal officials. This information is highly sensitive and does not warrant permanent retention in the National Archives."
The second item, death review files, contains investigation records of deaths of detainees in ICE custody, including violations of Performance Based National Detention Standards. These records, the document states, have "little or no research value."
People across the country immediately expressed their discomfort with NARA's initial recommendations. The Concerned Archivists Alliance (CAA) wrote, "The types of records that ICE is proposing to destroy after 20 years are EXACTLY the kinds of records that need to be retained for long periods of time, if not permanently. NARA is being derelict in its duty as the custodial agency for federal records by provisionally granting ICE's request."
The American Civil Liberties Union (ACLU), the Archivists Roundtable of Metropolitan New York, and Twitter feed @Reclaim the Records weighed in as well. Although the Society of American Archivists did not address the matter directly at the time, it did issue a Statement on the Value and Importance of Transparency in Government in October 2017.
Comments received by NARA in response to the Federal Register posting included three congressional letters with a total of 36 signatures from 29 house members and seven senators, ACLU's petition with more than 23,000 comments, a petition from the advocacy organization UltraViolet with 1,475 signatures, written comments from 187 individuals and six organizations, and phone comments from seven individuals. Comments were provided through NARA's portal and the U.S. mail, as well as email to NARA, web inquiry forms, correspondence with the National Archives Office of Inspector General, and through NARA employees who received comments directly.
Determining what is historically valuable and worthy of permanent retention isn't always an easy call, noted archivist Jeremy Brett, co-organizer of the CAA. "But there's something to be said for erring on the side of historical significance," he told LJ in July 2018. "That's why you have historians, why you have archivists, who make these appraisal decisions, and they're using their best judgment and their best expertise and their best understanding of historical context at the time."
Records that document abuses by government officials toward any human being, he noted, are certainly of far-reaching, permanent significance. "As citizens of a democracy, we need to know what the government has done, and is doing, in our name."
NARA TO RESPOND, REVIEW
In June 2018, Margaret Hawkins, the director of the NARA Records Management Operations Program, gave a statement to journalist Russ Kick of The Memory Hole website that the agency might reconsider its initial recommendations.
David Ferriero, Archivist of the United States, posted an update on his National Archives AOTUS blog on June 27, stating, "NARA staff have been reviewing these comments and working with ICE to address them and revise the schedule accordingly. In addition, the Archivist of the United States has directed NARA subject matter experts to conduct a comprehensive review of all ICE schedules that relate to deaths and assaults of detainees in ICE facilities."
On July 25, American Historical Society executive director James Grossman sent a letter to Ferriero objecting to "threats to the preservation of records relating to the treatment of immigrants by the US Border Patrol and Immigration and Customs Enforcement (ICE)," strongly urging NARA to deny ICE's request. "The potential historical significance of the events documented in these records makes it incumbent upon NARA to ensure their preservation for the long term. NARA should require that all records of investigations related to detainees should be retained regardless of the outcome of the case."
Ferriero responded on August 1, stressing that U.S. Customs and Border Protection (CBP) would not be granted disposition authority under ICE's request. He also noted that NARA did not grant ICE's request in Crowder's June 20 memo, as Grossman had claimed, since it was only a recommendation. "I will not approve the pending ICE schedule until all comments are adjudicated and resolved to my satisfaction," Ferriero stated.
He concluded, "I agree with your comments regarding the importance of adequate access to records regarding immigration, one of our Nation's most significant national experiences."
While NARA staff usually respond to public commenters individually via email, 2017's large volume of comments made that approach impractical. In this instance, after additional review NARA will post its response in the Federal Register, notifying all previous commenters who provided email addresses when it is published.
While not business as usual, this is still within agency protocol. "NARA has established procedures for appraising the records submitted by agencies on a proposed records schedule," Miriam Kleiman, NARA program director for public affairs, explained to LJ. "We regularly review sensitive records and have clear procedures on how to work with agencies and the public to complete action on all requests for disposition authority."
She added, "The only way in which handling of schedule DAA-0567-2015-0013 is a departure from normal practice involves the volume of public comments and our method of responding to them."
Brett is pleased with NARA's response, he told LJ. "Mostly things just slide by, nobody really thinks much about it, but I'm happy to see NARA was responsive to the numerous concerns expressed by citizens all over the country."
Once the original comments have been assessed and an internal review is completed, NARA will require ICE to make changes as needed. NARA plans to open a 15-day public comments period on the revised ICE retention schedule via the Federal Register, the date of which had not been announced at press time.